💥Get the Best-Selling Large Family Freezer Meals Collection+ MORE here! Use promo code HELLO20 to take 20% off your first order. 🙂
Making up a big batch of freezer meals to keep my freezers full is so helpful for all of the real life going on. The other week I was able to prep ahead 20 Healthy Freezer Meals for my family for the coming weeks. This was right on the tail of making 40 Freezer Meals for New Moms that I cooked up for several new momma friends.
You know I love to get in a good large family freezer cooking day when I can. Some months I can get in freezer cooking multiple days and other times I may go months without making freezer meals. That's okay though because it's during those non-freezer cooking months that we eat down what I have stashed in our freezers.
These 20 healthy freezer meals are gluten-free, sugar-free, Keto, low carb, and Trim Healthy Mama S-Meal friendly. Several of these healthy freezer meals are even dairy free!
How Much Did These Freezer Meals Cost?
It cost me right around $179 for all the groceries I needed to make these 20 Healthy Freezer Meals. That breaks down to a little over $8 per meal. I needed most of the ingredients for these freezer meals. I did have ground beef, but I needed to buy chicken and pork sausages. Your grocery prices may vary by location. You might even have more of the needed items on hand! Here is my once-a-month large family grocery haul which also showed the items I purchased for this freezer cooking day.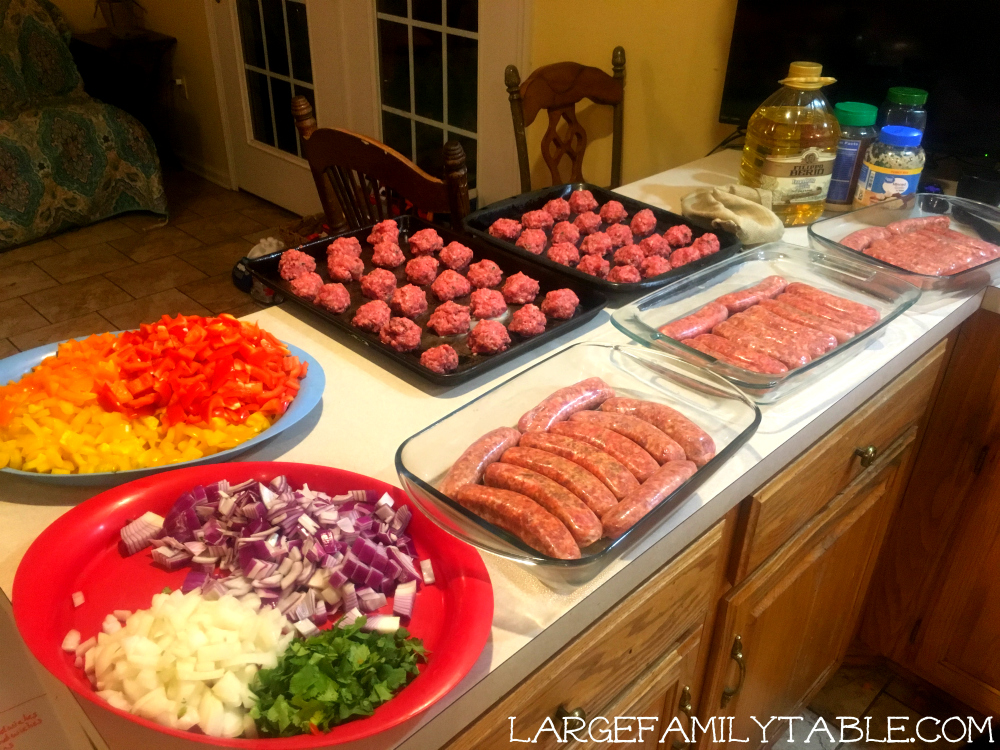 I'm well known for NOT being an expert in too much of anything other than clinging to Jesus and encouraging lots of momma sanity helps. If you are gluten-free or need to make gluten-free freezer meals for others be sure to check the packaging well.
I've heard from many mommas who are experts in gluten-free meals that gluten is included in many food items, sometimes even shredded cheese, sigh. You might be interested in large family freezer meals pack six which features gluten free freezer meals or these 75+ Gluten-Free Freezer Meal Recipes.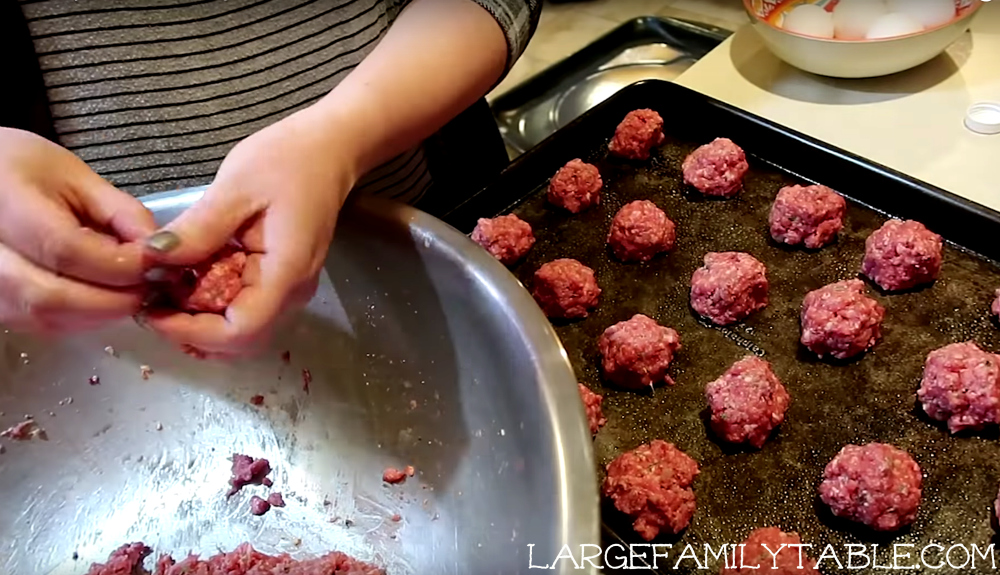 I had some adventures on my 20 Healthy Freezer Meals cooking day. The main adventure was one day turned into two. Now, of course, I didn't do a bunch of freezer cooking for 48 hours straight.
The first day I was super optimistic that I would get it ALL done in just a few hours. However, without a full large family freezer meals pack completed for me to follow to make these 20 freezer meals I was flying by the seat of my pants. I was using my whiteboard for my homemade organization (but MAN when I get the large family freezer meal packs completed with these low carb recipes — woot! Super batch cooking organization and streamlined kitchen, here I come!!)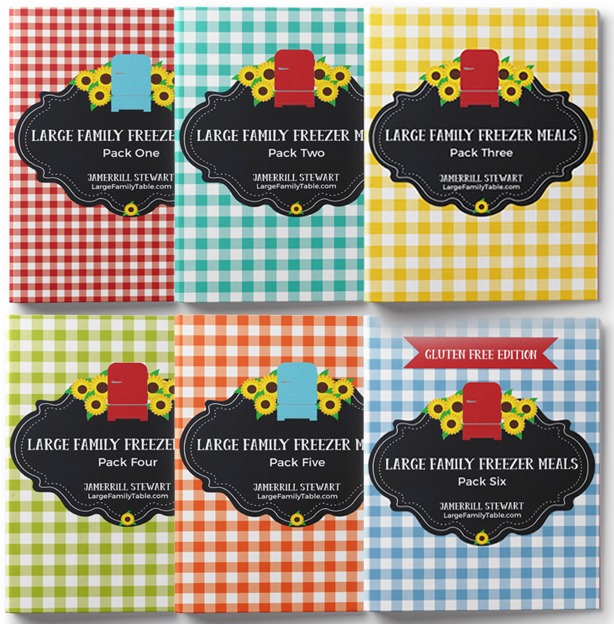 Freezer Cooking Day One
The first freezer cooking day consisted of several hours where I batch cooked the last of my pasture raised ground beef and freezer meal prepped tons of veggies. I also cooked a pasture-raised hen in my 14 Qt pressure cooker to make the homemade chicken broth I needed. Additionally, I made 5 dozen Keto meatballs, three Low Carb Italian Sausage and Peppers Bakes, and two Low Carb Beef & Cheddar Cauliflower Bakes.
Within that time my hubby and kids got back home from piano, Walmart, post office, errands. The kids needed dinner and of course decided that was the night for long, deep conversations, ha! At some point, I laid down with the baby to nurse him to sleep and felt myself drifting off as well.
This is where having helpful teens is OH SO HELPFUL! I asked my 15 year old to save me life :). He packed up what I had out in the kitchen and did my freezer cooking dishes. Yes and amen, thank you, son.
Freezer Cooking Day Two
The next day after morning homeschooling was done and the kids were pretty occupied playing with baskets of stuffed animals on the deck I dove into finishing up the rest of the Instant Pot and Slow Cooker Freezer Meals.
In under two hours (because so much was done and prepped on the first day), I made 15 Healthy Instant Pot Freezer Meals. Those 15 plus the five low carb freezer meals for the oven I had made the day before brought me to the total of 20 Healthy Freezer Meals, hurrah!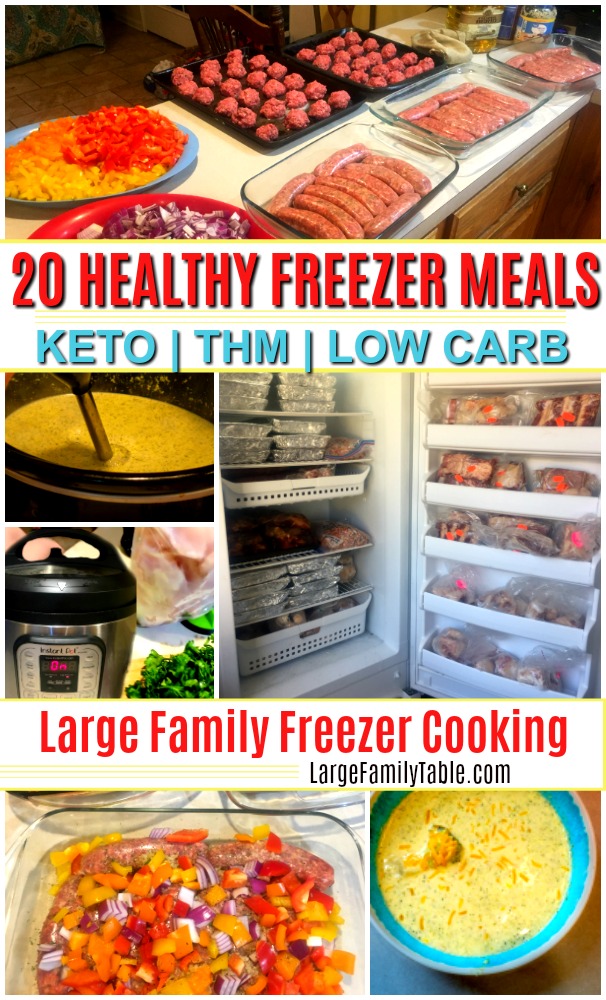 20 Healthy Freezer Meals
Here are the healthy freezer meal recipes I used to make my 20 freezer meals this go round!
Healthy Freezer Meals
You can watch me make these 20 Healthy Freezer Meals in this massive YouTube video that I just released! See my grand plans that turn into two day plans and all the real life momma fun and adapting that goes into pulling it all off and making it work out in the end!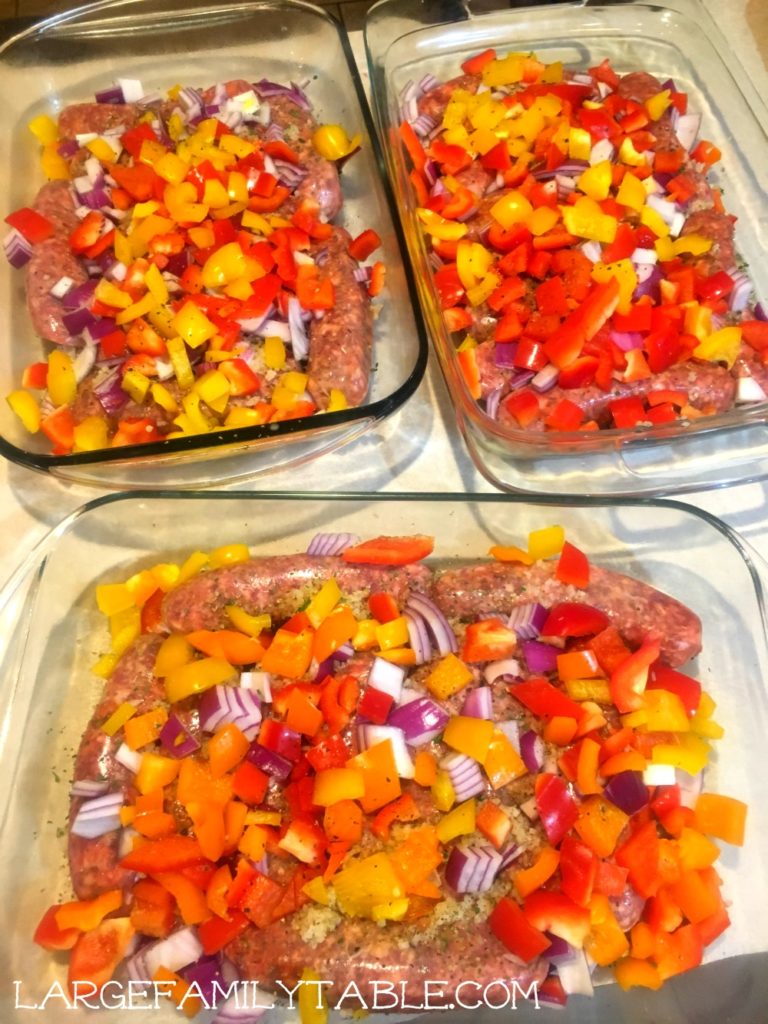 Large Family Freezer Meals Collection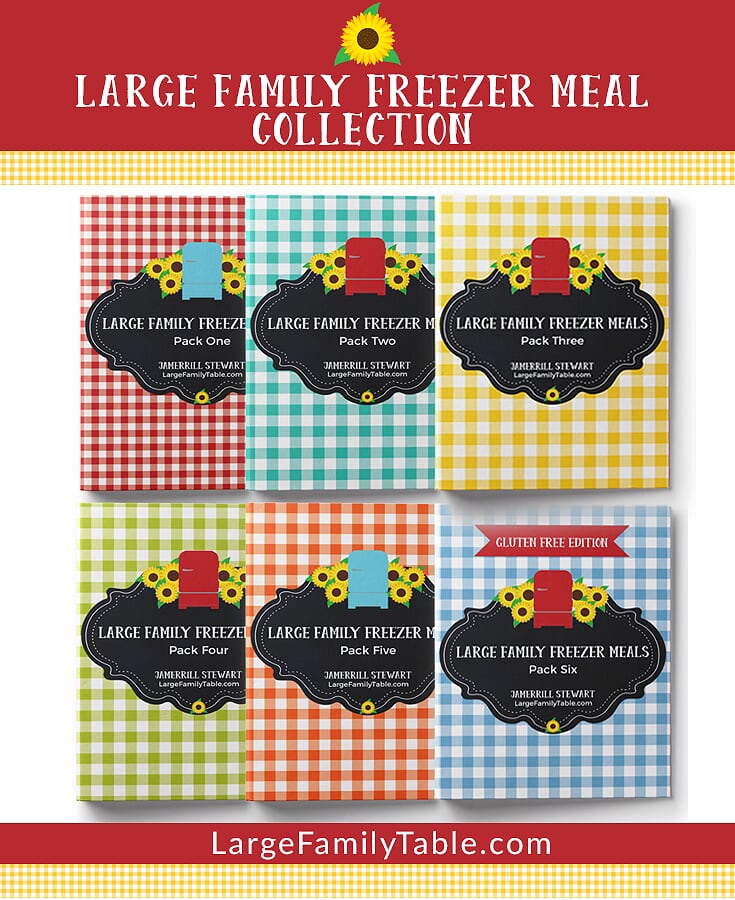 Do you need help getting dinner on the table and having a bit of kitchen sanity? Wouldn't it be wonderful to have many freezer meals prepped and ready to go to feed your family fast, quick, and in a hurry? Here's my Large Family Freezer Meal Collection to save your momma life, big time!!
MORE Healthy Freezer Meals & Resources
You might also enjoy these additional healthy freezer meal recipes!
50 Large Family Keto Instant Pot Freezer Meals | Low Carb, THM, Slow Cooker, too!
75+ Large Family Gluten-Free Meals & Freezer Meals
Here's my last Gluten-Free Freezer Cooking Day where I made 30 meals!
MY FIRST TIME EXPERIENCE BUYING AN ENTIRE PASTURE-RAISED COW (527 LBS!)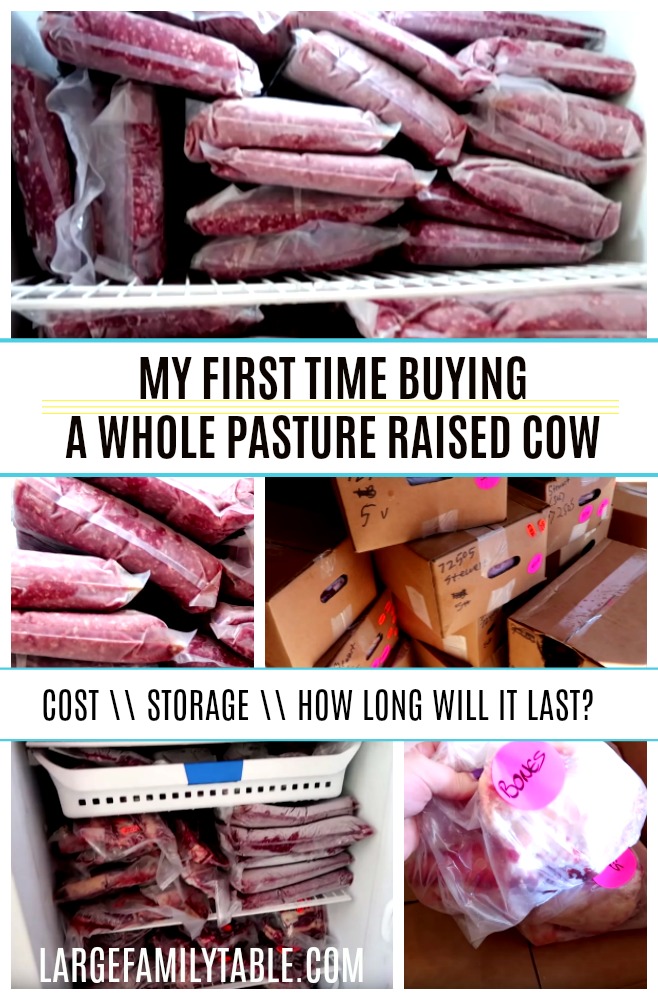 My Current Large Family Freezer Meal Planning System (including a One Week Large Family Freezer Meal Plan)
75+ LARGE FAMILY FREEZER MEAL RECIPES
Realistic Large Family Meal Planning Using Freezer Meals
5 Tips for Grocery Shopping for a Large Family Freezer Cooking Day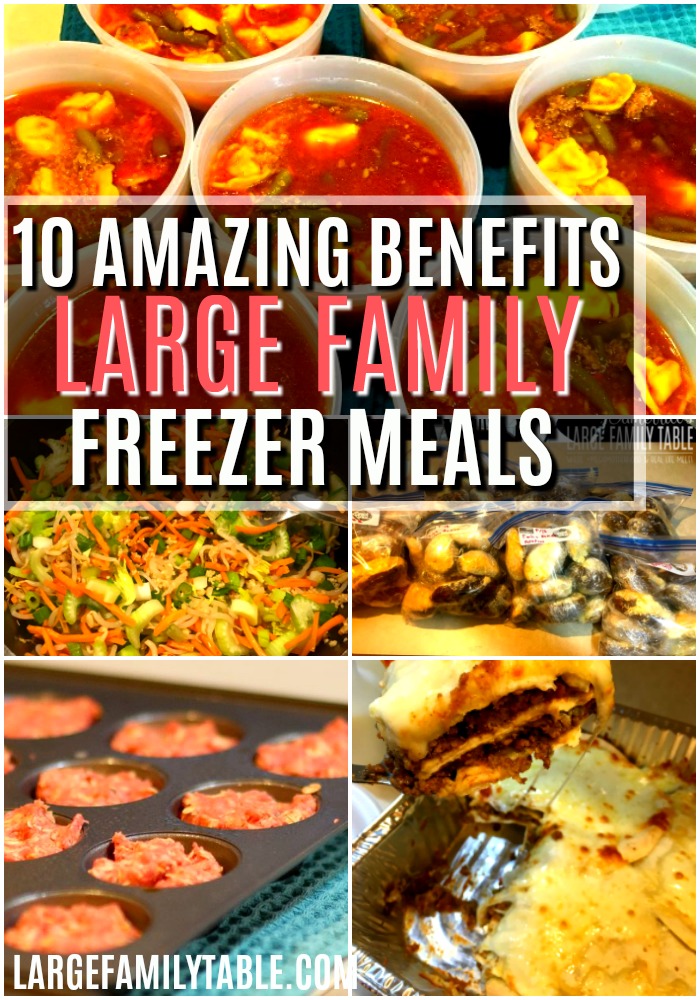 The BEST Freezer Cooking Methods to Fill Your Freezer Fast!
10 AMAZING BENEFITS OF LARGE FAMILY FREEZER MEALS