75+ LARGE FAMILY FREEZER MEAL RECIPES
**Use special promo code HELLO20 to take 20% off your first order in the shop including the SUPER MEGA ULTIMATE Large Family Freezer Meals Bundle here! Get packs 1, 2, 3, 4, 5, 6, 7, 8 & 9!**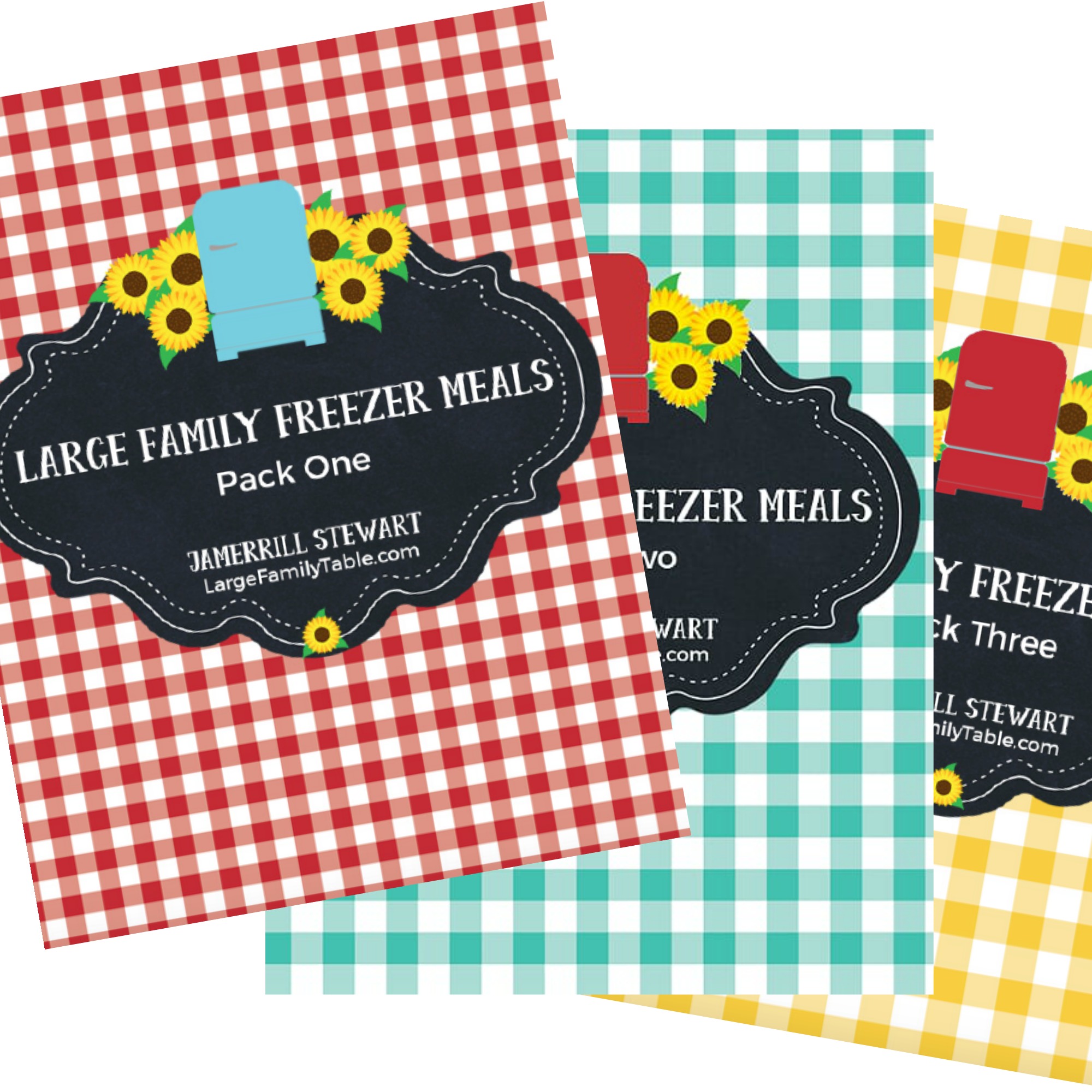 There is nothing better after a busy homeschool day or field trip day than coming home and NOT having to worry about what's for dinner. When your freezer is stocked with prepared large family freezer meal recipes, you'll be able to set something out to thaw and dinner will be ready in no time when you get home.
Even better than that, many of the large family freezer meals featured below can be put in the crockpot so dinner will be ready when school (or your amazing field trip) is done!
With so many big freezer meal options to choose from, how will you ever decide which one to try first?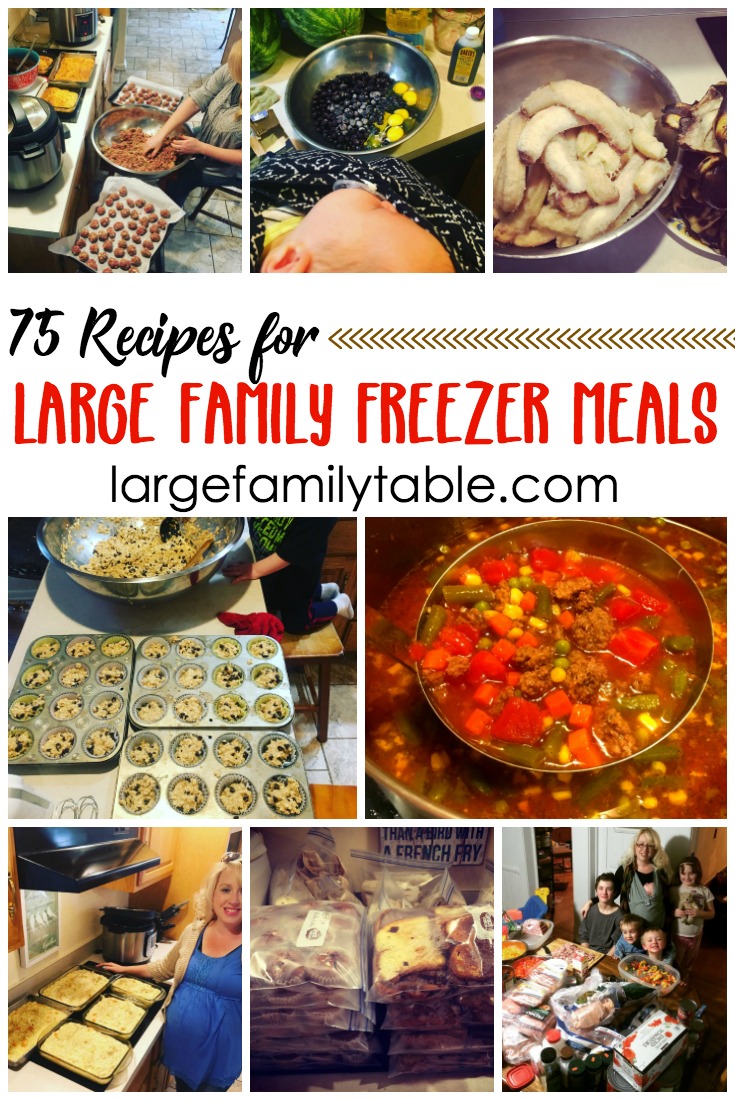 Large Family Freezer Meal Recipes
13 Large Family Breakfast Freezer Meals
Large family freezer meal recipes aren't just for dinner. If you've got an early appointment or a hectic morning, pull one of these freezer breakfast meals out and start your day off right.\Take a stack of these sausage and egg cups out of the freezer the night before your busy morning, and you've got a quick and easy protein-packed breakfast for your family.
Homemade biscuits can be eaten anytime, but breakfast is prime time for them. Serve them with eggs and breakfast meat, and you're on your way to a great day!
Homemade blueberry pancakes are a yummy and filling breakfast. You can also spread them with peanut butter for a protein-packed snack.
Stock your freezer with homemade chocolate chip pancakes. Then, your family can pop them in the microwave or toaster for a steaming hot breakfast.
My family loves French toast. It's so time consuming, though. So, I opt to make large batches to stock my freezer. The kids can warm them in the microwave for a quick, hot breakfast.
Baked oatmeal blueberry muffins can be made ahead and frozen for busy mornings. You'll have a delicious breakfast without a lot of hassle.
Mix up a huge batch of baked oatmeal chocolate chip muffins. Enjoy them straight from the oven or pop them in the freezer for later.
No matter what fruit you have on hand, you can whip up a few loaves of freezer fruit bread to enjoy with your family.
From freezer to plate, these egg and sausage burritos take just a minute or two to heat up in the microwave. This is a great way to serve a hot breakfast on a busy morning.
It's super easy to serve fresh waffles for breakfast without resorting to the frozen food section at the grocery store. Mix up a huge batch of homemade waffles, thaw them in the fridge, and then heat them up in the microwave for breakfast.
Baked oatmeal applesauce muffins taste like breakfast cake, but they're much quicker and easier to make.
These ham, egg, and cheese breakfast bagel sandwiches are perfect for packed lunches and breakfast on the go!
Baked oatmeal is great for breakfast! It is easy to adapt the recipe to accommodate the ingredients you have on hand.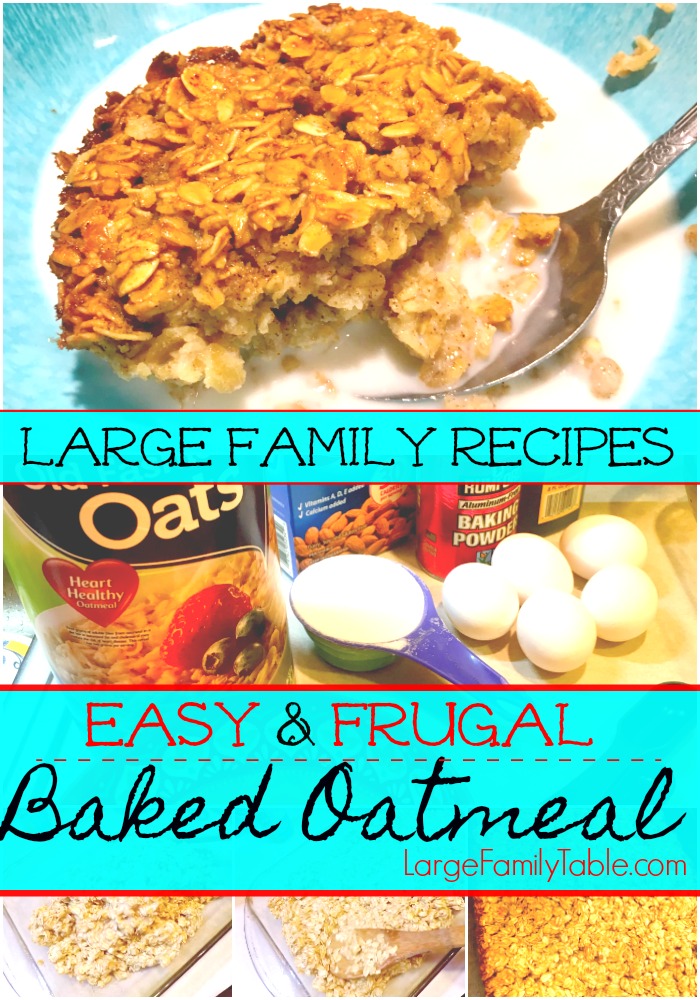 3 Freezer-Friendly Desserts
Ooey, gooey, peanut butter and chocolate chips! Yes, please! This batch of homemade peanut butter chocolate chip cookies makes 12-15 dozen cookies. Perfect for family gatherings or for stocking the freezer!
Homemade ice cream sandwiches are sure to be a hit with your family!
This freezer-friendly apple crisp is easy to make, and it's a great way to use up an overabundance of apples in the fall.
4 Freezer-Friendly Lunches
English muffin pizzas can be topped with your family's favorite pizza toppings. Serve them with veggies or fruit, and you've got a hearty homeschool lunch.
Freezer-friendly grilled cheese sandwiches are super simple to make, and the kids can help cook them when you're ready to serve them.
With a brand new school year on the horizon, you can make a huge batch of homemade hot pockets to freeze for your kids' school lunches.
Make a couple of loaves of peanut butter and jelly sandwiches, pop them in the freezer, and you've got the foundation of a quick-and-easy lunch or kid-friendly snack.
2 Freezer-Friendly Side Dishes
Mashed potatoes are the perfect side dish for so many meals. So, I bulk cook potatoes, whip up a ton of mashed potatoes, and freeze them for sides and casseroles.
My family loves homemade cornbread. This recipe mixes up super fast, and you'll have plenty in the freezer to enjoy anytime you like.
Freezer-Friendly Prep Work
Sometimes, it pays to do a little prep work in order to make your freezer meal cooking sessions go smoother.
I like to make a big batch of spaghetti sauce in my electric pressure cooker. Stock your freezer with homemade spaghetti sauce, and you've got the start of your favorite pasta meals.
It's super easy to whip up several batches of pizza dough in my bread machines. Top them with your family's favorite pizza toppings, and save money by not ordering out.
You can have the base for many of your family's favorite chicken meals when you pre-cook a bunch of chicken breasts and store them in the freezer for later.
Whether you're making spaghetti and meatballs, meatball subs, or Swedish meatballs… having a huge stash of homemade meatballs in your freezer is going to make the job go fast!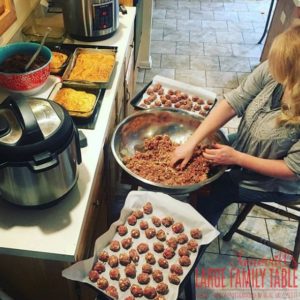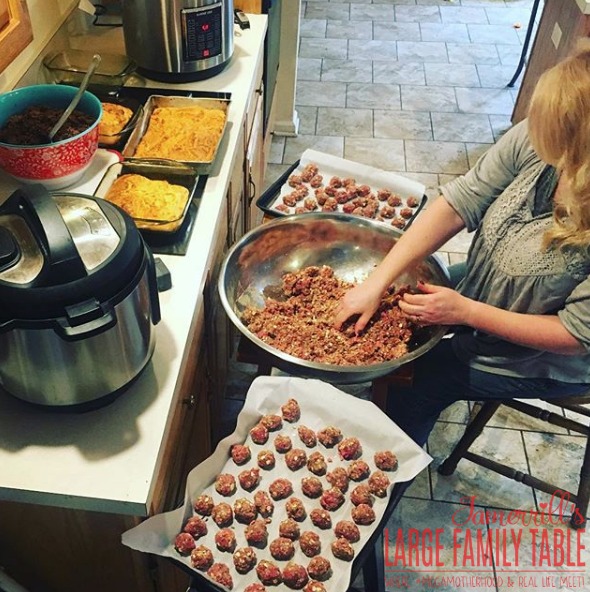 Large Family Freezer Meal Dinners
Baked egg rolls are great for a quick lunch or dinner. They work great as a side dish for your favorite Chinese food, too.
Enjoy hot and tangy Sesame Orange Chicken for dinner. It goes great with the egg rolls I mentioned above.
This large family chicken pot pie recipe makes 4 pans! Enjoy some for dinner and eat the rest for lunch the next day.
With savory sausage, various veggies, and cheese tortellini, this quinoa tortellini sausage soup is sure to please the whole family.
Mini meatloaves are a fun spin on hearty meatloaf. They freeze wonderfully and make the perfect lunch or dinner meal the whole family will enjoy.
This hearty vegetable beef soup is one of my favorite freezer meal soups. It's easy to freeze, quick to reheat, and perfect any time of year!
You can enjoy twice baked potatoes for the freezer as a side dish or for a quick and filling dinner for a large family.
This burrito pie freezer meal is one of my husband's all-time favorite freezer meals.
This hearty baked beef macaroni and cheese will feed your family quickly on even your busiest of days.
Use some of the frozen chicken breasts you've stashed in your freezer (see link above), and you'll be on your way to a wholesome family freezer meal. Serve this double layer chicken parmesan bake over noodles or on its own.
This sausage and spinach fried rice is a fun twist on a classic fried rice recipe.
Homemade slow cooker sloppy joes taste so much better than the sauce that comes out of a can!
I love having classic comfort foods in my freezer, and this shepherd's pie freezer meal is one of our favorites. I like to make several pans at once to feed my family for a few meals.
It's so easy to stretch a pan of easy baked spaghetti. Use homemade spaghetti sauce (link above) or your favorite jarred sauce for a quick and easy one-pot meal.
I am of the opinion that barbecue sauce makes everything taste better, and this BBQ meatloaf recipe is no exception!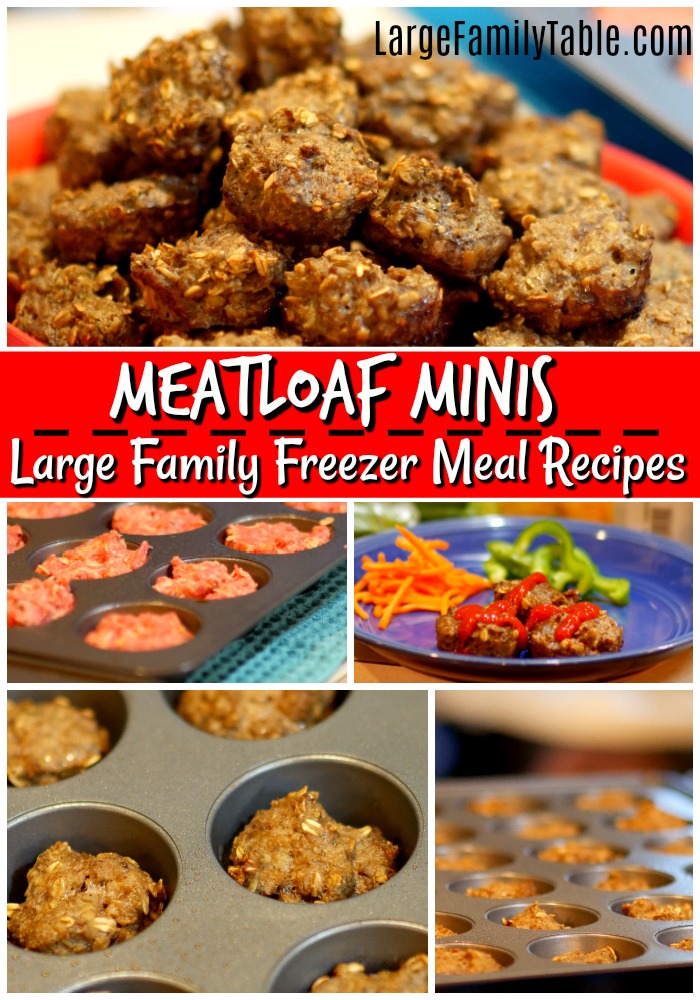 Rosemary garlic chicken is super simple to throw together, and it smells so nice at the end of a busy day.
Stocking my freezer with parmesan turkey burgers is helpful on days that run long or if we have a busy evening.
If you can find a good deal on ground beef, you can enjoy your own hot, juicy hamburgers with your family.
Tuna cakes can be time consuming to make on busy days. I like to fill my freezer with them so we can enjoy them after a busy day of homeschooling.
You don't need fancy ingredients to feed your family well. Slow cooker garlic and lemon chicken is easy to make, and it goes easily with your family's favorite side items.
Treat your family to a "fancy" meal at home with you serve this slow cooker chicken teriyaki freezer meal.
Enjoy a batch of creamy ranch pork chops with your family. It goes well with corn, salad, and bread.
Grab a hunk of your favorite beef and a ton of broccoli, and enjoy this hearty and flavorful broccoli and beef slow cooker meal.
Top this pizza casserole oven bake with your family's favorite pizza toppings, and it'll be your family's new favorite meal.
This chicken broccoli alfredo noodle bake is easy to customize and adapt to your family's taste.
My version of chicken tater tot casserole provides a fun twist on an old favorite! My kids gobble it up!
If your family loves ham, cheese, and potatoes, you'll definitely want to double (or triple) this ham and cheese potato bake.
Taco Tuesday is easy when you pull a few pans of this taco bake out of the freezer for dinner.
Freezer friendly stuffed shells freeze well and reheat nicely. Add a salad, garlic bread, and some fruits or veggies for a well-rounded meal.
Kielbasa and cheesy broccoli bow tie bake is super frugal, and it's perfect for the freezer.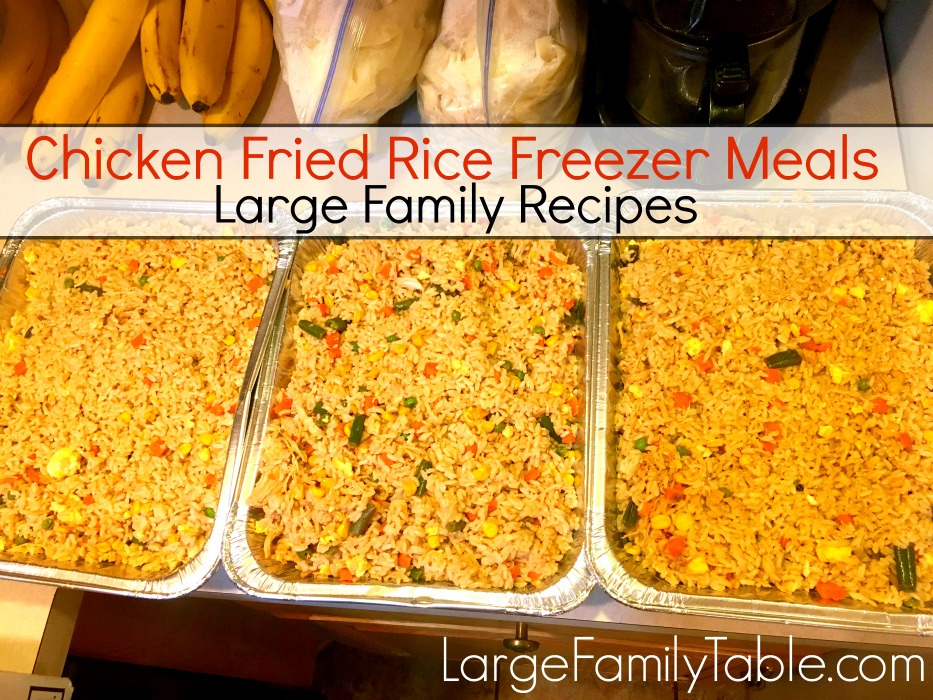 Chicken fried rice can serve as a stand-alone meal or as a side. It will feed a crowd, and it's easy to adapt it to use whatever meat and veggies you have on hand.
I've been making some version of this beef stroganoff freezer meal for over 20 years! It's a family favorite at my house.
Everyone in my family loves baked ziti. I love it because it's an easy freezer meal to prepare and stock the freezer with.
Tuna noodle casserole is one of the very first oven bake recipes I learned to make. You can't go wrong since you can use any noodles and veggies you have on hand.
Slide a pan or two of lasagna in the oven for an easy and frugal meal. Serve with salad and garlic bread for a hearty dinner.
Chicken enchiladas are another quick and easy dinner to have in your freezer meal stash.
I make chicken, broccoli, and rice casserole about once a month. This is a simple meal that is easy enough to put together at the last minute.
Dinner doesn't get any easier than slow cooker Italian chicken. All you need is frozen chicken breasts and some Italian dressing, and you're good to go!
Have you ever tried cooking meatloaf in your slow cooker? It's super simple, and it's easy to make more than one at a time. Eat one for dinner tonight, and toss the other in the freezer for later.
Busy day? Try making chicken crockpot nachos. It's one of the easiest dump recipes for your crockpot.
You can serve a hot home-cooked meal even on your busiest days when you mix up a batch of Mexican quinoa. Serve it on its own or as a side. Double or triple it, and freeze the extras for later.
Crockpot easy pulled pork can be served as sandwiches or alongside your favorite side dishes. Leftovers can be frozen for future meals.
Slow cooker chunky beef stew is packed with vegetables and beef. It's big on flavor. Comfort food at its very best!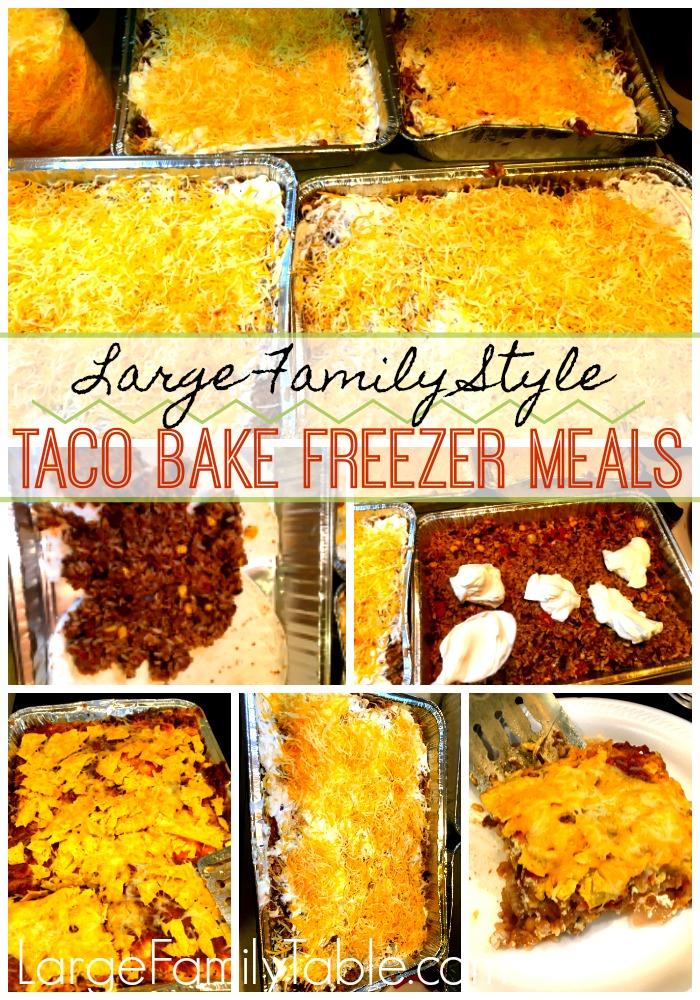 Slow cooker ranch chicken tacos can be prepped ahead of time and topped with your favorite toppings for an easy meal to feed your family.
Slow cooker lemon pesto chicken is perfect served over pasta or rice. And, it's freezer-friendly!
This taco rice casserole makes two pans, but it's easy to double or triple it to suit your family size.
These easy lasagna rollups are perfect! You can use your favorite lasagna recipe. Make up a bunch ahead of time, and you'll have a freezer stocked full of hearty bite-sized lasagna meals for the family.
Swiss cheese chicken and stuffing bake is perfect for picky eaters because it doesn't have any "yucky" ingredients in it.
Chicken parmesan meatball casserole has all the flavor of chicken parmesan without the hassle of frying chicken!
This freezer to crockpot scalloped potatoes and ham is a hearty meal and it's easy to prep. Just dump the ingredients in the crockpot, and you're all set with dinner on a busy day.
All the delicious flavor of a cheeseburger rolled into one simple recipe. This cheeseburger casserole is sure to become a family favorite!
I hope you have found at least a few large family freezer meal recipes to try!
MORE LARGE FAMILY FREEZER MEAL RESOURCES
And while you're at it don't miss snagging the Large Family Freezer Meal Bundle!
Don't forget to grab the FREE MEGA FREEZER MEALS PLANNING PACK!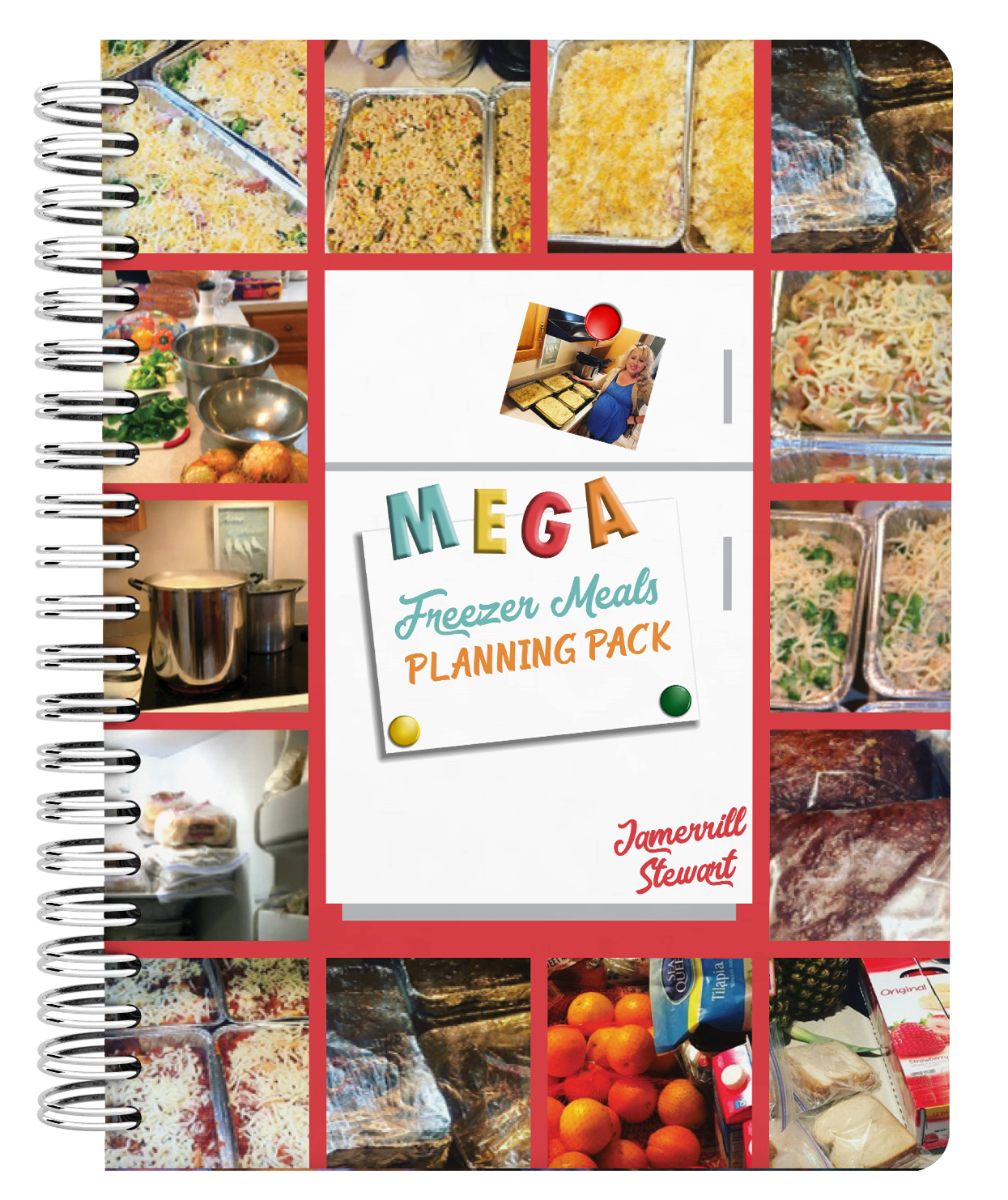 I've created a free mega freezer meals planning pack to help you plan your next freezer cooking day! It's 8 pages of freezer meal planning goodness!!
What's included in the Mega Freezer Meals Planning Pack
Freezer Inventory
Plan Your Freezer Cooking Day – Phase One
Plan Your Freezer Cooking Day – Phase Two
Weekly Freezer Meal Planning
Monthly Freezer Meal Planning
Freezer Meal Labels
Family Favorites Freezer Meals Recipe List
What To Freeze/What Not To Freeze – Reference Page
Get your Mega Freezer Meals Planning Pack here, today!