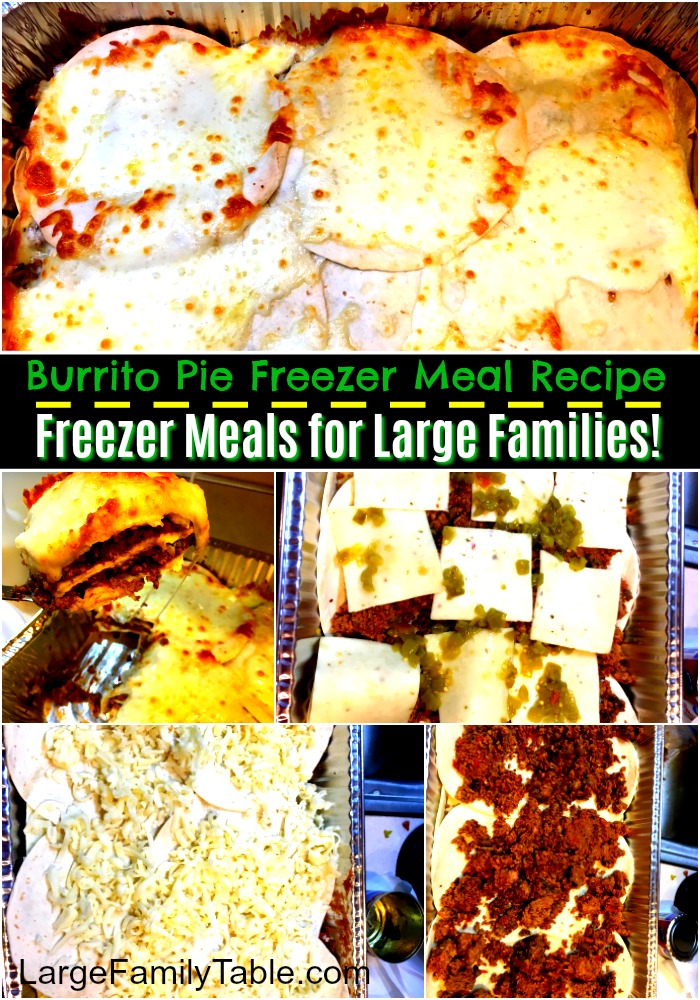 My husband awarded this Burrito Pie Freezer Meal Recipe as being one of his very favorite all-time freezer meals. I made three large deep dish 19 x11 pans during my recent freezer meals for dayzzzz big batch cooking times.
I said with my deep dish Macaroni and Cheese Freezer Meal that that meal would end up being two to three meals for our family (large family leftovers isn't always a thing 🙂 ). However, this deep dish Burrito Pie Freezer Meal Recipe was more like ONE hearty meal with just a bit of leftover for a few folks for the following day's lunch. I will say though I usually serve extra side dishes to stretch our meals such as salad, applesauce, or other fruits and veggies. The three times over about 6 weeks when we had this Burrito Pie Freezer Meal it pretty much WAS the entire meal. Stretch it as you'd like!
If you enjoy this large family recipe you might also enjoy this Chicken Enchilada Freezer Meal Recipe and another big family favorite, my large family Taco Bake Freezer Meal Recipe! I made several pans of both last summer for my postpartum freezer meals. It was a blessing to have a filled freezer and to not have to think about food during that sweet new baby time.

Print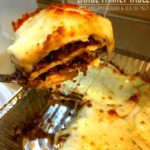 Burrito Pie Freezer Meal Recipe | Freezer Meals for Large Families!
---
Description
Enjoy this wonderful Burrito Pie Freezer Meal with your large family! One 19 x 11 pan feeds our family of ten once with a few leftovers. It's a family favorite.
---
Ingredients
Five bags of 10 tortillas (50 tortillas total)
10 lbs of cooked ground beef
2-3 diced green peppers
1 diced onion
1 cup of taco seasoning (yes, this is for all of that meat! I buy taco seasoning in bulk or you can make homemade)
Four 16-oz cans of refried beans
Four 7-oz cans of green chilies
12 cups of shredded provolone cheese
Four 16-oz packs of sliced pepper jack cheese (each pack has 24 slices)
---
Instructions
To Make Burrito Pie Meat Mixture
Cook 10 lbs of ground beef along with 2-3 diced green pepper, onion, and 1 cup of taco seasoning. I cook my ground beef in a variety of ways (slow cooker, pressure cooker, roaster oven, conventional oven, or two big pans on the stove).
Once ground beef is fully cooked, crumbled, and drained add in and mix thoroughly four 16-oz cans of refried beans.
To Assemble The Burrito Pie Freezer Meals
Layer the bottom of each deep dish pan with 6 flat tortillas
Add a layer of meat mixture on top of tortillas
On top of meat mixture spread out approximately 15 slices of pepper jack cheese
Top cheese slices with about 1/2 of one 7-oz can of green chilies
Start next layer with 6 flat tortillas
Repeat steps above
End with 6 tortillas topped off with 4 cups of shredded cheese. Use your favorite shredded cheese. In this recipe, I used shredded provolone.
To eat right away place pan in preheated oven at 375 with a tented foil lid for 15 minutes. After 15 minutes remove foil lid and allow Burrito Pie to cook an additional 15 minutes or until hot and bubbly.
Freezer meal directions below
---
Notes
FREEZER MEAL STORAGE DIRECTIONS
Allow your meals to cool completely before placing in the freezer.
Wrap each pan with two layers of foil.
Label the top of each pan with recipe name and date.
Wrap each pan with a layer of plastic wrap.
Set each pan to freeze in the freezer. Do not stack the pans on top of one another until each pan is individually frozen.
FREEZER COOKING DIRECTIONS
Set the pan out in the refrigerator the evening before you'd like to serve them.
Preheat your oven to 375 (oven times may vary).
Remove plastic wrap and one layer of foil.
Place in preheated oven for 1 hour or until heated through.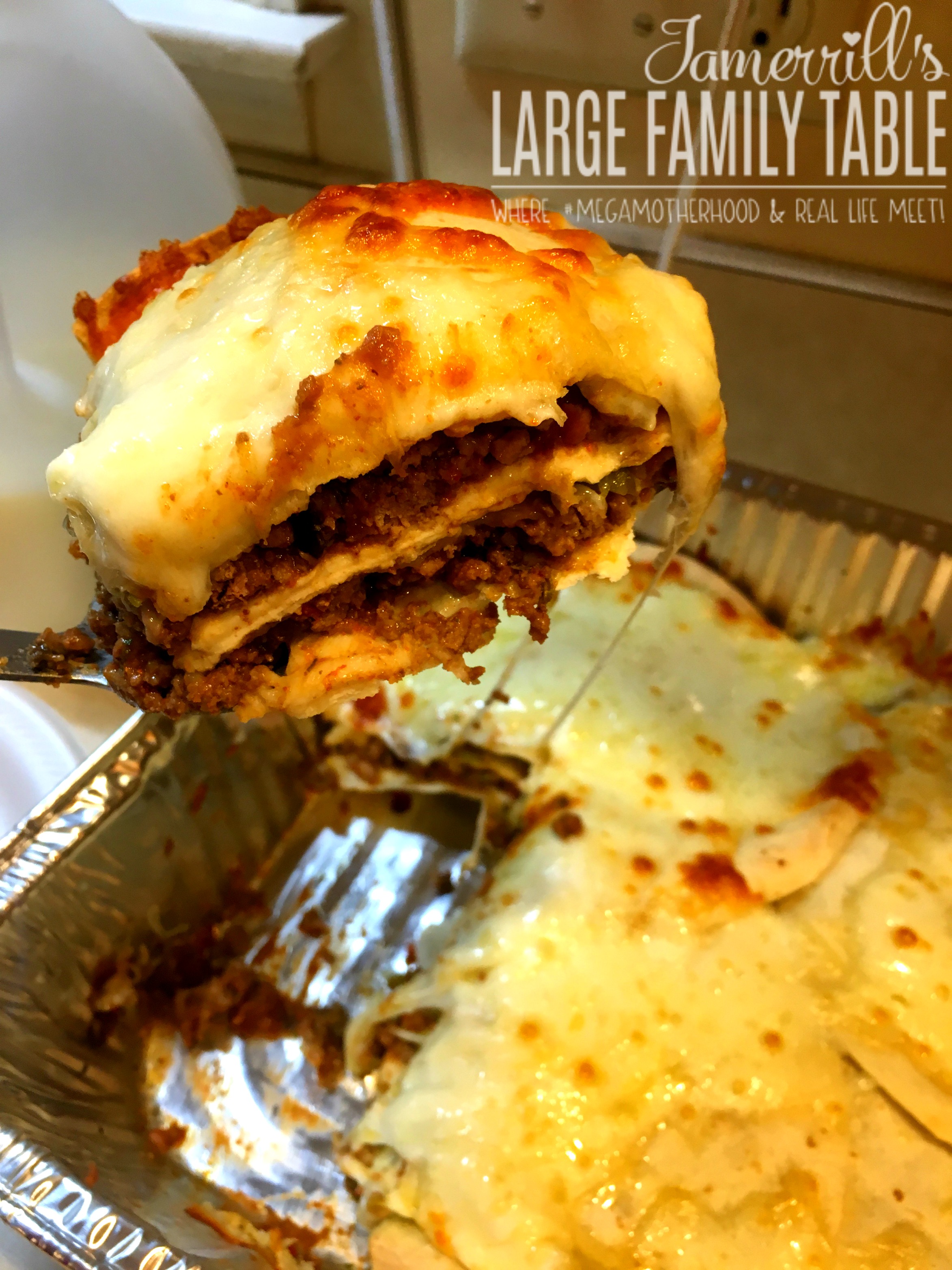 This Burrito Pie Freezer Meal Recipe would go perfectly with steamed corn on the cob and a big slice of watermelon! You can tell I'm ready for summer 🙂
Don't miss the FREEZER MEALS FOR DAYZZZZZ! Bulk Cooking for a Large Family which featured this new large family freezer meal recipe. You might be interested in all of these large family freezer cooking days and the growing collection of large family freezer meal recipes! If you're just getting started making freezer meals I have a list of my must-have large family freezer meal supplies here for you. xoxo
More Large Family Posts You Might Also Enjoy
Double Layer Chicken Parmesan Bake | Freezer Meals for Large Families!
11 Things Large Family Moms Can Stop Worrying About
BIG Freezer Meals Prep Day for LOTS of Large Family Freezer Cooking!
TWO Large Family Moms + ONE Restaurant Depot Supply Warehouse
English Muffin Pepperoni Pizzas for the Freezer | Large Family Freezer Meals