Freezer Meals for Large Families
This Double Layer Chicken Parmesan Bake is one of those great freezer meals for large families! I was able to batch cook the shredded chicken that was needed for these five 9×11 pans in my trusty Instant Pot (you can see all of my favorite large family freezer cooking supplies here!).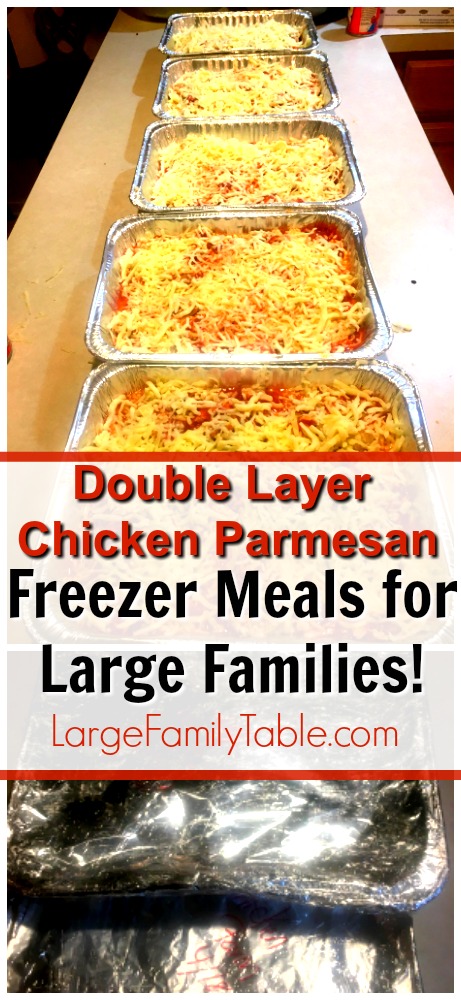 This Double Layer Chicken Parmesan Bake can be eaten on its own with additional veggie side items. You can also serve it over various noodles – my favorite is over spaghetti squash (here's how I cook my spaghetti squash in the Instant Pot).
Print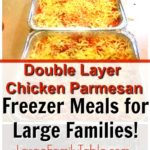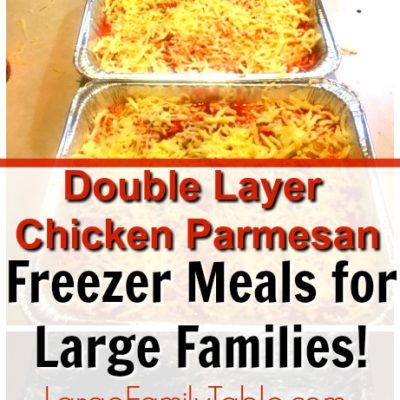 Double Layer Chicken Parmesan Bake | Freezer Meals for Large Families!
---
Description
This Double Layer Chicken Parmesan Bake is a wholesome large family freezer meal! Serve over your favorite noodles, spaghetti squash, or zoodles! This recipe makes FIVE 9×11 pans to help feed your freezer.  Because we serve this recipe over noodles one pan seems to feed our large family of ten twice.
---
Ingredients
12 lbs of frozen boneless/skinless chicken breast cooked and shredded
4 quarts homemade spaghetti sauce (or four 32-oz jars)
5 lbs of shredded mozzarella cheese
---
Instructions
Layer each 9×11 pan with 4 cups of precooked, shredded, chicken
Pour 3 cups of your favorite pasta sauce on top of the 4 cups of chicken
Sprinkle 3 cups of shredded cheese as the next layer.
Repeat layers once to make a "double layer."
Top with remaining shredded cheese.
For immediate meal bake at 350 degrees for up to 30 minutes.
---
Notes
FREEZER MEAL STORAGE DIRECTIONS
Allow your meals to cool completely before placing in the freezer.
Wrap each 9×11 pan with two layers of foil.
Label the top of each pan with recipe name and date.
Wrap each 9×13 pan with a layer of plastic wrap.
Set each pan to freeze in the freezer. Do not stack the pans on top of one another until each pan is individually frozen.
FREEZER COOKING DIRECTIONS
Set the desired pans of Double Layer Chicken Parmesan Bake out in the refrigerator the evening before you'd like to serve them. (This recipe is so protein heavy that ONE pan will still feed our family of ten with noodles added and leave leftovers.)
Preheat your oven to 350 (oven times may vary).
Remove plastic wrap and one layer of foil.
Place in preheated oven for 1 hour or until heated through and hot and bubbly.
This Double Layer Chicken Parmesan Bake is one of the large family meals I completed during my recent freezer meals prep day! Click here to watch the freezer cooking YouTube vlog to see it in action.