On my recent freezer meals prep day I also got a few large family recipes completed, besides prepping tons of food for upcoming large family freezer meals. I made over 120 of these English Muffin Pepperoni Pizzas for the freezer, too! These English Muffin Pizzas can really be topped with whatever your heart's desire. As always, make these work for you!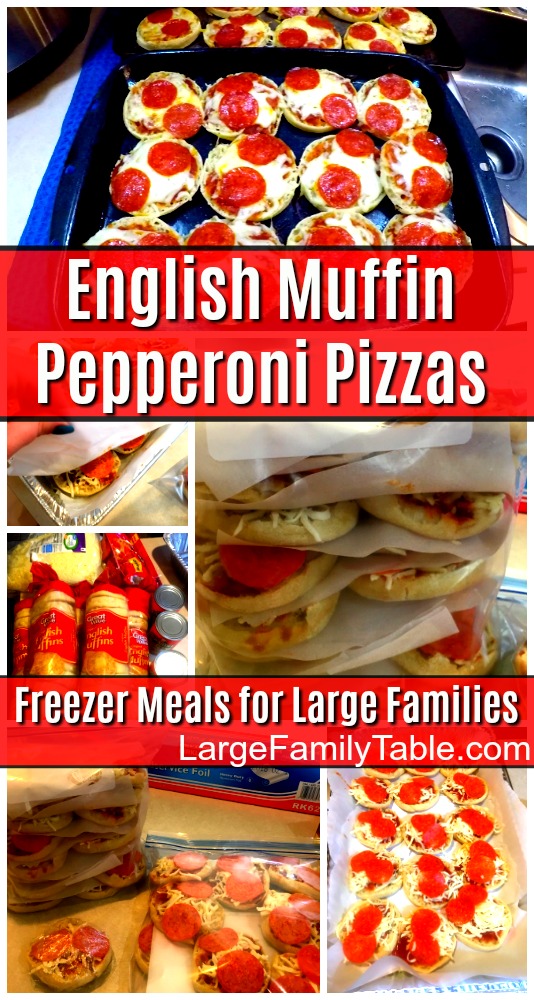 I was tagged in another long thread with several homeschool moms who are desperate for homeschool lunch ideas today on Facebook. These English Muffin Pizzas are perfect to change up and add a fun meal for your homeschooling kiddos! We try to keep lunches simple at our house and go big for family dinner meals. Of course, if there are leftovers those *must goes* are perfect for a no-brainer homeschool lunch for the following day. Fill your freezer with these delicious pizzas for those days when leftovers aren't an option.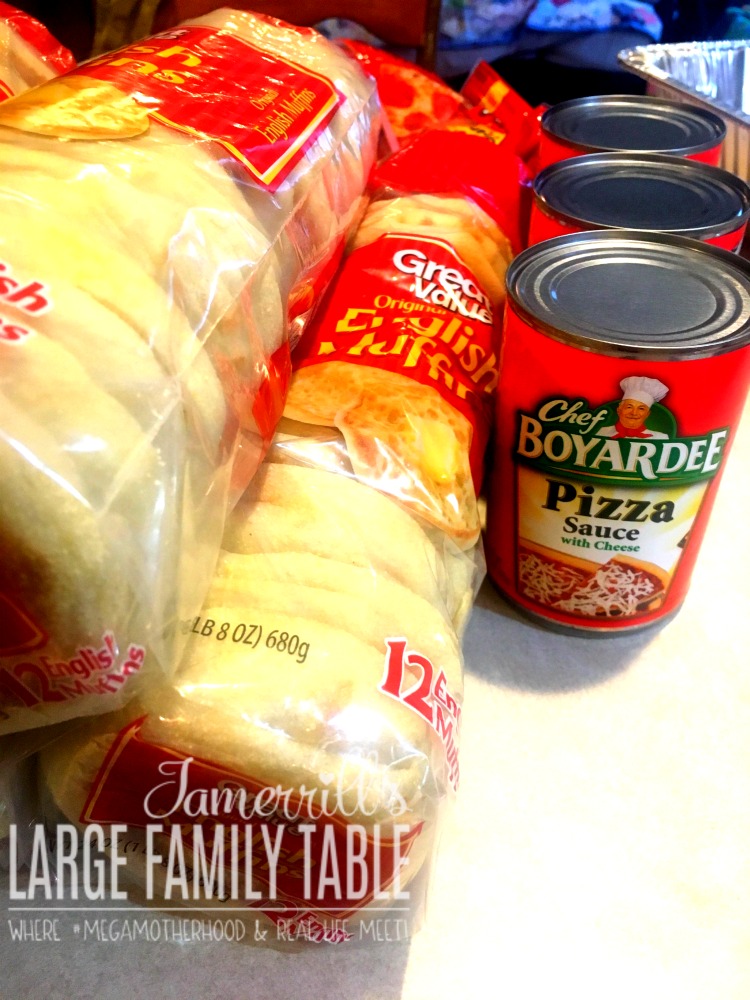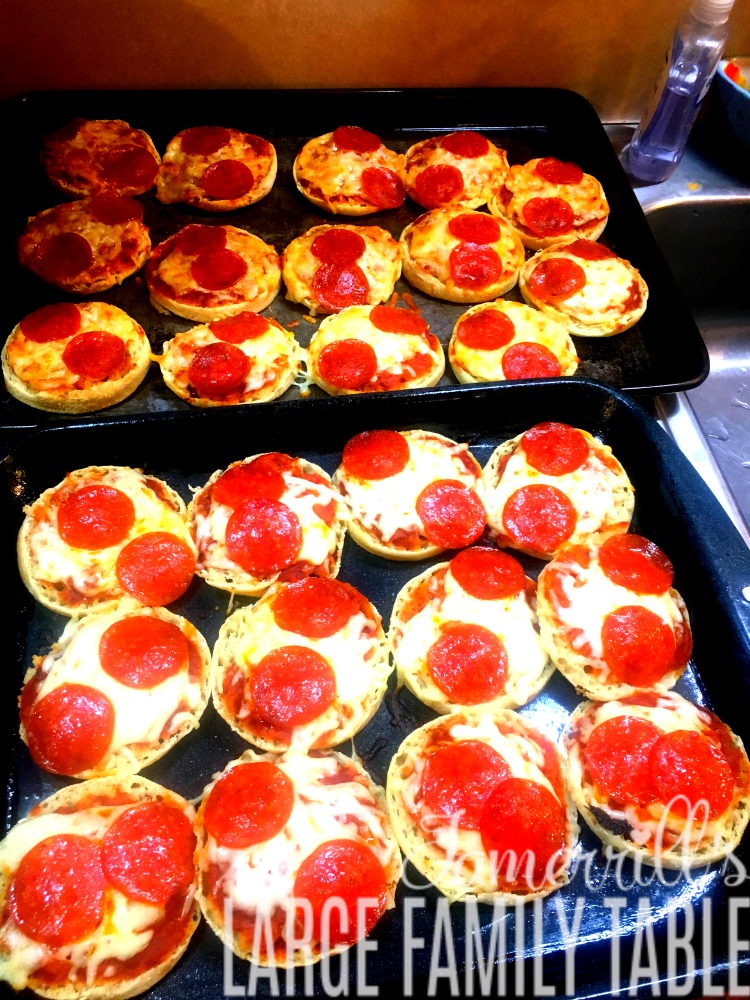 Print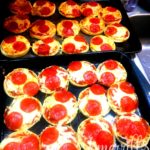 English Muffin Pepperoni Pizzas for the Freezer | Large Family Freezer Meals
---
Description
These English Muffin Pepperoni Pizzas are perfect for homeschool lunches! Serve with carrot and celery sticks or a cluster of grapes. This recipe is enough to make 120 !
---
Ingredients
Five Bags of English Muffins (I buy the Great Value brand with contains 12 English Muffins in each bag)
One 16 oz bag of Shredded Mozzarella Cheese – as always, any cheese will do 🙂
Four 15 oz cans of Pizza Sauce
One 21 oz bag of Pepperoni
Additional toppings of choice – add your favorites!
Deep dish disposable pans and parchment paper for flash freezing
---
Instructions
Cut all English muffins in half
Layout English muffins and top each half with the desired amount of Pizza Sauce
Sprinkle shredded mozzarella cheese on each English Muffin
Finally, top with two thinly sliced pepperonis
To eat immediately bake on 400 for 15 minutes
FREEZER MEAL DIRECTIONS
Flash freeze the English Muffin Pizzas in your freezer for about two hours
Remove and individually wrap or layer in gallon size freezer bags
To bake cook from frozen for 15 minutes at 400 – oven times may vary
---
Notes
In my freezer meals prep video, I share several ways you can wrap and freeze these English Muffin Pizzas. Be sure to check that out if you'd like to see the process in action.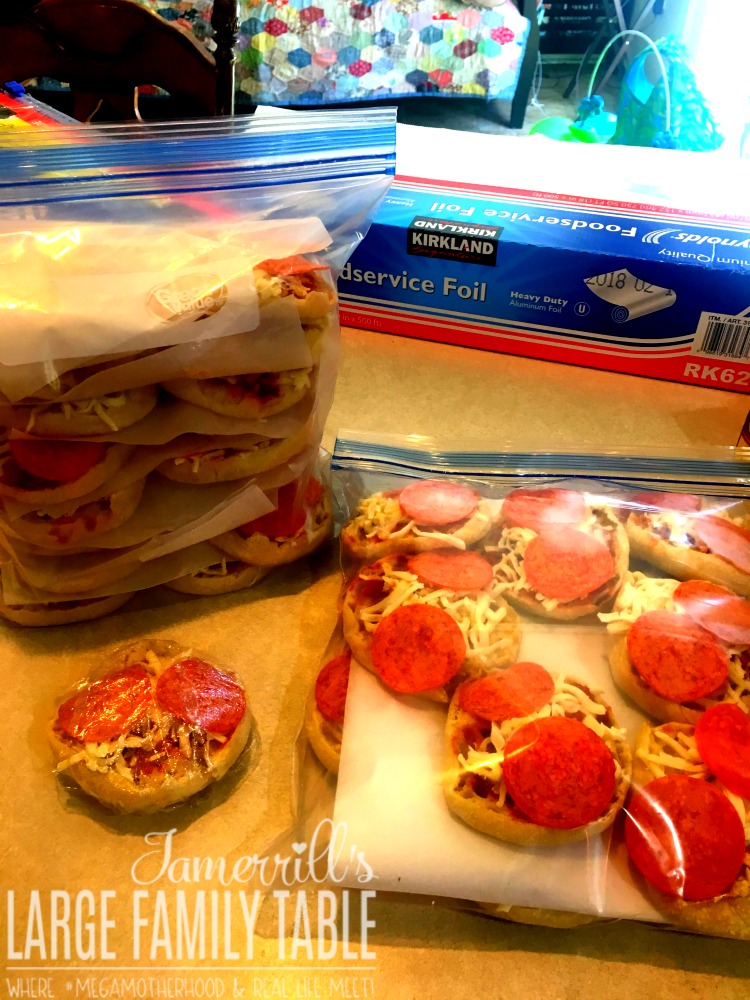 Here's the freezer meals prep day vlog where I also made these English Muffin Pepperoni Pizzas!
5-Day Freezer Cooking Challenge with Jamerrill!
FREE Freezer Cooking Quick Start Guide 17-page PDF with grocery list, recipes, full freezer cooking plan, cheat sheets, More!
I WILL HELP YOU fill your freezer with 10+ freezer meals including breakfast, lunches, & dinners!
Any family size or dietary needs can easily accommodate and follow along!