Is green bean casserole a must-have side dish or meal for your family? If so, learn how to prepare this healthier, impressive Make-Ahead Green Bean Casserole that is easy to make. You won't believe it, but this Make-Ahead Green Bean Casserole recipe ALSO has a freezer-friendly variation! Be sure to read the freezer meal directions below!!
Green bean casserole is a classic dish that has been around for quite some time. It may be a staple in your home if you make it several times a month. You might also like making it for holiday gatherings because it is the perfect side especially since you can save time and make this ahead. When it is the type of dish you enjoy eating with the family, learning how to prepare the Make-Ahead Green Bean Casserole is convenient and beneficial. You can make your casserole in advance and then reheat it when you need it. Plus, this dish is perfect for large families. It also is a great dish to serve with our Make-Ahead Slow Cooker Cranberry Sauce and our Make-Ahead Gravy.
****Use special promo code HELLO20 to take 20% off the entire MEGA DEAL get-it-all Bundle including the best-selling Large Family Freezer Meal Packs 1-12 + so much more!!****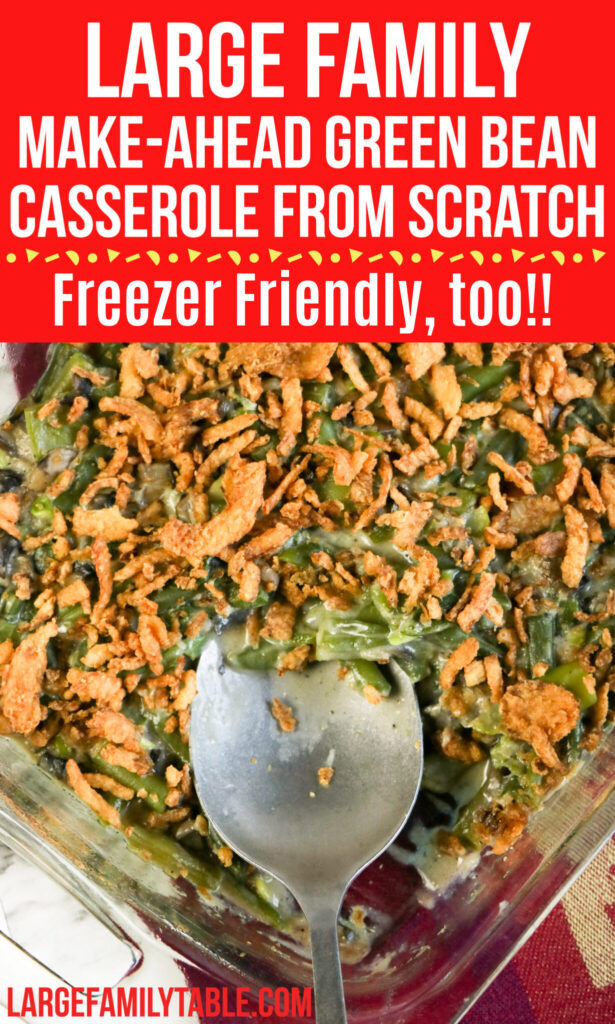 Make-Ahead Green Bean Casserole
While the traditional green bean casserole contains cream of mushroom soup, you do not need that product to create this Green Bean Casserole. Instead, you will use fresher ingredients that will give your casserole a better taste and leave your family wanting more each time they have it.
When you have difficulty getting your kids to eat their vegetables, this is a great way to prepare them. You should have no complaints when serving this dish for lunch, dinner, or even as a light and healthy side during the holiday season.
Ingredients Needed to Prepare the Green Bean Casserole
If you plan to prepare the Make-Ahead Green Bean Casserole, you should make sure to have these ingredients:
Frozen Green Beans. Use frozen green beans in this recipe to add a tasty crunch to your casserole.
Fresh Mushrooms. Rather than using the cream of mushroom soup, add fresh mushroom to the casserole for more flavor and added texture.
Chicken Broth. The chicken broth adds a chicken-like taste to this creamy casserole dish. You can also make your own using our recipe for Bone Broth here.
Half and Half. Make your casserole even creamier by using half and half when making it.
Unsalted Butter. You cannot go wrong with using butter in this dish because of the flavor and consistency that it creates.
These are the primary ingredients you should have to prepare the Make-Ahead Green Bean Casserole, but you will need to have a few other ingredients, such as diced onion, salt, French fried onions, and pepper.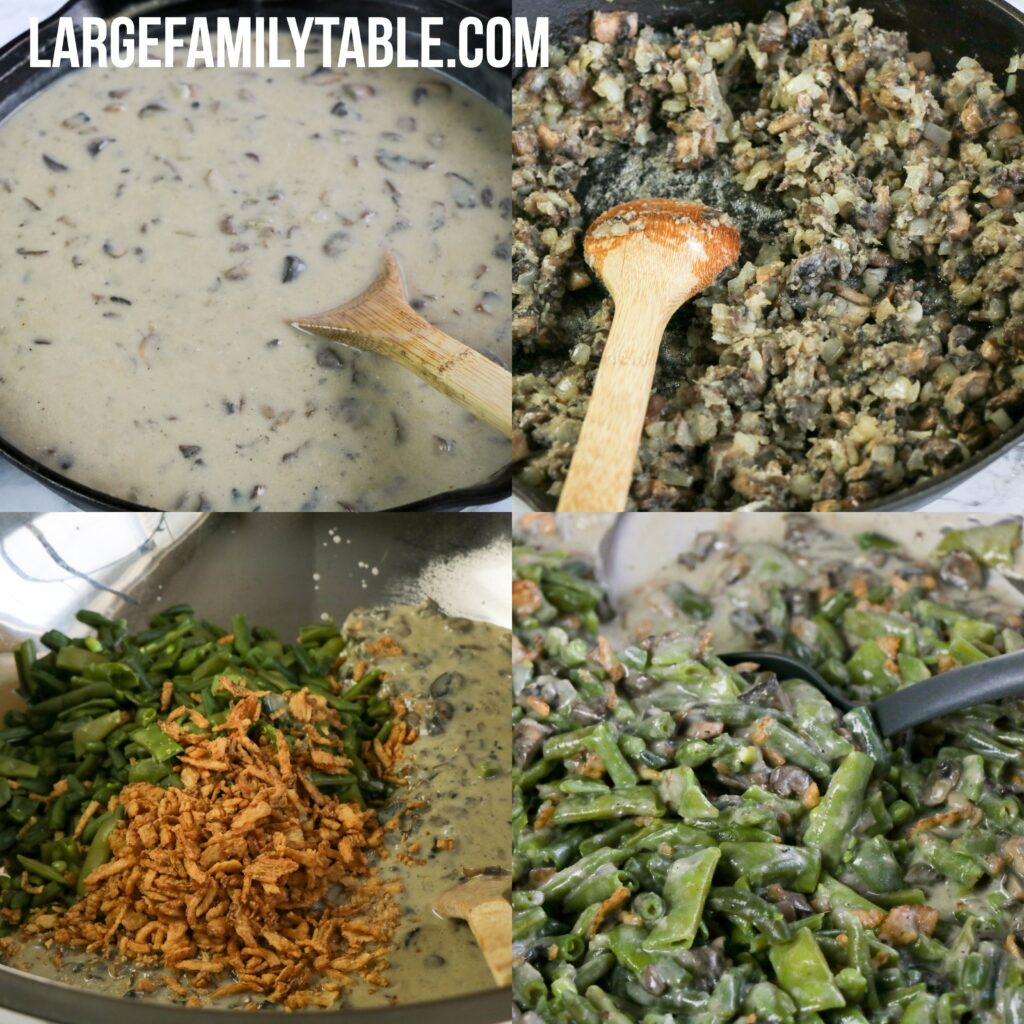 How to Freeze and Make-Ahead the Green Bean Casserole
Keep your Green Bean Casserole in the casserole dish, cover it with plastic wrap, and then cover it with a sheet of foil. Ensure both the plastic wrap and foil wrap are on the dish as tight as possible before putting it in the fridge and storing it for up to three days. If freezing this casserole, you can keep it in the freezer for around two months.
If the casserole dish does not fit inside the freezer, you may need to transfer the casserole to an airtight food container. When you need to reheat the casserole, simply let it thaw out for about 12 hours and then put it back in the oven or microwave it to get it hot before you start serving it to your loved ones.
Need more ideas to feed your Large Family over the Holidays?
I am very excited to share this newest big-batch cookbook with you because I truly believe it will be helpful as you plan your family holiday get-together meals (or, really, any large family gathering where you need to feed a crowd)! In my Make-Ahead Holiday Meals to Feed a Crowd, you will find some of those wonderful and traditional holiday favorites like green bean casserole, stuffing, and gravy. But you also will get some "out-of-the-box" recipes that might just possibly become your family's NEW holiday favorites!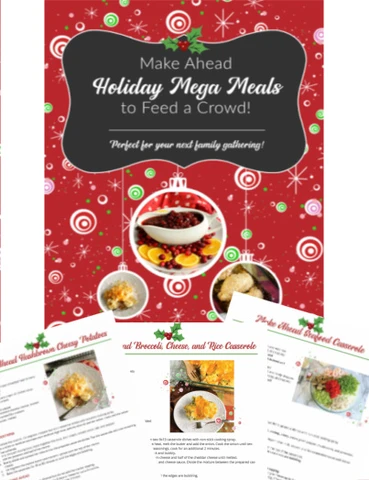 More Casseroles your Large Family will Enjoy!
Make-Ahead Green Bean Casserole from Scratch
Print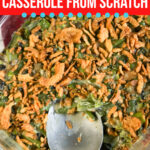 Large Family Make-Ahead Green Bean Casserole from Scratch FREEZABLE | Large Family Casseroles
Author:

Prep Time:

20 minutes

Cook Time:

45 minutes

Total Time:

1 hour 5 minutes

Yield:

2 9×13 Casserole Dishes

Category:

Dinner

Method:

Oven
---
Description
Is green bean casserole a must-have side dish or meal for your family? If so, learn how to prepare this healthier, impressive Make-Ahead Green Bean Casserole that is easy to make. This Make-Ahead Green Bean Casserole is also freezer-friendly when you follow the freezer prep directions that are also available below!
---
Ingredients
2 (28 ounce) bags frozen green beans

2 tablespoons unsalted butter

1 medium onion, diced

1 (8 ounce) package mushrooms, coarsely chopped

4 tablespoons all purpose flour

4 cups low sodium chicken broth

1 cup half and half

Salt and pepper, to taste

2 cups prepared fried onions
---
Instructions
Cook the frozen green beans according to package directions. Drain well. Place in a large mixing bowl and set aside.

Preheat the oven to 350 degrees. Prepare two 9×13 casserole dishes with nonstick cooking spray.

In a large (12 inch) skillet, melt the butter over medium heat. Add the onions and cook until translucent, about 8 minutes, stirring occasionally.

Add the mushrooms, salting as desired. Continue to cook over medium heat allowing the mushrooms to release their juices and evaporate as much as possible, for about 10 minutes. 

Sprinkle the flour over the onions and mushrooms, stirring until the vegetables have been coated with the flour.

Add the chicken broth, half and half, salt, and pepper. Bring the liquid to a boil and then reduce heat to medium-low. 

Allow the sauce to simmer, stirring constantly, until the mixture has thickened enough to coat the back of a spoon.

Pour the sauce over the green beans. 

Add about 1 cup of the fried onions to the green beans and mix until the sauce is completely incorporated.

Divide the green bean mixture between the two casserole dishes.

Place the casseroles in the oven for 30 minutes. 

Temporarily remove the casseroles from the oven to add the remaining fried onion over the top. Return the casseroles to the oven and bake for an additional 5 to 10 minutes or until the onions are slightly brown and crispy.
To make ahead and FREEZE: 
Prepare the casseroles as directed but do not bake.

Cover the casseroles tightly with aluminum foil and freeze for up to 3 months.

To bake, thaw the casseroles in the refrigerator. (Note: If using aluminum pans, you can place the casseroles into the oven frozen. Do not place glass casserole dishes into a preheated oven as this might cause the glass to break.)

If thawed, bake as directed. If frozen, bake for 45 minutes. Top with the fried onions and continue to bake for an additional 5 to 10 minutes.
Keywords: Make-Ahead Green Bean Casserole from Scratch Freezable
This tasty casserole is the perfect side for your family's holiday meal. It is also a great option if you need a dish to bring to a pot luck meal. It's easy to make and such a bonus that you can make it ahead of time and freeze it.
FREE Emergency Pantry Planning Pack!
Don't forget to sign up for the emergency pantry planning pack for free to help you plan your pantry meals! The free Emergency Pantry Planning Pack will help you plan your needed pantry items! Printable pages include pantry inventory, grocery lists, meal planners, list of pantry staple items, and more.