Make an easy Italian-style dish at home in less than an hour. This simple Large Family Baked Ravioli Freezer Meal Recipe will have you coming back for seconds and possibly even thirds. It is a meal that both adults and children love. Here are more of the best large family freezer meals!
I love eating Italian-style food, but I do not always have the extra time needed to prepare complicated meals that my children may or may not like. This is the reason why this Large Family Baked Ravioli Freezer Meal Recipe is one of my favorites for the family to have. Prep time takes less than 15 minutes, and the dish cooks in less than an hour, making it the perfect quick meal to make when we want something that will fill us up and satisfy that craving for Italian food.
*Use special promo code HELLO20 to take 20% off your first order in the shop including the SUPER MEGA ULTIMATE Large Family Freezer Meals Bundle here!**
Baked Ravioli
My kids enjoy ravioli with sauce, so this Baked Ravioli recipe is naturally a crowd-pleaser. Not only do I make it for our dinners at home, but I have also made it for special occasions because it is a meal that I know my children will devour if given a chance to do so. (Especially when I add homemade bread.) If you are looking for a new yet simple oven meal to make to switch things up at the dinner table, try this Baked Ravioli recipe. You will not be disappointed with it!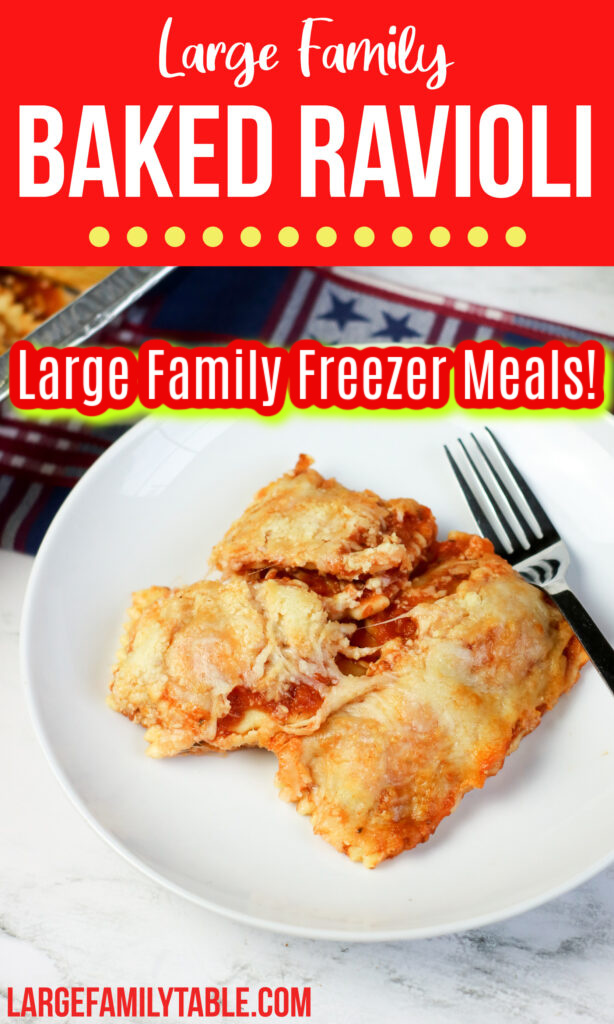 Choosing Your Ravioli For the Baked Ravioli Dish
You can buy pre-made ravioli for this recipe instead of preparing it from scratch, which would only take up more of your time. Because you are purchasing the baked ravioli from the grocery store, you will have quite the selection to choose from.
I have experimented with beef ravioli, chicken ravioli, and even four-cheese ravioli. No matter which type of ravioli I use for this recipe, everyone in the household has enjoyed it. And it is so convenient to make ahead of time and freeze until I serve it!!
The Types of Cheeses You Can Add to Your Baked Ravioli
Adding a layer of cheese to the ravioli is a great way to make it taste even more flavorful. I like to use a blend of mozzarella and provolone cheese, but you can substitute the cheese in the recipe for anything you prefer.
You can add as much or as little cheese as you would like to the top of your ravioli after covering it all with a sauce of your choosing. Do not forget to sprinkle some fresh basil leaves on top to add that perfect finishing touch to the Baked Ravioli.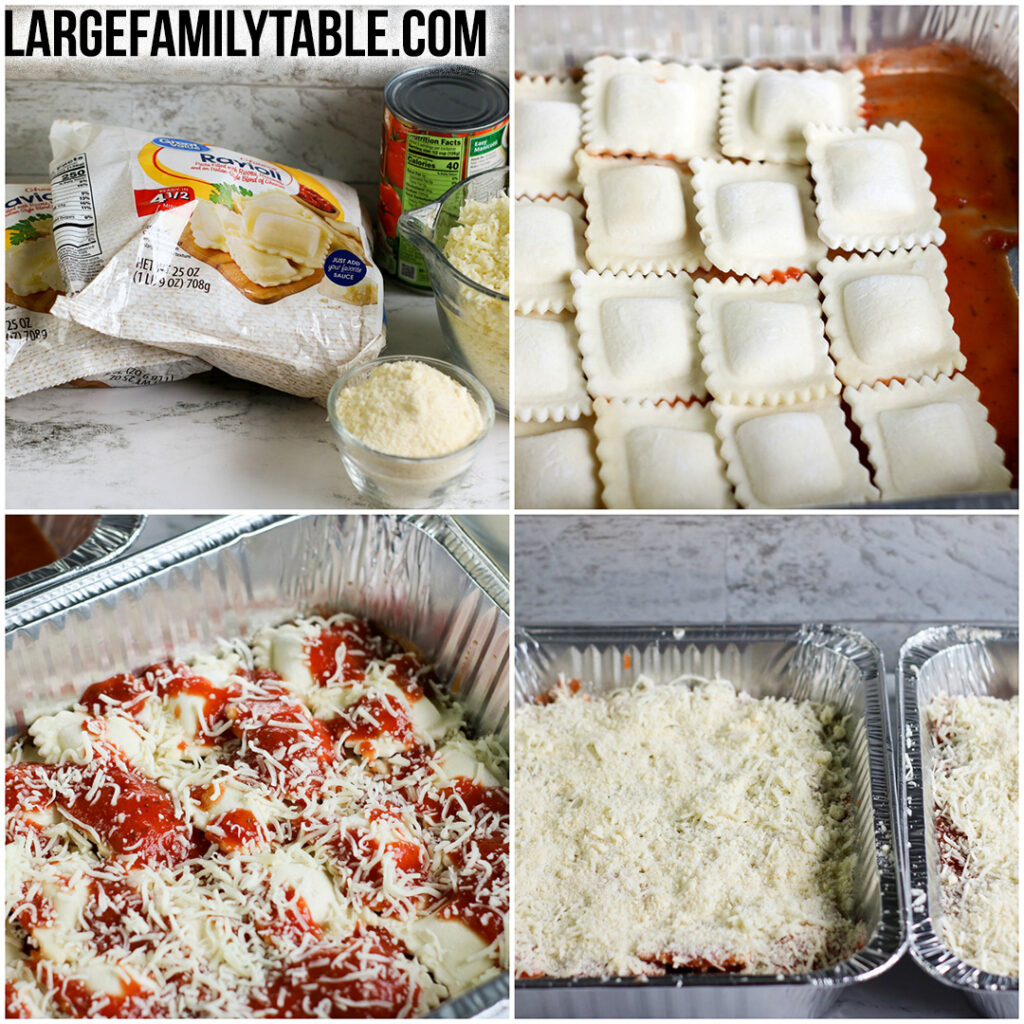 How to Store Your Baked Ravioli
If your baking dish has a tight lid that goes with it, you can leave your Baked Ravioli in the dish, cover it with the lid, and keep it in the fridge for up to four days. You need to keep it refrigerated if you plan to reheat your leftovers, or the food will go bad rather quickly.
If you are making this meal ahead of time for a special event, cover it tightly with aluminum foil, place the lid on top of the dish, and store it in your freezer. You can heat it back up for about 30 minutes in the oven after taking it out of the freezer.
Do you have more casserole recipes?
I have so many more casseroles that you will love in my shop. Check out my Classic Casserole Dinners & Freezer Meals Cookbook One for Now, One for Later! It includes 10 delicious, classic casserole recipes that will make two 9×13 casseroles each–one to eat right away, and one to put in your freezer for a later date. It's an easy and quick way to build a freezer stash.
Here are more Casseroles your family will enjoy!
Baked Ravioli
Print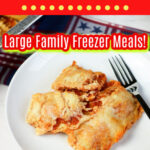 Large Family Baked Ravioli Freezer Meal Recipe
Author:

Prep Time:

15 Minutes

Cook Time:

1 Hour

Total Time:

1 hour 15 minutes

Category:

Dinner

Method:

Oven
---
Description
Make an easy Italian-style dish at home in less than an hour. This simple Large Family Baked Ravioli Freezer Meal Recipe will have you coming back for seconds and possibly even thirds. It is a meal that both adults and children love.
---
Ingredients
2 (24 ounce) cans marinara sauce

2 (25 ounce) packages frozen cheese filled ravioli

4 cups shredded mozzarella cheese

1 cup grated Parmesan cheese
---
Instructions
Prepare 2 9×13 baking dishes with nonstick cooking spray.

Spread a thin layer of marinara sauce across the bottom of each baking pan.

Add a layer of ravioli.

Top the layer of ravioli with marinara sauce, covering evenly. Sprinkle with grated Parmesan and mozzarella cheese.

Add additional layers until all of the ravioli is used. Top with remaining marinara and cheese.

Cover with aluminum foil and freeze until ready to bake.

When preparing, preheat oven to 350 degrees. Bake the covered casserole for 40 minutes. Remove foil and continue baking for an additional 15 to 20 minutes or until the edges are bubbly and the cheese has melted. 

Allow to rest for 10 minutes before serving.

 
For the slow cooker:
Layer ingredients in the slow cooker.

Cook on low for 4 to 6 hours.
Keywords: Baked Ravioli, Large Family Baked Ravioli Freezer Meal Recipe
This casserole is not only filling, but a kid favorite in our house. It's easy to make (You know I love quick and easy meals!) and tastes great. I like to make a few of these at once and put a few in the freezer. These are the perfect meal after a busy homeschool day.
FREE Emergency Pantry Planning Pack!
Don't forget to sign up for the emergency pantry planning pack for free to help you plan your pantry meals! The free Emergency Pantry Planning Pack will help you plan your needed pantry items! Printable pages include pantry inventory, grocery lists, meal planners, list of pantry staple items, and more.