When it's time for breakfast, my kids usually reach for oatmeal, cereal, or eggs, but sometimes it's nice to have something different. This Breakfast Tater Tot Casserole is perfect for any large family. It has everything you need to make a good breakfast. You can watch here to see our Large Family Meals on Vacation which included this easy Breakfast Tater Tot Casserole!
*Use special promo code HELLO20 to take 20% off your first order in the shop including the SUPER MEGA ULTIMATE Large Family Freezer Meals Bundle here!**
Breakfast Tater Tot Casserole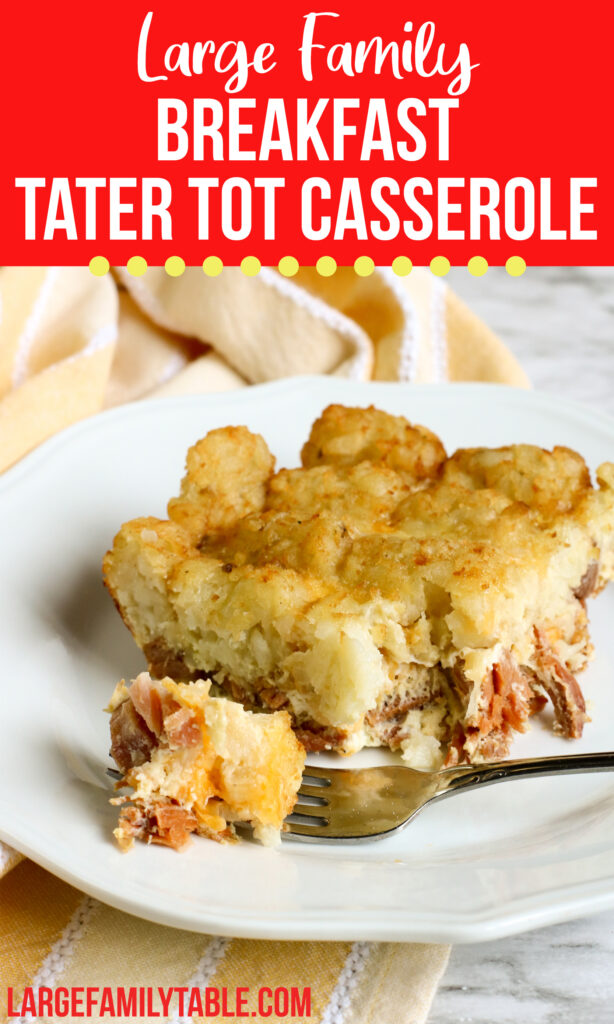 Say goodbye to standing over a stove for hours while you make everyone pancakes and French toast for breakfast. Instead, you can make this Breakfast Tater Tot Casserole. Not only does it feed everyone for breakfast, but it will make tons of leftovers. This meal will be great at any time of the day.
Ingredients for Breakfast Tater Tot Casserole
When you go to make a casserole, you may be wondering what ingredients are needed. The good thing is that NOT MANY are needed for this scrumptious meal. If you're like me and stockpile a lot of random ingredients in your fridge, you will be good to go.
Cooked and cubbed ham– Even if you're not a huge fan of ham, you will love it in this casserole. There is something yummy about ham in a casserole! Try using leftover ham from our easy Instant Pot Ham Recipe.
Shredded cheddar cheese – Oh man, if you love cheese, then you are going to love this dish. It calls for shredded cheese and that's my favorite.
Eggs – The next time you go to the store, make sure you stock up on eggs because this casserole calls for quite a bit of them.
Tater tots – One of my favorite parts of this meal is the tater tots. This ingredient makes the whole meal yummy!
Now that you know some of the ingredients, you will be super happy to know you can make this in a short amount of time. You can see the recipe card for a complete list of ingredients and instructions.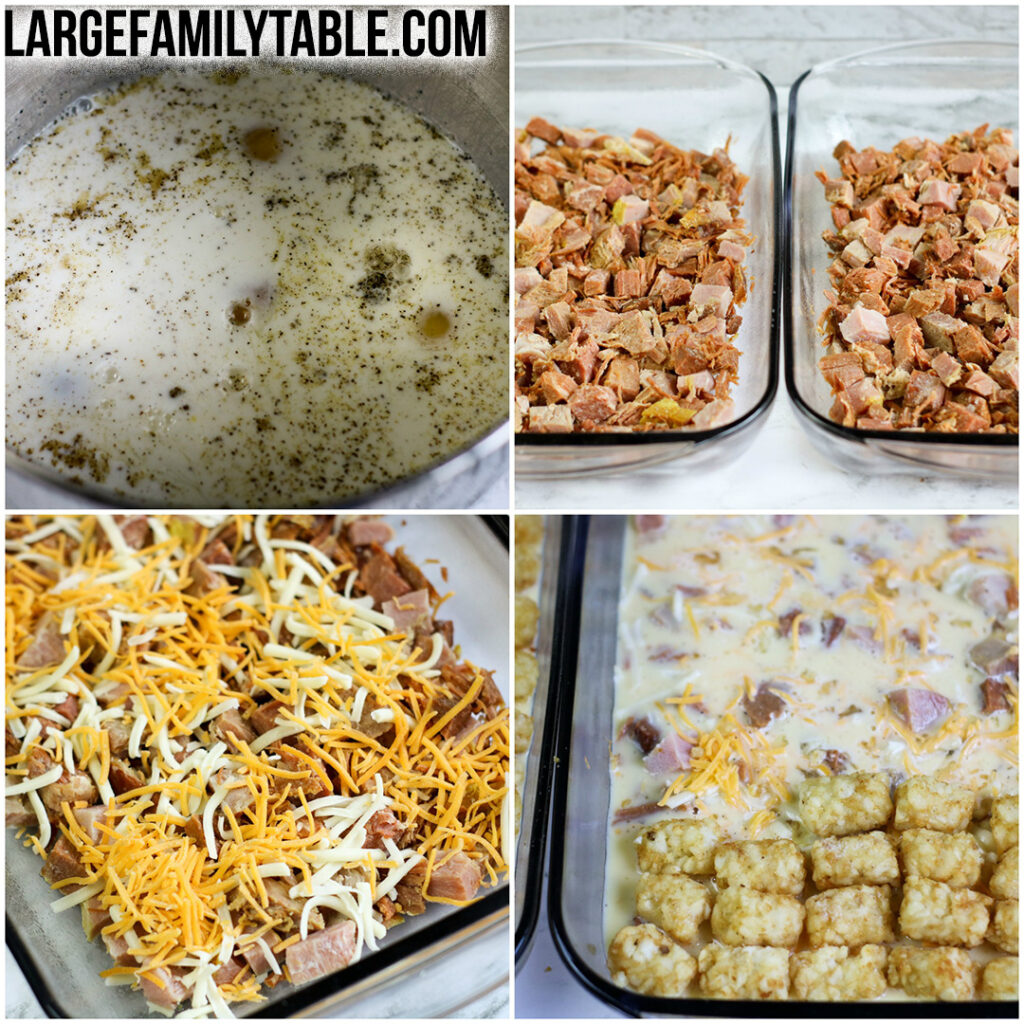 How to Freeze a Tater Tot Casserole
If you know anything about casseroles, then you know how easy it is to freeze them. I always make a double batch of casseroles. It's so much easier to pull out when I don't feel like cooking. Plus, if I want to take a meal over to another mom, I have something ready already. Simply put the casserole in an aluminum pan. I like to double seal the pan so that I don't have to worry about freezer burn. You can double seal it with saran wrap. Then cover it twice with foil and mark it so you know what it is. You can freeze this casserole before or after you bake it. If you freeze it before you bake it then just thaw it in the fridge the night before and bake as directed. If you bake it first, then just thaw it in the fridge the night before and cover and vent the casserole and bake it until heated through.
What Can I Serve With a Casserole?
The beauty of a casserole is that there is already so much there, you don't normally have to make sides. However, you can serve tater tot casserole with tons of yummy stuff! If you like toast, pancakes, eggs – you can use all of those adds sides. Sometimes I even like serving bacon. However, most people just want to offer something to drink. Serve coffee, orange juice, milk, chocolate milk, and apple juice!
This casserole makes an excellent breakfast for dinner option too. The next time you aren't sure of what to make for dinner, whip this yummy meal up! The whole family is going to love it.
Where can I find more large family breakfast recipes?
They say breakfast is the most important meal of the day!! Breakfast doesn't have to be complicated to be filling and healthy. I know it may seem easier to buy pre-made breakfast items, but you can save lots of time and money just by making breakfast ahead of time with my Breakfast Freezer Meals Pack, it's number 10 in my Large Family Freezer Meals Series. It includes 10 amazing breakfast recipes with directions to help you make 25 breakfast meals to put in your freezer!If your freezer is already full or you just don't have the freezer space, then try my Easy and Simple Large Family Sheet Pan Breakfasts which includes 10 delicious and easy breakfast meals to make your large family. Save time and money!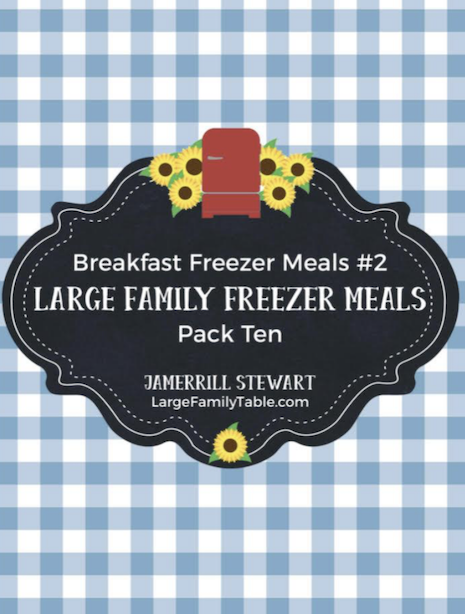 More Breakfast Recipes your Family will Enjoy
Breakfast Tater Tot Casserole
Print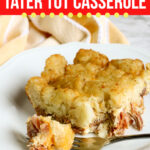 Breakfast Tater Tot Casserole | Large Family Table Breakfast
Author:

Prep Time:

15 Minutes

Cook Time:

60 Minutes

Total Time:

1 hour 15 minutes

Category:

Breakfast

Method:

Oven
---
Description
When you don't know what to cook for breakfast, this Breakfast Tater Tot Casserole will hit the spot. What a great way to feed your family and keep them full. Make TWO 9×13 pans!!
---
Ingredients
4 pounds cooked and cubed ham
1 cup shredded cheddar cheese
1 cup shredded monterey jack cheese
16 eggs
2 cups milk
1 teaspoon salt
½ teaspoon black pepper
½ teaspoon onion powder
2 bags frozen tater tots
---
Instructions
Preheat the oven to 350 degrees. Prepare two (9×13) casserole dishes with nonstick cooking spray.

Divide the ham between the two casserole dishes, creating an even but NOT packed layer.

Top the ham with a layer of the cheeses.

In a large bowl, whisk together the eggs, milk, and seasonings. Pour over the ham and cheeses.

Finish the casseroles with an even layer of tater tots.

Bake for 60 minutes or until the eggs are completely set.
Keywords: Tater Tot Breakfast Casserole
Making breakfast for your large family is easy using casseroles like these! I also like to make them ahead of time and freeze them. It's also a time saver to make them the night before. Then they are ready to go in the morning. Enjoy this delicious casserole!
FREE Emergency Pantry Planning Pack!
Don't forget to sign up for the emergency pantry planning pack for free to help you plan your pantry meals! The free Emergency Pantry Planning Pack will help you plan your needed pantry items! Printable pages include pantry inventory, grocery lists, meal planners, list of pantry staple items, and more.