Big Family Bread Machine Cinnamon Sugar Pretzels are a fun snack on any rainy afternoon, or maybe a great addition to your Saturday morning breakfast! This yummy Big Family Bread Machine Cinnamon Sugar Pretzels is sweet, warm and a comforting way to feed all of your people! It's an easy recipe to create using your bread machine.
****Use special promo code HELLO20 to take 20% off the entire MEGA DEAL get-it-all Bundle including the best-selling Large Family Freezer Meal Packs 1-12 + so much more!!****
Big Family Bread Machine Cinnamon Sugar Pretzels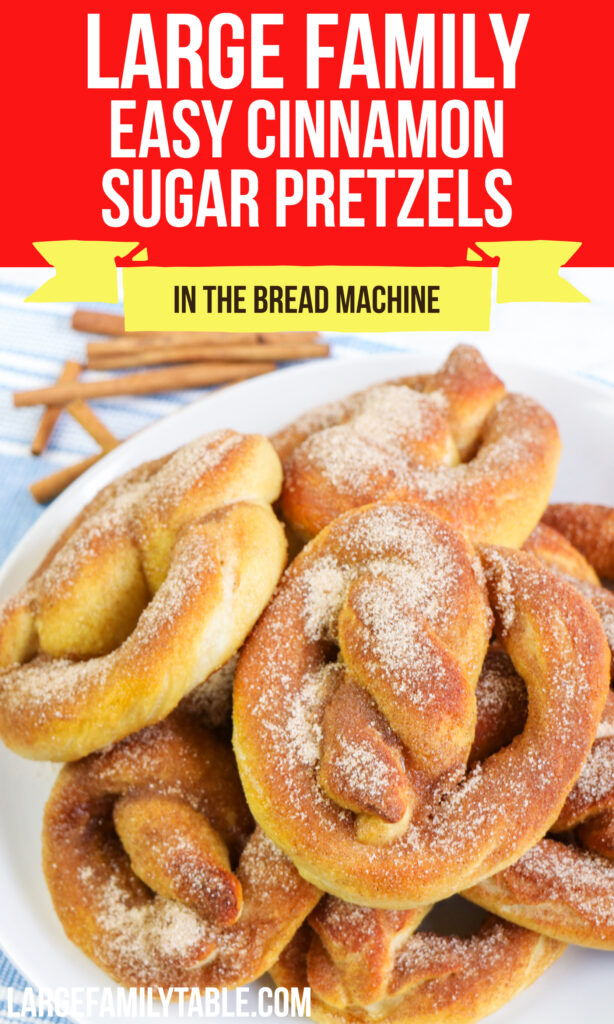 If you have a bread machine, you can make more in it than a traditional loaf of bread. You can prepare a sweet and savory snack that you and your children will love with this Big Family Bread Machine Cinnamon Sugar Pretzels recipe.
If you've ever had a pretzel from Auntie Anne's, you know how delicious those fresh-baked, warm pretzels taste. So, why not make your own Big Family Bread Machine Cinnamon Sugar Pretzels at home from scratch? It's easier than it sounds! Once you prepare these pretzels, you can eat it for breakfast or a snack and even freeze some of it to save it for later if you'd like. What a great addition to an Easter or Christmas morning!
The Ingredients You'll Need to Make Your Bread Machine Cinnamon Sugar Pretzels
You won't need too many ingredients to prepare your Big Family Bread Machine Cinnamon Sugar Pretzels. For these Bread Machine Pretzels you'll need the following ingredients:
Water. You'll add the water into your bread machine as directed in this recipe.
Brown Sugar. The brown sugar offers a slightly sweet taste to these pretzels.
All-Purpose Flour. Use all-purpose flour to create the dough for your pretzels.
Bread Machine Yeast. Add the yeast to the bread machine to get your pretzel dough to rise.
Baking Soda. You'll add baking soda to the water when you're boiling your pretzels after preparing the dough.
You'll also need butter, cinnamon, and granulated sugar to create the topping for your Bread Machine Cinnamon Sugar Pretzels. You may already have these baking essentials at home!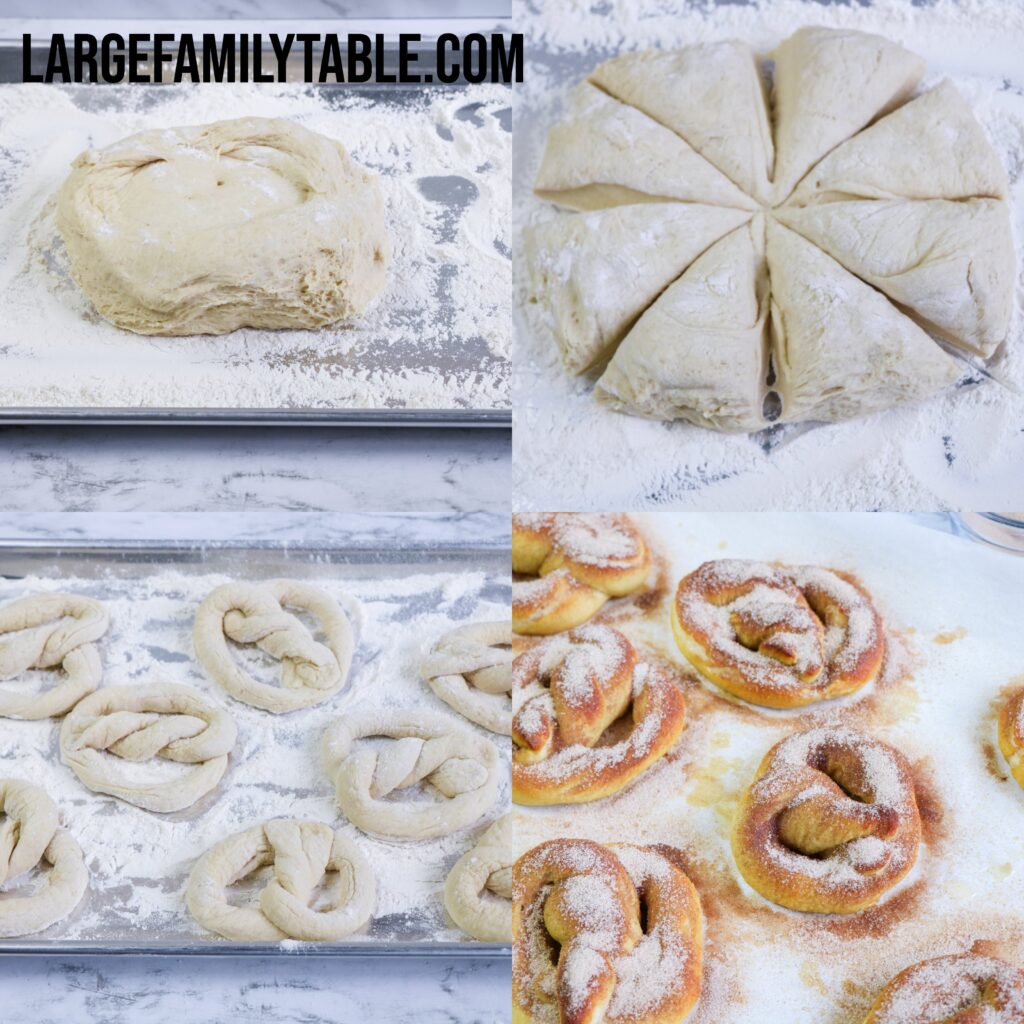 What should I do if I don't have bread machine yeast?
If you don't have any bread machine yeast at home, you can use active dry yeast as a replacement that'll work just as well.
Can I use pre-made cinnamon sugar?
While you can buy pre-made cinnamon sugar at the store, it's better to combine granulated sugar with ground cinnamon to make it yourself. The reason it's better to make it is that you can customize the way it'll taste by adding as much sugar or cinnamon as you'd like to the mixture before coating your pretzels in it.
How long do the pretzels need to bake?
You should bake your pretzels for a minimum of eight minutes. However, you can leave them in a bit longer if you'd like them to come out a bit darker and crispier. Make sure you're watching the Bread Machine Cinnamon Sugar Pretzels to avoid burning them.
How do I apply the cinnamon sugar topping?
Melt your butter and then brush the butter on your pretzels, quickly adding the cinnamon sugar to them to get it to stick. It will stick directly to the pretzels because of the butter. You can add as much of the cinnamon sugar as you'd like over the top of your pretzels.
Can I dip the pretzels in anything?
Yes and Amen! You can dip the pretzels if you'd like! You might want to dip them in vanilla frosting that pairs well with the pretzel dough and the cinnamon sugar flavor added to it. While you can use a dip if you'd like, you don't need it because the cinnamon sugar adds the perfect level of flavor to these pretzels.
Do you have more baking recipes to save me money?
Baking is a great way to save money on groceries. Buying prepackaged bread, rolls, muffins, baking mixes, and sweet treats can get expensive fast. Baking ahead and freezing it in the freezer means it's ready for you when you need it and you can make it when you have the time. Try my Frugal from Scratch Baking Recipes and Staples Book One for lots of money-saving recipes like Depression Era Chocolate Cake plus three other sweet treats, four delicious versions of bread recipes, plus baking staples like cake mixes, baking mix, baking powder, and more. My Frugal From scratch Baking Book Two expands into ten new recipes. Grab them both in the DOUBLE BUNDLE!! Frugal From Scratch Baking Recipes & Baking Staples to save even more!
Big Family Bread Machine Cinnamon Sugar Pretzels
Print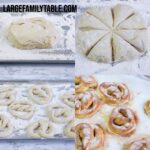 Big Family Bread Machine Cinnamon Sugar Pretzels | Easy Snack Idea!
Author:

Prep Time:

30

Cook Time:

15

Total Time:

45

Yield:

10

Category:

Breakfast/Snacks

Method:

bread machine
---
Description
This yummy and delicious Big Family Bread Machine Cinnamon Sugar Pretzels recipe that you can do from home is sure to blow away Auntie Anne's cinnamon sugar pretzel. 
---
Ingredients
1 cup water (100 degrees)

3 tablespoons brown sugar

3 cups all purpose flour

1 ½ teaspoon bread machine yeast or active dry yeast



For boiling:
8 cups water

½ cup baking soda
For coating:
¼ cup butter, melted

¾ cup sugar

3 teaspoons cinnamon
---
Instructions
Add the ingredients to the bread machine in the order listed or according to your manufacturer's instructions.

Prepare using the dough setting. During the first kneading cycle, check to see if the dough has enough water. If more water is needed, add 1 to 2 tablespoons of warm water.

Preheat the oven to 425 degrees. Prepare a large rimmed baking sheet with parchment paper. Spritz the paper lightly with nonstick cooking spray.

When the dough cycle has completed, punch down the dough and flip out onto a lightly floured surface.

Divide the dough into 8 equal parts. Roll each piece of dough into long even strands, approximately 20 inches long. Twist into a pretzel shape. 

In a dutch oven or stock pot, bring the 8 cups of water to a boil. Stir in the baking soda.

Gently drop the pretzels (no more than two at a time) into the boiling water. Boil for 10 to 15 seconds and then remove from the water using a slotted spatula. Place the pretzels on the prepared baking sheet.

Bake the pretzels in the oven for 8 to 12 minutes or until lightly browned.

Mix together the sugar and cinnamon.

When the pretzels are done, brush with melted butter and sprinkle with the cinnamon sugar.
---
Notes
Nutritional information is provided as a courtesy. It is based on third-party calculations and should only be considered general estimates. Actual nutritional content will vary with food brands used, measuring methods, portion sizes and more factors.
Here are more rolls and treats to make for your large family!!
I have lots of baked goods, cookies, bread and muffins, and yummy desserts!
FREE Emergency Pantry Planning Pack!
Don't forget to sign up for the emergency pantry planning pack for free to help you plan your pantry meals! The free Emergency Pantry Planning Pack will help you plan your needed pantry items! Printable pages include pantry inventory, grocery lists, meal planners, list of pantry staple items, and more.