Make a delicious treat to eat as a snack or breakfast with this Instant Pot Cinnamon Swirl Banana Bread recipe. Let the Instant Pot do most of the work for you with this easy and fulfilling recipe.
You know how easy it is to use the instant pot to make staples like oatmeal (Pumpkin Spice), Yogurt, and Cheesecake. Now, we're making Cinnamon bread! This is a warm and tasty treat you will enjoy, especially because of how easy it is to make in an instant pot. If you follow this recipe, you can make a savory and sweet bread that you and your large family can enjoy using your Instant Pot instead of the oven.
****Use special promo code HELLO20 to take 20% off the entire MEGA DEAL get-it-all Bundle including the best-selling Large Family Freezer Meal Packs 1-12 + so much more!!****
Instant Pot Cinnamon Swirl Banana Bread
Prep time is short and straightforward. You will need to gather your ingredients, such as your active dry yeast, sugar, butter, and ground cinnamon, and get ready to mix them while adding them to the Instant Pot.
Once your ingredients are inside the Instant Pot, you can adjust the settings and start cooking your Instant Pot Cinnamon Swirl Bread within minutes. The bread cooks quickly and is prepared to perfection in no time. You can bake it and keep it at home or take it to the office with you to share with your co-workers.
Great Additions to Have With Your Instant Pot Cinnamon Swirl Banana Bread
After cooking your Instant Pot Cinnamon Swirl Banana Bread, you can add some toppings to it while it is still hot. I personally like to use a few different toppings, so it all depends on the mood I am in when preparing the bread.
I have added a white icing to the top of the cinnamon swirl bread to make it even sweeter. I love the way that vanilla icing tastes with the cinnamon. However, you can also add a caramel drizzle or some honey to it.
While you are adding your ingredients to the Instant Pot, you can throw in some raisins to give your Instant Pot Cinnamon Swirl Bread more flavor and texture. Sometimes I add the raisins, but sometimes I leave them out.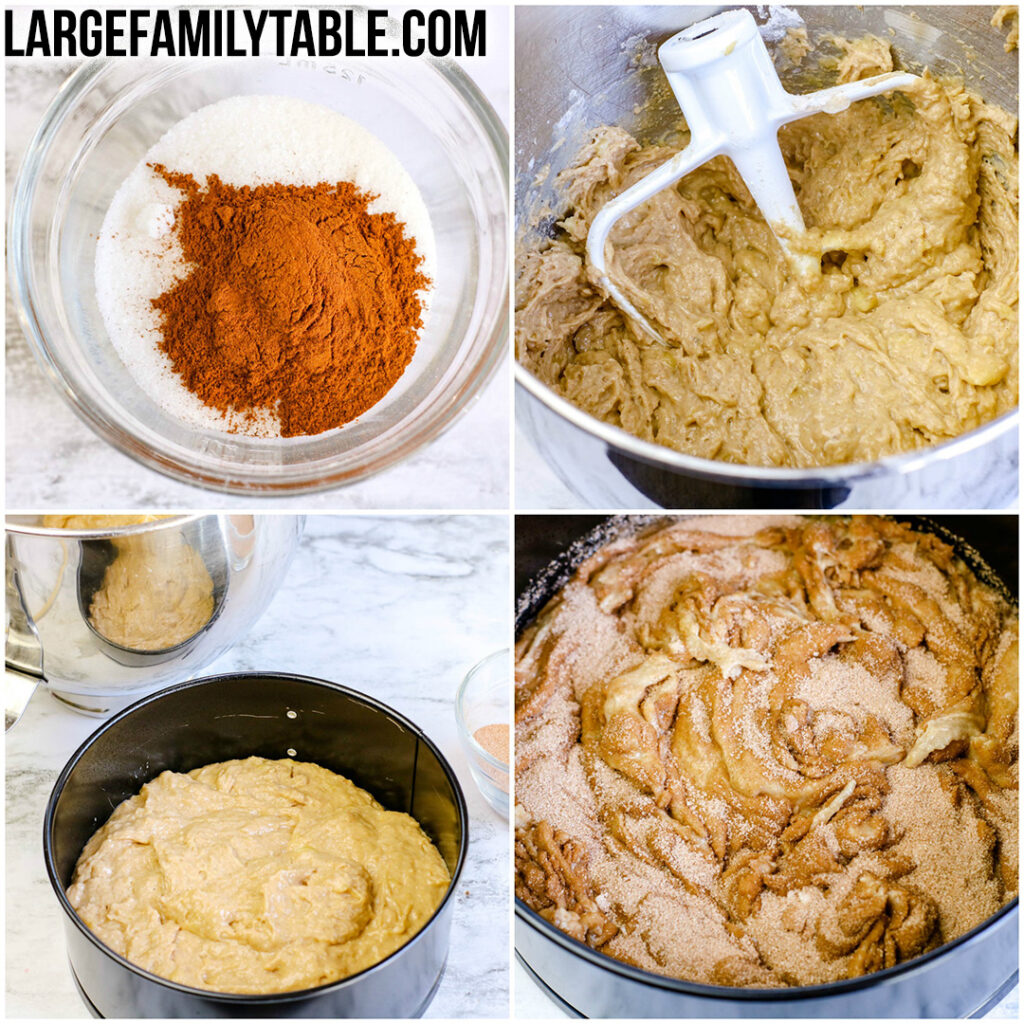 The Best Way to Keep Your Cinnamon Swirl Bread Fresh
Store your Instant Pot Cinnamon Swirl Bread in an airtight container in the kitchen for up to seven days.
You do not need to refrigerate the bread, but you should keep it away from hot, moist areas to keep it from spoiling too quickly.
You can put it in the fridge if you would like to do so. It is also possible to freeze the bread to keep it fresh for more than a month at a time.
While you can eat the cinnamon swirl banana bread at room temperature, you can also pop it in the microwave for a few seconds and eat it warm to make it taste like it just came back out of the Instant Pot.
After I heat my slice of cinnamon swirl bread in the microwave, I like to spread a little bit of cream cheese or butter on top. It melts right in and makes the bread taste even better.
After you make this banana bread in your Instant Pot, there will be no going back. There is only one thing left to do and that is to enjoy!
Do you have more baking recipes to save me money?
Baking is a great way to save money on groceries. Buying prepackaged bread, rolls, muffins, baking mixes, and sweet treats can get expensive fast. Baking ahead and freezing it in the freezer means it's ready for you when you need it and you can make it when you have the time. Try my Frugal from Scratch Baking Recipes and Staples Book One for lots of money-saving recipes like Depression Era Chocolate Cake plus three other sweet treats, four delicious versions of bread recipes, plus baking staples like cake mixes, baking mix, baking powder, and more. My Frugal From scratch Baking Book Two expands into ten new recipes. Grab them both in the DOUBLE BUNDLE!! Frugal From Scratch Baking Recipes & Baking Staples to save even more!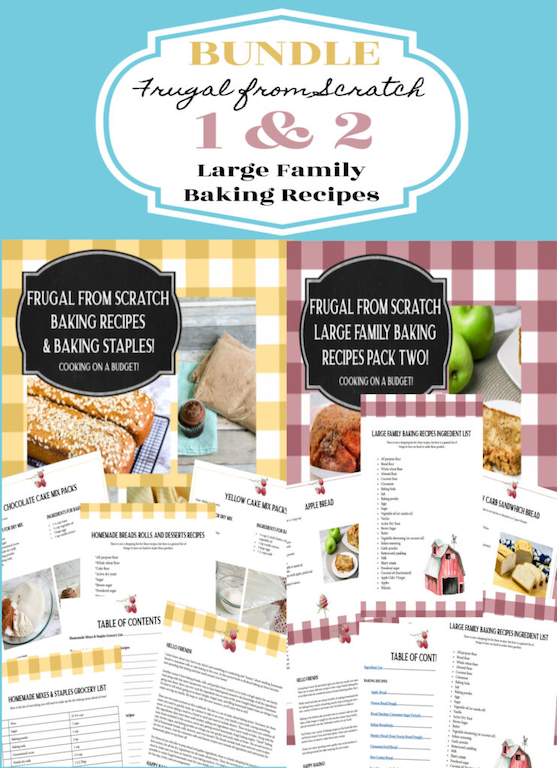 Here are more bread recipes to make for your family!
Instant Pot Cinnamon Swirl Bread
Print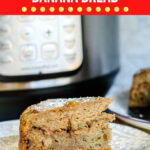 Instant Pot Cinnamon Swirl Banana Bread | Large Family Baking
Author:

Prep Time:

25 Minutes

Cook Time:

50 Minutes

Total Time:

1 hour 15 minutes

Yield:

16 Pieces/ Two Cakes

Category:

Baked Goods

Method:

Instant Pot
---
Description
Make a delicious treat to eat as a snack or breakfast with this Instant Pot Cinnamon Swirl Banana Bread recipe. Let the Instant Pot do most of the work for you with this easy and fulfilling recipe.
---
Ingredients
4 cups flour
1 1/2 teaspoon baking soda
1 teaspoon salt
2 teaspoon cinnamon
1 cup brown sugar
4 large eggs
2 teaspoon vanilla extract
8 large bananas, mashed (about 3 cups)
8 tablespoons unsalted butter, room temperature
2/3 cup plain greek yogurt
For the swirl:
1/2 cup sugar
2 teaspoon cinnamon
---
Instructions
Prepare two 7.5 inch springform pan with nonstick cooking spray. (Any cake pan that will fit into the electric pressure cooker will work but cooking time might vary slightly depending on the thickness of the batter.)

Whisk together the flour, baking soda, salt, and cinnamon. Set aside.

In a large bowl, mix together the brown sugar, eggs, vanilla, banana, butter, and yogurt.

Add the flour mixture to the wet ingredients and mix together just until combined. Do not overmix. The batter will be somewhat thick.

Transfer half of the batter to each of the springform pans.

Combine the sugar and cinnamon for the swirl. Sprinkle over the batter in each of the pans and swirl with a knife. Top with remaining batter and smooth evenly.

Cover the springform pan with aluminum foil and place on a trivet with handles (or create a sling using aluminum foil.)

Pour water into each of the liners of the electric pressure cookers. Carefully lower the trivets into the liners on each pot.

Program the electric pressure cookers for 55 minutes on manual or "pressure cook." When the cook cycle is complete, perform a quick release of the pressure. Remove the lids and carefully use a towel to remove the liquid from the top of the aluminum foil.

Lift the trivets from the pressure cookers and remove the aluminum foil from the springform pan. Allow the bread to rest until any water that has accumulated on the top of the bread has absorbed or dried.

To serve, release the springform pan sides and cut the bread into wedges.
---
Notes
* This recipe makes two cakes. You will need two instant pots to make them at the same time or you will need to split the batter in half and cook each half separately in the instant pot. 
Keywords: Instant Pot Cinnamon Swirl
Give this easy recipe a try! It makes a great snack or side dish. You'll enjoy it nice and warm right from the Instant Pot as a special treat. Let me know what you think below.
FREE Emergency Pantry Planning Pack!
Don't forget to sign up for the emergency pantry planning pack for free to help you plan your pantry meals! The free Emergency Pantry Planning Pack will help you plan your needed pantry items! Printable pages include pantry inventory, grocery lists, meal planners, list of pantry staple items, and more.