Get the Best-Selling Large Family Freezer Meals Collection here! Use promo code HELLO20 to take 20% off your first order.
Homemade Yogurt is a hit in my house. This mama can't keep it in the fridge long. Why buy it in bulk for my large family when I can make it in the Instant Pot fast and easy. Instant Pot yogurt works well when I'm going to be home for a bit and can be in the kitchen to do the few steps it needs. If I need to tote kids to activities for the day then the slow cooker yogurt works better but takes much longer.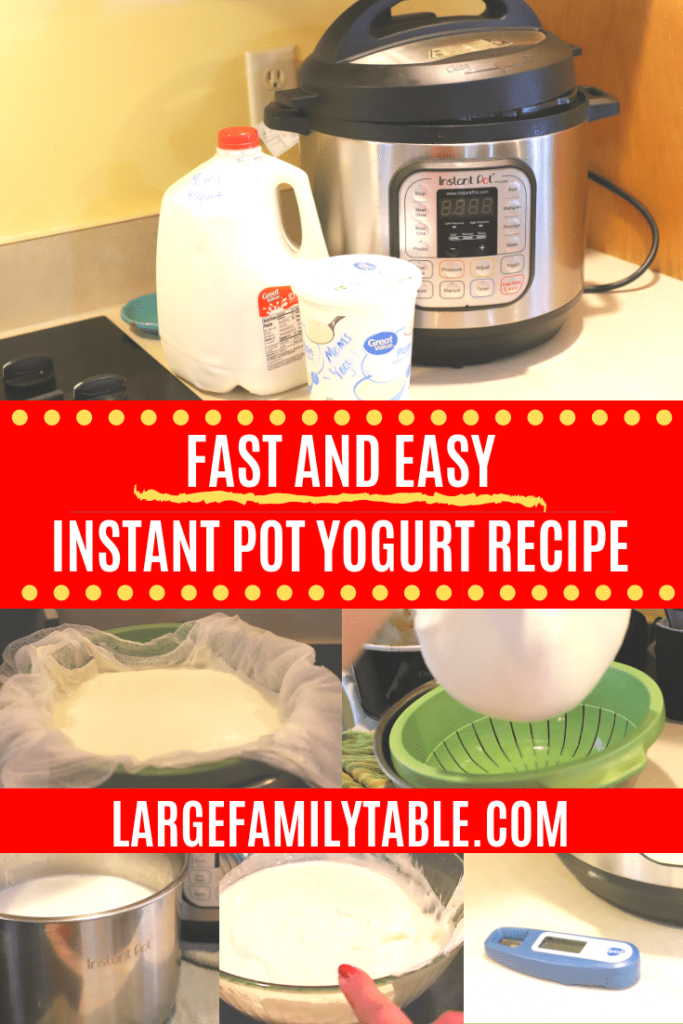 How long does Instant Pot yogurt last?
Instant Pot yogurt will last approximately two weeks in the fridge. It never lasts that long in my house so I've never been able to test out if it lasts longer than that. Two weeks is probably the maximum time I would keep it. If you don't think you can eat it all in the two week frame, I would suggest halving the recipe.
Does Instant Pot yogurt have probiotics?
The recipe calls for using a starter yogurt which has probiotics in it. I use the cheapo Great Value yogurt brand and it works just fine. You will grow the cultures as you cook the yogurt. There will be just as much probiotics in it as in the store bought yogurt.
If you use a higher quality yogurt with more probiotics then your Instant Pot yogurt will have a higher probiotic count. Plain old generic yogurt works just fine for this frugal mama. All you are trying to avoid is sweetener in the starter yogurt. Sweetener will kill the active cultures.
How do I sanitize my Instant Pot?
Sanitizing the Instant Pot isn't necessary to make yogurt. You should however make sure that your liner is clean and free of smells. You won't use the ring so there is no need to worry about it. A solid scrubbing of the liner is all that is needed. Give it a sniff to be sure everything is all good.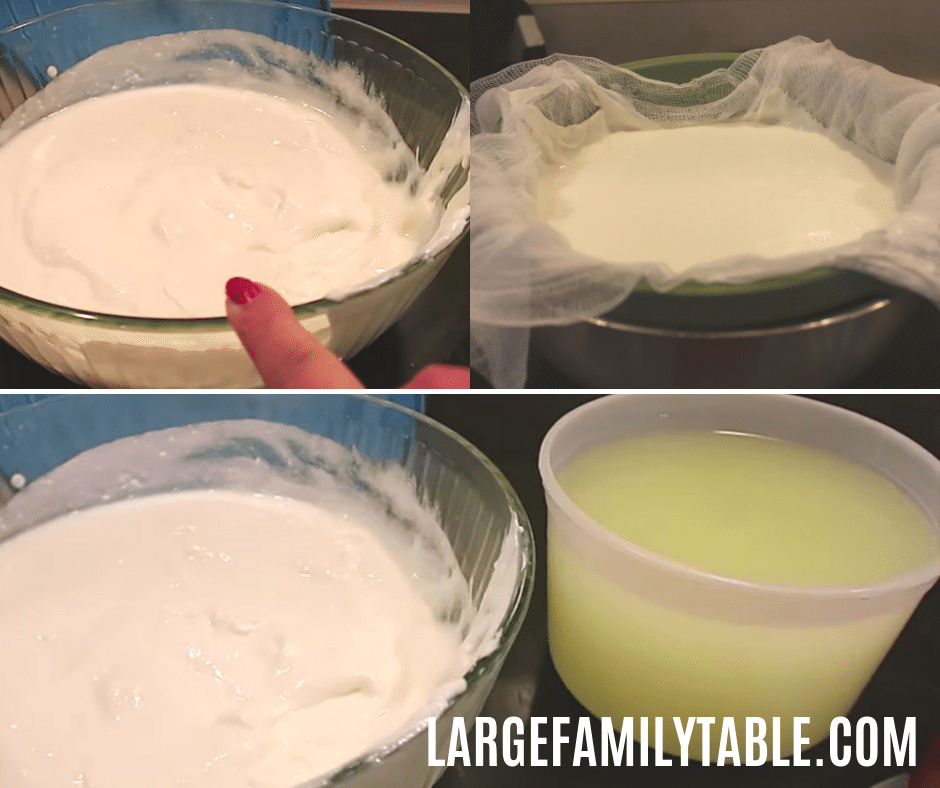 How long can you leave yogurt in the Instant Pot?
When the yogurt is done, it won't hurt it to sit there for a bit. I have let it get to the end, have it sit there for several hours, then covered it and put it in the fridge before straining. I wouldn't leave it overnight but it can wait for mama to get a minute before working on it.
What to do with whey after making yogurt?
This mama likes to use the whey in smoothies. Other mamas swear by using it in pancakes. Still, other mamas like to freeze it in individual ice cube trays then use it instead of yogurt for probiotics in future yogurt sessions. No matter what you do with it, use it for something and take advantage of that yummy protein.
You might also enjoy reading my comparison of making homemade yogurt in the slow cooker verses making homemade yogurt in the Instant Pot.
Print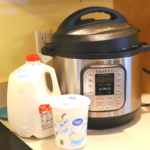 Fast & Easy Instant Pot Yogurt Recipe
Author:

Total Time:

8 – 8 1/2 hours

Category:

Yogurt

Method:

Instant Pot
---
Description
Learn how to make yogurt in your Instant Pot with this fast and easy recipe. Save money and eat healthy at the same time.
---
Ingredients
1 gallon whole milk
1 cup plain yogurt
---
Instructions
Pour one gallon of milk in the IP and hit the "Yogurt" button.

Hit the "Adjust" button until it reads "boil." You can leave the lid off or on, makes no difference at this point.

Once Yogurt boil cycle is complete (reaches temp of 180 degrees), take out the inner liner and let it sit on the counter for about an hour or so, until it reaches a temp of 110 degrees.

Once 110-ish degrees is reached, whisk in the 1-cup of plain yogurt.

Then hit the "Yogurt" function again on the Instant Pot. It will automatically be set for 8 to 8 1/2 hours
Keywords: instant pot yogurt recipe
Now your Instant Pot has given you oodles of yummy yogurt goodness to feed your family. Wondering how it compares to the slow cooker recipe? Hop on over to my comparison post to see which appliance works best for you! We love them both in different ways.
Want to make yogurt a different way?