Large Family Meal Plan of the Week
?Get the Best-Selling Large Family Freezer Meals Collection here! Use promo code HELLO20 to take 20% off your first order.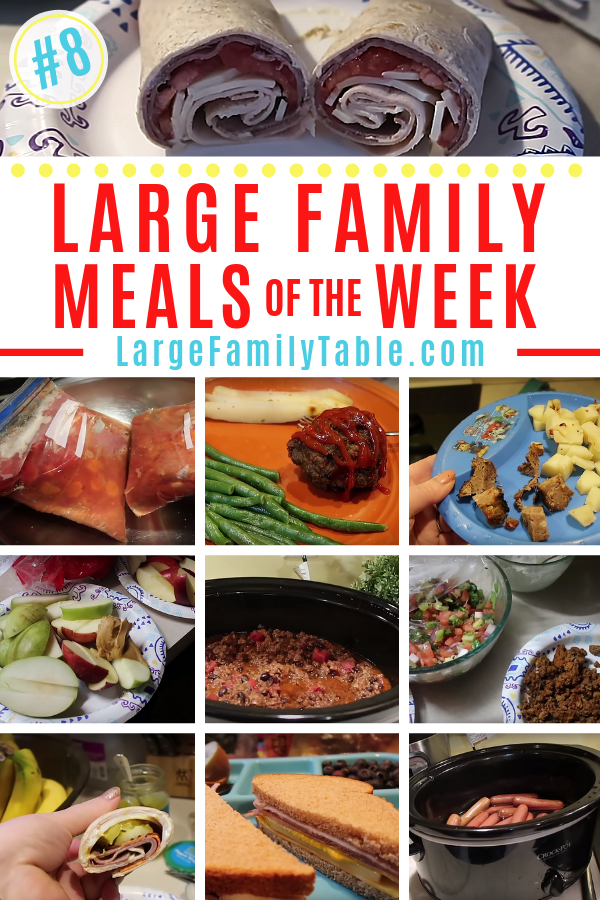 I am continuing to share, here and on my YouTube channel, what I feed my large family of ten in a week. (Check out my previous Large Family Meal Plan of the Week #7 here!)
Large Family Meal Plan of The Week #8 | Trim Healthy Mama Meals, Smoothies, Reusing Leftovers!
Check out the Large Family Meal Plan of the Week #8 – Trim Healthy Mama Meals, Smoothies, Reusing Leftovers! on YouTube and see our large family freezer meals, fruit choices, snacks, and even our celebratory pizza eat-out option of the week. I miss a few days on my video, but we all know that for a real-life large family week, things can be planned, but sometimes – OK, many times, things just don't always go as planned…
DON'T MISS out on the large family freezer meals collection! Snag large family freezer meals packs 1, 2, 3, 4, 5, and 6 today!
So – let's get this started!
Large Family Meal Plan of the Week – What we actually ate!
MONDAY
Breakfast — We started off the week with some easy eggs & toast.
Lunch – After a loooong walk of about 2 ½ miles on a very cold day, I made my lunch first so I could eat it while I made everyone else's lunch. That is a "momster bible trick." I am the creator of all things homelife; therefore I eat first — but not peacefully, because I make everyone else's lunch while I eat! It's a compromise.
I have a whole pear, 1/2 cup of blueberries, a low carb wrap w/turkey, roast beef, pickles, & banana peppers. Travis gets a jam-packed wrap with different cheeses and meats – Shout out to all the meat lover husbands out there! Daniel gets a ham and Swiss sandwich, Amelia gets a sandwich w/cheese, mustard, & 3 types of meat, a pickle, a bunch of blueberries, & a cut up kiwi (that she oddly eats with a spoon and that's OK with me!) Benjamin has kiwi, pear, blueberries, & a cheese sandwich w/turkey.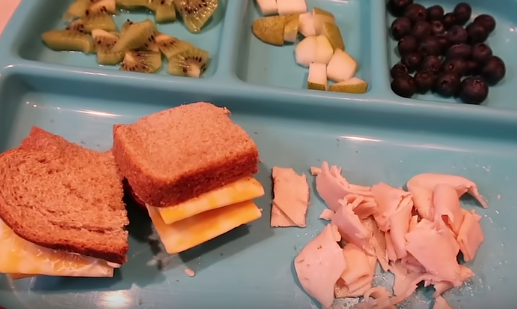 Dinner – After Taekwondo, we came home to two slow cookers brewing; one with leftover chili and one w/hotdogs for chili dogs. We had been gone for around 2 hours. By the way, it has been forever ago since I had two slow cookers going at once (FYI, one slow cooker went to slow cooker heaven this week! Sad face!)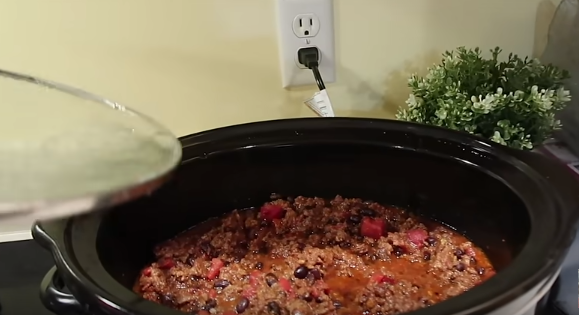 TUESDAY
Breakfast – Danielle helped scramble eggs for everyone! I let him crack the eggs – he loves it and did a great job! We also, for the first time, tried some blood oranges, which I made all the kids try.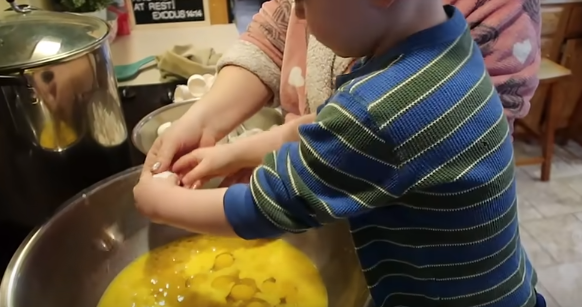 Lunch – We had frozen strawberries, and banana smoothies, and some peanut butter and jelly (PBJ) sandwiches. I had my glorious second cup of momma holy coffee that I don't usually get to have. Watch this YouTube video where I show you how I make smoothies.
Dinner – Hello Fresh leftovers! Yum!
Midnight snack – I ALMOST had an awesome Trim Healthy Mama chocolate muffin in a mug, but guess what? I ran out of eggs! Argh! So, I just had apples and almond milk.
Make sure you have a copy of the book! Trim Healthy Mama Plan
WEDNESDAY
This is my designated work day.
Breakfast – Today was a fruit-filled breakfast. We had some pears, apples, bananas, and peanut butter.
Lunch – I grabbed a low carb wrap with meats, cheese, and tomatoes, and the kids grabbed lunch on the go while out with dad running errands.
Dinner – Hello Fresh leftovers! Again! Yum! 😀
THURSDAY
… was a crazy day. We had a homeschool outing, and I did my large family Aldi grocery shopping trip. We picked up some lunch on the go. 🙂
Dinner – We had carb counter tortillas with pork meat mix, homemade salsa, and sour cream with lime squeezed into it.
Midnight snack – Momma was hungry! I had another helping of dinner and then headed to bed. 😀
FRIDAY
My son and I went on a morning hike, got breakfast going, then started preparing for the afternoon roller skating party. Fun, fun, fun!
Breakfast – Travis and I had some eggs, and the kids had a "bagels and cream cheese" type of morning. Easy-peasy!
Lunch – We brought turkey and cheese sandwiches, pretzels, and boxes of raisins to eat on the way home from roller skating.
Dinner – We had some Hello Fresh leftovers because we have to take 2 kids to basketball practice early in the morning. Liam's choice of leftovers was meatloaf and roast potato strips. Amelia had some gravy and rice. Benjamin had blueberries and pretzels, and momma had some meatloaf with sugar-free ketchup. I love it when we have leftovers!!
Game-time snacks – We had some grapes & homemade popcorn from our simple Wal-Mart Presto Air Popper popcorn.
Midnight snack for momma – Don't judge me, I was hungry! 😀 I had a half cup of blackberries, low carb wraps w/turkey, roast beef, cheese, banana peppers, & a cheese stick!
SATURDAY
I missed vlogging our Saturday meals, but this is what we had –
Breakfast – Bagels & cream cheese, easy & delicious!
Lunch – Turkey and cheese sandwiches.
Dinner – We had a celebratory eat-out day for the first games of the season at CiCi's Pizza! Woohoo!!
SUNDAY
This morning I woke up to get the pork roast ready in the cold water defrost method for 30 minutes. I put one in the slow cooker and one in the Instapot since my other slow cooker cracked. I am so sad about that. 🙁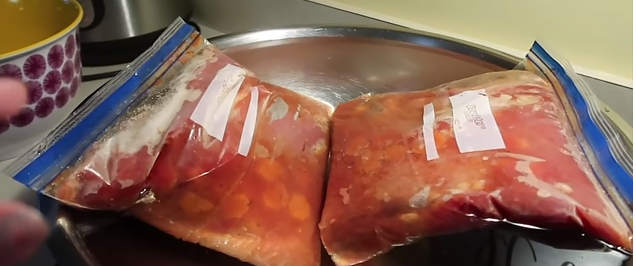 That was all I was able to capture for Sunday, but we headed to church with a bag of grapes, and some deli meat as we flew out the door!
Meal Planning for Large Families
I hope you enjoy this real and raw look at our large family meal plan of the week. We made it through and enjoyed life as we did it. And that's what really counts, isn't it? 😀
Looking for even more large family meal planning inspiration?
Here are some additional large family meal plans and planning helps for you.
BIG BATCH COOKING AND PANTRY CHALLENGE
A LARGE FAMILY MEAL PLANNING SYSTEM THAT'S SIMPLY BRILLIANT!
FREE FAMILY MEAL PLANNER COLLECTION INCLUDING WEEKLY, BI-WEEKLY, & MONTHLY MEAL PLANNERS!
MY CURRENT LARGE FAMILY FREEZER MEAL PLANNING SYSTEM (INCLUDING A ONE WEEK LARGE FAMILY FREEZER MEAL PLAN)
Let me know what you think about these Large Family Meal Plan of The Week blogs & YouTube videos. I always love hearing from you!