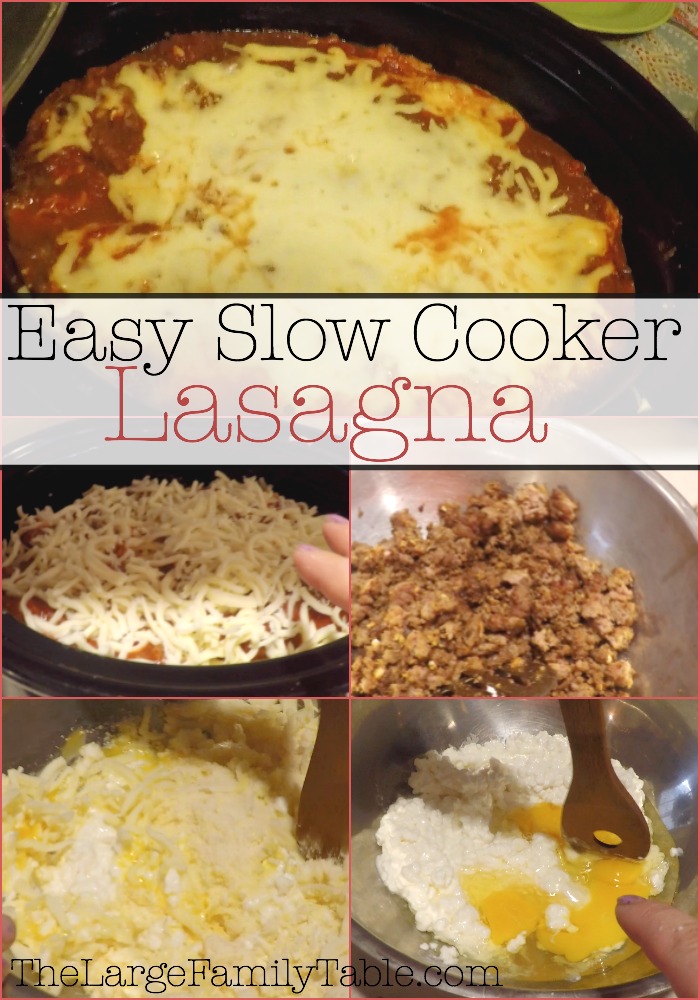 I know it has been a week or so, but don't worry I'm back with another large family recipe that's sure to please your crowd. This hot and cheesy Slow Cooker Lasagna is large family style and just waiting to pair with an easy side dish if you'd like. On the particular night, we had this Slow Cooker Lasagna we simply added carrot sticks and apple slices. That's how easy the side items choices can be around here. 🙂
Here's the full Slow Cooker Lasagna Recipe:
Print Slow Cooker Lasagna | Large Family Recipes
---
Description
Slow Cooker Lasagna
Hot and cheesy and delicious is the only way to describe this slow cooker lasagna.
---
Ingredients
2 lbs ground meat – turkey, beef, sausage
1 head garlic, minced
4 eggs
2 cups Mozzarella cheese
24 oz cottage cheese (you can also use ricotta)
1 cup Parmesan cheese
4 cans spaghetti sauce (tomatoes or tomato sauce is fine too)
1 pkg lasagna noodles
---
Instructions
1. Brown ground meat; add garlic when meat is nearly done. Set meat aside.
2. Spray inside of slow cooker with non-stick cooking spray.
3. In a large mixing bowl, combine cheeses and eggs until mixed well.
4. Stir spaghetti sauce into meat.
5. Layer bottom of slow cooker with the meat sauce.
6.  Place a layer of uncooked lasagna noodles on top of sauce.
7. Spread a layer of cheese mixture over top of noodles.
8. Continue to layer items in this way until you use all of the cheese mixtures.
8. Put the remaining meat sauce on top, followed by a layer of Mozzarella cheese.
9. Sprinkle extra Parmesan on top.
10. Cook on low for 4-6 hours.
Easy Slow Cooker Lasagna Video
Click here to watch the new Slow Cooker Lasagna Video!