If you have a large family and want to know a delicious dinner that will feed them, then it's time to whip together this Poppyseed Chicken Casserole. You have never had a casserole so unique and yummy! Many of you may know this casserole as a popular Southern dish. My family loves it, so I continue to make it as often as possible!
*Use special promo code HELLO20 to take 20% off your first order in the shop including the SUPER MEGA ULTIMATE Large Family Freezer Meals Bundle here!**
Poppyseed Chicken Casserole
If I can describe this delicious chicken dish without you trying it quite yet, it would be buttery and flavorful. The winner of this casserole is the Ritz crackers put on top. It gives the casserole a nice crust layer, which is always a win when you're making a casserole. This meal is amazing whenever it starts getting cold outside and you want to serve your family a good old comfort meal.
Why Use Poppy Seeds?
Many of you might be wondering why you would use poppy seeds in a casserole? Many of us have had poppy seed muffins and they were a hit. However, they taste equally delicious in this casserole. Using the poppy seed, along with the other ingredients will give you a very creamy dish that you will want to make often.
If you have never used poppy seeds in your casseroles or other dishes, it's time to step out of your comfort zone. This dish is gaining even more popularity and I can see why. It's easy to make and so flavorful.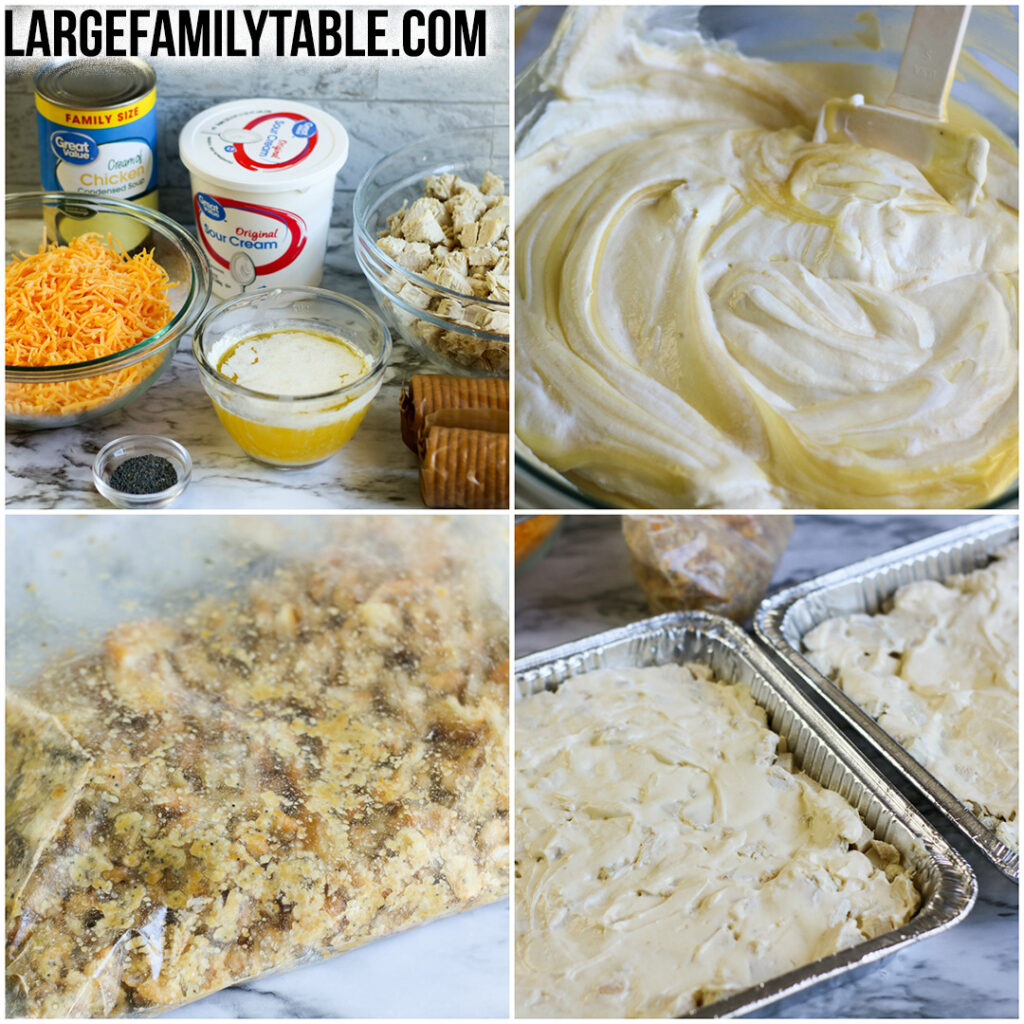 Ingredients for Poppyseed Chicken Casserole
Here is the exciting part of making a recipe, you get to find out what ingredients are in it that makes it so delicious. When you are cooking for a large family, it's so important to have a variety. Although making the same dishes over and over again is easy, there is another way to do things. There are lots of casserole options out there and this is one of them.
Cooked, cubed chicken – Ah, one of the best parts of this meal is the chicken. I buy chicken on sale so that I can continue to make casseroles on a budget. Chicken makes such a budget-friendly protein.
Round buttery crackers – You haven't made a casserole like this until you've made it with round buttery crackers. Again, this makes the perfect crust on top!
Poppy seeds – If you aren't familiar with what poppy seeds are, it's simple. They are simply the oilseed obtained from the opium poppy.
Sour Cream – Yes, the sour cream helps make everything super creamy and delicious! You can't make this dish without sour cream.
Cream of chicken soup – You NEED this cream of chicken soup in this dish. Again, it helps make it so creamy.
Cheddar cheese – I'm not certain that you can create a casserole without the cheese. This cheddar cheese is perfect for this casserole.
We're going to make this Poppyseed Chicken Casserole step by step and you'll love it. Make sure you follow the directions for the best results. Chat with me below about what your favorite part of this dish was!
Do you have more casserole recipes?
If your family enjoyed this Poppyseed Chicken Casserole, you'll have to take a look at the tons of casseroles in my shop. Check out my Classic Casserole Dinners & Freezer Meals Cookbook One for Now, One for Later! It includes 10 delicious, classic casserole recipes that will make two 9×13 casseroles each–one to eat right away, and one to put in your freezer for a later date. It's an easy and quick way to build a freezer stash.
More Casseroles your family will enjoy!
Poppyseed Chicken Casserole
Print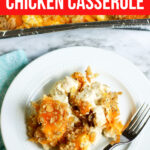 Poppyseed Chicken Casserole | Large Family Dinner Ideas
Author:

Prep Time:

15 Minutes

Cook Time:

30 Minutes

Total Time:

45 minutes

Category:

Dinner

Method:

Oven
---
Description
The very best food ideas come in the form of a casserole. Check out this Poppy Seed Chicken Casserole.
---
Ingredients
12 cups cooked chicken, cubed

1 cup (2 sticks) butter, melted  

2 sleeves round butter crackers, crushed (like Ritz® Crackers)

2 teaspoons poppy seeds

1 (24 ounce) container sour cream

1 (26 ounce) can cream of chicken soup

5 cups shredded sharp cheddar cheese

 
---
Instructions
Preheat an oven to 350 degrees. Prepare two (9×13) casserole dishes with nonstick cooking spray.

Combine the butter, crackers, and poppy seeds in a small bowl. Set aside.

Stir together the sour cream and cream of chicken soup in a bowl.

Divide and spread one-fourth of the soup mixture into each casserole dish. 

Over the soup mixture, add the shredded chicken, then pour the remaining soup mixture on top. 

Top the casseroles with cheddar cheese, and then finish with the cracker mixture.

Bake for 25 to 30 minutes or until the cheese has melted and the sauce is bubbling.
---
Notes
NOTE the nutritional facts below are based on serving two 9×13 pans. 
Keywords: Poppyseed Chicken Casserole
This Poppyseed Chicken Casserole comes together easily and is super tasty! It is also featured in my new cookbook Classic Casserole Dinners & Freezer Meals ~Cookbook One~ One for Now, One for Later!
FREE Emergency Pantry Planning Pack!
Don't forget to sign up for the emergency pantry planning pack for free to help you plan your pantry meals! The free Emergency Pantry Planning Pack will help you plan your needed pantry items! Printable pages include pantry inventory, grocery lists, meal planners, list of pantry staple items, and more.