Are you tired of eating the same old chicken recipes? It's time to spice up your weeknights with something that I like to call Hawaiian Chicken and Rice Casserole. You've had casseroles before, but you've never had one as delicious as this one. The next time you're looking for a yummy meal to make to serve around your large family table, give this one a try.
Most of us are trained to think that casseroles are so boring and not worth making. Boy, are you wrong?! Casseroles are the perfect dish to make for big families. It's less work and most of the time, you have so many leftovers! You can even make double batches so that you can freeze one.
Hawaiian Chicken and Rice Casserole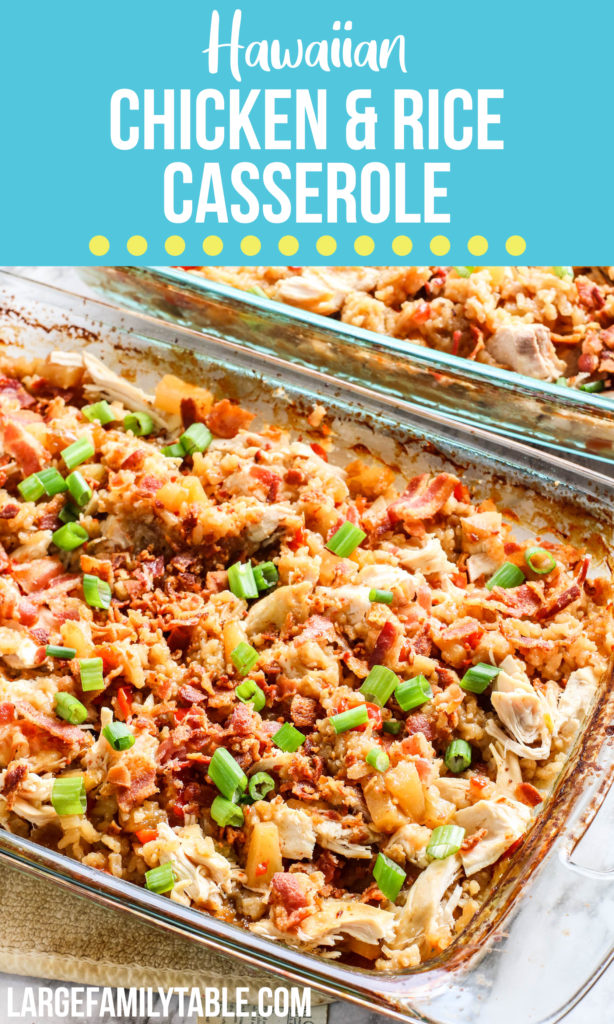 Hawaiian Chicken and Rice Ingredients
When you're looking into making a new dinner, sometimes you just want to know what you're signing up for. When I'm creating my large family table meals, I never want to make anything that is super hard. With a lot of mouths to feed, you deserve to have simple meals that feed lots and lots of people. This casserole actually uses some of my favorite ingredients. 
Boneless chicken breasts – Honestly, if you're on a budget and don't have boneless chicken breast on hand, then use what you have on hand. You can almost always find boneless chicken breasts on sale, so make sure lookout for some good deals. Making this meal will be one of the best chicken meals you've ever created for your family. 
Liquid aminos – I know you're wondering what liquid aminos are. Well, they are super simple to figure out because I'll tell you. Liquid aminos are simply culinary seasoning. Some would compare this to soy sauce. The aminos help add a very savory and salty taste to any recipes you might make.
Garlic – When I'm cooking, I can never get enough garlic. I feel as though garlic is what helps bring so much flavor to meals like this. If you can't get your hands on fresh garlic, there are tons of other alternatives. Plus, it's so nice to know you're getting lots of good nutrients in your body when you consume garlic.
I could go on and on about the ingredients in this meal, but just know they are all perfect for this casserole. Everything that's added in this meal is delicious and helps create so many flavors that you'll want to make again soon.
How to Store a Casserole
Have no fear because most casseroles can be stored the same way. Never leave a casserole on the counter. Instead, you want to make sure you have an airtight container and go from there. The casserole actually goes inside of the airtight container and then it's put in the fridge. Once you have the food in the fridge, it can last anywhere from 3-5 days. I will warn you, the leftovers will be delicious.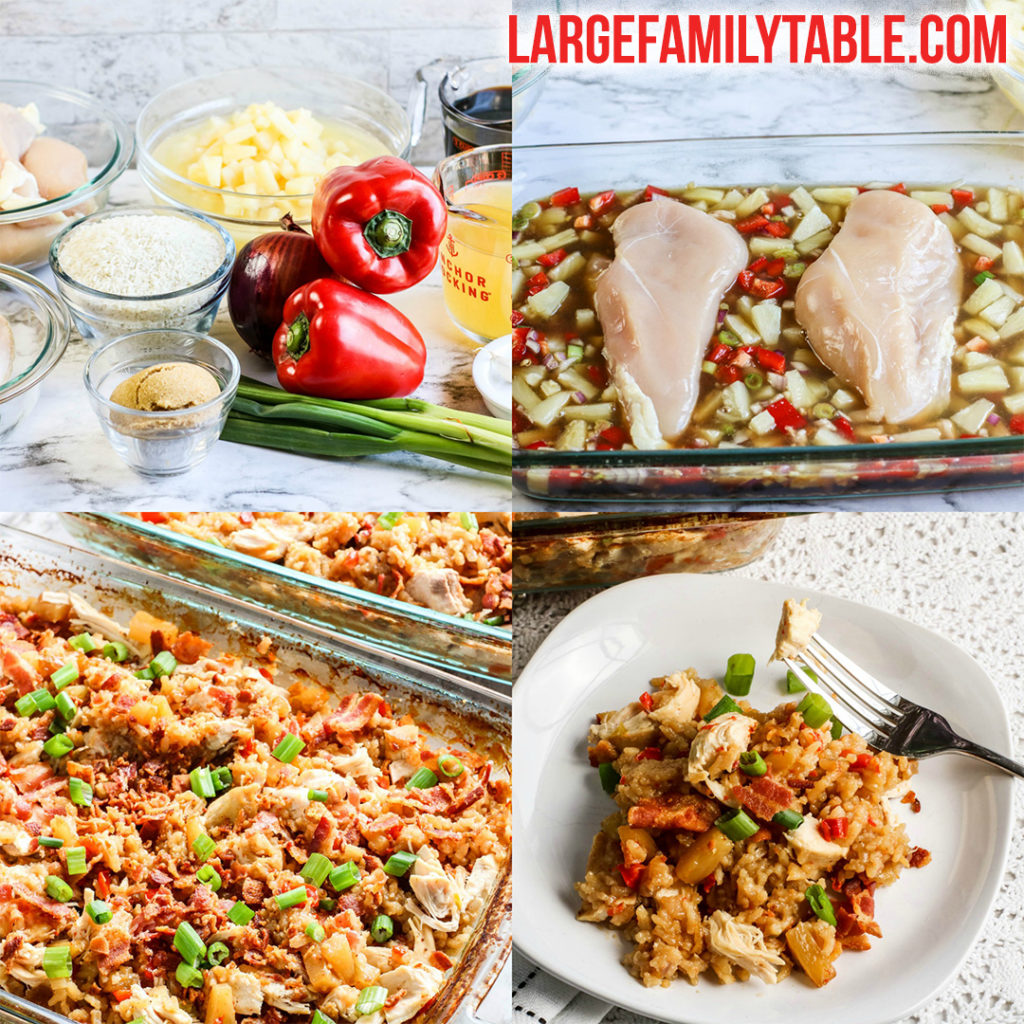 EASY CASSEROLE RECIPES for Big Families
If you loved this Hawaiian Chicken and Rice Casserole, you will love the other casserole recipes in my shop. Check out my Classic Casserole Dinners & Freezer Meals Cookbook One for Now, One for Later! It includes 10 delicious, classic casserole recipes that will make two 9×13 casseroles each–one to eat right away, and one to put in your freezer for a later date. It's an easy and quick way to build a freezer stash.
Here are several more easy casserole recipes that are perfect for feeding a crowd!
Hawaiian Chicken and Rice Casserole
Print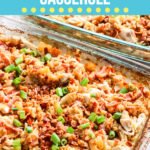 Large Family Hawaiian Chicken and Rice Casserole | Big Family Dinners!
Author:

Prep Time:

15

Cook Time:

45

Total Time:

1 hour

Yield:

24

Category:

Dinner

Method:

Casserole
---
Description
You haven't tried a true casserole until you've made this Hawaiian Chicken and Rice Casserole. It's so easy to make. This large family recipe makes TWO 9×13 pans!
---
Ingredients
5 to 6 boneless, skinless chicken breasts

1 cup brown sugar

2 cups liquid aminos

3 cloves garlic, minced

2 cups chicken broth

2 cups uncooked long grain white rice

1 red onion, diced

2 red bell peppers, seeded and diced

2 (20 ounce) cans pineapple tidbits in juice, NOT drained

10 slices bacon, cooked and coarsely chopped

Green onions, sliced (for garnish)
---
Instructions
Preheat oven to 425 degrees. Prepare two regular 9×13 casserole dishes or one 11×18 casserole dish with nonstick cooking spray.

In a large bowl, whisk together the brown sugar, liquid aminos, garlic, and chicken broth. Divide between the two casserole dishes. To each casserole dish, add half the uncooked rice, onion, bell pepper, and pineapple (with its juice). Place chicken on top.

Cover the dish tightly with aluminum foil. Bake for 55 minutes. 

Uncover the casserole and remove the chicken. Chop the chicken into bite-size pieces or shred with two forks. Stir the chicken back into the rice and vegetables. Top with cooked bacon.

Return the casserole to the oven and bake uncovered for an additional 5 to 10 minutes, or until the sauce has thickened.

Allow the casserole to rest 5 minutes before serving. Top with sliced green onions.
YOU can watch me make 2 pans of Large Family Hawaiian Chicken & Rice Casserole in my new CHEAP MEALS for LARGE FAMILIES video that features 10 Frugal FREEZER MEALS made with 3 EASY Casserole Recipes!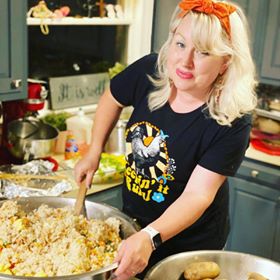 Also, JOIN ME over in the Large Family Table Community for LIVE calls, LIVE cooking, exclusive videos, included paid products and so much more
FREE Emergency Pantry Planning Pack!
Don't forget to sign up for the emergency pantry planning pack for free to help you plan your pantry meals! The free Emergency Pantry Planning Pack will help you plan your needed pantry items! Printable pages include pantry inventory, grocery lists, meal planners, list of pantry staple items, and more.