Create sweet cookies with a slight cinnamon touch when preparing these Snickerdoodles. They are the perfect cookies to have at home or bring with you to a special event, such as Christmas or Thanksgiving dinner.
When you need a classic cookie recipe to prepare for your large family to enjoy, this Snickerdoodles recipe is the perfect one to try. The cookies have a light sugary taste with an added touch of cinnamon that makes them taste good. While they taste great when they come fresh out of the oven and are nice and warm, they taste just as good after cooling down. You can dip them in a glass of milk or even eat them on top of a few scoops of vanilla ice cream. If you're looking for something different, then try our Low Carb Snickerdoodles. If cookies just aren't your thing then make this Instant Pot Low Carb Pumpkin Cheesecake or this Fresh peach Cobbler.
****Use special promo code HELLO20 to take 20% off the entire MEGA DEAL get-it-all Bundle including the best-selling Large Family Freezer Meal Packs 1-12 + so much more!!****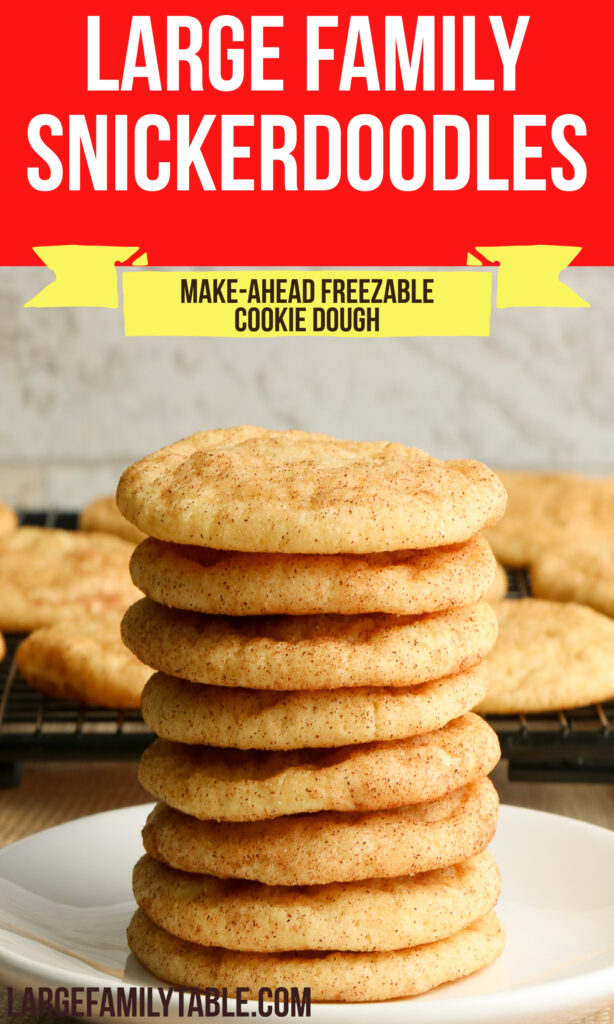 Snickerdoodles
With this recipe, you will get to create dozens of delicious cookies that you and your children can eat anywhere, even while on the go. Whether you want to have cookies after dinner, pack them in lunches for the children, or bring them to a family gettogether to have after eating a delicious dinner, these Snickerdoodles will certainly impress everyone who gets a chance to try them.
Ingredients Needed to Prepare Snickerdoodles
Make Snickerdoodles from scratch with these important ingredients:
Softened Butter. Leave your butter stick out to allow it to get soft before mixing it with other ingredients, such as the flour and baking soda.
Sugar. You will need to use sugar in this recipe to give your cookies a sweeter taste.
All-Purpose Flour. Make sure you have all-purpose flour available to create these cookies from scratch.
Ground Cinnamon. The ground cinnamon offers even more flavor to make these cookies taste as good as possible.
Baking Soda. Baking soda is such an essential ingredient because it keeps the cookies fluffy and soft.
In addition to these ingredients, you need to have the cream of tartar, vanilla, salt, and eggs to make these delicious cookies.
Make-Ahead Freezable Cookie Dough
This Snickerdoodle Cookie Recipe is also Make-Ahead Freezable Cookie Dough! To make this Snickerdoodle cookie dough ahead for the freezer, place waxed paper on a baking sheet. You'll then prepare your Snickerdoodle dough batter as directed in the recipe below, but don't roll them in the sugar mixture. Then scoop them onto the waxed paper. After that, place the baking sheet in the freezer until the cookie dough is frozen. Once the dough is frozen, transfer it to an airtight container and freezer for up to 6-months.
To make them, set your make-ahead cookie dough out from the freezer into the refrigerator to defrost. Or, you can choose to bake your Snickerdoodle cookies from frozen. Just roll them in the sugar and cinnamon mixture before baking. You'll need to eyeball your cookies a little extra and add a few more minutes as needed when baking from a frozen state. Besides that, just bake as the directions detail and use as you normally would – yay!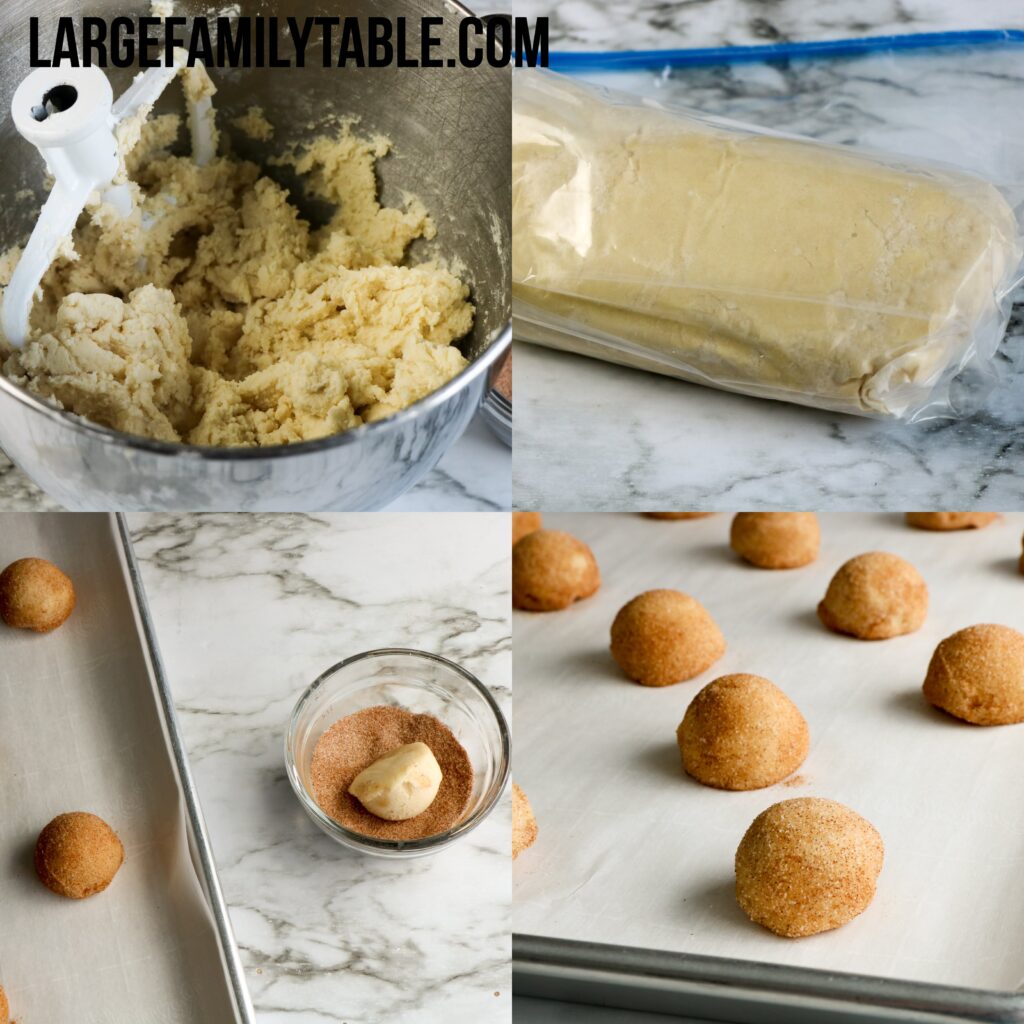 How to Keep Your Snickerdoodles Fresh
Keep your Snickerdoodles fresh by putting them in an airtight container. It does not matter if you use a glass or plastic container. You can freeze the cookies in an airtight container for up to six months. If you are not freezing the cookies because you will eat them within a few days of making them, keep them on your kitchen table or in the fridge, but make sure to leave them in an airtight container until you want to grab a few of them.
Different Extras to Add to Your Snickerdoodles
These classic Snickerdoodles taste heavenly just the way they are, but there are a few extras you can easily add to your cookie dough before you bake the cookies. White chocolate morsels are the perfect addition to the Snickerdoodles because the chocolate taste goes with the cinnamon flavor. You can add macadamia nuts, sprinkles, or other types of chopped nuts to your cookies. You may want to make some of the cookies by following the traditional recipe and then make some with a few extras to test them out and see how good they taste.
Need more Make-Ahead & Freeze Cookie Recipes?
Whether it is for a beautiful and tasty holiday dessert spread or for a special treat any time of the year, baking is a favorite family pastime!  In my Make-Ahead and Freeze Cookie Baking Book you will find 10 easy and yummy recipes for large-batch cooking baking! You can prepare them for holiday get-togethers or gifts or just for fun any of the year!! 
More Make-ahead Cookies your family will enjoy!
Make-Ahead Snickerdoodle Cookies
Print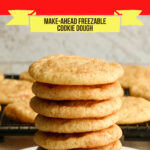 Large Family Snickerdoodles Recipe | Make-Ahead Cookie Dough You Can Freeze
Author:

Prep Time:

20 minutes

Cook Time:

10 minutes

Total Time:

30 minutes

Yield:

24 Cookies

Category:

Dessert

Method:

Oven
---
Description
Create sweet cookies with a slight cinnamon touch when preparing these Snickerdoodles. They are the perfect cookies to have at home or bring with you to a special event, such as Christmas or Thanksgiving dinner.
---
Ingredients
1 cup butter, softered

1 ½ cups sugar

1 teaspoon baking soda

1 teaspoon cream of tartar

¼ teaspoon salt

2 eggs

1 teaspoon vanilla

3 cups all-purpose flour

¼ cup sugar

2 teaspoon ground cinnamon
---
Instructions
Preheat the oven to 375 degrees. Prepare a large baking sheet with parchment paper.

In a small bowl, stir together ¼ cup sugar and the cinnamon. Set aside.

In a medium bowl, whisk together the flour, baking soda, cream of tartar, and salt. 

In a large mixing bowl, beat the butter and sugar until fluffy. 

One at a time, add the eggs beating after each addition. Mix in the vanilla. 

Add the flour mixture, folding in the flour by hand if needed. 

Cover or wrap the dough in plastic wrap. Chill the dough in the refrigerator for at least an hour.

Using a medium cookie scoop, portion the dough into balls. Roll each ball in the sugar-cinnamon mixture. 

Place the cookies 2 inches apart on the baking sheet.

Bake for 10 to 12 minutes. Allow the cookies to cool on the baking sheet for 5 to 7 minutes before transferring the cookies to a wire rack to cool completely.
To freeze:
Place waxed paper on a baking sheet.

Prepare the batter as directed but scoop onto the waxed paper. 

Roll the cookies in the cinnamon sugar mixture and return to the waxed paper.

Place the baking sheet in the freezer until the cookie dough is frozen.

Transfer to an airtight container and freeze up to 6 months.

Follow the baking directions above! You can bake the cookies from frozen, but they will need a few more minutes added to the baking time if you chose. I like to defost the cookie dough beforehand and bake as directed. 
Keywords: Snickerdoodles, freezable cookie dough
Make-ahead cookies are absolutely the best way to make Christmas cookies, It saves time and allows you to make more of a variety of cookies. These Snickerdoodles are a great addition to any Christmas celebration.
FREE Emergency Pantry Planning Pack!
Don't forget to sign up for the emergency pantry planning pack for free to help you plan your pantry meals! The free Emergency Pantry Planning Pack will help you plan your needed pantry items! Printable pages include pantry inventory, grocery lists, meal planners, list of pantry staple items, and more.