This Fresh Peach Cobbler recipe combines the naturally sweet taste of fresh peaches with sugar, cinnamon, and other flavorful ingredients to help you create a classic comforting dessert. It makes for the perfect treat to have after dinner.
*Use special promo code HELLO20 to take 20% off your first order in the shop including the SUPER MEGA ULTIMATE Large Family Freezer Meals Bundle here!**
Fresh Peach Cobbler
When I was a child, I would always get excited when my mother would make her homemade peach cobbler or Strawberry Shortcake or Rice Crispy Treats. Peach Cobbler was such a tasty treat that I loved to eat it the most. You could easily catch me with a large heaping of the peach cobbler on a plate, sometimes hot or sometimes cold, all depending on how I wanted it at that moment. I tried to keep that tradition going with my children by preparing this Fresh Peach Cobbler recipe. I love the ease of preparing this flavorful dessert and the fact that it contains one of my favorite fruits—peaches!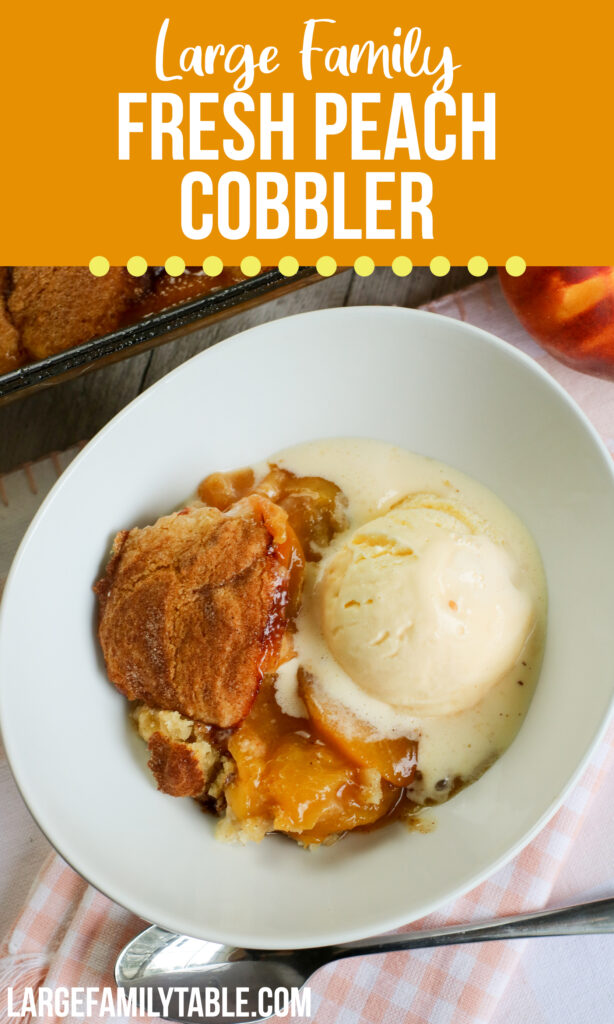 Why Make Peach Cobbler?
There is a lot to love about peach cobbler. It is a classic dessert that is comforting and perfect to have after a nice family meal together. I like to get the children involved in helping with preparing this dessert because it is that simple.
The kids will add the peaches to a bowl and then sprinkle in my pre-measured ingredients, including the white sugar, brown sugar, and cinnamon. They like adding the ingredients into the bowl with the peaches and then preparing the crust-like topping consisting of flour, sugar, and baking powder. If you were looking for a fun dessert to make with the kids, the Fresh Peach Cobbler recipe is a great choice. As you bake this cobbler you are going to love the sweet smells in your home, too!!
What to Serve With Your Fresh Peach Cobbler
While you can eat the Fresh Peach Cobbler by itself, I like to serve it in a bowl with a side of vanilla ice cream. Of course, this is optional, and you can always choose a different ice cream flavor if you would like to eat some ice cream with your cobbler dessert.
If you do not eat ice cream, you can always have a side of your favorite frozen yogurt with a slice of the Fresh Peach Cobbler. The combination of a cold side with a warm piece of the peach cobbler is incredibly delicious.
How to Store Your Fresh Peach Cobbler
When you follow this recipe, you will have quite a bit of Fresh Peach Cobbler available. After having your serving of this tasty dessert and sharing it with the rest of your family, you may want to store it to eat the rest at a later time. Keep your peach cobbler as fresh as possible by storing it in a zipper-sealed food storage bag or a food storage container. You can place it in the fridge and then eat it cold or heat it for a few seconds in your microwave before biting into it.
You can make multiple batches of the Fresh Peach Cobbler if you have the extra time to do so. When you prepare extra, you simply need to cut your cobbler into pieces, place it in a zipper-sealed food storage bag, and then freeze it until you are ready to warm it up.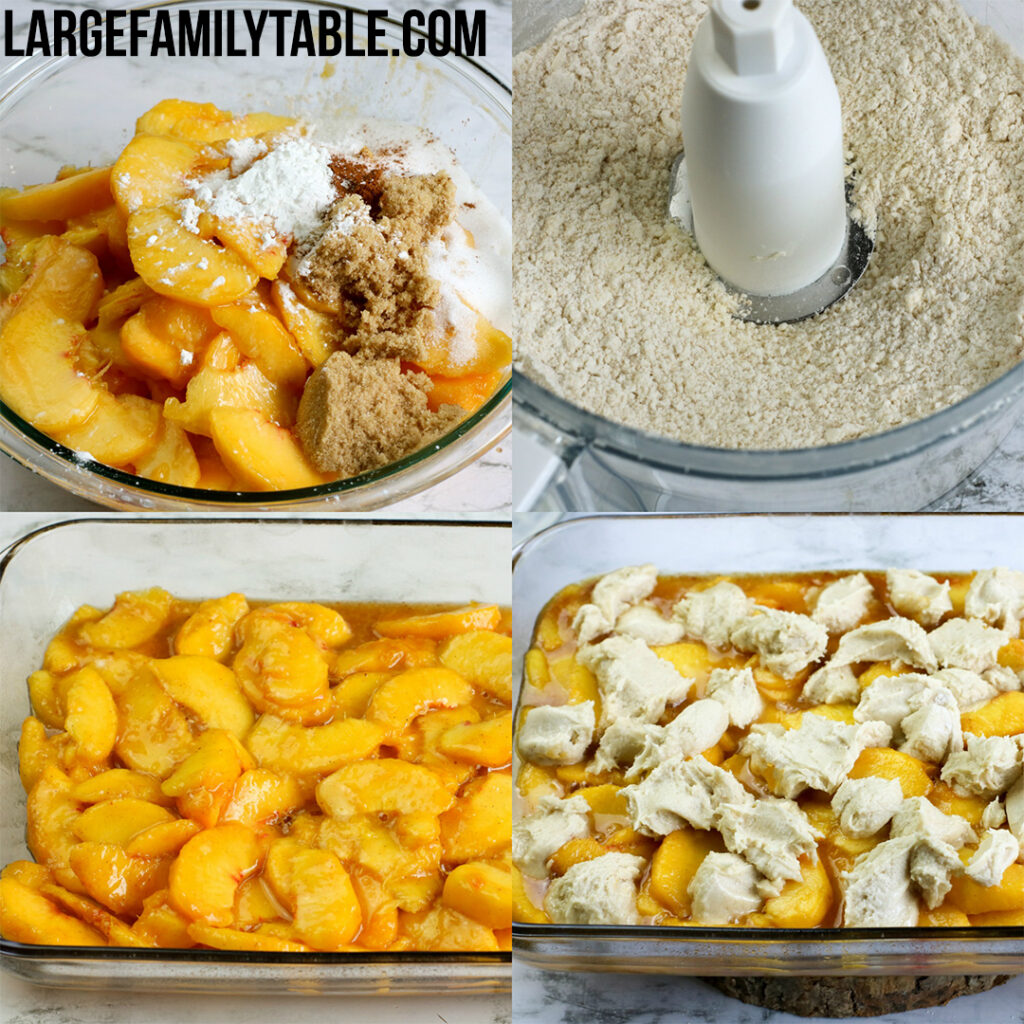 Looking for more Sweet Large Family Recipes?
If you love baking for your family, you will LOVE to try my cookie recipes!!  In my Make-Ahead and Freeze Cookie Baking Book you will find 10 easy and yummy recipes for large-batch cooking baking! You can prepare them for holiday get-togethers or gifts or just for fun any of the year!! 
Here are more desserts your family will enjoy!
Fresh Peach Cobbler
Print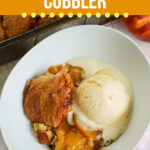 Fresh Peach Cobbler | Desserts for a Large Family
Author:

Prep Time:

20 Minutes

Cook Time:

25 Minutes

Total Time:

45 minutes

Category:

Dessert

Method:

Oven
---
Description
You've never had fresh Peach Cobbler like this before. Make sure you make this cobbler for your family! 
---
Ingredients
For the filling:
8 fresh peaches, peeled, pitted and sliced
¼ cup sugar
¼ cup brown sugar
¼ teaspoon ground cinnamon
1 teaspoon fresh lemon juice  
2 teaspoons cornstarch
For the crust:
1 cup all-purpose flour
¼ cup sugar
¼ cup brown sugar
1 teaspoon baking powder
½ teaspoon salt
½ cup (1 stick) unsalted butter, cold and sliced into pats
¼ cup boiling water
For the cinnamon topping:
3 tablespoons sugar
1 teaspoon ground cinnamon
---
Instructions
Preheat the oven to 425 degrees. Prepare a 9×13 baking dish with nonstick cooking spray.

In a large bowl, stir together the filling for the cobbler: peaches, sugar, brown sugar, cinnamon, lemon juice, and cornstarch. Transfer the peach filling to the baking dish.

Bake uncovered for 10 minutes.

As the peaches cook, pulse together the flour, sugar, brown sugar, baking powder, and salt in a food processor. Add the butter, pulsing until the mixture resembles sand. Add the water and pulse until the dough comes together into a smooth paste. 

Carefully remove the baking dish from the oven. Add dollops of the dough mixture over the peaches. 

Stir together the cinnamon topping and sprinkle evenly over the dough.

Return the cobbler to the oven and bake for 25 to 30 minutes or until the topping is golden brown and the peaches are bubbling.

Serve warm with vanilla ice cream if desired.
Keywords: Fresh Peach Cobbler
This fresh cobber is going to be a favorite in your home like it is ours! We also enjoy heading to the local orchard and picking our own peaches to make this. The kids always enjoy eating the fruits of their labor.
FREE Emergency Pantry Planning Pack!
Don't forget to sign up for the emergency pantry planning pack for free to help you plan your pantry meals! The free Emergency Pantry Planning Pack will help you plan your needed pantry items! Printable pages include pantry inventory, grocery lists, meal planners, list of pantry staple items, and more.