Living a low carb lifestyle doesn't have to mean that your family never gets dessert. It just means that you have to be purposeful with how you make it. Low carb peanut butter fudge will tantalize your taste buds but not leave you feeling guilty for eating it. The whole family will enjoy it so much that they won't care that it's low carb at all.
**Use special promo code HELLO20 to take 20% off your first order in the shop including the SUPER MEGA ULTIMATE Large Family Freezer Meals Bundle here!**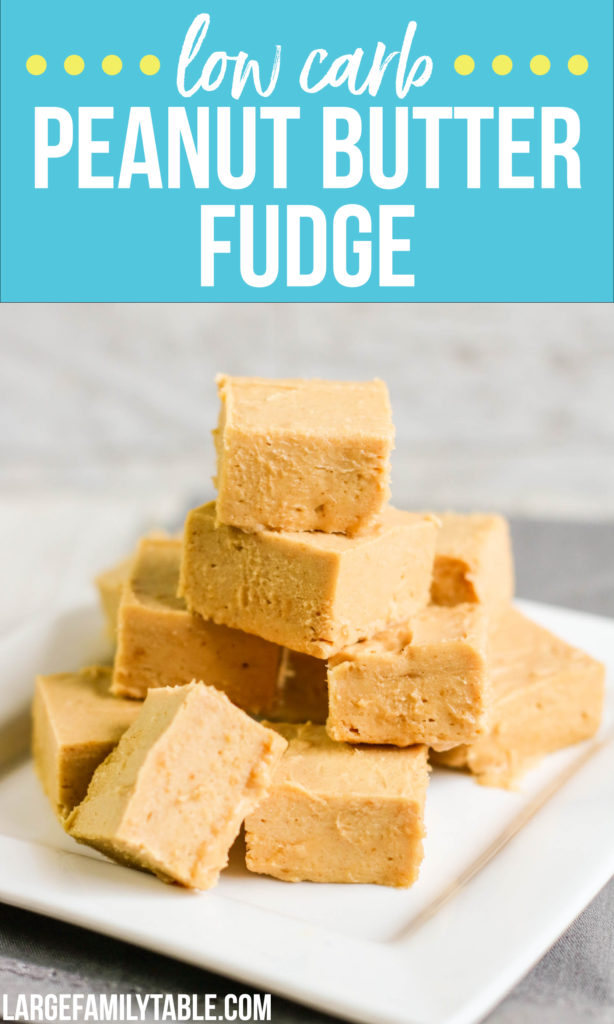 Low carb peanut butter fudge can be whipped up fairly quickly. What you need to remember is that it takes 2 hours to set in the fridge. You can't whip it up before dinner to eat it directly after. Always keep those 2 hours in mind when you want to make it.
Before you begin doing anything, take your cream cheese and butter out of the fridge. They need to be room temperature to whip up light and fluffy. I like to take them out of the package or at the bare minimum, open the package so they can get the chill out faster.
Get out two 9×9 bakers or your large sheet pan. If you can fit your large sheet pan in the fridge then use it. The smaller pans will work as well. Place wax paper in the bottom then spray with cooking spray. This enables the fudge to come right out.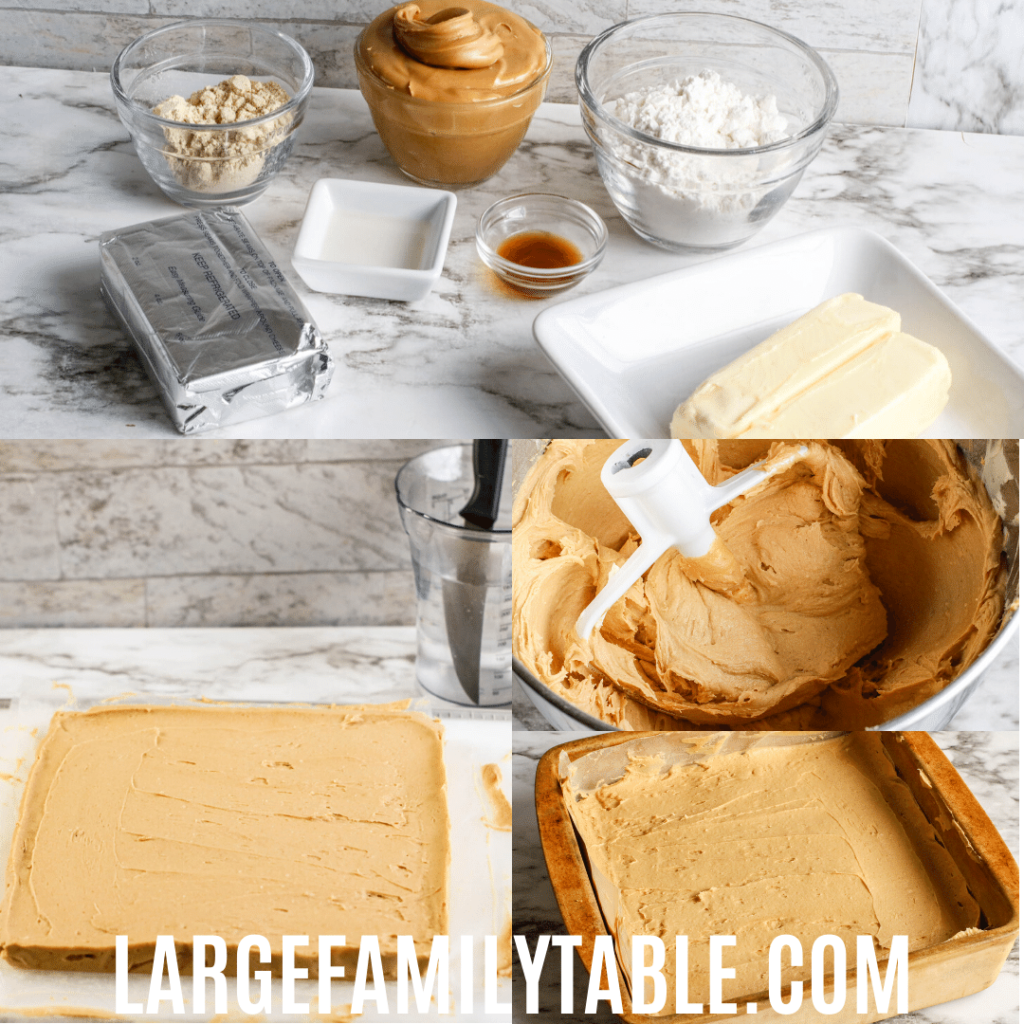 Blend the cream cheese, peanut butter, and butter in the stand mixer until smooth or about 5 minutes. Slowly add the vanilla, peanut flour, and sweeteners. Keep blending until well mixed. At this point, you should taste it just to be sure it's delicious. Prepare to have kids fighting over the mixing paddle.
Spread the mixture into the sheet pan or bakers. Chill in fridge for 2 hours or until completely set. Once set, remove from fridge and take out using wax paper. Place on cutting board to cut into 1 inch squares.
Print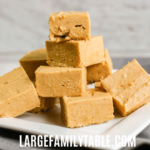 Low Carb Peanut Butter Fudge
---
Description
Want a sweet treat but still want to maintain your low carb lifestyle? 
---
Ingredients
2 (8 ounce) packages cream cheese, room temperature

2 cup (4 sticks) butter, room temperature

2 cup unsweetened, natural peanut butter

2 teaspoon vanilla extract

2 cup powdered erythritol sweetener

2 teaspoon liquid stevia

1/2 cup peanut flour
---
Instructions
Prepare 2 9×9 baking pans with waxed paper. Spritz the waxed paper with nonstick cooking spray.

Blend cream cheese, butter, and peanut butter in a stand mixer until fluffy and smooth, about 5 minutes.

Beat in the vanilla extract, sweeteners, and peanut flour.

Transfer fudge equally to baking pans and spread into an even layer.

Place in the refrigerator and chill until completely set, at least 2 hours.

Lift fudge using the waxed paper and place on a cutting board. Cut into 1 inch squares using a warm, clean knife.

Store fudge in the refrigerator or freezer in an airtight container.
Makes 72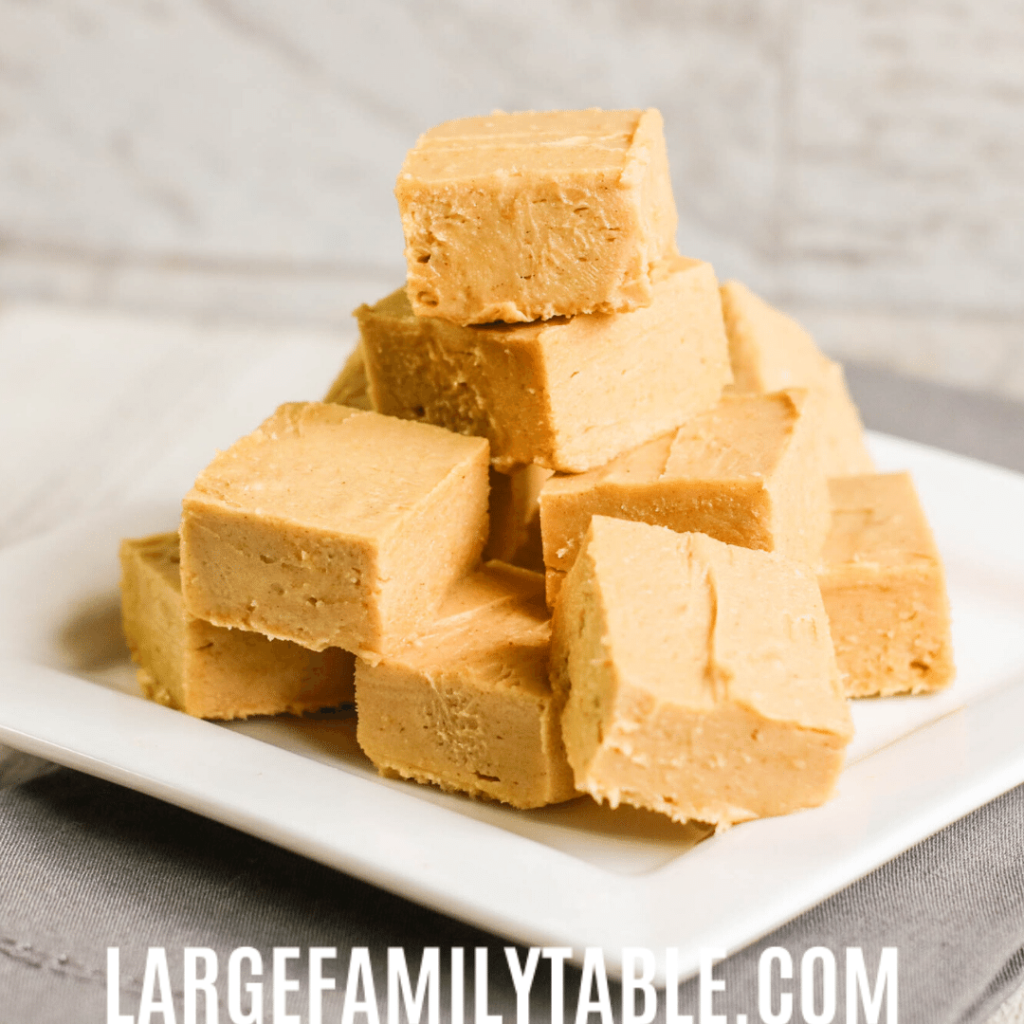 Place leftovers in airtight container in fridge. They should last a week or two, if you're lucky. We never keep them that long so I really don't know. Your whole family is sure to love this recipe. You will love having it in your low carb arsenal.