Are you in the mood for something sweet and delicious? Perhaps it's time you checked out this new recipe I've created. Low Carb Peanut Butter Mousse is truly one of the best low carb dishes out there! I'm going to show you how to make it and your whole family will love it. This recipe is perfect for feeding a large family, so don't be shy about making it. Keep in mind this dessert recipe is THM S, Gluten Free, Sugar Free.
****Use special promo code HELLO20 to take 20% off the entire MEGA DEAL get-it-all Bundle including the best-selling Large Family Freezer Meal Packs 1-12 + so much more!!****
Low Carb Peanut Butter Mousse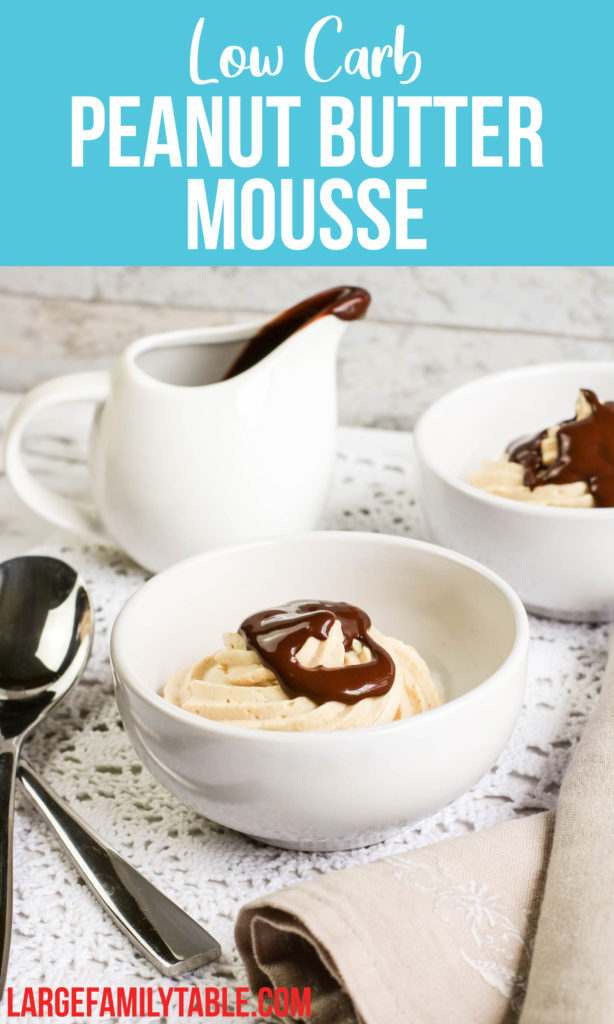 Low Carb Peanut Butter Mousse
I want to talk about how special this dessert recipe is for low carb eaters. You've been watching everyone else eat their peanut butter mousse, but you want to enjoy it, too. This low carb peanut butter mousse is the perfect recipe for you and pairs well with many of my low carb dinners! It's low carb and you can enjoy it with your friends and family. 
Using low carb ingredients, you're able to create a delicious dessert to feed your family. Even those who are not on Keto or low carb are going to find that this recipe is quite delicious. In fact, you may get asked to make it over and over again.
Can You Have Peanut Butter on Keto?
The answer is YES! If you're already eating a low carb diet, then eating peanut butter is something you can also consume. You will notice that peanut butter is a really good option on Keto because it's low in carbs and in sugar.
What Desserts Can You Eat on Keto?
You have probably been racking your brain trying to figure out what you can eat on the Keto or low carb diet. Well, a lot of people are creating low carb recipes from the recipes that they already love and enjoy. This Low Carb Peanut Butter Mousse Recipe is a really good example. Also don't miss my low carb Peanut Butter Fudge!
How to Store Low Carb Peanut Butter Mousse
Without a doubt, you will want to store this low carb mousse in the fridge. Because it has dairy in it, you won't want to keep it on the counter. Storing it in the fridge is something you can do for at least 3-5 days. If you don't plan on consuming it after 3-5 days, then it needs to go in the freezer or in the trash. Of course, this dessert is always eaten in a timely fashion here, so there is no need to trash it!
What Goes With Peanut Butter Mousse?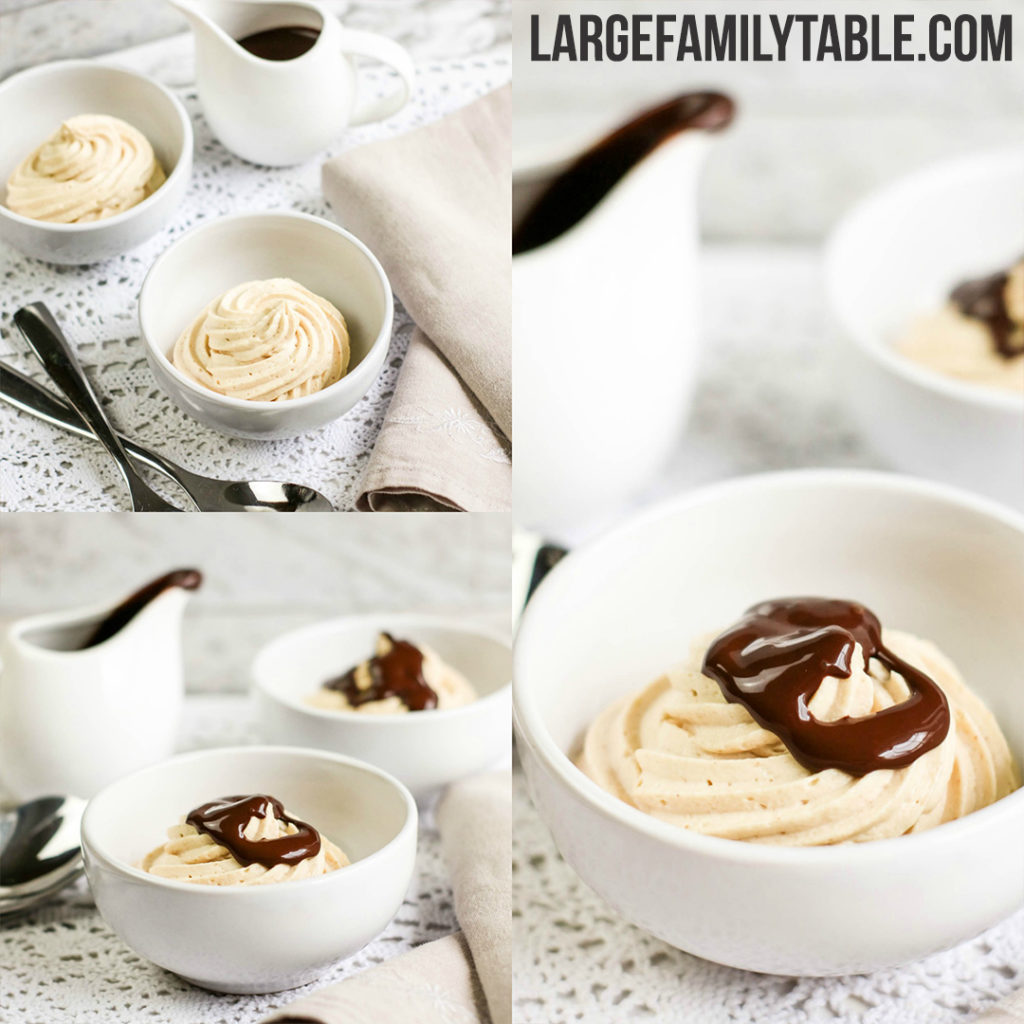 You may be wondering what kind of other desserts go with Low Carb Peanut Butter Mousse. If we're being honest, I love having several different kinds of low carb desserts out that I can enjoy at once. It's like a sampling platter of sorts because you get to try this and try that and come to your own conclusion about what's your favorite. Low Carb Cheesecake is one of my favorites!
Have you ever made a yummy low carb dessert? What did you think about it? Give this Low Carb Peanut Butter Mousse a try and let me know what you think.
Looking for More Low carb/Sugar Free Desserts?
If you enjoyed this Low Carb Peanut Butter Mousse recipe, you need to check out my 10 Low Carb & Sugar Free Desserts Baking Pack – DIGITAL BOOK 1!! These recipes are all low-carb and Keto-friendly. Every dessert in this pack tastes so amazing! Your family won't even know these desserts are low-carb because they taste so good. Plus they are so easy to make. 
This low-carb baking book includes 10 large family recipes to make that include photos, a clickable table of contents, and an ingredient list. All with the large family in mind.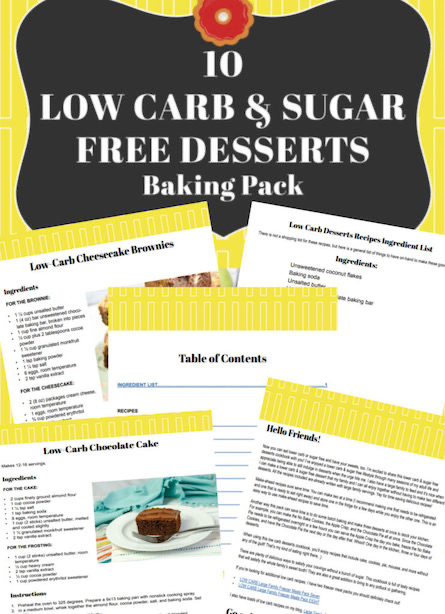 More Sugar Free Dessert Recipes
You might also enjoy these additional sugar free dessert recipes!
Low Carb Peanut Butter Mousse
Print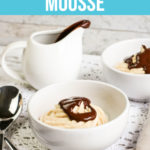 Low Carb Peanut Butter Mousse | THM S, Gluten Free, Sugar Free
Author:

Category:

Dessert
---
Description
In the mood for something sweet, but watching those carbs? This Low Carb Peanut Butter Mousse hits the spot! 
---
Ingredients
1 cup heavy cream

1 (8 ounce) package cream cheese, room temperature

½ cup natural, sugar-free peanut butter

⅓ cup powdered erythritol (like Swerve confectioners)

1 teaspoon liquid stevia

1 teaspoon vanilla extract
---
Instructions
In a large mixing bowl, beat heavy cream until stiff peaks form. (I used my Kitchen Aid mixer with the whisk attachment on medium speed and it took about 8 minutes.) Set aside.

In another bowl, beat together cream cheese and peanut butter until smooth and creamy. Add the sweeteners and vanilla. Continue beating until the sweeteners are completely incorporated.

Fold half of the whipped cream into the peanut butter mixture. Then stir in the remainder of the whipped cream taking special care not to deflate the cream.

Immediately pipe or spoon the mousse into serving dishes. Refrigerate for at least 2 hours or overnight to allow the mousse to stiffen.

Serve with sugar free chocolate syrup, stevia sweetened chocolate chips, and/or chopped peanuts.
FREE Emergency Pantry Planning Pack!
Don't forget to sign up for the emergency pantry planning pack for free to help you plan your pantry meals! The free Emergency Pantry Planning Pack will help you plan your needed pantry items! Printable pages include pantry inventory, grocery lists, meal planners, list of pantry staple items, and more.