Cheesecake is one of those things that I could eat for breakfast, lunch, and dinner. The preparation time and the carb count are two things that prevent that from happening on a regular basis. Well, I'm happy to report that this ultimate low carb instant pot cheesecake solves that problem! Now you can eat cheesecake when you want and not sabotage a low carb lifestyle!
**Use special promo code HELLO20 to take 20% off your first order in the shop including the SUPER MEGA ULTIMATE Large Family Freezer Meals Bundle here!**
The Ultimate Low Carb Instant Pot Cheesecake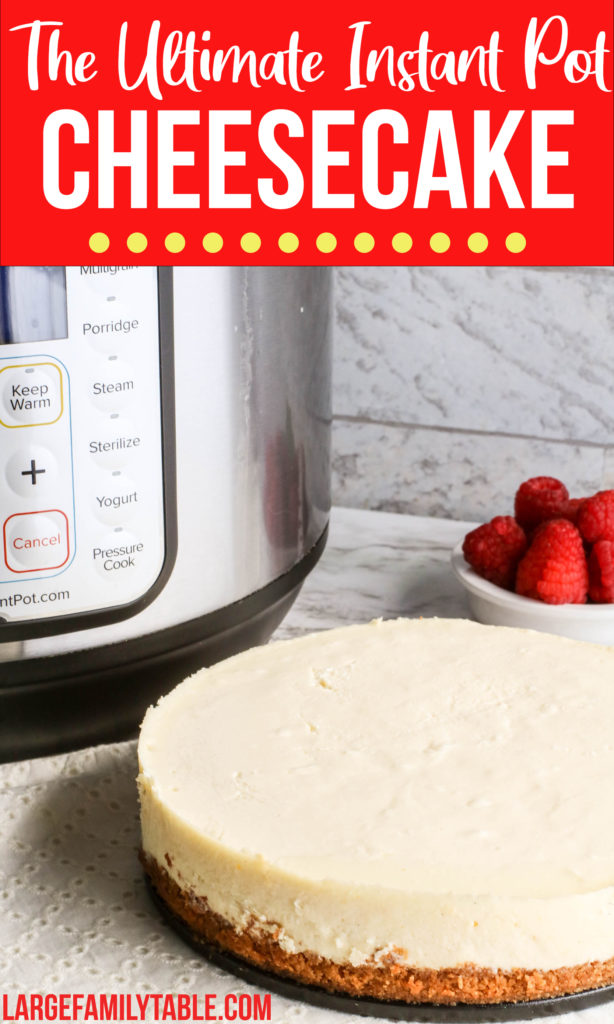 The Instant Pot is a fantastic resource for meals but did you know you can make dessert in it too? Yes and amen! This ultimate low carb instant pot cheesecake will make you a believer. Before you make it, I highly recommend getting a new sealing ring just for desserts. Nothing is worse than biting into a curry flavored cheesecake. Your family won't appreciate that although it would make a great April Fool's Day prank.
Before you start flitting about the kitchen, take out your eggs and cream cheese to start getting room temperature. Set them on the counter closest to the oven where it will warm up nicely. Preheat said oven to 350 degrees. Spray a 7.5 inch springform pan with non stick cooking spray.
Mix together the almond flour, butter, and monk fruit sweetener. Press into the bottom of the springform pan then place it in the preheated oven for 10 minutes. While you wait for it to bake, help some children with their school work or dance around the kitchen and be the fun mom. It's only ten minutes. Just don't drop a microwave on your head.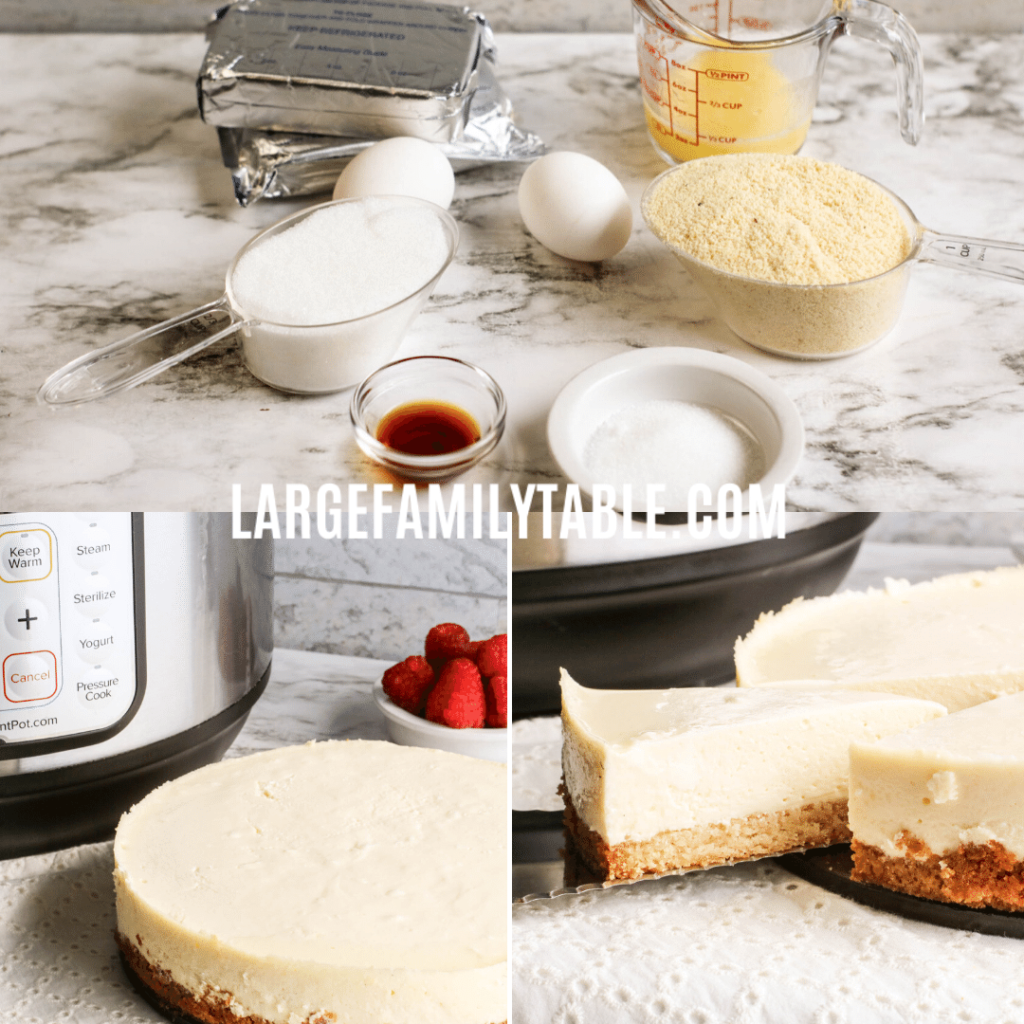 Place the trivet in the Instant Pot and add the recommended amount of water. Wrap the bottom of the springform pan with aluminum foil. You don't want any water to get in there and make your crust all soggy. It will be a sad cheesecake.
Beat the cream cheese until it is light and fluffy. I use my Kitchenaid or hand mixer to make it easier. Takes about 2 minutes. Once combined, add in eggs and vanilla and beat only until they are all combined together. Spread mixture on top of crust evenly and smooth top. Cover top with aluminum foil so it doesn't get dripped with water. Water is no bueno for cheesecake.
Place springform pan on trivet. Place cover and sealing valve on Instant Pot. Program for 20 minutes on manual or pressure cook. Natural release then take the lid off the Instant Pot once the pin drops. Allow the cheesecake to continue to cool inside the Pot for an additional 20 minutes. Replace the aluminum foil with plastic wrap then place in fridge for 2 hours minimum.
Looking for More Low Carb Desserts?
If you enjoyed this Low Carb Instant Pot Cheesecake, you need to check out my 10 Low Carb & Sugar Free Desserts Baking Pack – DIGITAL BOOK 1!! These recipes are all low-carb and Keto-friendly. Every dessert in this pack tastes so amazing! Your family won't even know these desserts are low-carb because they taste so good. Plus they are so easy to make. This low-carb baking book includes 10 large family recipes to make that include photos, a clickable table of contents, and an ingredient list. All with the large family in mind.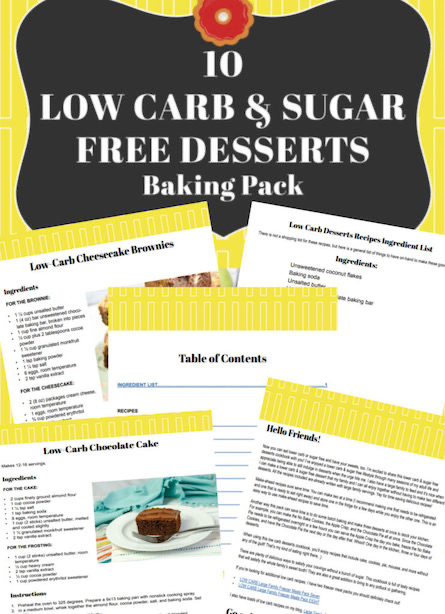 Here are more Instant Pot Desserts!
Instant Pot Peanut Butter Cheesecake
Large Family Instant Pot Double Chocolate Banana Bread
Large Family Slow Cooker Baked Apples Dessert
The Ultimate Low Carb Instant Pot Cheesecake
Print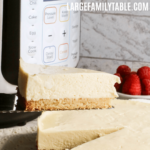 The ULTIMATE LOW CARB INSTANT POT CHEESECAKE!
Author:

Prep Time:

20 mins

Cook Time:

20 mins

Total Time:

40 minutes

Yield:

1 cheesecake

Category:

Dessert

Method:

Instant Pot

Cuisine:

Low Carb
---
Description
This ultimate low carb instant pot cheesecake is fast and easy to make while not sabotaging your low carb lifestyle.
---
Ingredients
For the crust:
¼ cup butter, melted

1 cup almond flour

1 tablespoon monk fruit sweetener
For the cheesecake:
2 (8 ounce) packages cream cheese, room temperature

⅔ cup monk fruit sweetener (or sweetener of your choice)

1 teaspoon vanilla extract

2 eggs, room temperature
---
Instructions
Preheat oven to 350 degrees. Prepare a 7.5 inch springform pan with non-stick cooking spray.

Stir together the butter, almond flour, and monk fruit sweetener for the crust. Press into the springform pan. Bake in the oven for 10 minutes. Remove from oven and allow to cool on a wire rack.

Place trivet in the bottom of the electric pressure cooker liner. Add the minimum required amount of water according to the manufacturer's instructions.

Prepare a 7.5 inch springform pan by wrapping aluminum foil around the bottom to protect from water seepage. Spritz the inside of the springform pan with nonstick cooking spray.

In a medium bowl, beat cream cheese until soft and creamy. Add the sweetener and continue beating until fluffy, about 2 minutes. 

Add the eggs and vanilla and beat just until combined.

Transfer the mixture to the springform pan and spread evenly. Cover the springform pan to avoid water dripping onto the cheesecake.

Cover the electric pressure cooker and set the valve to sealing. Program for manual or "pressure cook" for 20 minutes.

When the cooking cycle is complete, allow the electric pressure cooker to naturally release the pressure until the pressure pin drops. Remove the lid and allow the cheesecake to continue cooling inside the pressure cooker for 20 minutes before removing.

Replace the aluminum foil with plastic wrap and refrigerate the cheesecake for at least 2 hours prior to serving.

Serve with sugar free, natural preserves or fresh fruit if desired.
---
Notes
It's recommended to have a dessert only ring for the pressure cooker.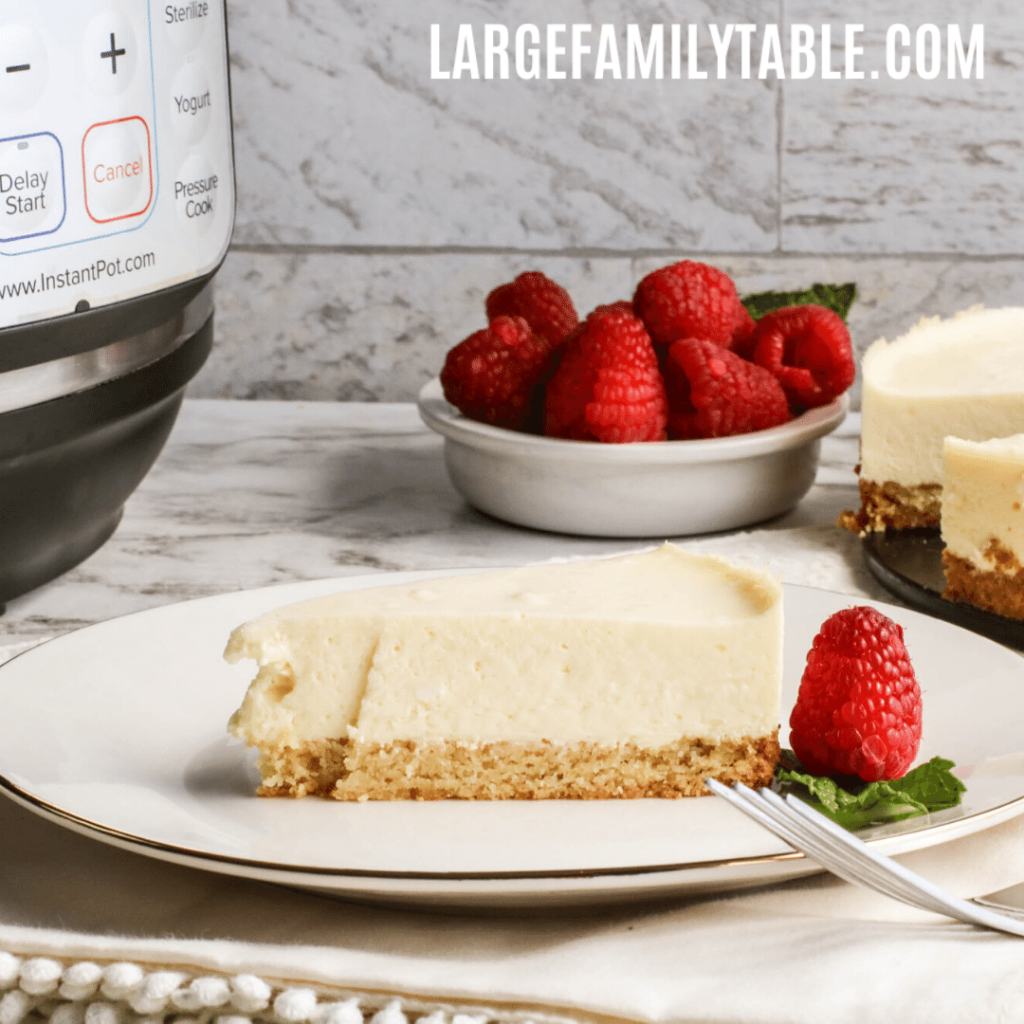 It seems like a lot of steps but it really is easy. Oh, and if you have more than one Instant Pot, then make two at the same time. One cheesecake will not be enough to share with many little people. Either make several at one time or start in the morning and make one after the other in one Instant Pot. Top with fresh fruit to keep it low carb for you and chocolate sauce for the kids. #momwin
FREE Emergency Pantry Planning Pack!
Don't forget to sign up for the emergency pantry planning pack for free to help you plan your pantry meals! The free Emergency Pantry Planning Pack will help you plan your needed pantry items! Printable pages include pantry inventory, grocery lists, meal planners, list of pantry staple items, and more.