If you are the kind of person who loves chocolate, whether it is a cake, pie, or even a candy bar, you will love this Instant Pot Double Chocolate Banana Bread. It is perfectly moist, loaded with lots of chocolate, and as fresh as you can imagine. Most importantly, it is so easy to bake, and you can get the kids involved in helping you put this delicious banana bread together in less than an hour. Of course, we also have our Healthy Double Chocolate Zucchini Muffins if you like chocolate and our Instant Pot Cinnamon Swirl Banana Bread and our Pumpkin Banana Bread for a different variety of banana bread.
*Use special promo code HELLO20 to take 20% off your first order in the shop including the SUPER MEGA ULTIMATE Large Family Freezer Meals Bundle here!**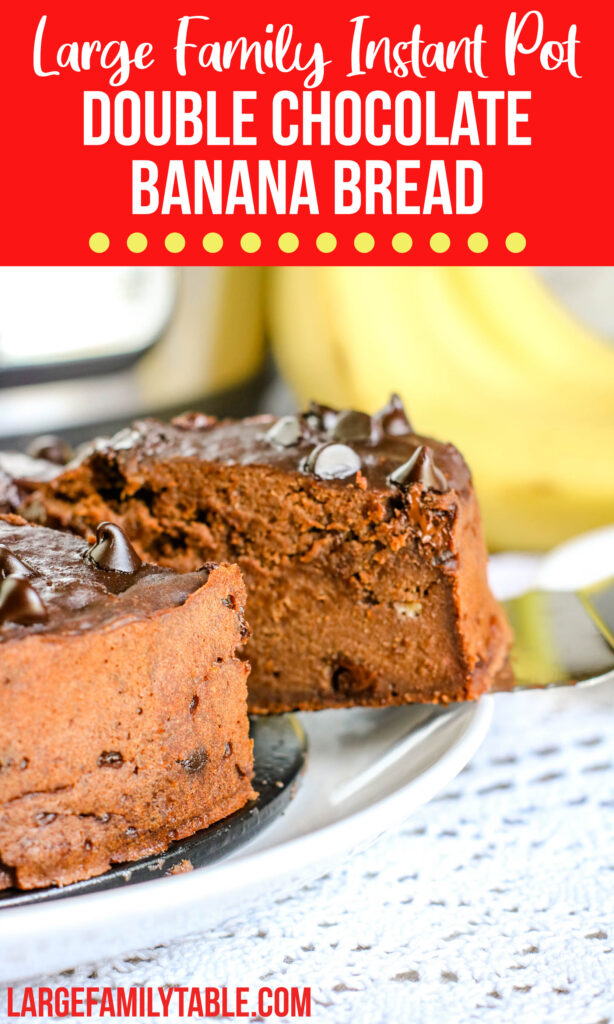 Instant Pot Double Chocolate Banana Bread
If you like banana bread but wanted to try a different way to prepare it, you're going to really enjoy this. While there is nothing wrong with the traditional version, I am a big fan of chocolate, so combining one of my favorite types of bread with chocolate was a great thing.
When you are craving something chocolatey, but you also want something that is still somewhat healthy, this Double Chocolate Bread is a great choice. You can reap the benefits that come from eating bananas while getting your chocolate fix for the day.
The Extra Ingredients You Need to Have
As you may notice, the recipe calls for ingredients that are quite common when making banana bread, but with a few extra ingredients to give it that chocolate taste. In addition to the overripe mashed bananas and flour, you will need cocoa powder and chocolate chips.
I like to use milk chocolate chips, but you can use dark chocolate or semi-sweet chocolate. There are plenty of different chocolate chips to choose from, so check out what your local grocery store has to offer before deciding which ones you want to add to your Banana Bread.
What to Add to Your Instant Pot Double Chocolate Banana Bread
Once your Instant Pot Double Chocolate Banana Bread finishes baking in the oven and has cooled off for a short while, you can slice it and eat it right from the baking pan. However, you might like to add a little something extra to it.
While I do like to eat the banana bread as is, there are times when I add a dollop of whipped cream on top to make it taste even more like a dessert. A sliver of butter spread on a slice of this Banana Bread also tastes excellent. You can eat your banana bread on the go or even have it with a scoop of vanilla ice cream on the side.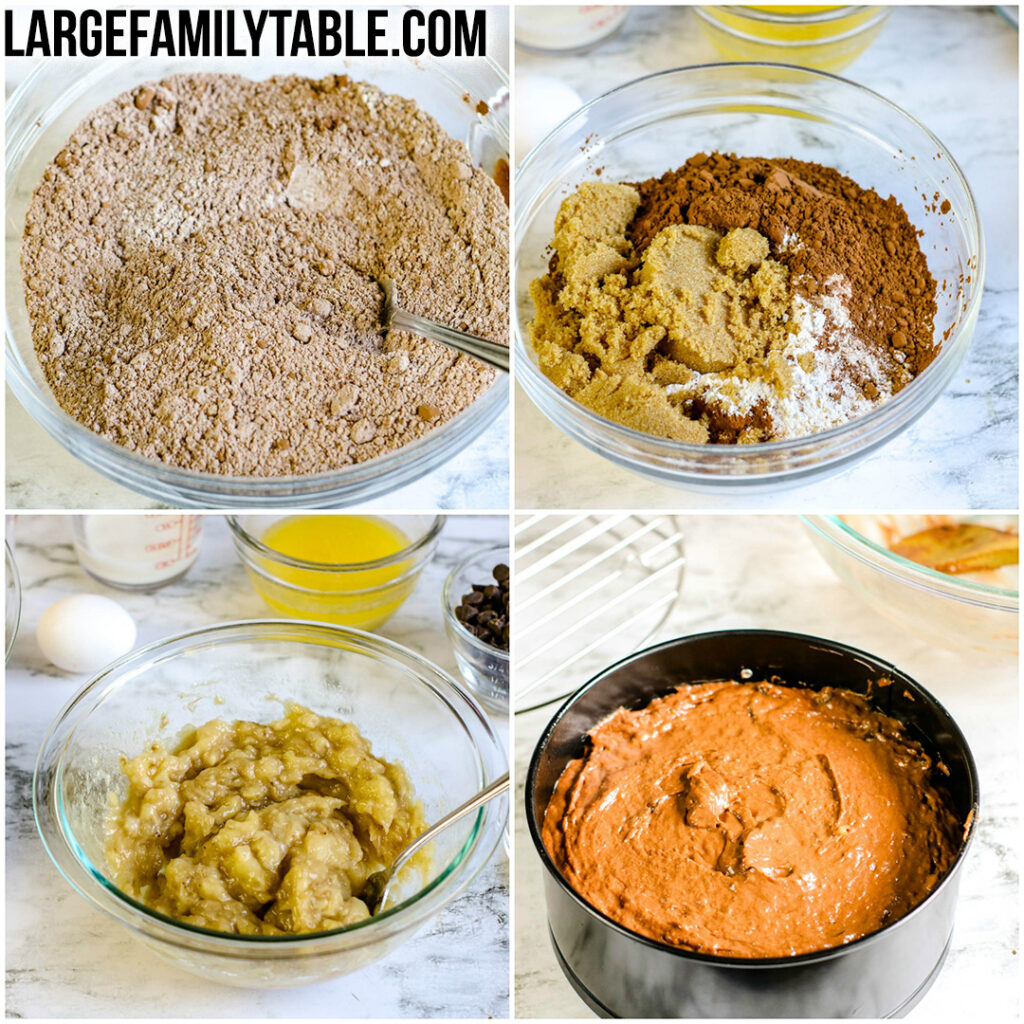 How to Store the Instant Pot Double Chocolate Banana Bread
Keep your banana bread fresh by removing it from the baking pan and tightly wrapping it with clear plastic wrap. I like to use the press and seal option because I can cover the bread entirely and then seal it shut.
For maximum protection, I place the packed bread inside a large plastic zipper-sealed bag. You can put the banana bread in a bread box, on your kitchen table, or in the fridge. If you plan to freeze it, eat it within two months.
Do you have more Instant Pot recipes?
Looking for more Instant Pot recipes after enjoying this Double Chocolate Banana Bread? I have a ton more recipes in my shop! Check out my Large Family Delightful and Abundant 4-Week Electric Pressure Cooker Meal Plan Pack One, and the Large Family Filling and Wholesome 4-Week Electric Pressure Cooker Pack Two.Or make it easy on your budget and time and grab the DOUBLE BUNDLE that includes both Electric Pressure Cooker Packs packs one and two!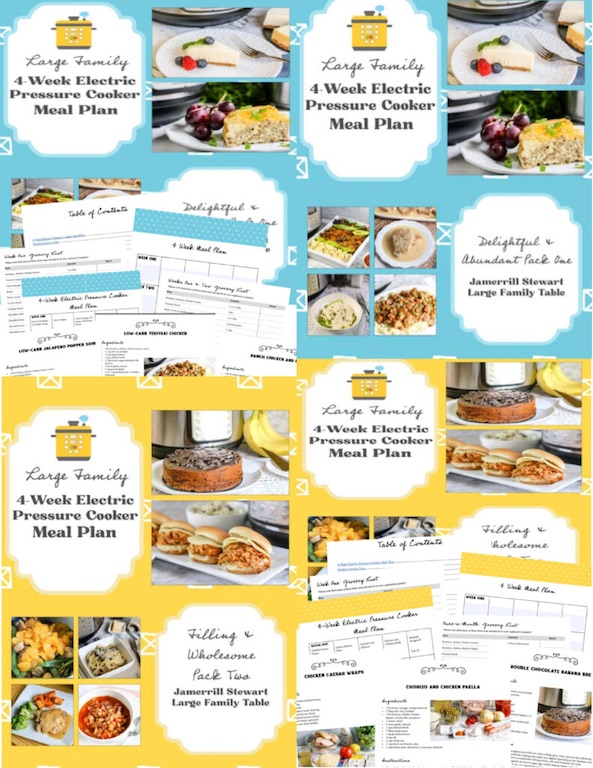 Here are more of our bread recipes your family will enjoy!
Instant Pot Double Chocolate Banana Bread
Print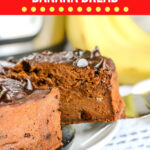 Instant Pot Double Chocolate Banana Bread | Large Family Baking
Author:

Prep Time:

25 Minutes

Cook Time:

55 Minutes

Total Time:

1 hour 20 minutes

Yield:

12 Slices

Category:

Baked Goods

Method:

Instant Pot
---
Description
Satisfy that chocolate craving with this Instant Pot Double Chocolate Banana Bread recipe. There is something about chocolate and bananas that simply go together perfectly. This banana bread is perfect to have as a snack or even for breakfast.
---
Ingredients
2 cups flour

½cup unsweetened cocoa powder

1 ½ teaspoons baking powder

¼ teaspoon salt

½ teaspoon cinnamon

⅔ cup brown sugar

1 large egg

2 teaspoons vanilla extract

4 large bananas, mashed (about 1 1/2 cups)

½ cup unsalted butter, melted and cooled

¼ cup milk

¾ cup semi-sweet chocolate chips
---
Instructions
Prepare a 7.5 inch springform pan with nonstick cooking spray. (Any cake pan that will fit into the electric pressure cooker will work but cooking time might vary slightly depending on the thickness of the batter.)

Whisk together the flour, cocoa powder, baking powder, salt, and cinnamon. Set aside.

In a large bowl, mix together the brown sugar, egg, vanilla, banana, butter, and milk.

Add the flour mixture to the wet ingredients and mix together just until combined. Do not overmix. The batter will be somewhat thick.

Stir in the chocolate chips, reserving a few for sprinkling on top.

Transfer the batter to the springform pan and smooth evenly.

Cover the springform pan with aluminum foil and place on a trivet with handles (or create a sling using aluminum foil.)

Pour water into the liner of the electric pressure cooker. Carefully lower the trivel into the liner.

Program the electric pressure cooker for 55 minutes on manual or "pressure cook." When the cook cycle is complete, perform a quick release of the pressure. Remove the lid and carefully use a towel to remove the liquid from the top of the aluminum foil.

Lift the trivet from the pressure cooker and remove the aluminum foil from the springform pan. Allow the bread to rest until any water that has accumulated on the top of the bread has absorbed or dried.

To serve, release the springform pan sides and cut the bread into wedges.
Keywords: Double Chocolate Banana Bread
Banana bread is a delicious snack to keep on hand. This versions feels like a special treat for everyone. It's great fresh or keep a few loaves in the freezer for snack at a later time.
FREE Emergency Pantry Planning Pack!
Don't forget to sign up for the emergency pantry planning pack for free to help you plan your pantry meals! The free Emergency Pantry Planning Pack will help you plan your needed pantry items! Printable pages include pantry inventory, grocery lists, meal planners, list of pantry staple items, and more.