Ok, y'all, you know I love using my breadmakers, but I'm super-duper excited to share with you my new Stand Mixer French Bread Recipe! Though not quite as easy as dumping in a pile of ingredients, pressing a button, and walking away, this recipe is so easy and tasty that you'll wonder why you haven't been doing french bread this way all along.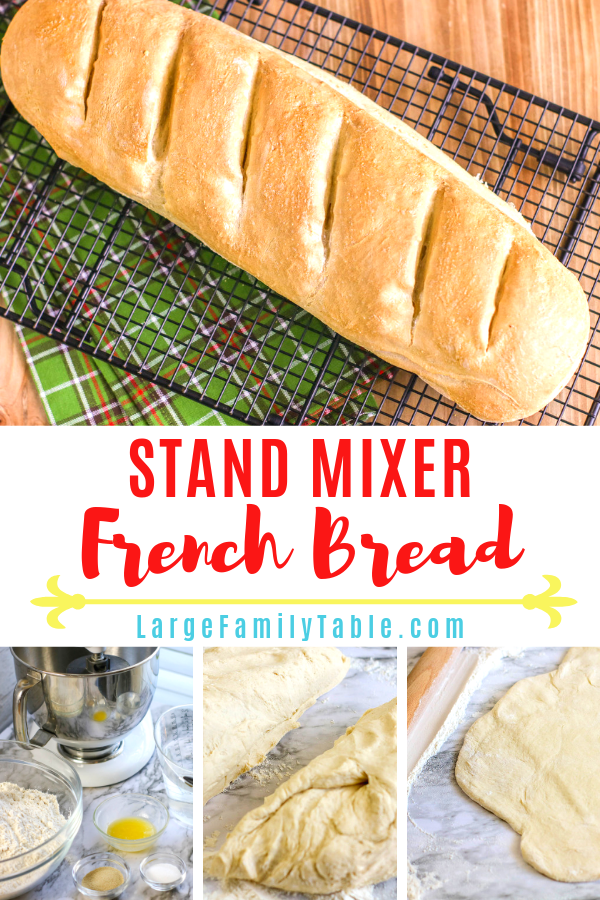 How easy is it to make French Bread?
Using my stand mixer french bread recipe, it's amazingly easy. The stand mixer does all the work leaving you to roll it out, shape it, bake and enjoy. Both loaves will fit nicely on your sheet pan which makes me love that pan even more. Is it possible to love a pan this much?
How can you make French Bread crusty again?
You have several options with stale French Bread. You can make yummy Pecan Overnight French Toast Casserole that your family will love or you can revive it.
To revive it back to its original delicious state, you simply need to run your loaf under running water . Get it all nice and sopping wet. Wrap in aluminum foil and heat it in the oven for 10-12 minutes. Voila! It comes out like brand new. Of course, eat immediately.
How do you soften French Bread?
You soften French bread by using a damp towel wrapped around it and heating it in the oven. Same technique as above but use the damp (not dripping wet) towel method
How do you eat French Bread?
You can eat French Bread sliced or just tear a piece off and devour it. Either way, slather some butter on it and enjoy it warm. Of course, you can make garlic toast with it, pecan overnight french toast casserole, slather some roasted garlic hummus on it or a variety of other recipes. The sky's the limit.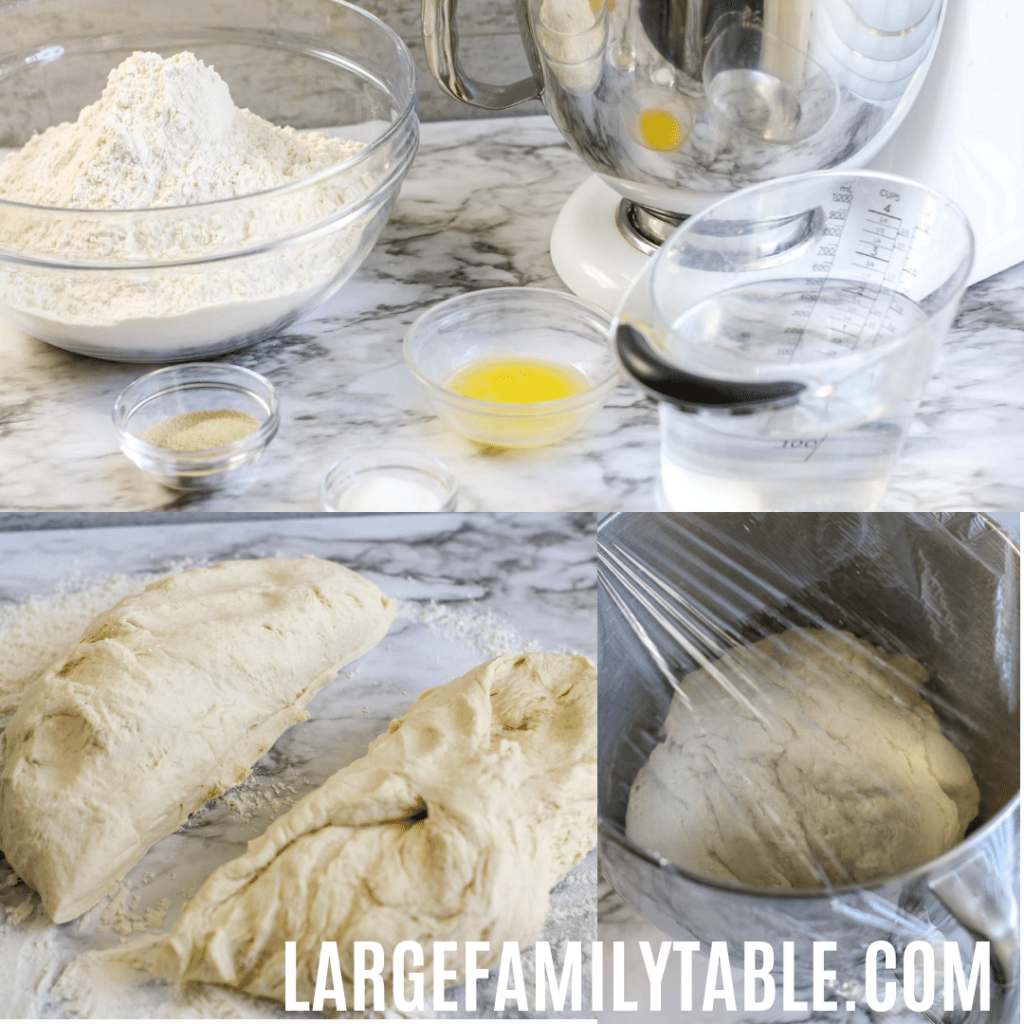 Print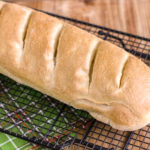 ---
Description
Enjoy this tasty recipe for homemade Stand Mixer French Bread!
---
Ingredients
2 packages (4 1/2 teaspoons) active dry yeast
2 teaspoons sugar
2 1/2 cups warm water
1 tablespoon salt
1 tablespoon melted butter
7 cups unbleached all-purpose flour
1 tablespoon cornmeal, for dusting
1 tablespoon olive oil
1 egg white
1 tablespoon cold water
---
Instructions
Rinse your mixing bowl in hot water to warm it, dry completely. Dissolve the sugar and yeast in the 2 1/2 cups warm water in the bowl.
Add the salt, butter, and flour. Using the dough hook, mix at low speed for about 3 minutes.
Pour olive oil over the dough, turning once or twice to coat. Cover and allow to rise in a warm place about 1 hour or until doubled in size. Punch dough down and divide in half.
Place half of the dough on a well-floured surface and roll into a rectangle (about 12 inches by 15 inches) and then roll the dough tightly from the longest side as if making a jelly roll. Taper towards the ends. Repeat with other half of dough.
Dust baking sheets with cornmeal and place loaves on baking sheets. Cover and allow to rise again until doubled in size, about 1 hour.
Preheat oven to 450 degrees.
With a serrated knife, make slits diagonally across each loaf. Bake for 25 minutes. Remove from oven.
Mix together the egg white and cold water. Brush over the loaves and then return to oven for 5 minutes longer. Remove from baking sheets and cool on wired racks.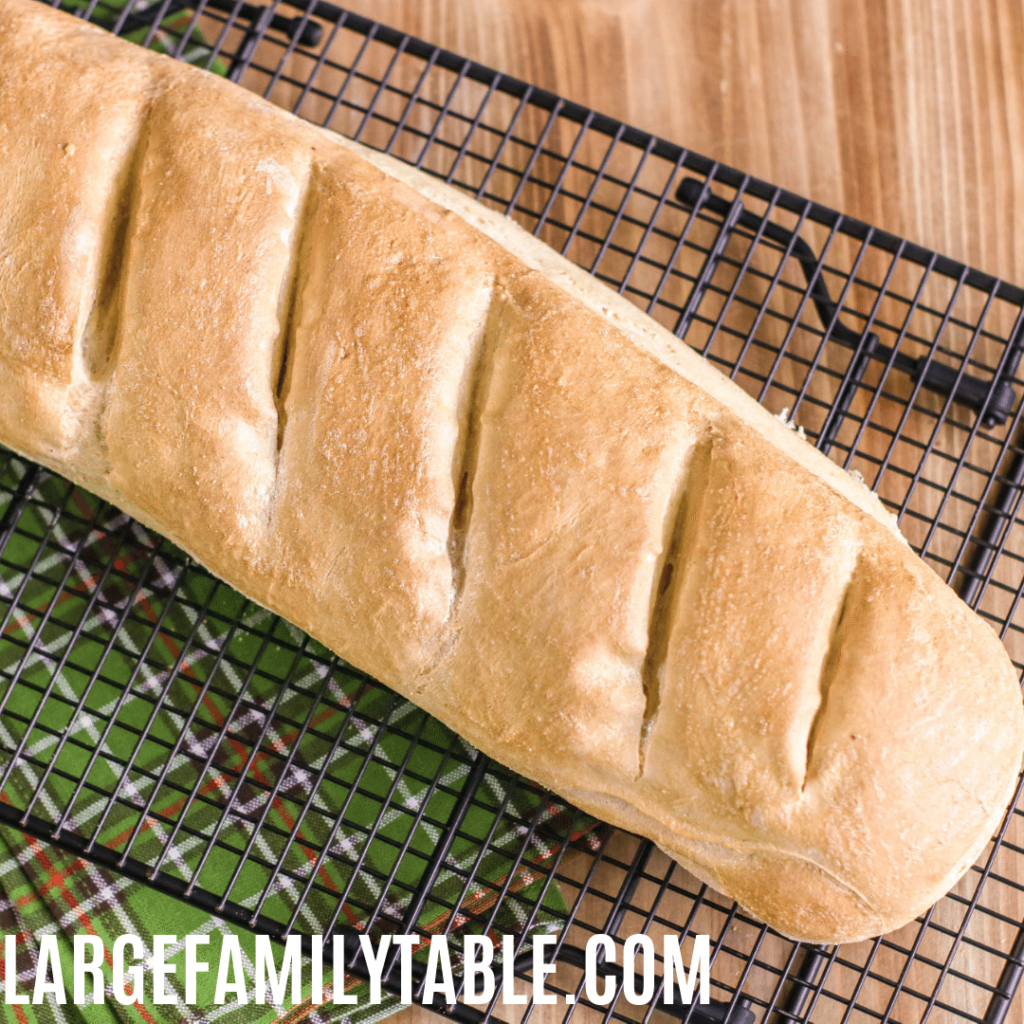 You can't go wrong making this tasty and easy recipe. I guarantee that your family will gobble it down and ask for again and again. That makes it a #momwin in my book.
This French Bread Recipe was featured in many Large Family Meal plans including Large Family Meal Plan #1. You can find more large family meal plans here.
Watch some more bread recipes!