Over my years of helping moms feed their families well and on a budget, I have shared many large family meal plans. The most popular that I've ever created (the meal plan full of ideas lots of moms still use today) is this post where I shared a free one month large family meal plan. This large family meal plan on a budget included 4-weeks with ideas for 90 meals, 60+ snacks and more! I've also shared the large family meals of the week series on YouTube and here on the blog. In that series, I shared exactly what I fed my large and growing family each week. I also included links to all the recipes.
Large Family Meal Plan
Now that we've had that little Jamerrill meal planning history 🙂 THIS IS MY UPDATED Large Family Meal Plan series, starting TODAY – yippee! Members of the fun and exclusive Large Family Table Community have been begging me to make meal plans again. With their requests, ideas and inspiration I decided to make you the best large family meal plans ever!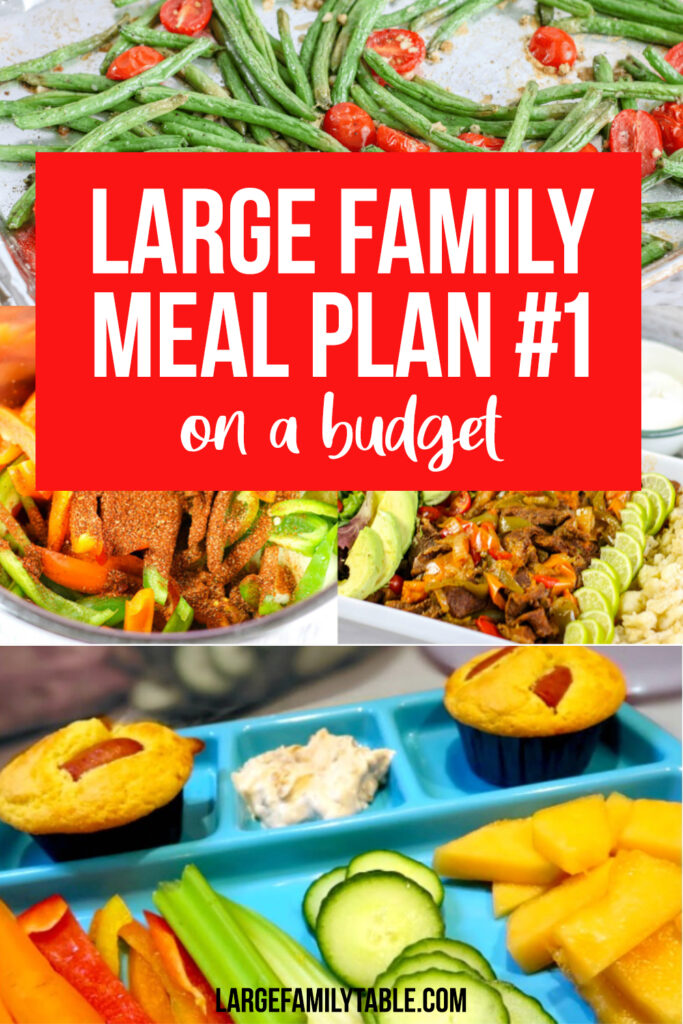 How Each Weekly Large Family Meal Plan Will Work
Here's how the brand new large family meal plan series will work. Thursday of each week I'm going to publish a brand new meal plan for families right here on the blog. You'll be able to click the links and go right to the recipes. I've also created a free and detailed weekly grocery shopping list specific to each week's meal plan. The weekly grocery list also includes bonus helpful meal planning printables.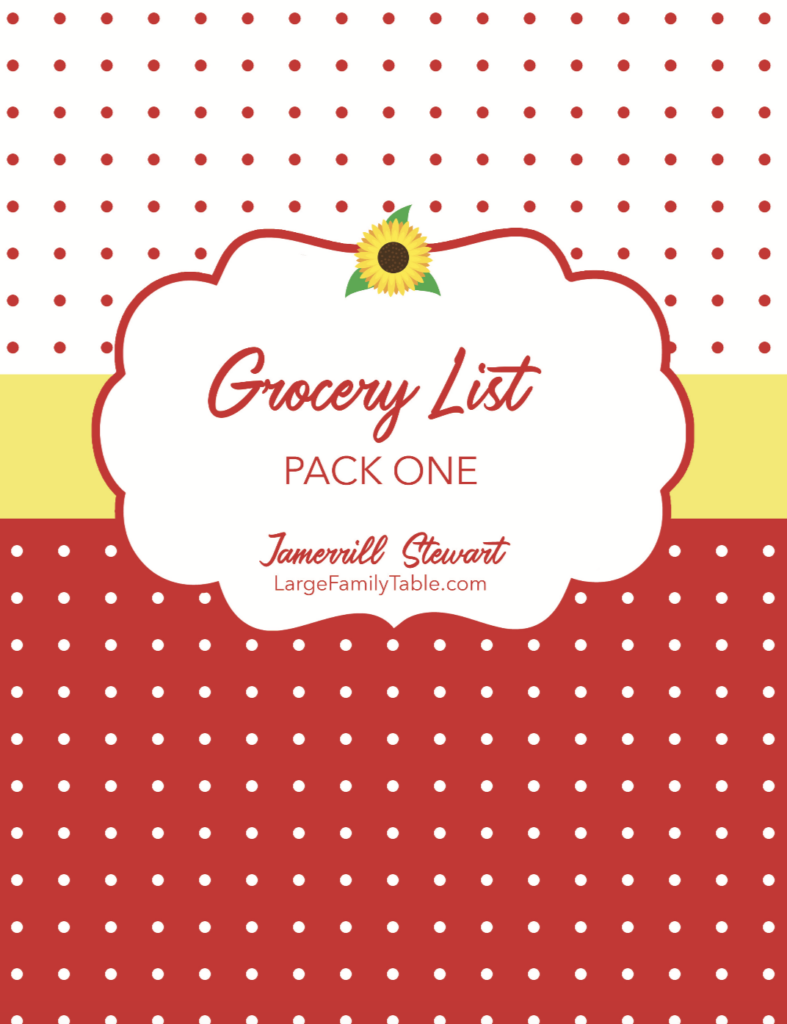 Is This ONLY a Weekly Meal Plan for LARGE Families?
The budget dinner ideas included in each weekly meal plan are workable to **all family sizes** (I'm broken and only know "mega & lots," haha!). If you're a larger than average family you will most likely find my recipes will feed your family one meal and maybe, just maybe, give you some leftovers.
If you're a smaller family or have lots of little kiddos, you will most likely be BLESSED with extra portions that could be frozen for later freezer meals or serve your family several creative meals to give momma a bit of a break. Having a break is always my favorite :).
Here we go with our first BRAND NEW Large Family Meal Plan on a Budget #1!
Large Family Meal Plan on a Budget
Let's plan next week's budget dinner menu for your growing family. The best tool for your budget and your peace of mind is to have a well planned out meal plan. This week some of these recipes will make MEGA and LOTS, which might leave you with extras! You might have extra for lunches or freeze it for meals later. This is an easy way to add freezer meals that isn't super overwhelming. Check out this post if you would like to know my Must Have Large Family Freezer Meal Supplies.
Monday – Meatloaf with Garlicky Green Beans and Tomatoes
Large Family BBQ Meatloaf Recipe – This will make 5 full sized meatloaves. Also included on the website is a recipe for a single serving. If you're making the freezer meals, make one up this Monday night, serve it with roasted or mashed potatoes and garlicky green beans and tomatoes. Save the other 4 meatloaves uncooked in the freezer! You'll be so happy to have these meatloaves already prepared for the future. Check out this post if you also want to add some mashed potatoes to your freezer.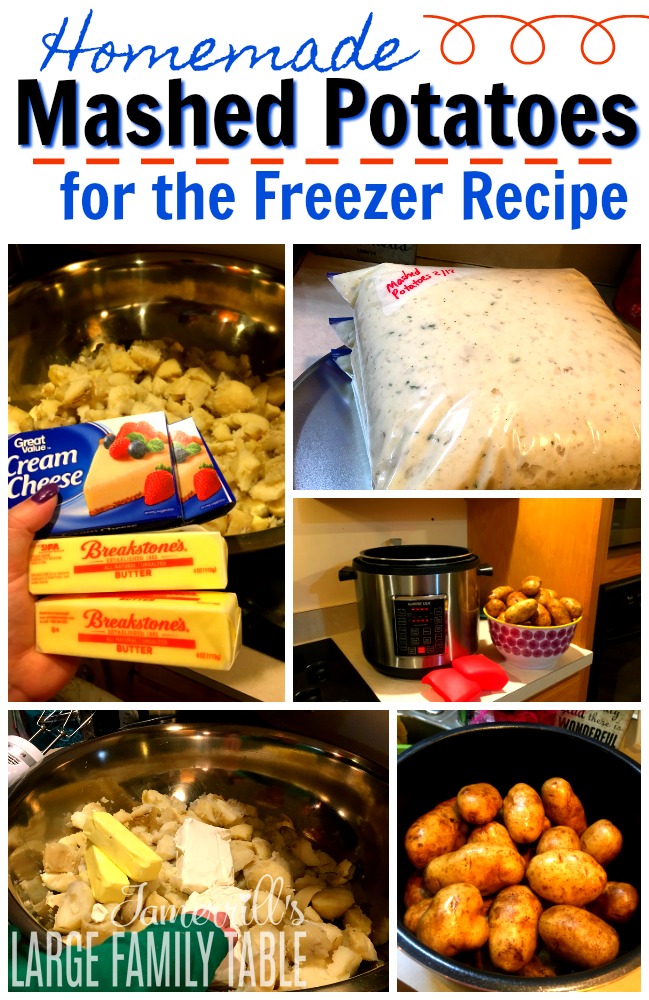 Tuesday – Taco Bar
Slow Cooker Taco Meat Taco bars are easy to set up, get your shells or tortillas and all the fixings: cheese, salsa, avocado, beans, lettuce, corn, salsa, tomatoes, black olives, guac, sour cream, and whatever your family likes. You might also add some refried beans. Just place everything in bowls after the meat is cooked and let everyone build their own tacos! You will potentially have extra for Tacos for lunch the following day, plus more to freeze. I just put extra Taco Meat in a gallon freezer bag. Date the bag and freeze for later. In upcoming weeks or months when we want Tacos again, I'm already meal prepped ahead!
Wednesday – Grilled Chicken Berry Blue Salad
Grilled Chicken Berry Blue Salad is one that is a hearty yet refreshing meal sure to please even a salad hater.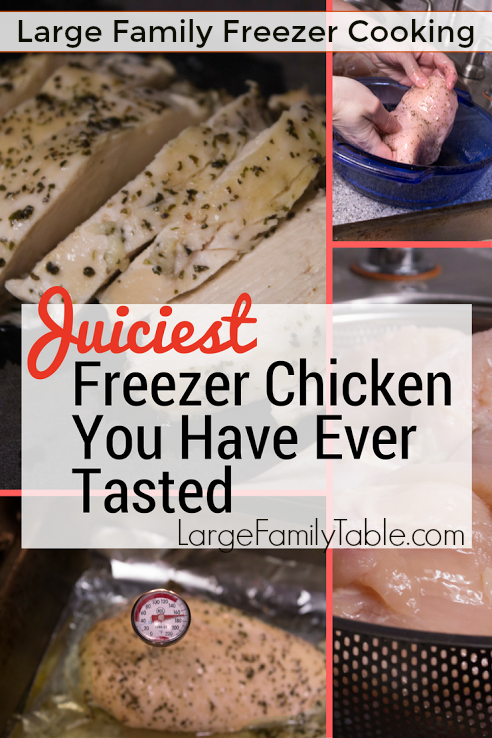 Batch cook your chicken for the rest of the month using this method here!
How can I feed a large family cheap?
To help feed a large family cheap be sure to use seasonal fruit and vegetable options,
buy in bulk (I love Sharp Shopper. Look for a store with bulk foods in your area.),
take advantage of food sales and discounts (ground beef has been up to $8/lb locally. Last time at my local discount store it was $2.99/lb which now seems like such a deal!),
use inexpensive ingredients such as brown rice, oats, and more to help stretch meals,
replace meat with beans or use less meat and add extra beans,
plan for creative leftovers including adding extra freezer meals,
have a pantry and freezer challenge a few times a year and eat down items that have been on hand for a bit, (here's week one, week two, and week three of one of the 3-4 week pantry challenges I've done). A pantry & freezer challenge is a great way to save money for a bigger purchase like a new freezer. You can use the savings to do special giving to others or add more to your long term emergency food storage.
Thursday – Steak Fajitas Bowls
Large Family Instant Pot Low Carb Steak Fajitas Bowls Veggies and steak make for a great dinner and if you have leftovers, add scrambled eggs and salsa for a delicious breakfast the next morning.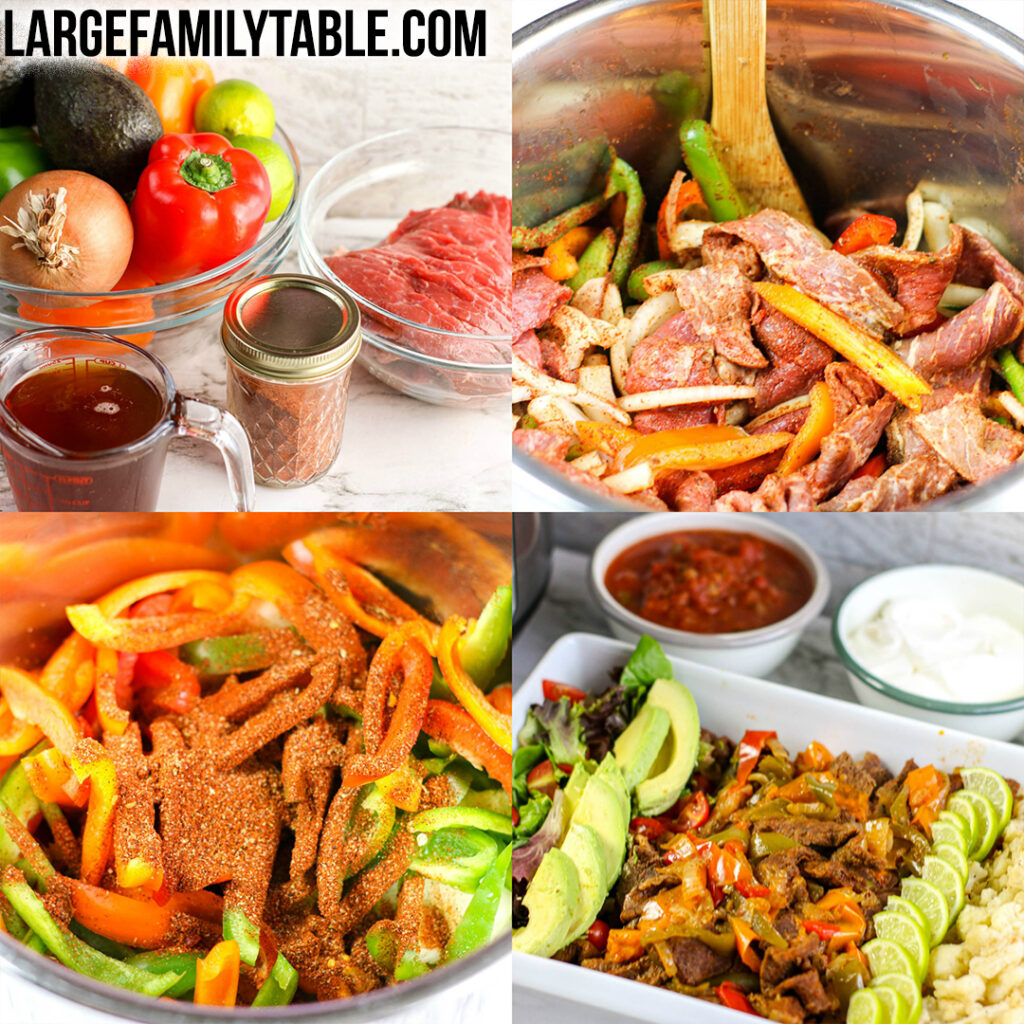 Friday – Breakfast For Dinner
Sheet Pan Pancakes and Scrambled eggs. If you serve with smoothies, this is a great way to add in full servings of vegetables and fruit.
Saturday – Spaghetti with Salad
Large Family Instant Pot Spaghetti is a great one pot meal!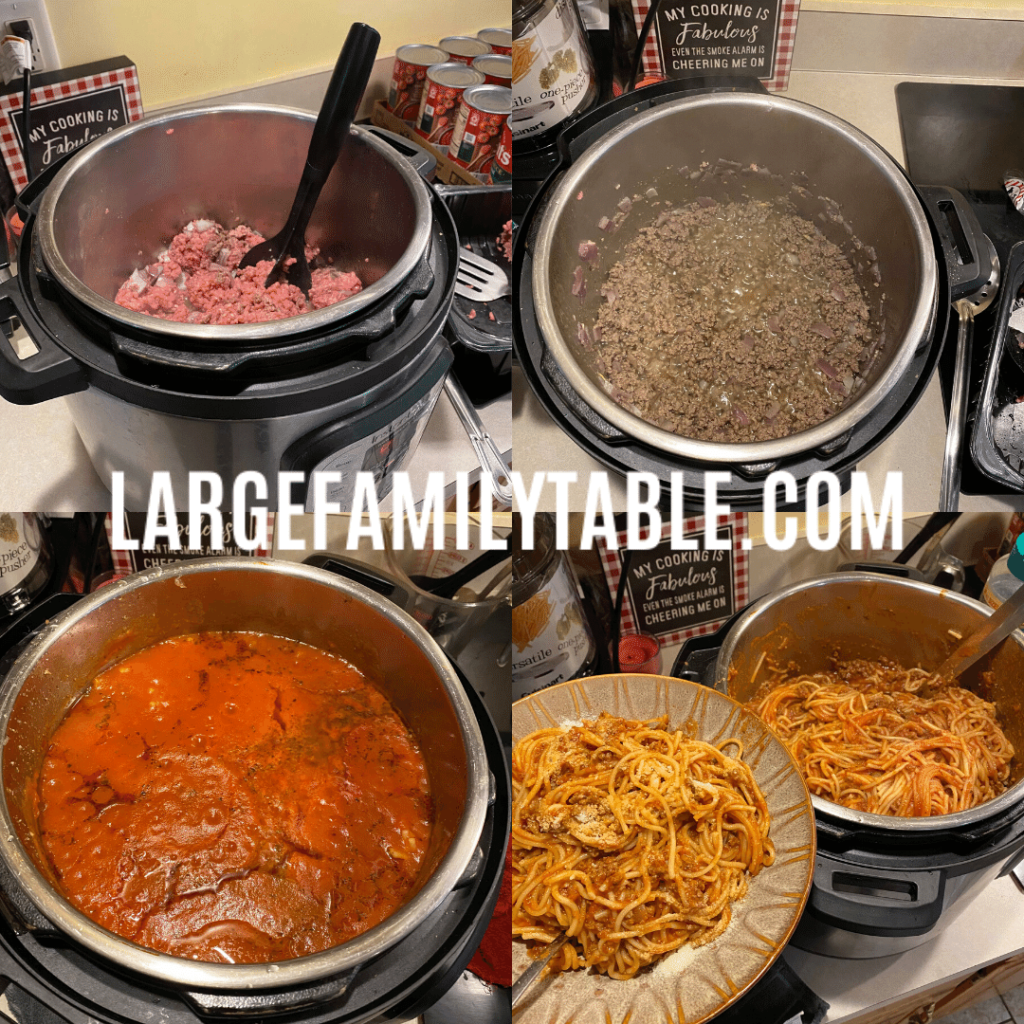 Add a quick chopped salad loaded with fresh vegetables.
Sunday Soup and Bread
Hamburger Soup and French Bread make a hearty and healthy meal. This soup is loaded with vegetables and delicious. This is a meal the whole family will love.
BONUS Meal Plan Ideas
Bonus Snack Idea: Corndog Muffins (directions to also get extra in the freezer)
Bonus Breakfast Idea: Western Breakfast Burritos (breakfast ideas for now, plus freezer meal prep for later!)
Make it a Meal Plan
Making a meal plan is a great way to make sure you're eating at home and with only a small amount of extra effort, you can also add food to your freezer to make later meals more convenient. For more meal planning ideas, check out Large Family Meal Planning. Be sure to also check out the Large Family Freezer Meal Bundles to ALWAYS have tons of meals in the freezer ready to go! Use special promo code HELLO20 to take 20% off the entire Large Family Freezer Meal Plan 1-9 Bundle! Happy planning!
FREE ONE WEEK GROCERY LIST & MEAL PLANNING PAGES PACK ONE!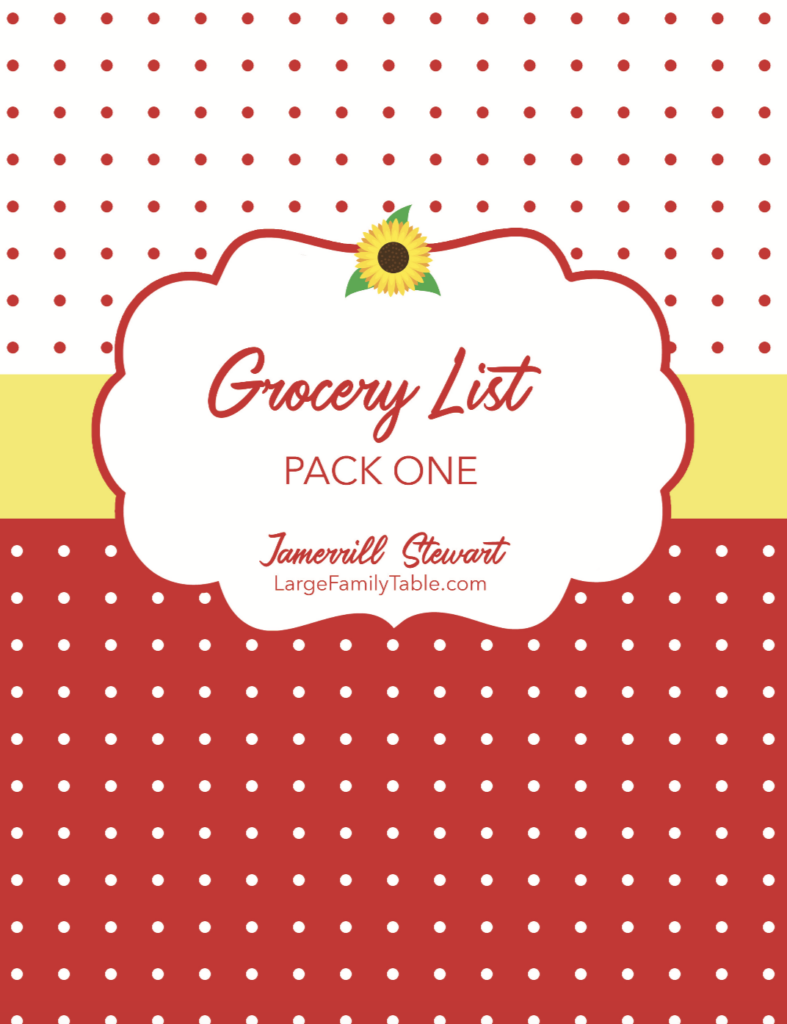 Click here to sign up for this week's free large family meal plan grocery list & extra bonus planning pages for pack one! This free set to you is several pages and includes the full grocery list to make all the dinners in this week's meal plan, including bonus grocery shopping and meal planning printables! Click here to grab your freezer grocery list set now!
I hope you enjoyed this week's large family meal plan on a budget! You'll have a great variety of dinners with (most likely) leftovers. You also might be able to swing a few extra meals in the freezer. Having bonus freezer meals is always a blessing