Note from Jamerrill: This is a guest post from Sherry of Mom Delights. Sherry is a homeschooling mom of 15 so she knows a few things about feedings lots of people! Below she shares how she fixes freezer chicken in bulk to get the juiciest chicken breast you have ever tasted for meals in advance. ~ Jamerrill
Being the mom of 15 children means time is precious!
When it comes to preparing meals, I shrink everything down by precooking meats. This makes it easier to put dishes together at the flick of a Ziploc.
For many years I simply threw some boneless, skinless breasts into the oven without any preparation to make freezer chicken in bulk. This worked OK, but the end product was dry and tasteless.
Then one of my daughters did some experimenting. Instead of using the IQF breasts, she used fresh and covered them with melted butter and a host of herbs and spices. As they baked in the oven he whole house was driven mad with the aroma wafting from the kitchen.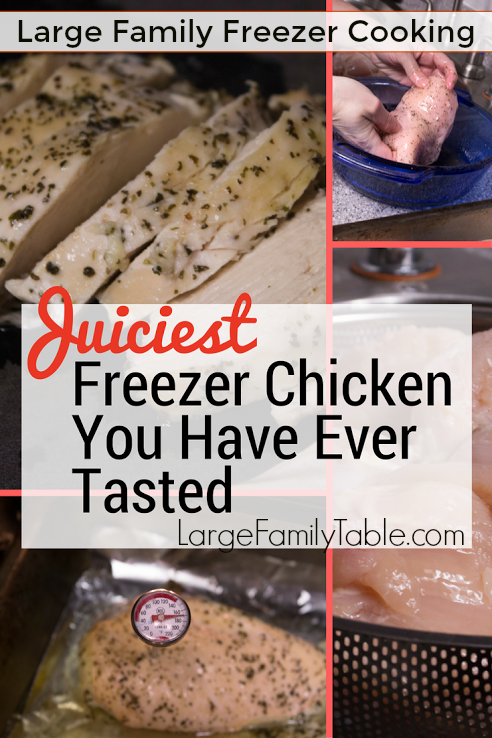 I loved what she had done, but her process was both too time consuming and expensive (all that melted butter) to be done on a regular basis. So I did some experimenting myself and came up with a modified version that is almost as good yet takes a little less time and money to produce.
With this process I end up with bags of sliced meat that can be used in meals such as:
Chicken noodle soup
Potato soup
Creamed chicken over rice or potatoes
Cobb salad
Chicken subs and sandwiches
Thankfully, the fresh boneless/skinless chicken breasts regularly go on sale in our area for under $2 a pound. I like to buy ten pounds or so at a time. This way we have plenty of chicken to last a few weeks or more.
I wash these in my huge colander and then allow them to drain dry.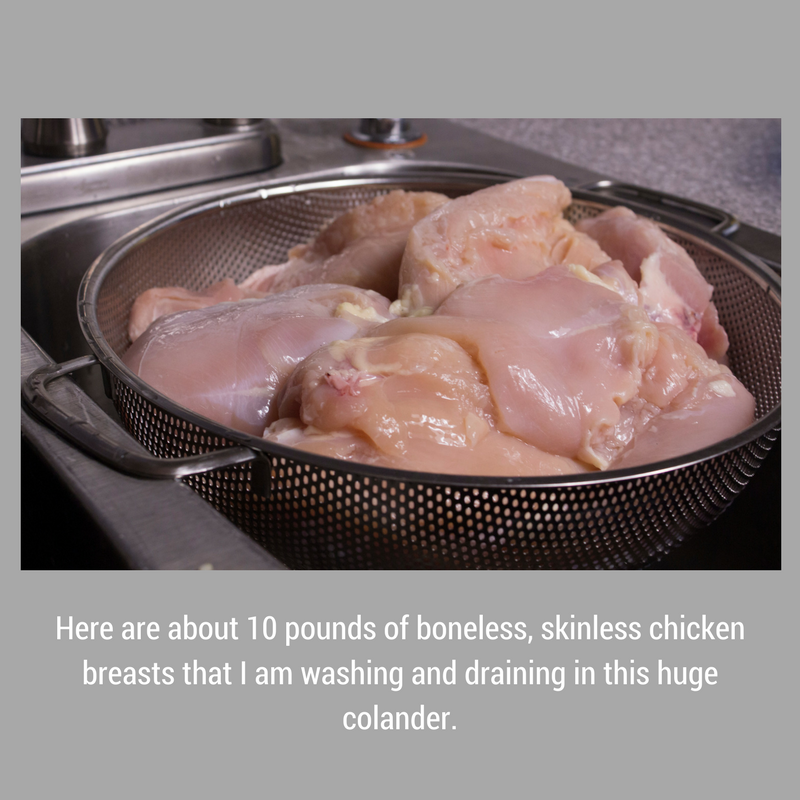 While I am waiting for them to drain, I grab a dish and add the following:
2 cups oil–(you can use melted butter or olive oil)
3-4 tablespoons dried basil (I purchase mine in bulk from Sam's Club and keep it on hand for lots of things)
Salt and pepper to taste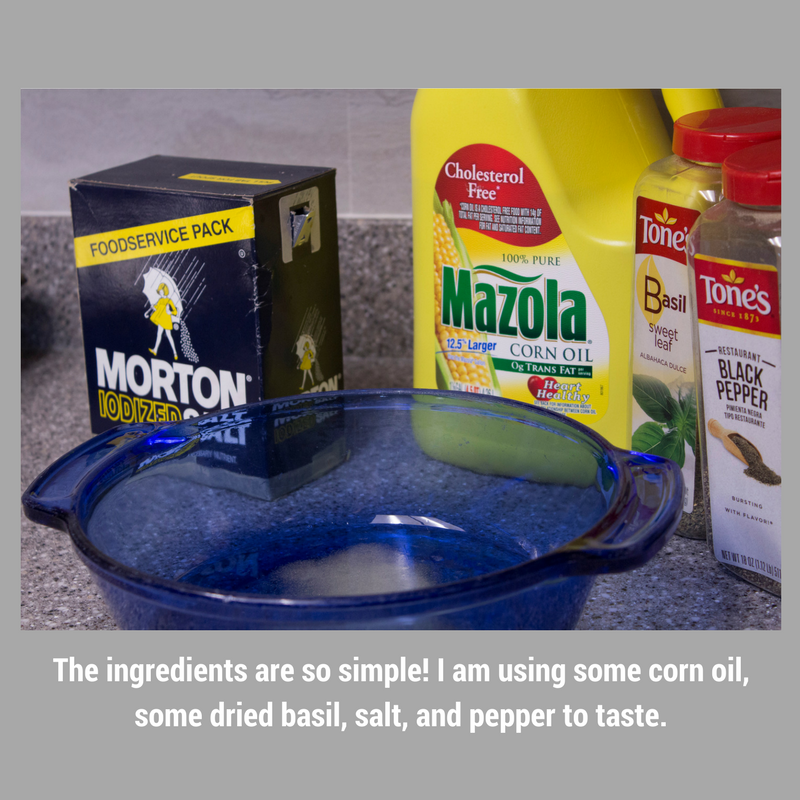 I then mix these ingredients thoroughly and then start dipping my breasts in, covering both sides and making sure they are coated evenly with the oil and seasonings.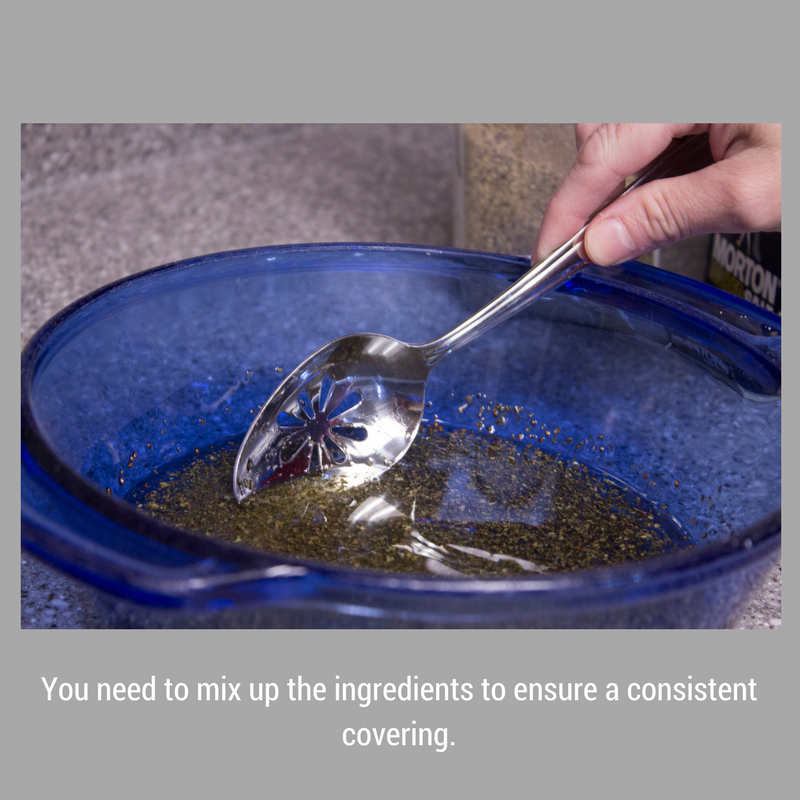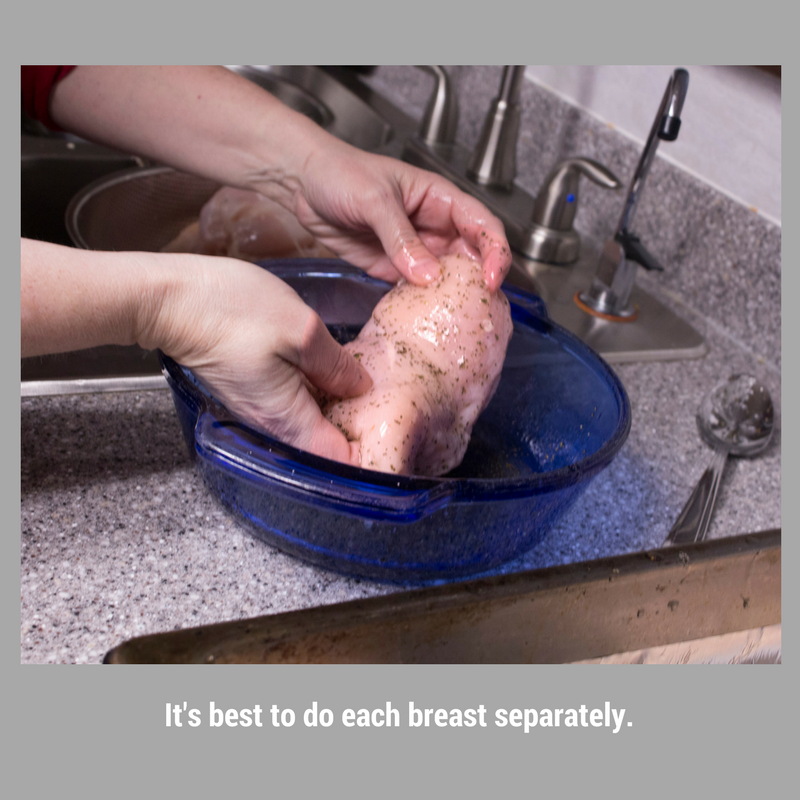 The breasts then get placed in the huge steam pans I bought from Sam's Club a number of years ago. (I put tin foil in the bottom to make it easier to clean up afterwards.)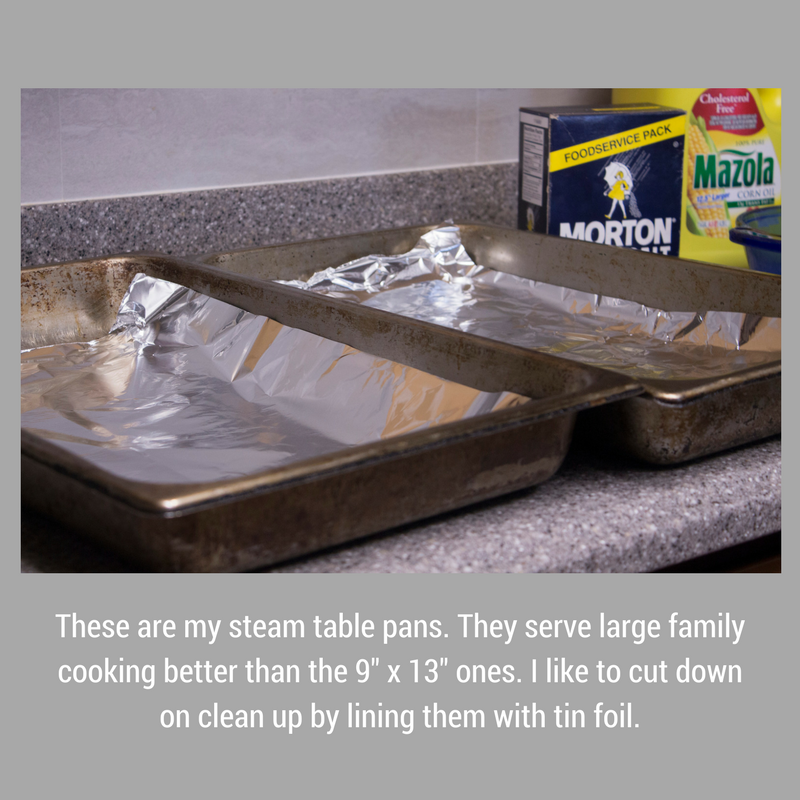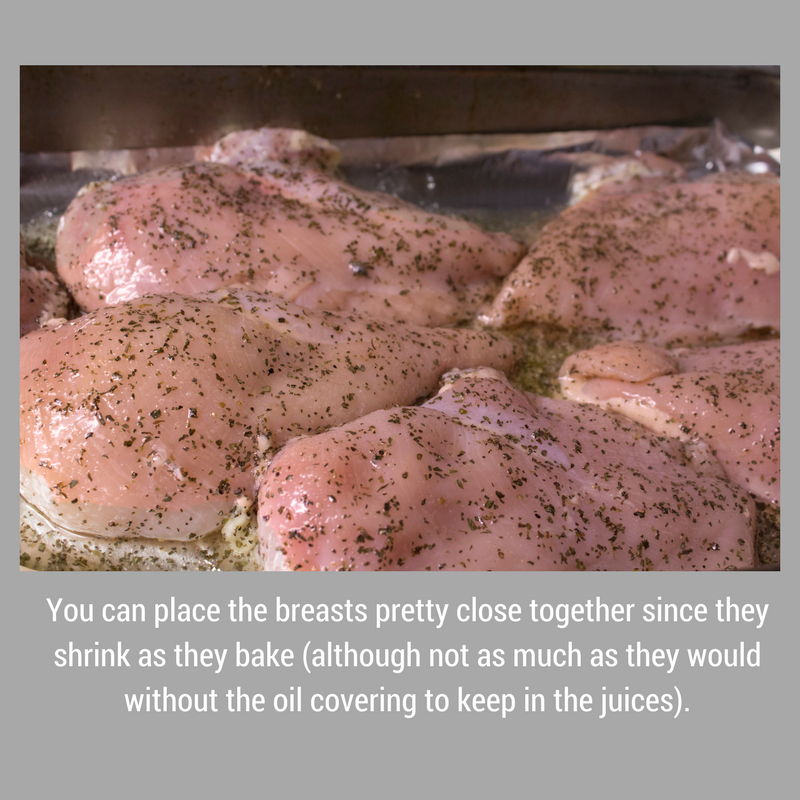 I pop both pans into our convection oven at 325 degrees Fahrenheit for about 20 minutes or so (sorry, I forgot to time just how long–I go by how it smells–when it is irresistible I go check).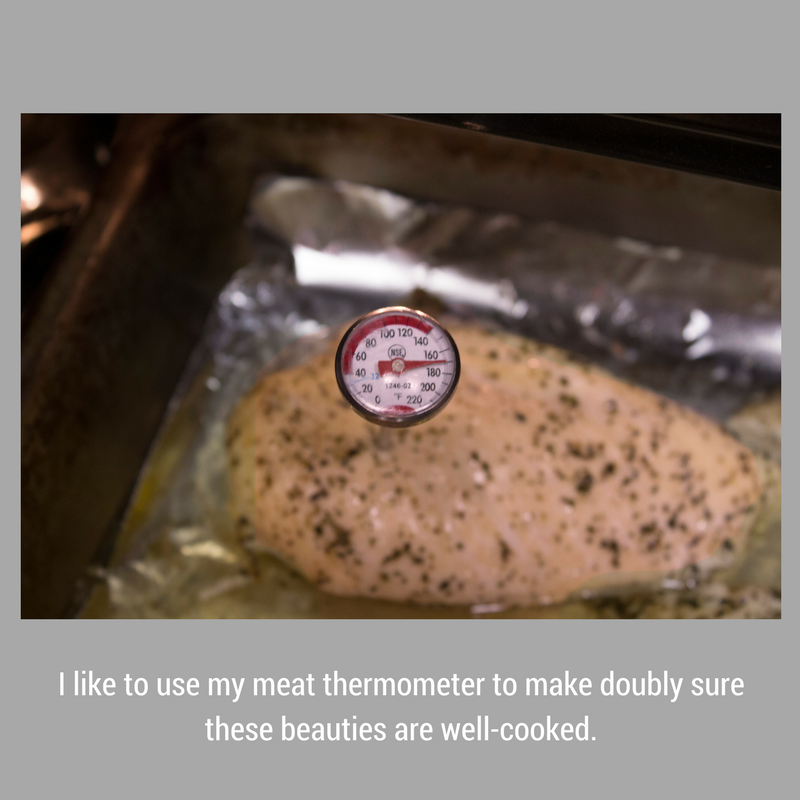 Using a meat thermometer gives me peace of mind. I stick it in the thickest part and make sure it registers well over safe.
After the baking is done, I let the meat set for a few minutes.
Then I cut each breast against the grain.
See how the juices of the meat are still in tact? The slices are placed on cookie sheets in one of our huge freezers.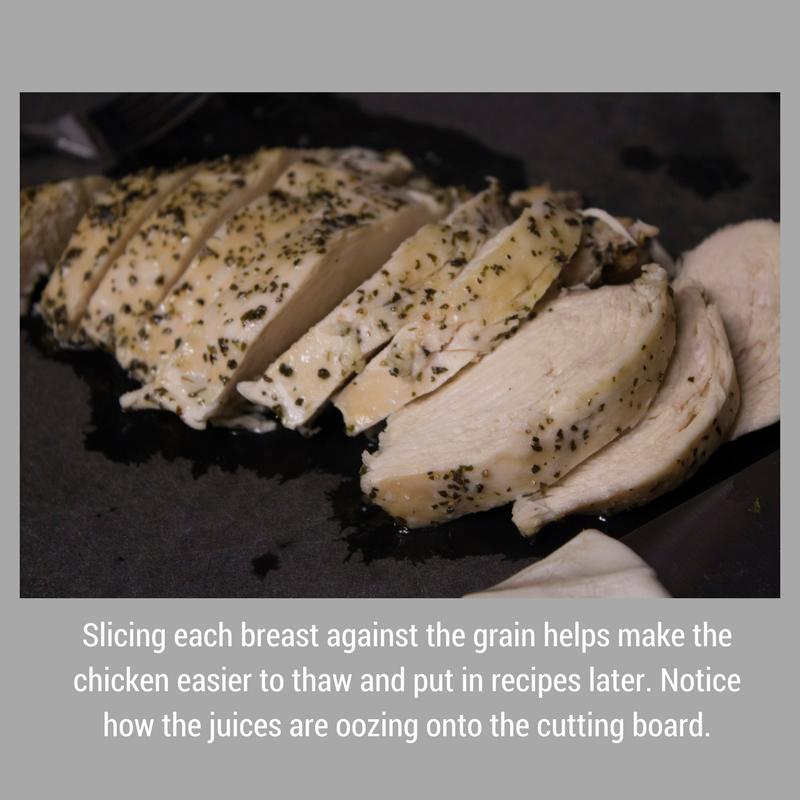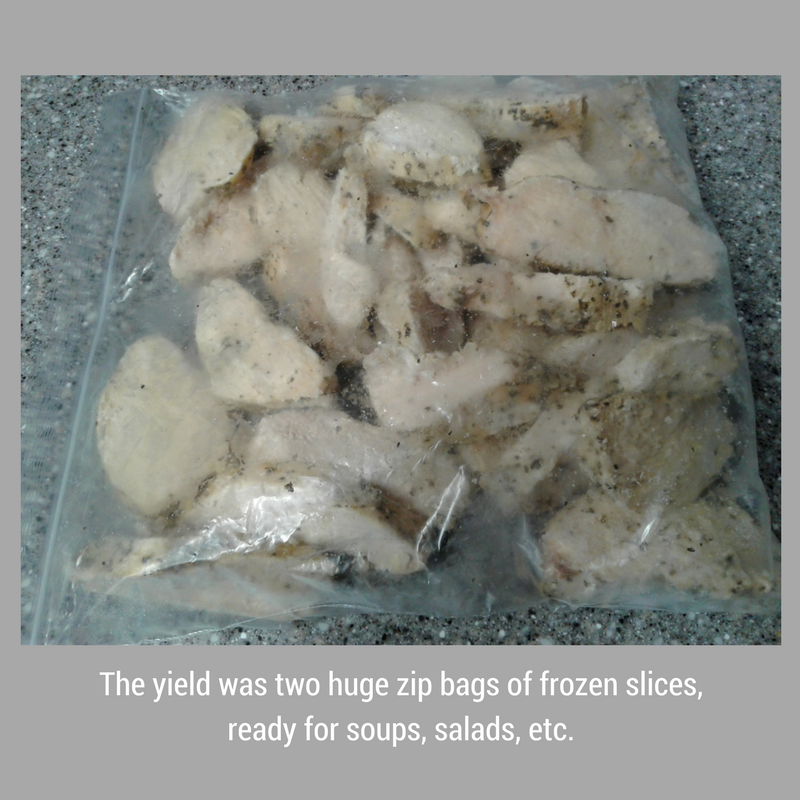 After a day or so I gather the frozen meat and place it in freezer bags in anticipation of all the great meals we will make from them.
Even those that prefer the moistness of brown meat think chicken done this way is marvelous!
While we're at it, what are some of your family's favorite chicken dishes?