In my MEGA MAKE AHEAD MEALS to FEED LARGE FAMILIES and BIG CROWDS!! video, I cook up several Large Family Meals that are perfect for holiday feasts, Sunday dinners, or any day. I made a big batch of Slow Cooker Mashed Potatoes and some delicious Freezer Friendly Gravy. I also make up two 9″ x 13″ pans of Make-Ahead Cheesy Potatoes. You'll also get a peak at some of my Make-Ahead Slow Cooker Cranberry Sauce from the freezer, so easy to make up ahead of time during the holidays.
**Use special promo code HELLO20 to take 20% off the entire MEGA DEAL get-it-all Bundle including the best-selling Large Family Freezer Meal Packs 1-12 + so much more!!****
Mega Make-Ahead Meals to Feed Large Families | Feeding a Crowd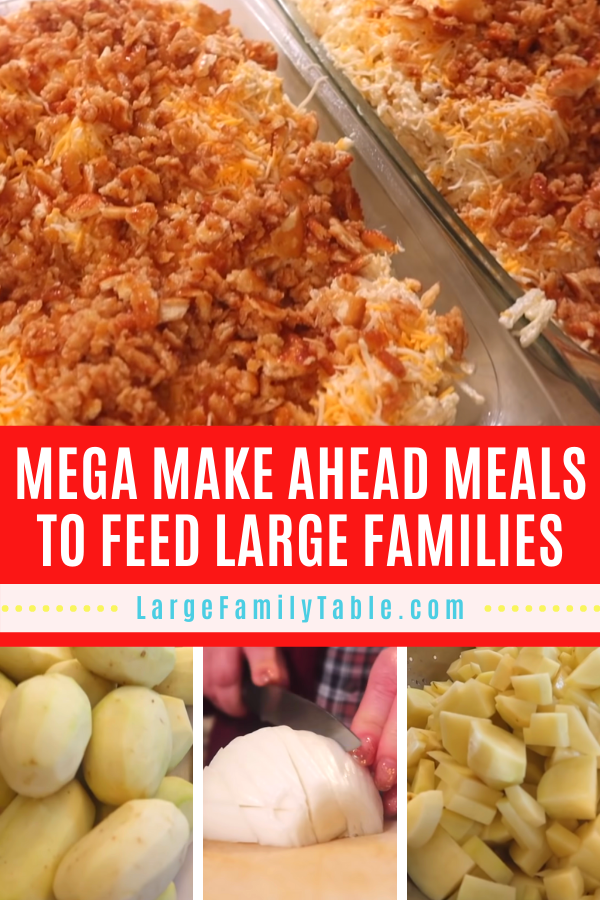 What are Make-Ahead Meals?
Make Ahead Meals are meals which you prepare before you need them! They are freezer-friendly and easily re-heated for your event! Make Ahead Meals perfect for Large Families because it takes the pressure off of Momma to have dinner on the table on your busiest of days! These recipes for Slow Cooker Mashed Potatoes, Make-Ahead Cheesy Potatoes and Freezer Friendly Gravy make great side dishes for Large Family Dinners and Holiday meals!
Mega Make-Ahead Meals to Feed Large Families | Feeding a Crowd
Watch me prepare TWO different potato dishes, freezer-friendly gravy, and some yummy cranberry sauce!! Recipes are below PLUS lots of other make-ahead meal ideas for your large family gathering this holiday season!!
Slow Cooker Mashed Potatoes for a Crowd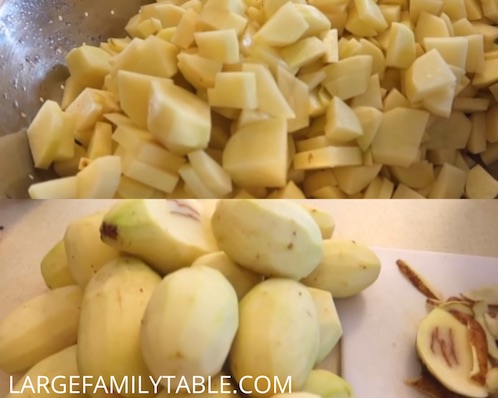 There are a number of ways to prepare & cook mashed potatoes in the slow cooker – whole, cut up, skins on, skins off, etc… In Super Mega Make Ahead Meals, I go with the classic wash, peel, & dice method.
Yes, peeling and chopping an entire bag of potatoes takes time, but it's really only a few extra minutes, and dicing them will make them cook much faster. If you have kids old enough to handle a peeler and/or a knife, you can enlist some helpers and you'll be done in a jiffy!
Mashed Potatoes for the Freezer
In Mashed Potatoes for the Freezer, the secret is the amount of cream cheese and butter to help with the freezing process and defrosting. When freezing and reheating potatoes, the richer & creamier the better!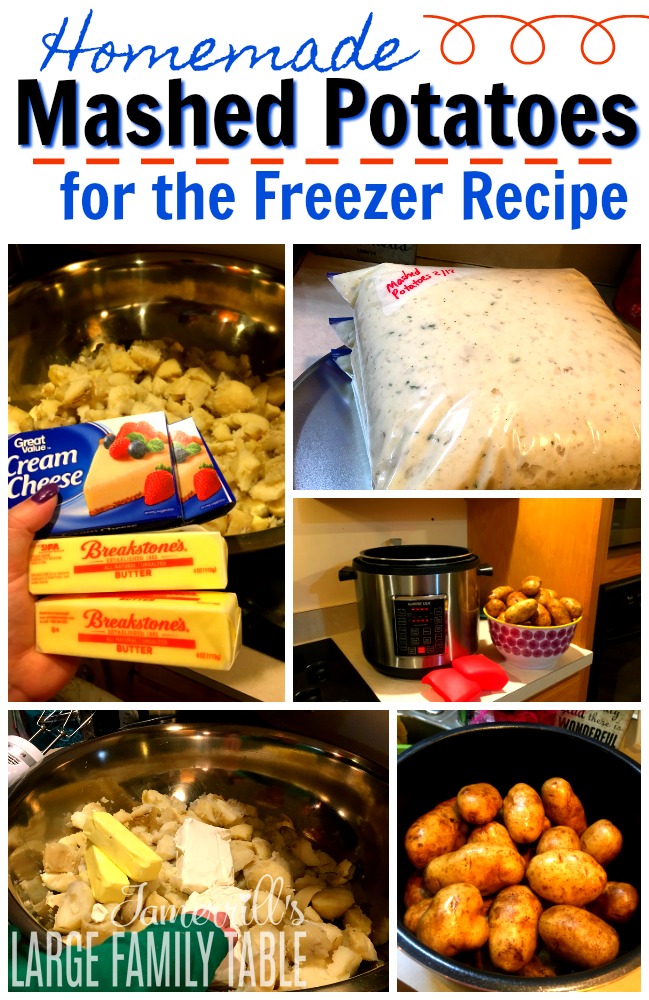 My Basic Large Family Slow Cooker Mashed Potatoes Recipe
Start by washing, peeling, and dicing a 10 lb bag of potatoes. Dump diced potatoes into a 7 or 8 qt slow cooker. Add salt, pepper, onion powder, and some minced garlic to taste. I think I used about 3 TBSP of minced garlic for this batch. Next, add 3 cups of milk and give a quick stir or two to distribute the seasoning. Finally, put the lid on and set your slow cooker on high. Your potatoes should be ready in 2 to 3 hours, depending on how many potatoes you used and how small you diced them. This is a very general recipe, not an exact science!
After the potatoes are cooked to fork tender, soften a cup (2 sticks) of butter in the microwave. Unless you thought way ahead and have it ready to go at room temperature! 😎 Dump soft butter into the slow cooker with an additional 2 cups of milk, and start mixing and mashing to your heart's content. Add a bit more milk if needed, and there you go, Easy Large Family Slow Cooker Mashed Potatoes.
Make Ahead Cheesy Potatoes
In Super Mega Make Ahead Meals, I make up two 9″ x 13″ pans of Make-Ahead Cheesy Potatoes, which starts with some onion chopping. While they bake, I get to work on a big batch of my favorite Freezer Friendly Gravy!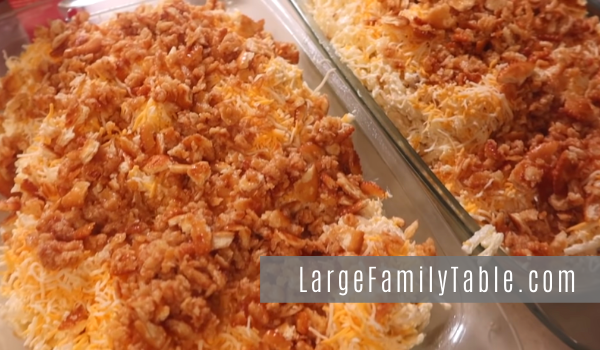 Make Ahead Slow Cooker Cranberry Sauce
At the end of the video I pull out a frozen bag of my Make Ahead Slow Cooker Cranberry Sauce to show you how handy it is to have some on hand for holiday meals. And so yummy!!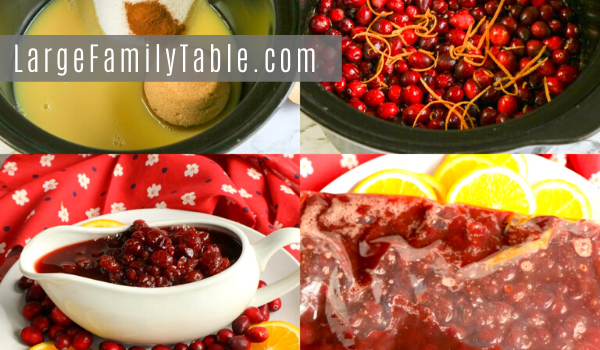 Here are some DELICIOUS Make-Ahead Meals for the Big Day!!
The recipe offers enough to serve a family of up to 16 people. However, if you have more people at home, you might want to double the recipe to increase the number of available servings. Doubling the recipe is simple and allows you to ensure that each person in the household gets plenty of this delicious turkey breast. If you end up with a few leftovers, there is nothing wrong with that. You can reheat the turkey breast and have it the next day on bread as a sandwich.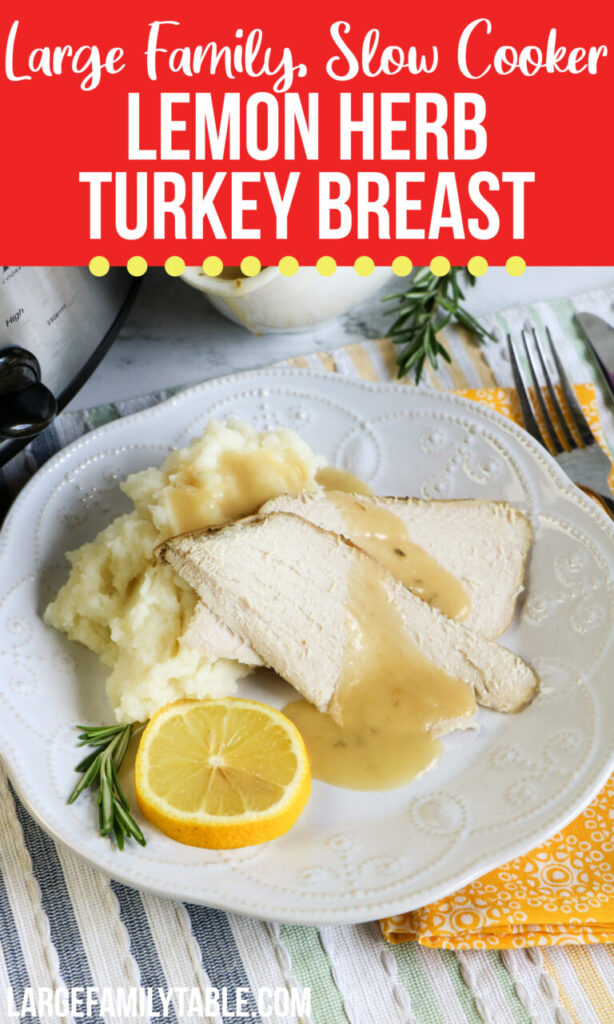 If you have ever thought about making a chicken for Christmas, you are in for a real treat. This Make-Ahead Christmas Day Chicken is perfect for a large family that wants to go a different route for the holidays. You can have the most delicious and juicy chicken on Christmas day and I'm going to show you how! This meal is also fantastic because you can make it ahead of time and serve it on the day of your choosing.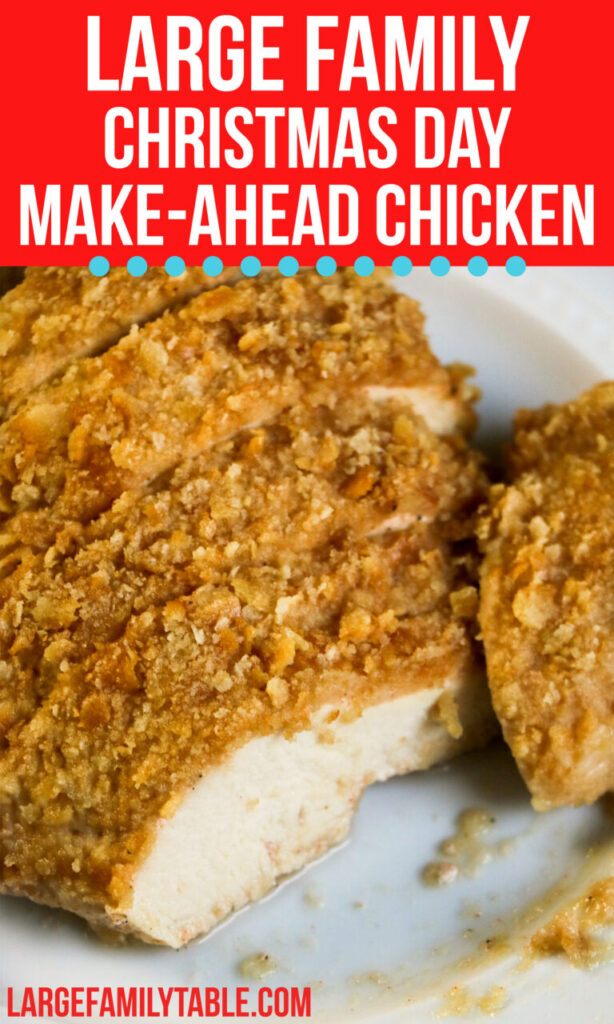 It is a comforting side dish full of flavor that goes with just about anything. Making it in advance simply makes the recipe even better because you can put it together in your spare time, freeze it, and then heat the stuffing when you want to have it as a side with dinner. Try adding this dish to our Slow Cooker Turkey Breast, our Low Carb Thanksgiving Stuffing, or our Instant Pot Ham.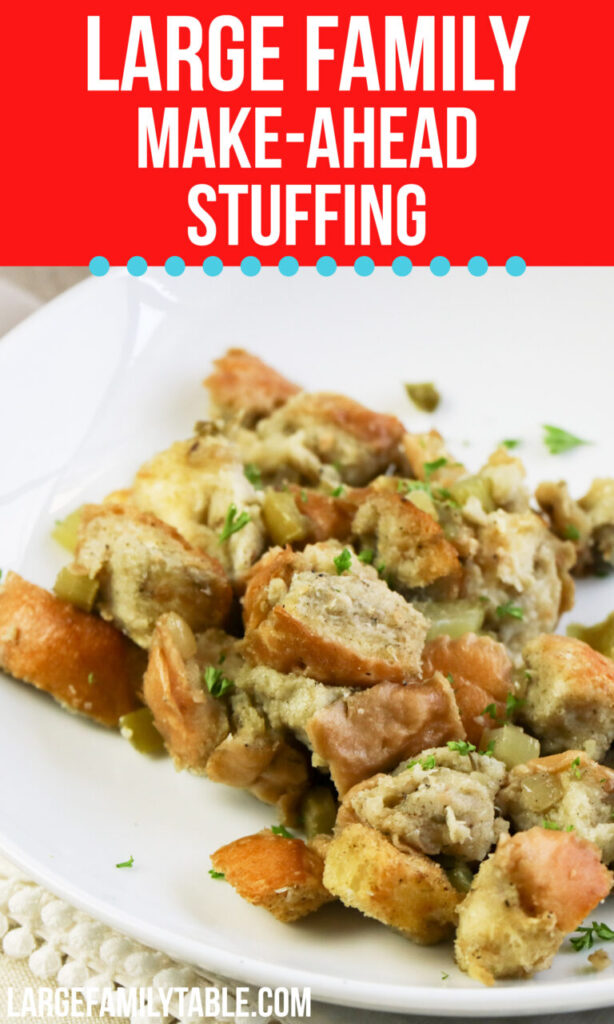 Need some Make-Ahead Breakfasts for your Large Family Gathering?
Blueberry pancakes are just the best! Now you can enjoy them in a whole new way with this easy Large Family Blueberry Buttermilk Casserole. It has the same great taste like pancakes, but it's a foolproof recipe containing the freshest ingredients. You can make this delicious casserole from scratch and have plenty of servings to feed your family. You can even prepare this casserole in advance, freezing it to eat later.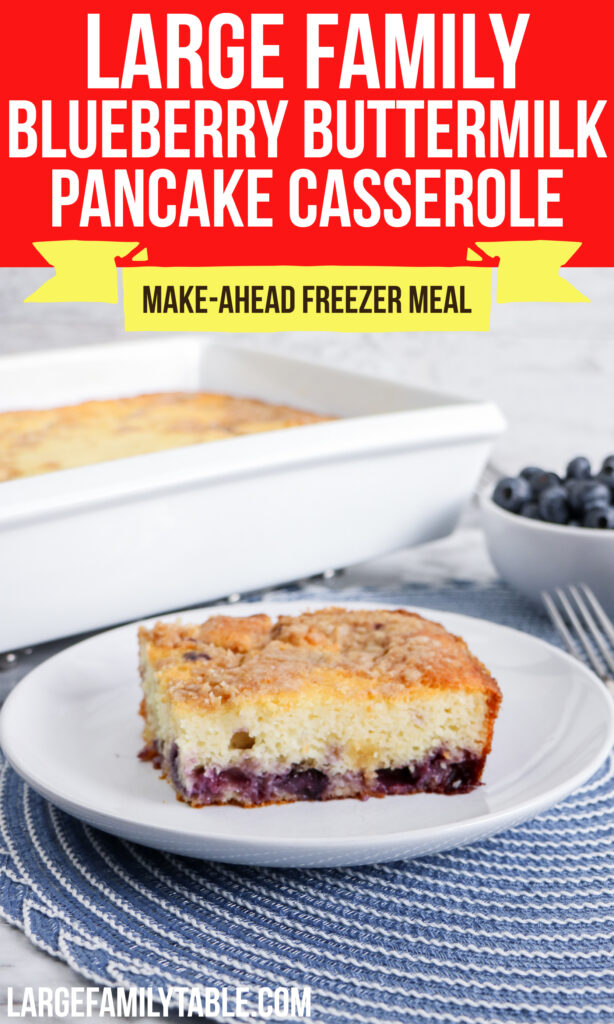 A strata is a type of delicious casserole that you can prepare using the ingredients in this recipe. If you liked my Spinach and Cheese Strata, then try this strata, too. This is the perfect make-ahead breakfast to feed your large family because it contains fresh fruit, flavorful sausage, and various other ingredients, all of which taste well when paired together. The sweet and savory ingredients will leave you with a satisfying breakfast to enjoy with the family.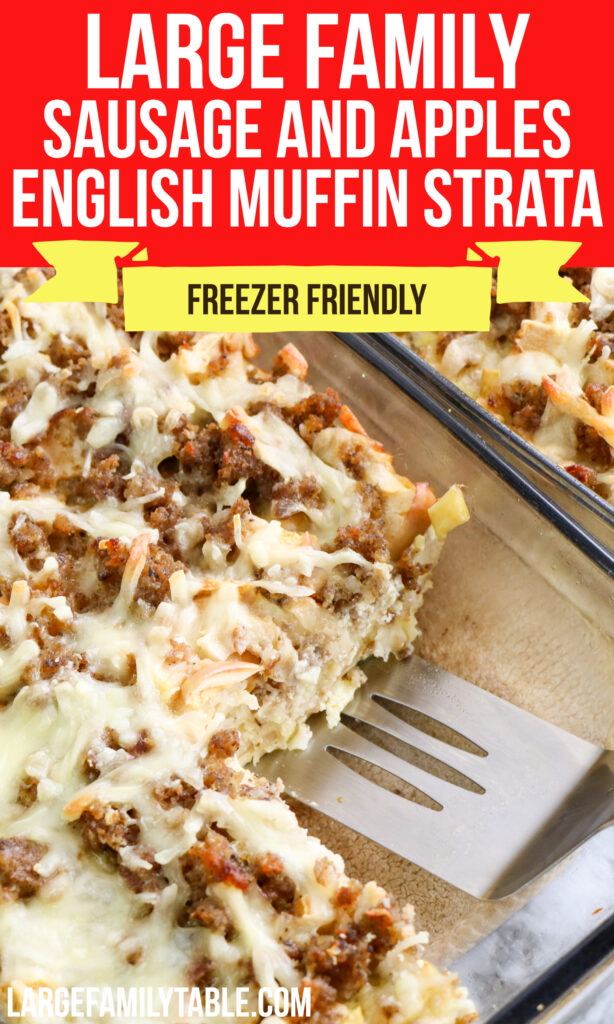 Looking for more ideas to feed your Large Family over the Holidays?
I am very excited to share this newest big-batch cookbook with you because I truly believe it will be helpful as you plan your family holiday get-together meals (or, really, any large family gathering where you need to feed a crowd)! In my Make-Ahead Holiday Meals to Feed a Crowd, you will find some of those wonderful and traditional holiday favorites like green bean casserole, stuffing, and gravy. But you also will get some "out-of-the-box" recipes that might just possibly become your family's NEW holiday favorites!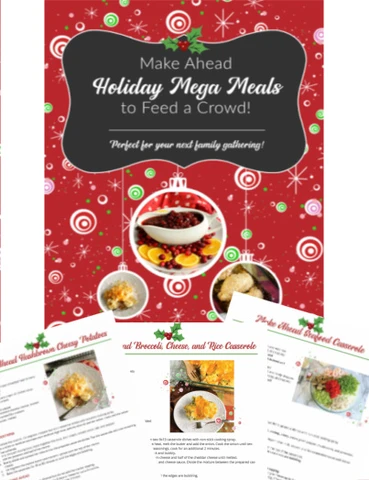 More Large Family Holiday Meal Help
FREE Emergency Pantry Planning Pack!
Don't forget to sign up for the emergency pantry planning pack for free to help you plan your pantry meals! The free Emergency Pantry Planning Pack will help you plan your needed pantry items! Printable pages include pantry inventory, grocery lists, meal planners, list of pantry staple items, and more.