Gravy goes with nearly everything, such as mashed potatoes, stuffing, chicken, and turkey. If you use gravy in meals quite often, you need to have this Make-Ahead Gravy recipe to follow. This Make-Ahead Gravy Recipe is perfect because you can also make it ahead and freeze it!

Have you noticed that you use gravy in a lot of recipes? You might like to pour it on some of your favorite meats and sides. If it is something you use quite often, it helps to have this Make-Ahead Gravy recipe available to prepare a fresh and wholesome gravy that the whole family will enjoy or make it ahead and save yourself some time!
It is far better than anything you could ever get from a can, but the best part about it is that you can make it ahead of time. If you make it in advance, you can freeze it and have plenty of gravy available whenever you need it.
****Use special promo code HELLO20 to take 20% off the entire MEGA DEAL get-it-all Bundle including the best-selling Large Family Freezer Meal Packs 1-12 + so much more!!****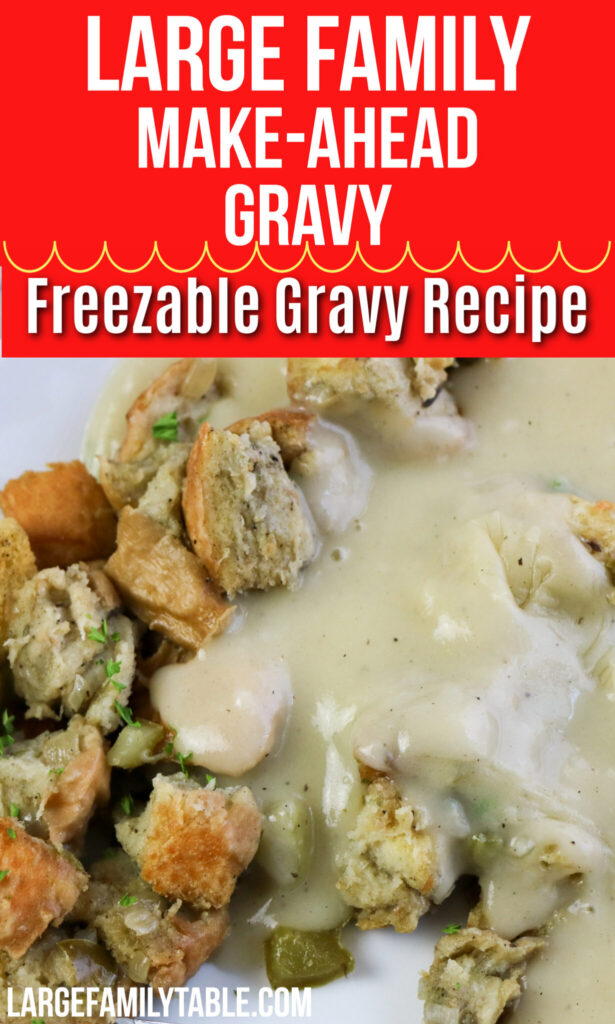 Make-Ahead Gravy that You Can FREEZE
It is also possible to customize this Gravy to your liking based on what you plan to put it on. For example, you may want to make several of the make-ahead options with slightly different flavors, including turkey, chicken, and beef gravy. Try adding gravy to our Slow Cooker Turkey Breast, our Low Carb Thanksgiving Stuffing, or our Instant Pot Ham.
The Ingredients Needed to Prepare Make-Ahead Gravy
When preparing the Make-Ahead Gravy, you should have some of the following ingredients ready to use:
All-Purpose Flour. The all-purpose flour is an essential ingredient because it helps create a thicker gravy consistency to keep the gravy from being too thin and runny.
Broth/Stock. Use a broth or stock of your choosing, such as chicken broth or turkey stock.
Butter. You will need to add butter to your mixture to give your homemade gravy more flavor.
Pepper. A little pepper goes a long way and comes in handy for adding a bit of spice to the Make-Ahead Gravy.
You will need to have a few other ingredients when preparing this Make-Ahead Gravy, including assorted spices that will transform the gravy to give it such a unique taste.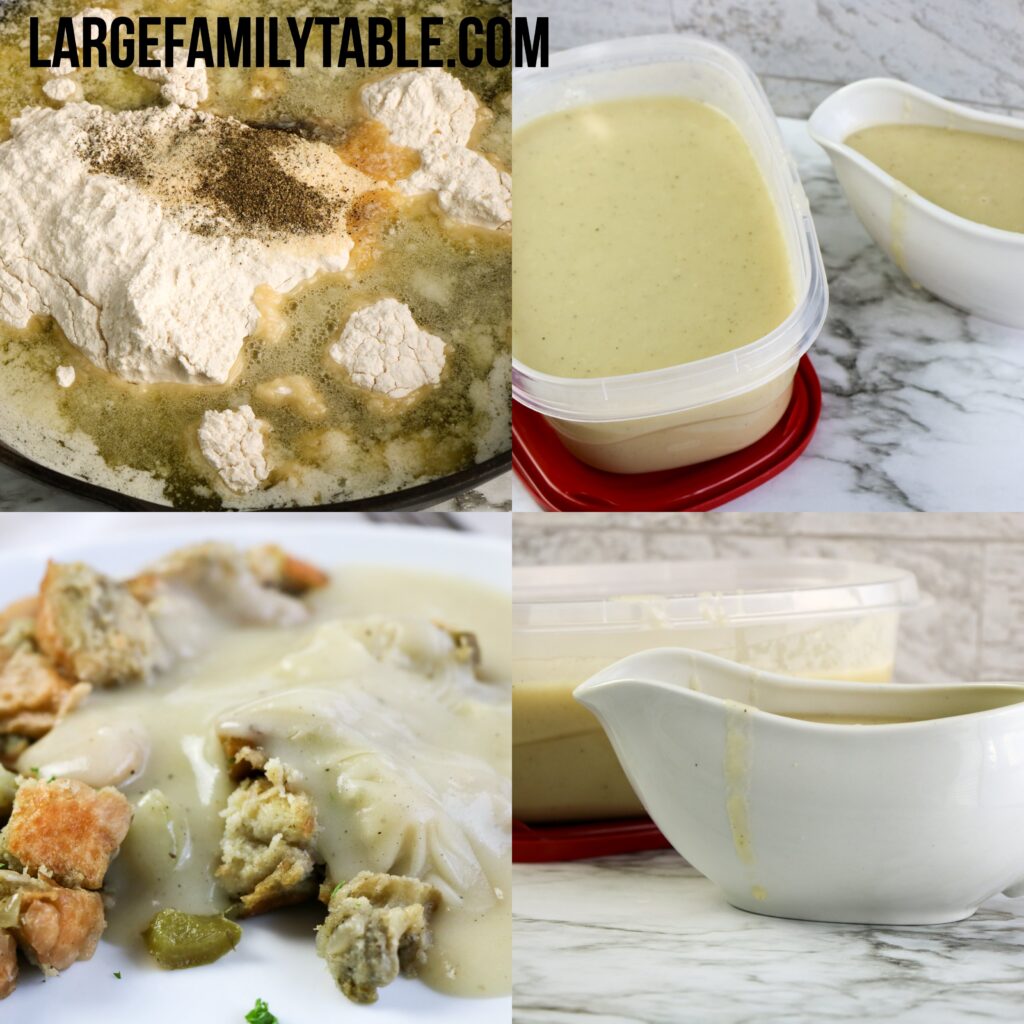 How to Properly Store Your Make-Ahead Gravy

After preparing the gravy, add it to a food storage bag, remove any excess air, and then put in the refrigerator for up to five days. You could reheat it in a pot on the stove or in the microwave.
Can You Freeze Gravy
Yes, you can make ahead and freeze gravy. Freezing homemade gravy is perfect if you need to store it a bit longer because you want to make batches of it in advance, put your freezer bags full of gravy in the freezer where they will stay fresh and good for up to six months. For best results, just thaw the gravy in the refrigerator prior to use. Then reheat the gravy over low heat and whisk well.
Ways to Customize the Make-Ahead Gravy
Customize your Make-Ahead Gravy by using assorted spices that you prefer. If you want your gravy to have a slight kick to it, you might want to add a bit of cayenne pepper to the mixture. Some people like adding rosemary, thyme, and other seasonings to their gravy for the added flavor.
Besides using assorted spices to give your dressing a custom taste that you will love, you can choose the specific types of drippings or broth that you would like to use in your gravy. Other add-ins to consider using include wine, mustard, chopped onion, and Worcester sauce.
Need more ideas to feed your Large Family over the Holidays?
If you enjoyed my recipe for Make-Ahead Gravy, you will love the other Make Ahead Holiday Mega Meals in my shop! I am very excited to share this newest big-batch cookbook with you because I truly believe it will be helpful as you plan your family holiday get-together meals (or, really, any large family gathering where you need to feed a crowd)! In my Make-Ahead Holiday Meals to Feed a Crowd, you will find some of those wonderful and traditional holiday favorites like green bean casserole, stuffing, and gravy. But you also will get some "out-of-the-box" recipes that might just possibly become your family's NEW holiday favorites!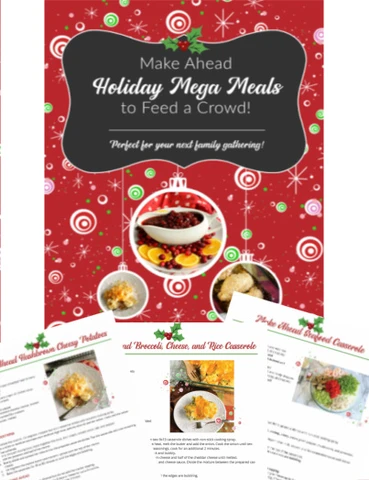 If you are looking for more make-ahead recipe ideas, try these!
Make-Ahead Gravy that's also Freezer Friendly!
Print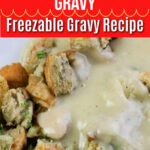 Make-Ahead Gravy that You Can FREEZE | Sides for a Large Family
Author:

Prep Time:

5 minutes

Cook Time:

20 Minutes

Total Time:

25 minutes

Yield:

8 cups

Category:

Dinner

Method:

Stove Top
---
Description
Gravy goes with nearly everything, such as mashed potatoes, stuffing, chicken, and turkey. If you use gravy in meals quite often, you need to have this Make-Ahead Gravy recipe to follow. This gravy recips is freezable and perfect for making ahead and having in the freezer for when you need it!
---
Ingredients
2 sticks butter

1 cup flour

1 teaspoon onion powder

½ teaspoon salt

½ teaspoon black pepper

8 cups chicken, vegetable, or beef broth
---
Instructions
In a large skillet over medium heat, melt the butter.

Add the flour and seasonings, whisking to avoid lumps. 

Gradually whisk in the stock, and bring to a boil, allowing the gravy to thicken to your desired consistency.
To make ahead and freeze your gravy: 
Remove the gravy from the heat and cool. Transfer to an airtight container.

Store in the refrigerator or freeze until needed.

For best results, thaw the gravy in the refrigerator prior to use. Reheat the gravy over low heat and whisk well.
Keywords: Make-Ahead Gravy, freezable gravy, gravy you can freeze
This make-ahead gravy is great for Thanksgiving dinner, Christmas dinner, or any regular old day dinner. Make-Ahead a bunch of gravy during Thanksgiving and freeze the extra for Christmas or Easter. It doesn't have to be a holiday to make gravy!
FREE Emergency Pantry Planning Pack!
Don't forget to sign up for the emergency pantry planning pack for free to help you plan your pantry meals! The free Emergency Pantry Planning Pack will help you plan your needed pantry items! Printable pages include pantry inventory, grocery lists, meal planners, list of pantry staple items, and more.