Mornings are often crazy. When you add in the dynamics of a large family, they can be REALLy crazy. But, you don't have to make yourself crazy scrambling to get breakfast on the table. Try these large family breakfast meals to serve your family a healthy breakfast in no time!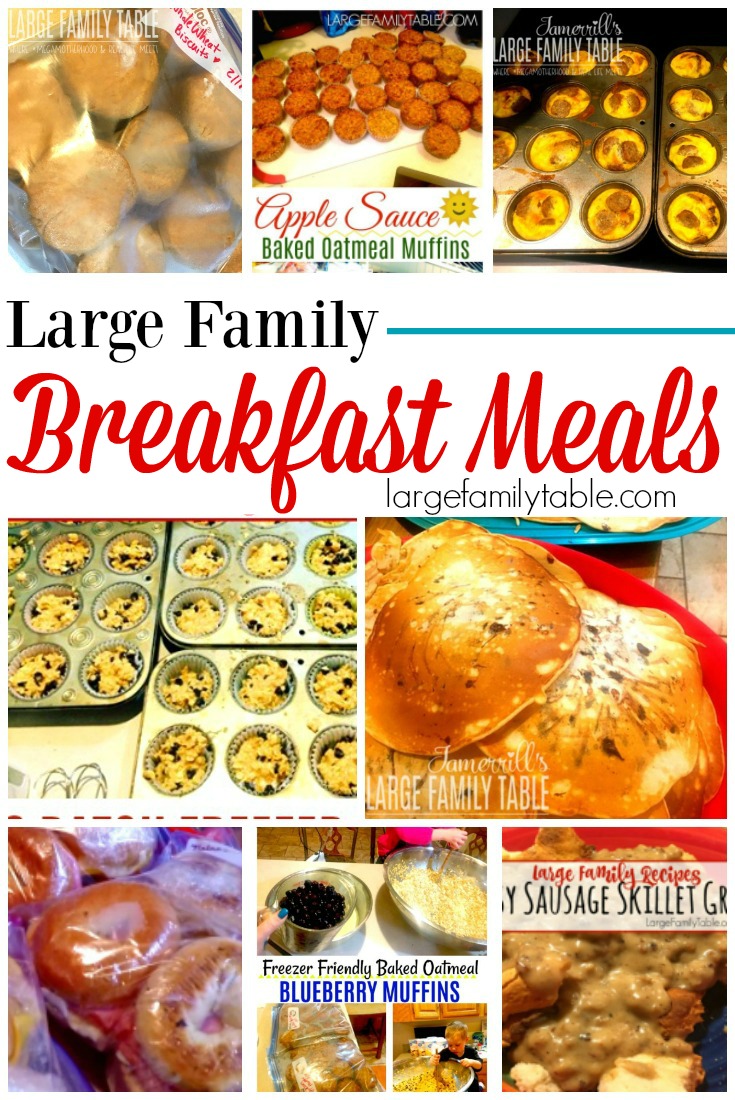 Large Family Breakfast Meals
These Protein Sausage and Egg Cups are perfect for large family breakfasts! I like to set a frozen bag out into the refrigerator the night before we have a big field trip or another outside event. This way I know the children (and momma!) will have a healthy protein packed breakfast that will fuel our bodies for our big day.
Biscuits can be such a staple in our home that I need to just hire a biscuit maker at times, haha. But since I can't do that, I do the next best thing. I make biscuit dough, cut out the biscuits, and freeze them until we are ready for them. Then we have flaky and soft homemade biscuits straight from the freezer.
Homemade blueberry pancakes make a delicious hot breakfast, and they can be heated up for a quick and easy snack later in the day. Serve them with bacon or sausage, and they'll provide a yummy and filling breakfast.
Pancakes are hot and filling, and they can be topped in so many ways that they'll never get old. One of our kiddos favorite large family breakfast meals is chocolate chip pancakes. You can whip up a huge batch in no time, freeze the leftovers, and enjoy them any time.
A big pan of baked oatmeal tastes like you're eating a warm oatmeal cookie for breakfast. Dress it up any way you like with fresh fruit or nuts.
Enjoy hot french toast any day of the week with this easy large family french toast recipe! Place leftovers in freezer bags to freeze, and your family can enjoy french toast any day.
Take the chaos out of your mornings by making a large batch of freezer-friendly baked oatmeal blueberry muffins. Thaw them overnight, pop them in the microwave in the morning, and you'll be ready to serve a delicious breakfast in no time.
I like to keep a few dozen baked oatmeal chocolate chip muffins in the freezer for busy morning.
These baked oatmeal applesauce muffins are easy to make and hearty enough for breakfast. They are sweet, and taste like a breakfast cake. But, the oatmeal makes them very filling.
This steak, egg, and cheese breakfast casserole is unique in that it uses steak instead of sausage. It's also a low carb and Trim Healthy Mama friendly on the list of large family breakfast meals!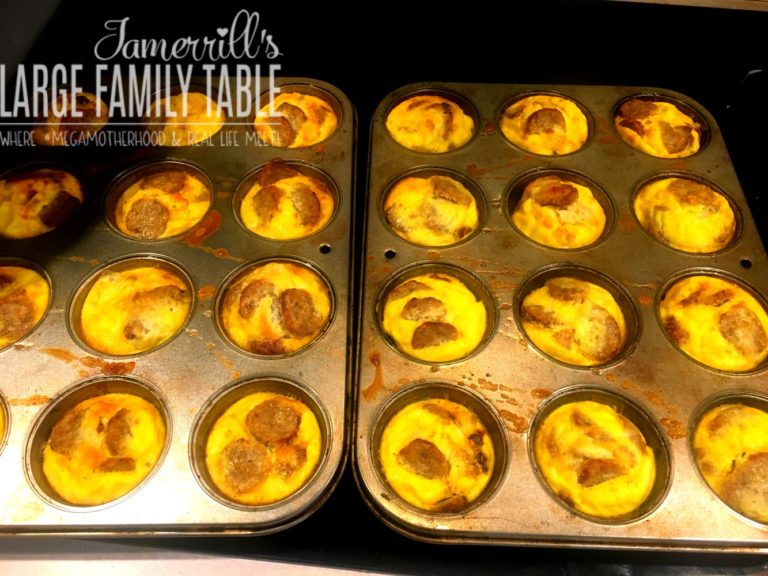 These freezer friendly ham, egg, and cheese breakfast bagels may take some time to assemble, but result in a freezer full of breakfast sandwiches which can double as a filling lunch!
Baked oatmeal is a nice change from boring ol' regular oatmeal. You can change it up to create so many different flavors. This apple harvest baked oatmeal recipe is perfect for fall – or any time of year.
Serve easy sausage skillet gravy over homemade (or canned) biscuits. Add a side of eggs if you wish, and you're good to go!
With a combination of regular oats and rolled oats, this chocolate chip baked oatmeal has a great texture and will fill your family's tummies in no time.
Looking for an easy breakfast solution? How about mixing up a huge batch of pancake muffins? Serve them hot for breakfast today, and toss the rest in the freezer. You can feed your family on them for a few days.
Quinoa is a super food that will keep your family full. It's also the base for these quinoa and egg breakfast muffins. With only 4 ingredients, you can whip them up in no time. Just adjust this recipe (easy peasy) to fit your family's needs.
Uh oh! The freezer is empty. Now what? How about whipping up a batch of creamy pineapple banana smoothies for breakfast. Serve them alone or with some eggs and toast, and you've got a delicious meal in no time.
Smoothies are so easy to make, and the flavor combinations are endless. They are so versatile on this list of large family breakfast meals! Try this easy peach raspberry smoothie. You can use fresh or frozen fruit or a combination of the two.
If you are an early riser (or you have a kiddo or two who is), then you will have time to make your family some delicious cinnamon roll crock pot french toast. The trick will be keeping the family out of the crockpot once they begin to smell all the cinnamon roll deliciousness.
Cornflake topped hash brown casserole is perfect for breakfast, brunch, or dinner. Double this recipe for your large family, serve with scrambled eggs and fruit, and you're good to go.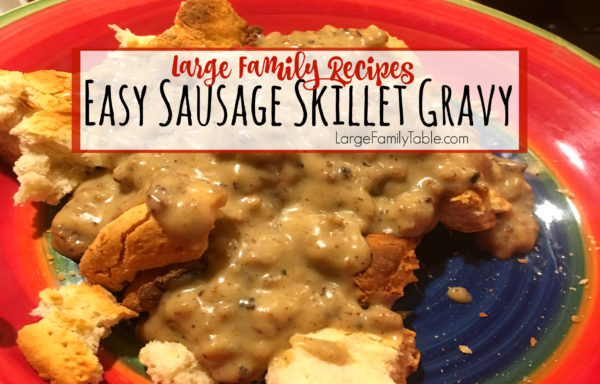 If you don't want to slave over a hot skillet making a large batch of french toast, try this Instant Pot french toast casserole.
This blueberry french toast is a great make-ahead breakfast casserole. It tastes like dessert, but it is good for you!
This sausage, egg, and biscuit breakfast casserole is easy to prepare because it relies on refrigerated biscuit dough. When planning your large family breakfast meals don't feel bad about "cheating" and using premade ingredients. A momma has to do what a momma has to do!!
You can prepare this english muffin breakfast casserole the night before. Mix and match ingredients to use what you have on hand, and you've got a tasty meal for your crew.
What is your go-to large family breakfast meal?
You might also enjoy:
Here are over 100 Large Family Dinner Recipes to help you get dinner on the table!
11 Things Large Family Moms Can Stop Worrying About
Large Family Clothes Shopping for the Younger Kids! Fun Weekend Vlog ?
LARGE FAMILY MOM LIFE | 8 Kids ~ Homeschooling, Children's Museum, Clothes Shopping + More!
TWO Large Family Moms + ONE Restaurant Depot Supply Warehouse
FREEZER MEALS FOR DAYZZZZZ! Bulk Cooking for a Large Family