Easily prepare a fresh, flavorful, and healthy treat with this Large Family Loaded Hummus Bowl. The meal is simple to prepare and perfect to serve as a quick and nutritious lunch.
If you enjoy hummus and would like to prepare a tasty, healthy meal for the family, try this Large Family Loaded Hummus Bowl recipe. The recipe does not take too long to make because you are only working with a handful of ingredients, including hummus, olives, tomatoes, and cucumbers. You can prep the ingredients for the bowl within minutes, mix the ingredients, and serve these bowls fresh to your loved ones for lunch with a side of homemade bread. You can even use some of your favorite hummus flavors, such as buffalo hummus for a bit of a hot kick or garlic hummus for a savory taste. Let your family members choose which type of hummus they would like to have added to their bowl. Try making your own Hummus using our recipe!
***Use special promo code HELLO20 to take 20% off your first order in the shop including the SUPER MEGA ULTIMATE Large Family Freezer Meals Bundle here!**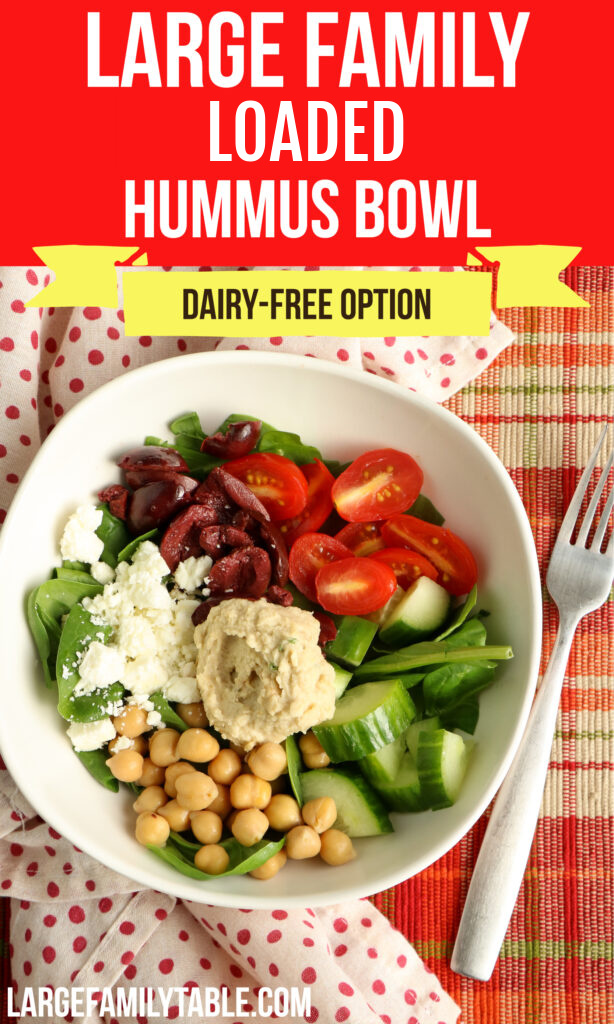 Must-Have Ingredients to Make the Hummus Bowl
When you want to make a tasty Hummus Bowl for lunch or a healthy snack, there are just a few ingredients you will need, including:
Hummus. You can choose to add plain hummus to the bowl or a flavored variation that you enjoy most. Try our hummus recipe!
Kalamata Olives. Remove the pits and slice the kalamata olives down into pieces before adding them to the bowl.
Crumbled Feta Cheese. Add more flavor to your hummus bowl by using crumbled feta cheese on top. To make this recipe dairy-free leave this cheese out of the bowl.
Tomatoes. The tomatoes go great with the hummus and other ingredients. Make sure to dice them into small pieces.
English Cucumber. The cucumber goes with the tomatoes, cheese, and hummus, offering a refreshing, crisp taste.
Raw Baby Spinach. Use raw baby spinach to create a salad-like bowl full of nutritious ingredients.
You can add chickpeas to the hummus bowl. You may also want to use red wine vinegar, salt, and pepper to enhance this healthy hummus bowl's flavor.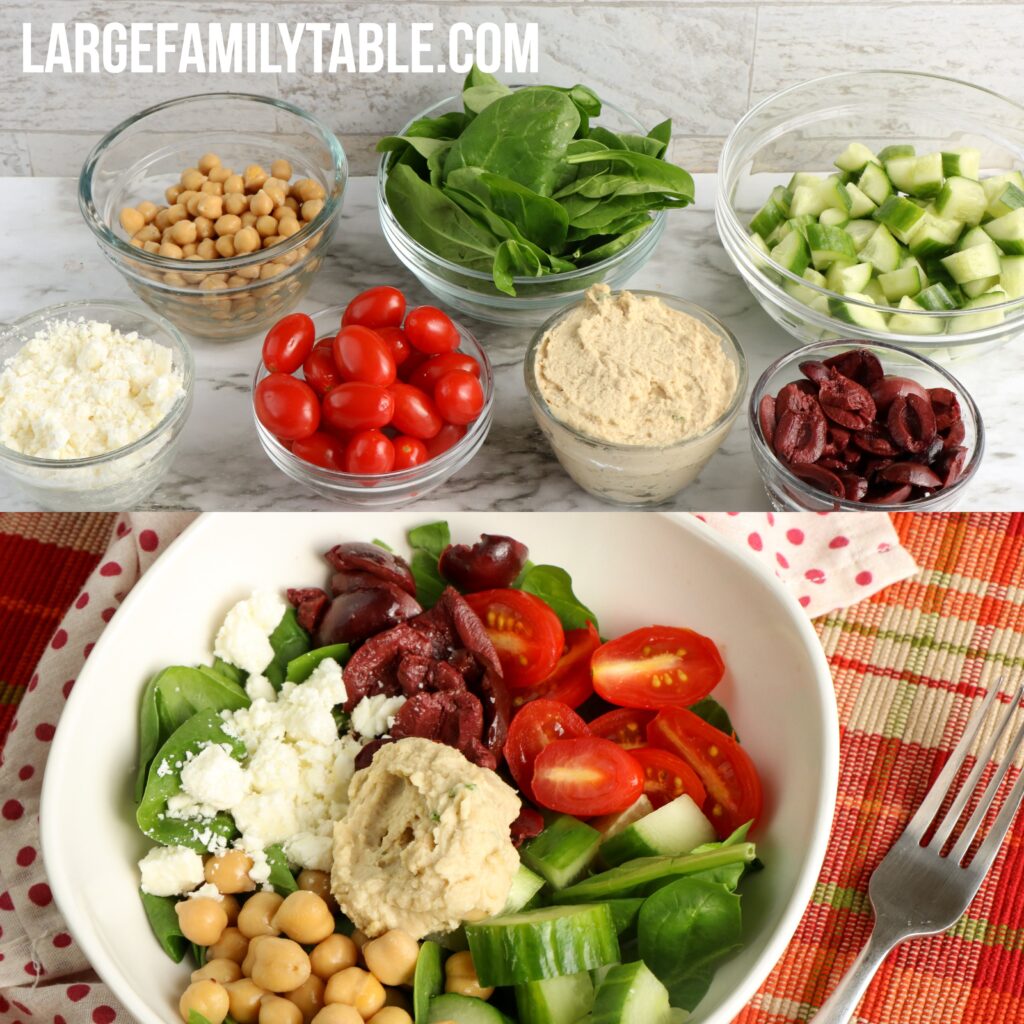 How to Store Your Hummus Bowl to Keep It Fresh
You can make the Large Family Loaded Hummus Bowl and serve it immediately or store it until you and your loved ones want to eat it. If you plan on storing the hummus bowl, put it into a plastic or glass container with a lid. If you have meal prep containers, you can use them to store each hummus bowl. Make sure to put your hummus bowl in the fridge to keep it fresh. It will stay good in the refrigerator for up to four days before you would need to eat it.
Ingredients You Can Add to the Loaded Hummus Bowl
Make numerous variations of the Large Family Loaded Hummus Bowl by adding different ingredients in the mix. Many ingredients taste great with fresh hummus and Feta cheese, including sliced red onions, couscous, rice or cauliflower rice, bacon, and boiled eggs. You may want to serve each bowl with a side of pita bread to dip into the hummus mixture. You can even take the bowl's contents and place some of it on the pita to turn it into a sandwich. There are lots of ways to use these bowls to feed your large family!
Here are more large family lunch ideas!
We have lots more lunch ideas and snacks for large families!
This Large Family Loaded Hummus Bowl is a delicious and healthy lunch for your family! You also don't want to miss other healthy recipes in  Large Family Low Carb Meals to Feed a Crowd (Budget Friendly, too!). This post has over 65 low carb meal ideas including low carb recipes made with beef, chicken, soup, slow cooker recipes, and low carb instant pot recipes. You also might enjoy the LOW CARB Large Family Freezer Meals Pack 7 and LOW CARB Large Family Freezer Meals Pack 8 to FILL YOUR FREEZER with amazing low carb freezer meals!!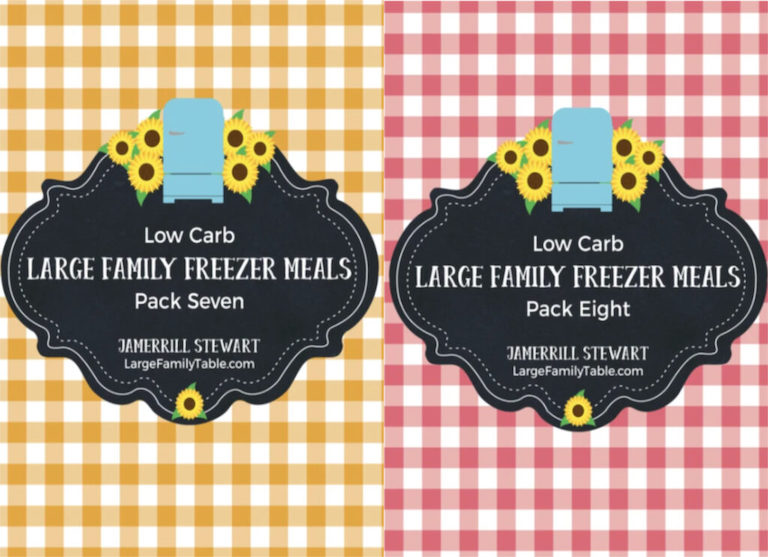 Large Family Loaded Hummus Bowl
Print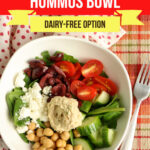 Large Family Loaded Hummus Bowl | Dairy-Free Option
Author:

Prep Time:

15 Minutes

Total Time:

15 Minutes

Yield:

12 Servings

Category:

Lunch
---
Description
Easily prepare a fresh, flavorful, and healthy treat with this Large Family Loaded Hummus Bowl. The meal is simple to prepare and perfect to serve as a quick and nutritious lunch.
---
Ingredients
3 cup hummus, plain or flavored

3 cup kalamata olives, pitted and sliced

3 cup crumbled feta cheese (remove cheese to make this dairy-free)

3 cup raw chickpeas

3 cup diced tomatoes

3 cup diced English cucumber

3 cup raw baby spinach
---
Instructions
Add the ingredients in equal amounts around the bowl.

Top with red wine vinegar and oil. Add salt and pepper as desired.

Toss the salad before serving.
---
Notes
*Do not use cheese to have a dairy-free option. 
Keywords: Large Family Loaded Hummus Bowl
This delicious hummus bowl is easy to make and a great lunch idea for when you need to pack lunch for co-op or a day at the park. This bowl travels easily and tastes great. Mama's love the taste and that it gets those veggies in our kids.
FREE Emergency Pantry Planning Pack!
Don't forget to sign up for the emergency pantry planning pack for free to help you plan your pantry meals! The free Emergency Pantry Planning Pack will help you plan your needed pantry items! Printable pages include pantry inventory, grocery lists, meal planners, list of pantry staple items, and more.