Sometimes eating low carb can complicate family dinner, but I have compiled the best large family low carb meals here in one place to make it easy for you! Even the pickiest of eaters will be happy.
This post has over 65 low carb meal ideas including low carb recipes made with beef, chicken, soup, slow cooker recipes, and low carb instant pot recipes.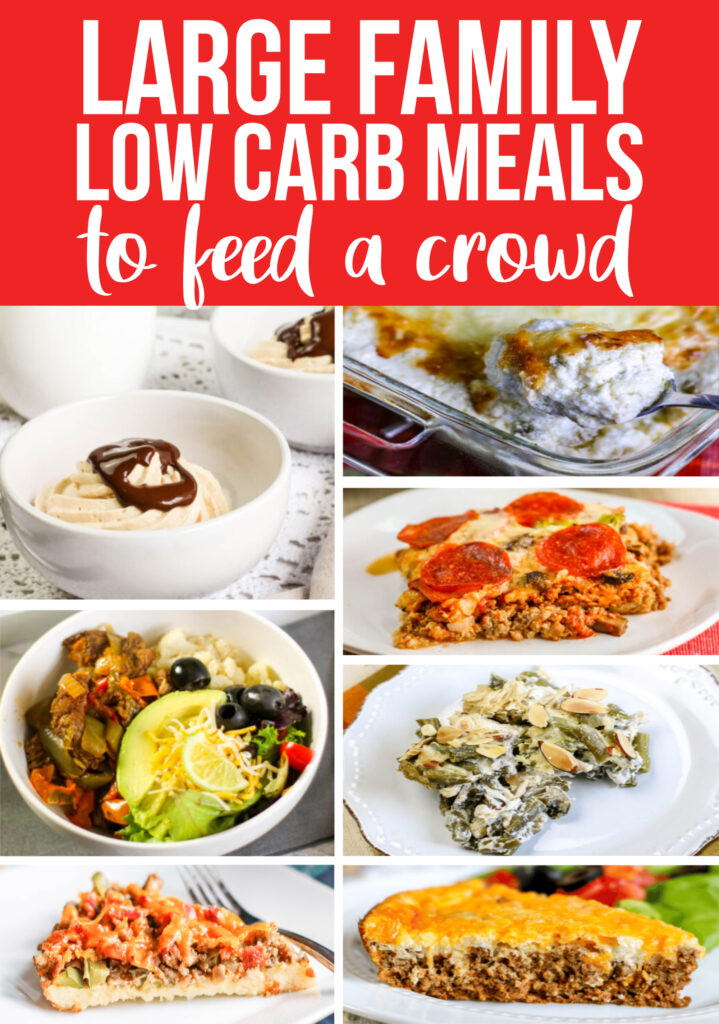 Quick and Easy Low Carb Recipes
I don't know about you, but I would rather spend my time with my family instead of cooking for my large family for hours every day. That is why most of the meals I make are quick and easy meals or items I pull from my large freezer cooking days.
Most of these meals are quick and easy low carb dinner recipes and low carb dessert recipes that can be whipped up fast, quick, and in a hurry.
Low Carb Family Meals on a Budget
If you're like me, then you prefer to save as much money as possible feeding your family while still getting lots of good food. I make sure all my meals are easy on the budget and easy to make.
Just because these are low carb doesn't have to mean they are expensive. It's just the opposite, especially if you can cook in bulk, which most of my recipes include directions to do that. Cooking in bulk means that all the food you buy for a meal gets used and therefore costs less.
For example, if you need half a head of cabbage for one recipe, most of the time the other half goes to waste. If you bulk cook, then you will use the whole thing and get a meal in the freezer, which saves money and saves you time later.
Large Family Low Carb Breakfasts
Start your day off right by eating a high protein breakfast. Breakfast doesn't have to be complicated, so let's make things easy. Below are some of my favorite low carb breakfast recipes that are easily customized to mix things up and perfect to feed the whole family.
You will never run out of low carb breakfast ideas with this list.
Homemade Breakfast Pizza – Low Carb – You'd never know this was low carb!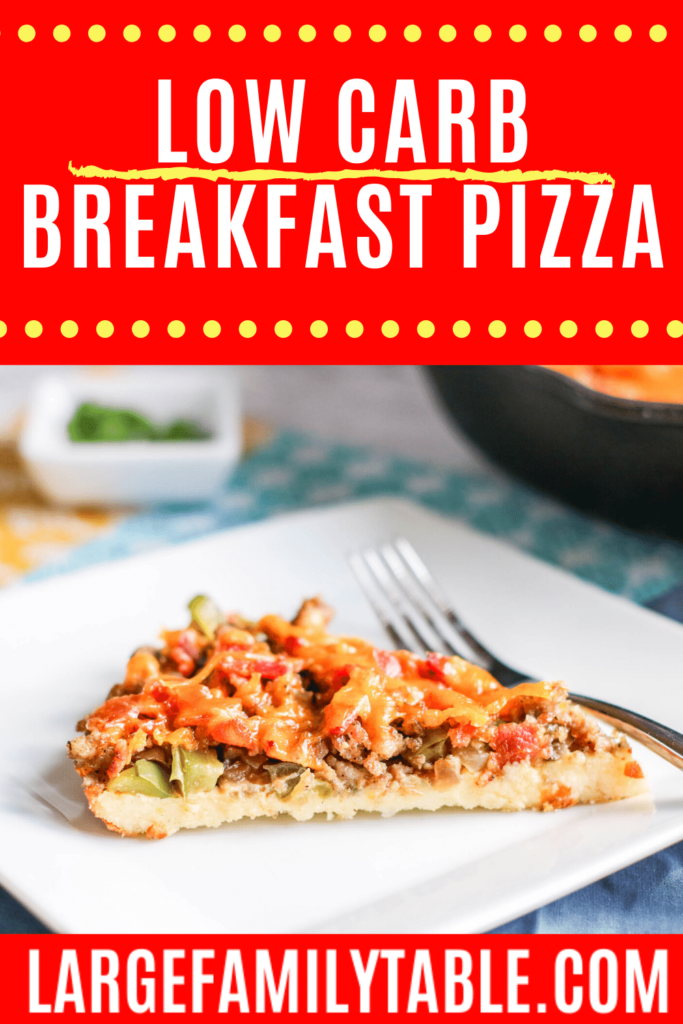 BREAKFAST FREEZER MEAL RECIPES | Protein Sausage and Egg Cups! Make-ahead so that you have a low carb breakfast on hand at any time!
Steak, Egg, and Cheese Breakfast Casserole | Large Family Recipes Those breakfast casseroles just come together so well and are great to feed the whole family hot food without slaving over the stove.
Easy Bacon, Egg, and Cheese Oven Bake Recipe | Large Family Style! Try this easy egg bake today! Low carb breakfast casseroles are a great way to simplify breakfast by having everything in one dish.
Healthy Ham & Spinach Breakfast Casserole – Loaded with healthy greens, this easy casserole is a great way to start the day.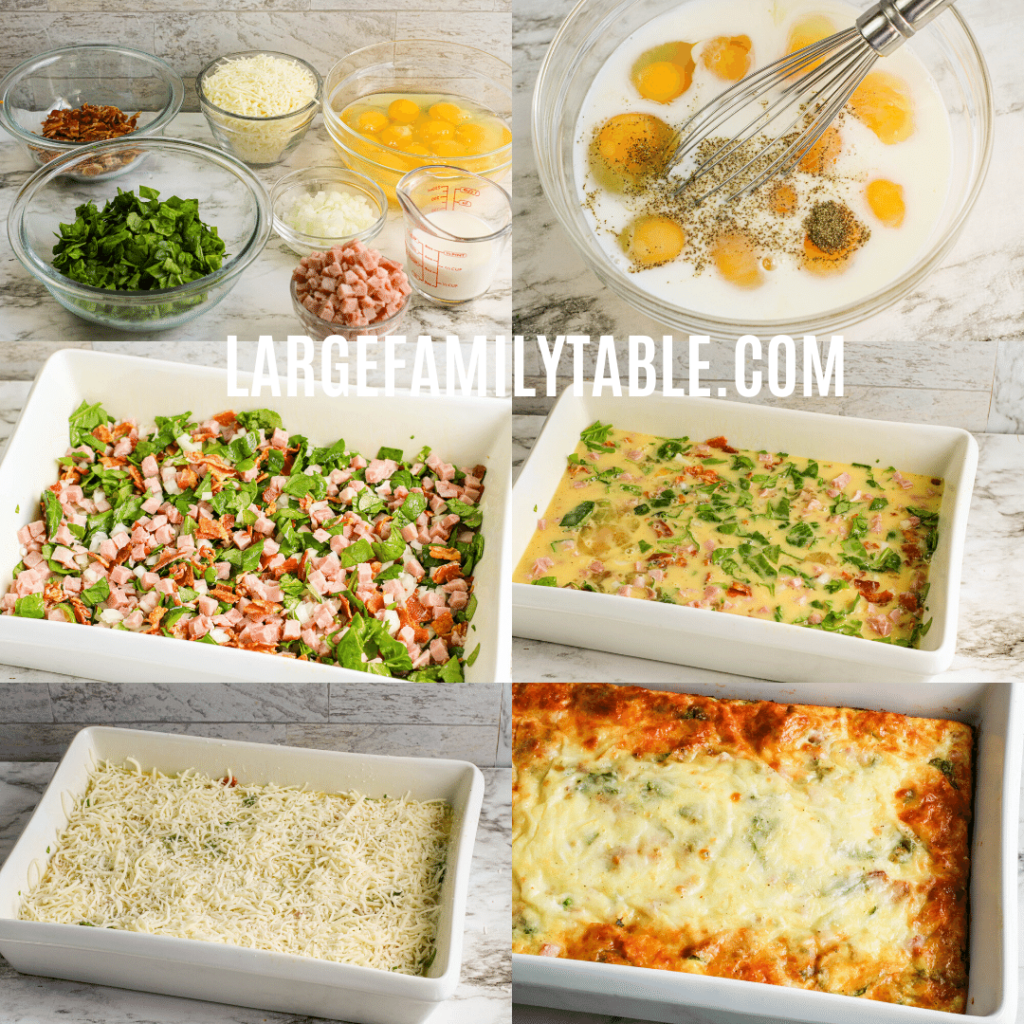 Where can I find more large family breakfast recipes?
If you love these large family breakfast recipes and are looking for more, you'll be happy to find many more breakfast ideas in my shop! My Breakfast Freezer Meals Pack, number 10 in my Large Family Freezer Meals Series.
This will help you save lots of time and money just by making breakfast ahead of time with It includes 10 amazing breakfast recipes with directions to help you make 25 breakfast meals to put in your freezer.
If your freezer is already full or you just don't have the freezer space, then try my Easy and Simple Large Family Sheet Pan Breakfasts which includes 10 delicious and easy breakfast meals to make your large family. Save time and money!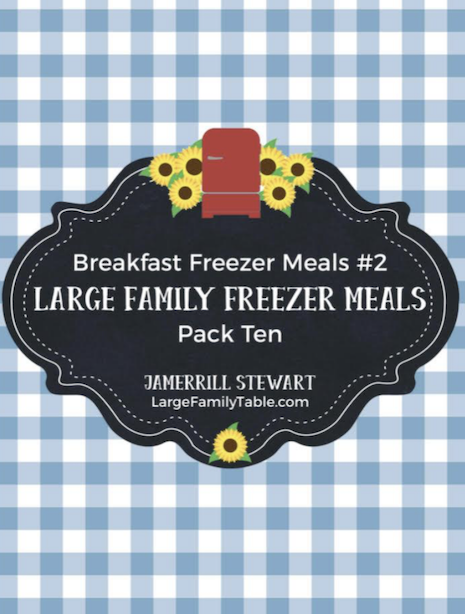 Large Family Low Carb Snacks and Side Dishes
You may find yourself headed to a pot luck or just searching for a tasty low carb side dish for dinner, look no further. Below you will find some low carb and keto staples.
Low carb snack ideas include Jalapeño Popper Dip, Marinated Cucumber Salad, Cheesy Asparagus, and more!
How to Make Homemade Cauliflower Rice Every low carb or keto person needs to know how to make cauliflower rice!
Low Carb Jalapeno Popper Dip Do you remember jalapeño poppers? You should give this dip a try.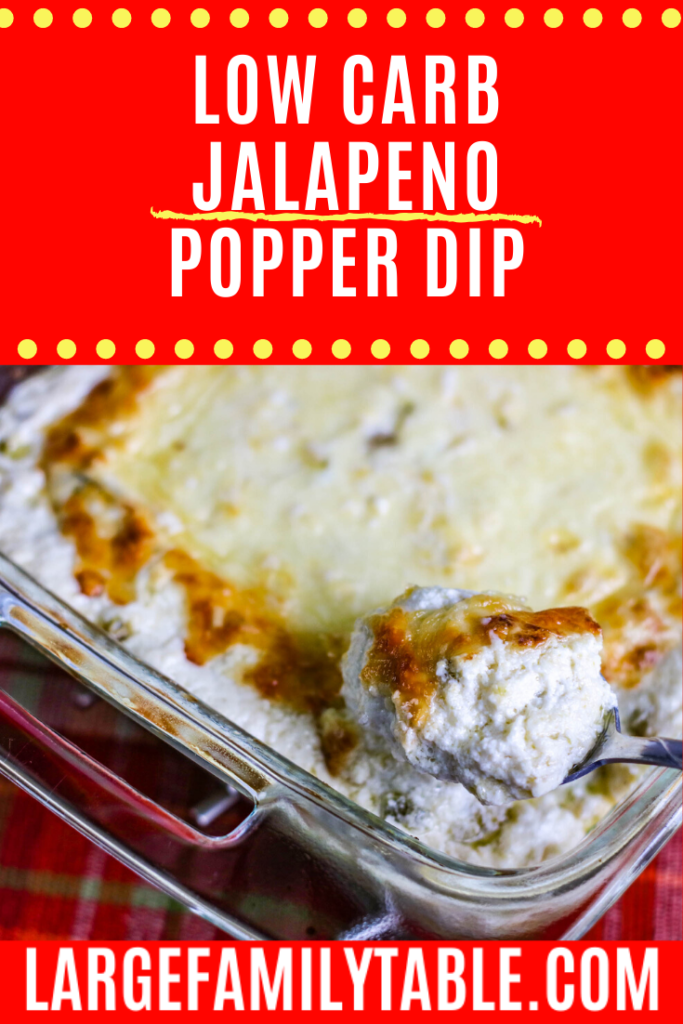 Cheesy Asparagus – Low Carb Recipes! Who doesn't love asparagus!
Low Carb Thanksgiving Stuffing Recipe! Even holidays can be enjoyed low carb.
Marinated Cucumber Salad | Low Carb Delicious and light.
Jamerrill's Stir Fried Cauliflower Rice | Low Carb, Keto, THM Friendly Stir fried cauliflower rice is absolutely mouth watering.
Garlicky Green Beans and Tomatoes You can't go wrong with garlic and green beans!
Homemade Bone Broth in the Instant Pot Just a little bonus, this is a great dish to use up all of your scraps of vegetables and get every last bit of nutrition out of your meat!
How To Cook Spaghetti Squash in the Instant Pot | Electric Pressure Cooker Recipes Spaghetti Squash is a low carb staple. This method is silly simple.
Need some lunch ideas for your Large Family Table?
What's for lunch? For all you mamas who don't have time to make lunch this is the pack you've been asking for! In the Large Family Lunches Freezer Meal Pack Eleven, you'll be guided through how to make 20-25 delicious lunches for your large family and freeze them! I've also included many more planning pages to help you along the way!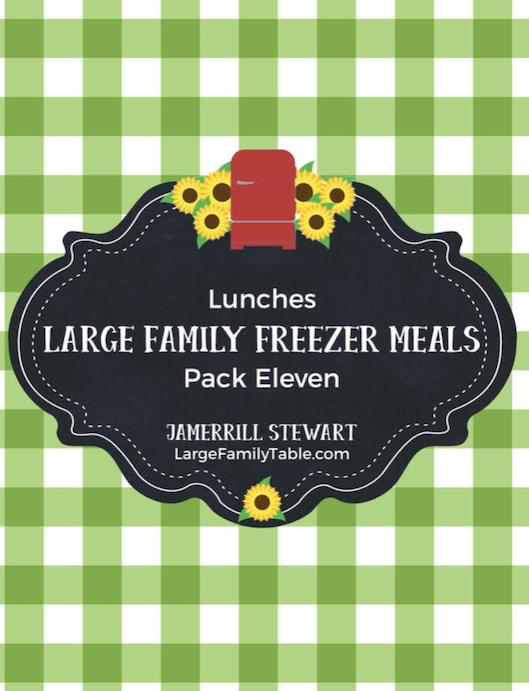 Large Family Low Carb Weeknight Dinners
You will never again struggle to find a large family low carb meal to cook for dinner for your low carb family with this great list of recipes.
These recipes are family tested and approved low carb and keto-friendly meals that the whole family will love. Low carb dinner will never be boring again. Check out these budget-friendly, family-friendly low carb meals.
Large Family Instant Pot Low Carb Steak Fajitas Bowls – Delicious and filling! Can't go wrong with fajita bowls!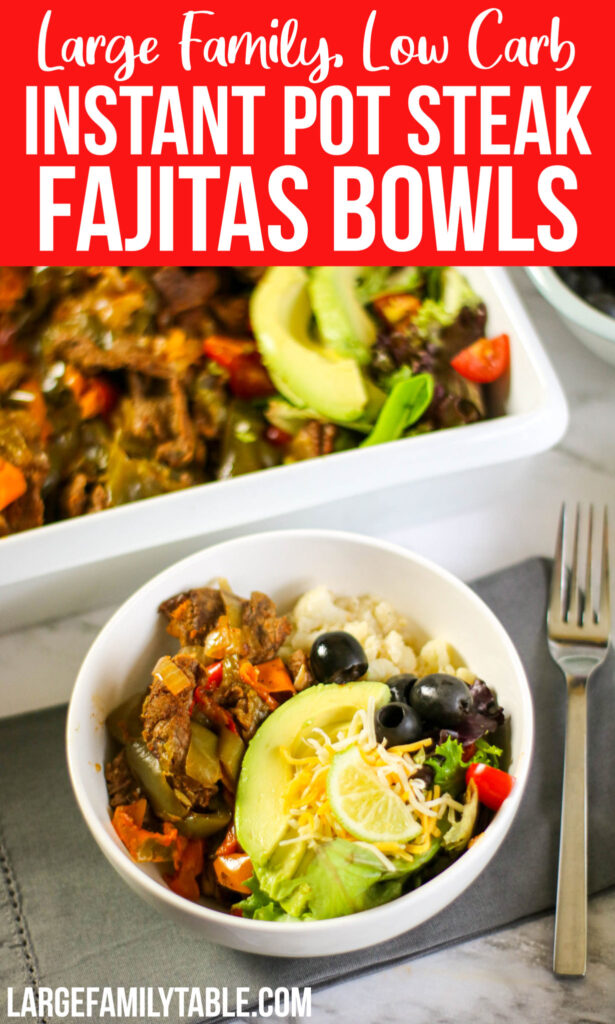 Instant Pot Low Carb Jalapeno Popper Soup | Large Family Style! The whole family will enjoy this flavorful soup!
Large Family Instant Pot Low Carb Teriyaki Chicken Serve this with cauliflower rice and you have the perfect dish.
Low Carb Creamy Baked Chicken with Mushrooms and Artichokes Mushrooms and artichokes are the best way to change up those boring chicken dishes.
Low Carb Hamburger Steaks and Mushroom Gravy A great twist Salisbury steaks.
Low Carb Crustless Taco Pie – Taco night doesn't have to end just because carbs do.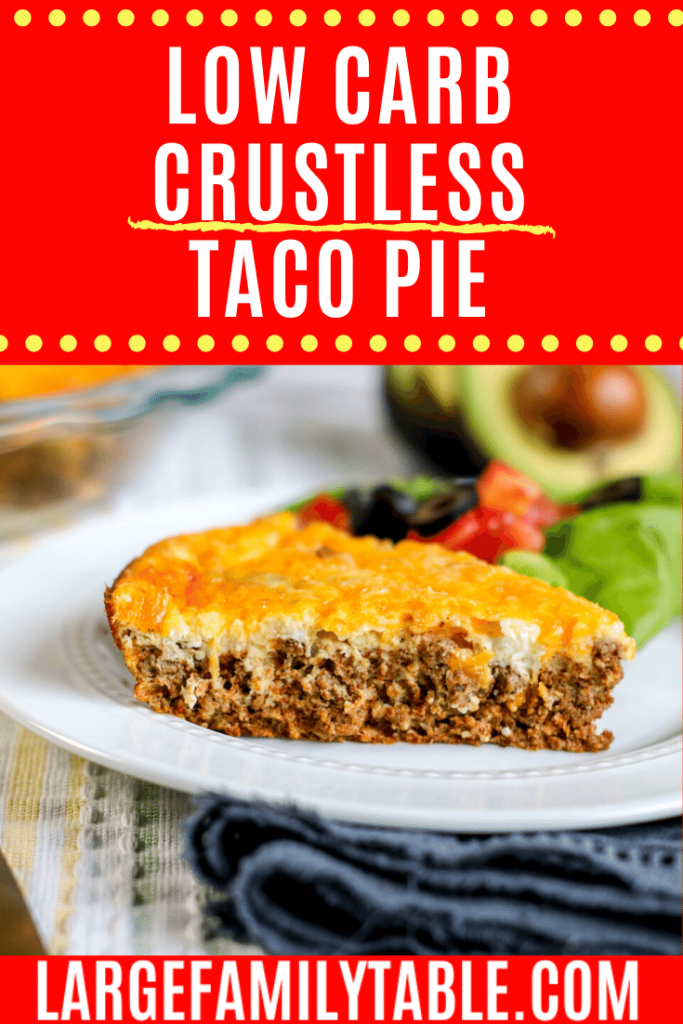 Low Carb Spinach,Mushroom, & Ham Quiche Recipe Have you ever made a quiche? These filling and tasty meals are crowd pleasers.
Low Carb Pizza STUFFED Chicken Meal! That great pizza taste in a meal the whole family will love.
Low Carb Unstuffed Chicken Burrito You can still enjoy all the best parts about the burritos following a low carb diet.
Large Family Low Carb Chicken Spaghetti Recipe Spaghetti squash really shines in this tasty recipe. This is easy to serve over regular spaghetti for other family members who are not eating low carb.
Low Carb Chicken and Green Bean Casserole A low carb version of the classic chicken and green bean casserole. Tastes just as good as you remember.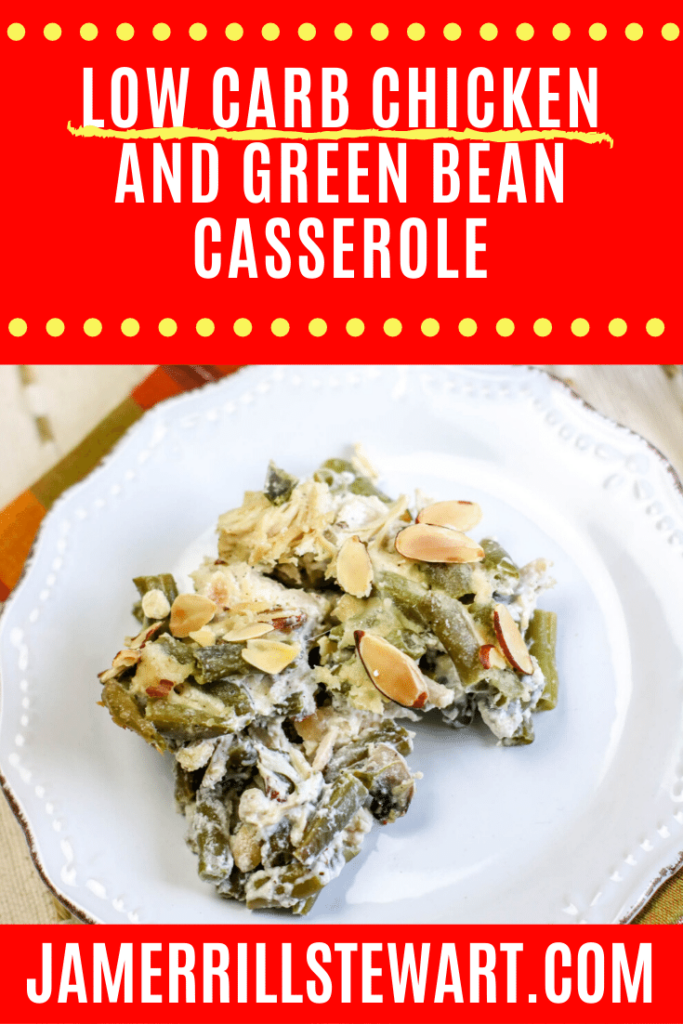 Low Carb Ground Beef Casserole Is there anything easier for a large family dinner than a casserole?
Low Carb Marinara Parmesan Chicken Spice up your dinners with this marinara parmesan chicken dish.
Green Chili Chicken Casserole ~ Low Carb Recipes! No more boring chicken, green chilis punch up the flavor on this dish.
EGGPLANT LASAGNA | LOW CARB, THM S-MEAL Eggplant lasagna is so delicious, you'll never miss the noodles. Trim Healthy Mama S Meal.
LOW CARB BUFFALO CHICKEN CASSEROLE BAKE Another day, another great tasting and flavorful casserole.
LOW CARB Philly Cheesesteak Casserole Everything you love about Philly cheesesteak without the carbs.
Large Family Low Carb Bacon Chicken Stew You won't believe how good this is.
Low Carb BBQ Bacon Wrapped Chicken Recipe Bacon. BBQ. Chicken. Need I say more?
Low Carb Shepherd's Pie Recipe A classic recipe, remade to be low carb.
Large Family Beef Enchilada Stuffed Zucchini Boats | THM-S , Low Carb, Keto, Gluten Free Healthy, flavorful, easy, and crowd pleasing!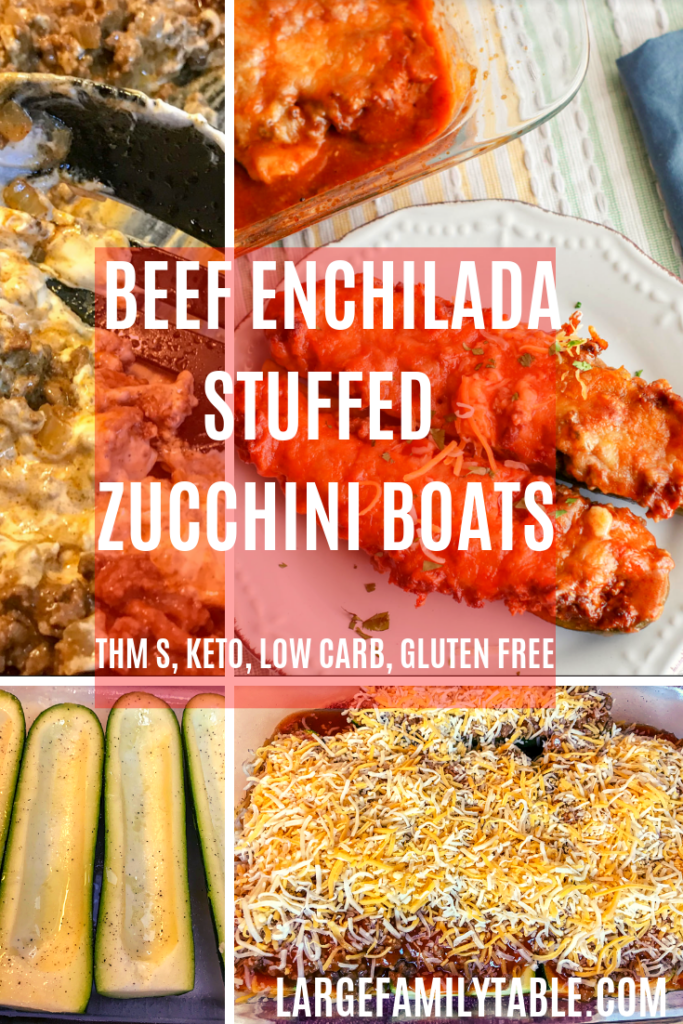 Large Family Buffalo Chicken Stuffed Zucchini Boats | THM S, Low Carb, Keto, GF A twist on zucchini boats with a little bit of heat!
Large Family Instant Pot Beef Ribs |Low Carb, Keto, THM-S This amazing recipe covers a wide variety of bases for healthy lifestyle eating.
Low Carb Taco Soup for the Instant Pot or Slow Cooker, Keto, THM too! Taco soup would be great to change things up this Taco Tuesday!
Low Carb Broccoli Cheddar Soup | Slow Cooker Freezer Meals If you're looking for a great make-ahead recipe, whip this up and keep it in your freezer for convenient lunches or dinners.
Low Carb Cheesy Cauliflower Soup | Slow Cooker Freezer Meal Another great freezer friendly low carb soup!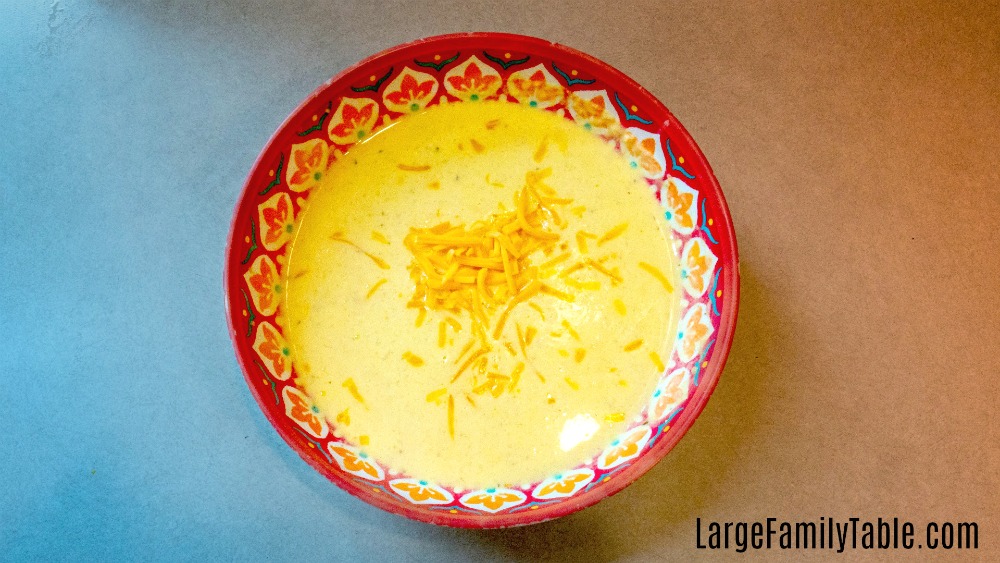 Low Carb Beef and Cheddar Cauliflower Bake, THM S meal, Keto too! Give this casserole a try, you won't believe it's low carb, Keto, and THM S!
Low Carb Chicken Mozzarella Bake | Large Family Make Ahead Meals! You can definitely fill your freezer with delicious meals that are low carb!
Large Family Keto Instant Pot Beef Stew (Low Carb/THM S) Have you tried this low carb beef stew? It is also THM S!
Keto Family Dinner Recipes
Low-carb and keto diets can be stressful to start because we just don't know what to eat. This list contains lots of great keto family dinner recipes to get you started and help alleviate that don't-know-where-to-start feeling.
Keep reading to find more large family low carb and keto dinners.
Large Family Meals of the Week | Low Carb/THM, Meal Prep, & Freezer Meals Check this out if you'd like to see a week of low carb meals!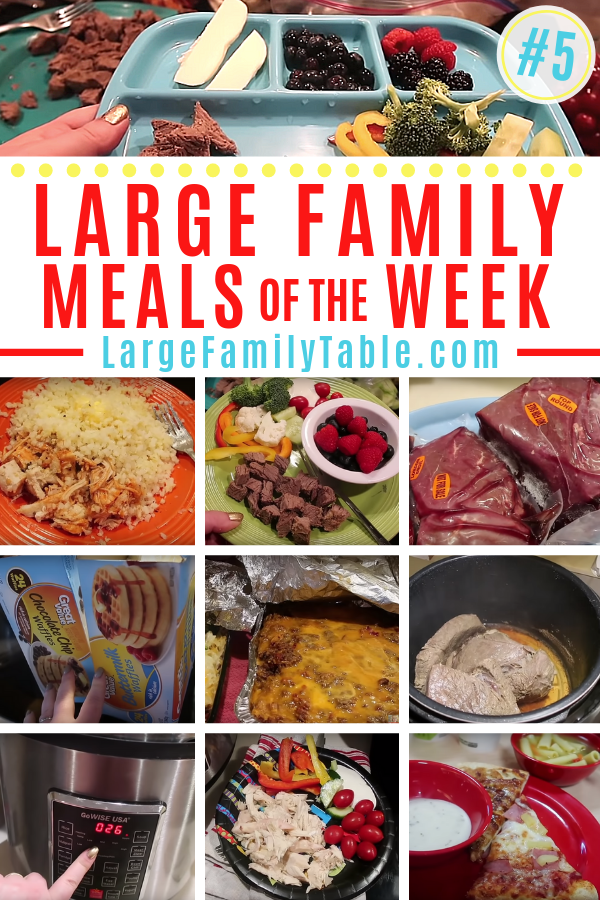 Large Family Cabbage Lasagna Freezer Meal Recipe – Low Carb, Keto, THM – S You don't have to skip the lasagna when you're skipping the carbs!
Low Carb Turkey Meatballs | Freezer Meals for Big Families Switch things up for dinner and give these turkey meatballs a try.
Large Family Italian Peppered Beef Roast Instant Pot Freezer Meal | Low Carb, Keto, Trim Healthy Mama, Slow Cooker, too! Your whole family will enjoy this Italian Peppered Beef Roast!
Large Family Stuffed Peppers Instant Pot Freezer Meal | Low Carb, THM -S, Keto Recipe Stuffed Peppers, just like Grandma used to make, only low carb!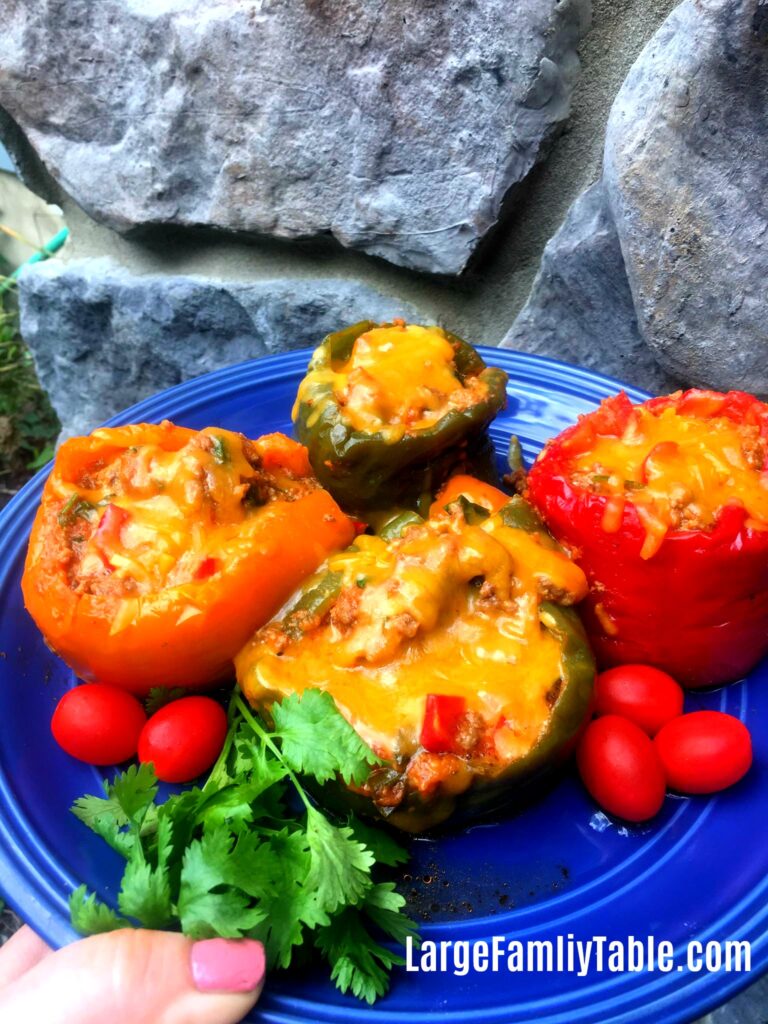 Philly Cheese Steak Large Family Instant Pot Freezer Meal | Keto, Low Carb, THM S Low carb Philly Cheese Steak in the instant pot. Sign me up!
Low Carb Bacon Cheeseburger Casserole Bake – Large Family Freezer Meals Bacon Cheeseburgers taken one step higher!
Zesty Italian Pork Roast Large Family Instant Pot Freezer Meals | THM, Keto, Low Carb, Slow Cooker! You can enjoy the convenience of freezer meals or slow cookers and still practice a ketogenic diet, Trim Healthy Mama, or live a low car lifestyle! Try this delicious Zesty Italian Pork Roast.
Lime & Cilantro Chicken Instant Pot Large Family Freezer Meals | THM, Low Carb, Keto Sometimes the most delicious meals really can be the easiest to make.
Spicy Chicken Legs | Large Family Low Carb – Instant Pot or Slow Cooker Recipe A family favorite and budget-friendly low carb dinner.
Low Carb Meatloaf (with pork rinds) | Keto Instant Pot Freezer Meals Your favorite comfort food can be tweaked to be made low carb and keto!
Instant Pot Freezer Meals for Large Families | Low Carb Buffalo Chicken Wraps Buffalo Chicken wraps are great for the whole family.
Large Family Beef Fajitas Instant Pot Freezer Meal | Keto, Low Carb, THM S, and Slow Cooker, too! Take Mexican food night to a whole new level with these beef fajitas.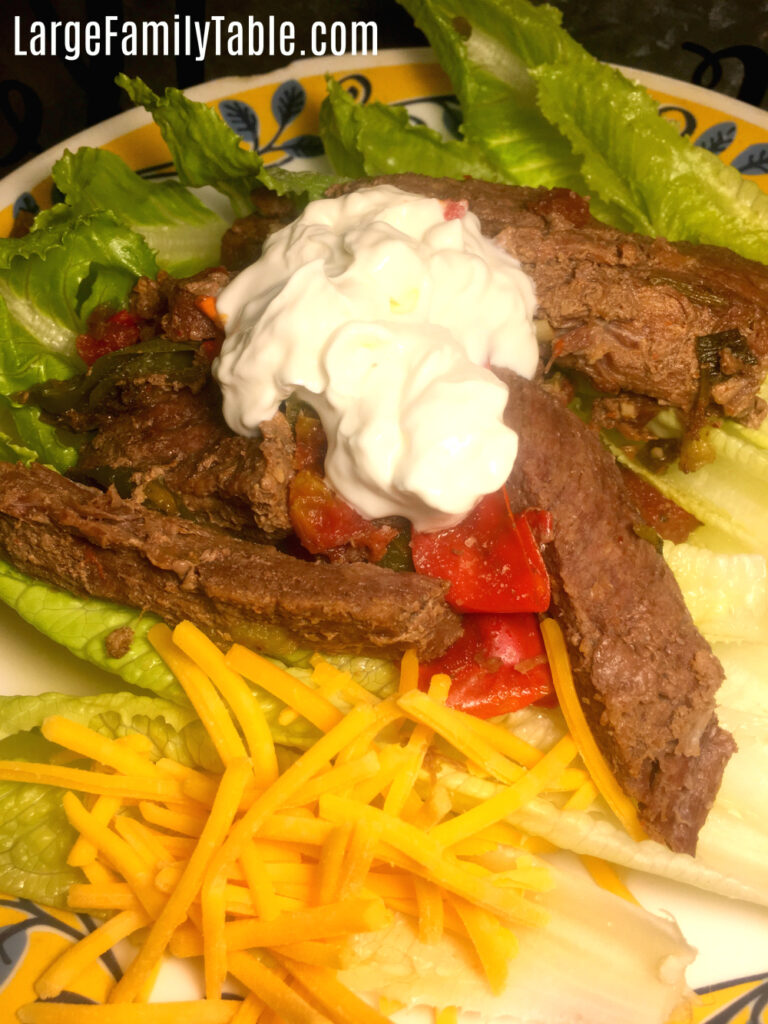 Greek Chicken Dinner Large Family Instant Pot Freezer Meal | Keto, Low Carb, THM S Switch things up and try this flavorful greek chicken dinner for your family tonight.
LARGE FAMILY PORK MILANESE /LOW-CARB/THM S Give this easy recipe a try!
Slow Cooker Cabbage Soup: Trim Healthy Mama Inspired! A scrumptious and healthy cabbage soup recipe.
Sheet Pan Dinner Recipe: Lemon Pepper Pork & Veggies Make sure to pick those radishes and onions and other low carb veggies to roast on one sheet pan making dinner a snap!
Mild Italian Sausage and Peppers Bake | Large Family Freezer Meal Recipe This comes together so fast and is packed full of great flavor.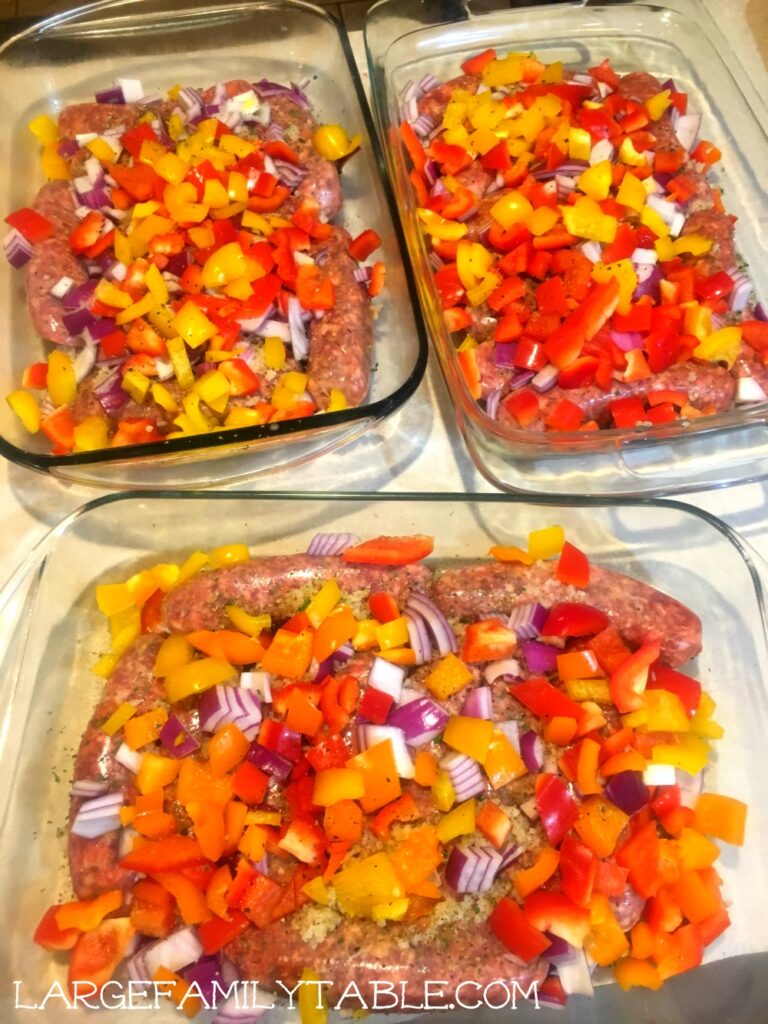 Instant Pot Keto Recipe | Large Family White Chicken Chili What carbs? Try this white chicken chili recipe!
Garlic Steak & Veggies Sheet Pan Dinner Recipe Have you made a sheet pan recipe? One dish. Need I say more? This is as easy as it gets.
Low Carb Pizza Casserole – You can still enjoy Pizza Night with a low carb diet!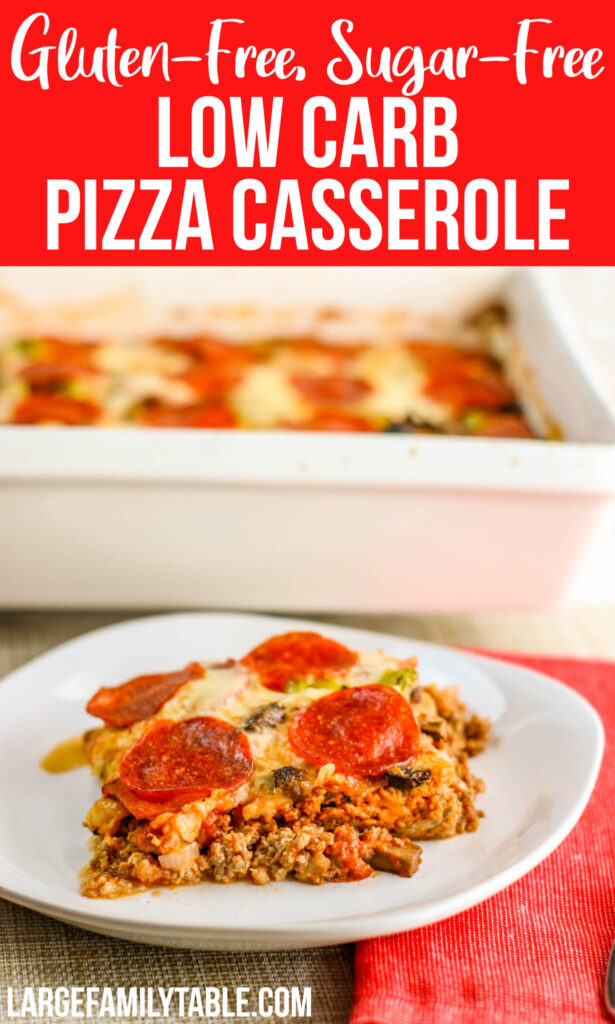 Low Carb Instant Pot Cashew Chicken – Skip the takeout and make this delicious cashew chicken recipe tonight!
Low Carb Deep Dish Pizza – Another delicious twist on your favorite pizza flavors.
Low Carb Unstuffed Bell Pepper Casserole – All of the punch of flavor of stuffed peppers in a filling and scrumptious low carb casserole version.
More meals your family will enjoy!
Do you want more great low carb recipes for your large family? I have made these low carb meal packs just for you.
LOW CARB Large Family Freezer Meals Pack Seven
LOW CARB Large Family Freezer Meals Pack EIGHT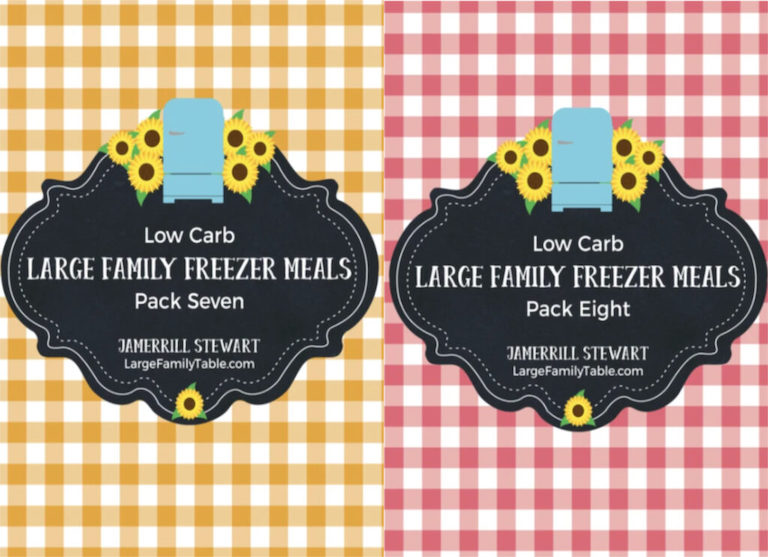 Large Family Low Carb Desserts
Yes, you can have your (cheese)cake and eat it, too! Check out these super tasty desserts that are quick and easy to make.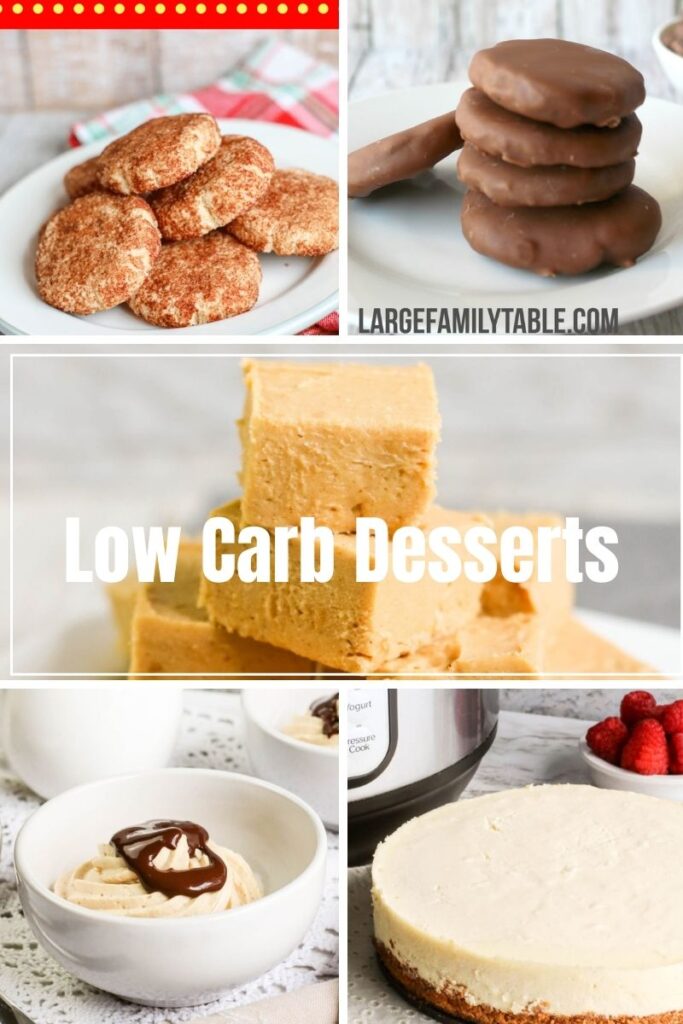 Low Carb Peanut Butter Mousse | THM S, Gluten Free, Sugar Free – This incredible recipe is Trim Healthy Mama, Gluten Free and Sugar free!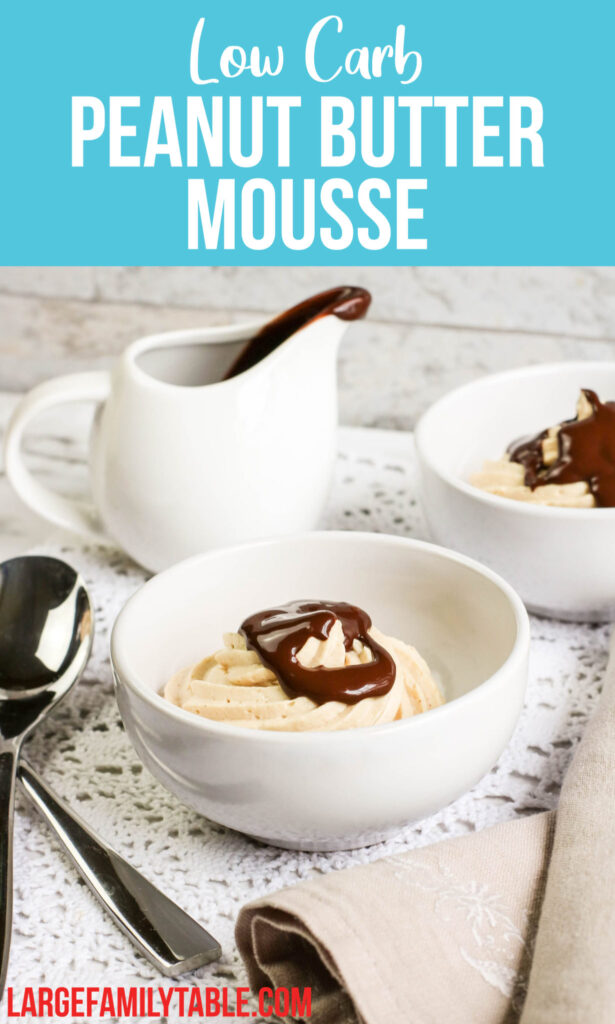 Keto Thin Mints | Large Family Low Carb, Sugar Free (also freezer friendly!) You won't believe how easy and tasty these treats are.
The ULTIMATE LOW CARB INSTANT POT CHEESECAKE! Cheesecake. Need I say more? There's no need to give up the desserts completely when following a low carb diet.
Low Carb Peanut Butter Fudge | Sugar Free, THM-S, Gluten Free This peanut butter fudge tastes just like you remember it as a kid.
Low Carb Snickerdoodles Recipe Delicious classic snickerdoodle in a low carb cookie.
Healthy Homemade Keto Ice Cream in a Jar | Low Carb, Trim Healthy Mama S, too! You can still enjoy ice cream on a low carb diet! Give this a try!
Need some more Large Family Treat Ideas?
If you love baking with your large family, you will love the cookie recipes found in my shop! In my Make-Ahead and Freeze Cookie Baking Book you will find 10 easy and yummy recipes for large-batch cooking baking! You can prepare them for holiday get-togethers or gifts or just for fun any of the year!!
Well, friends, there you have it! Over 65 great large family low carb meals. Don't forget if you double them you can make over 130 meals!
Low carb meals are delicious, filling, and often keto-friendly. Be sure to check back often and look around my site because I have lots of great sugar-free recipes, Trim Healthy Mama meals, keto-friendly recipes, dairy-free recipes, gluten-free recipes, plus many more tips and tricks to help you feed your large family quick, easy, and on a budget!
**2021 Super MEGA Deal!!**
You can get all my recipes in my 2021 SUPER MEGA DEAL!!***Get it all 30+ Products Bundle. It includes everything in my shop through 2021!! You will get so many recipes, make-ahead and freezer meals, lots of sheet pan meals, planning packs to help you organize all your meals (breakfast, lunch, and dinner) and so much more. That's why I call it the super-mega deal!
FREE Emergency Pantry Planning Pack
Don't forget to sign up for the emergency pantry planning pack for free to help you plan your pantry meals! The free Emergency Pantry Planning Pack will help you plan your needed pantry items! Printable pages include pantry inventory, grocery lists, meal planners, list of pantry staple items, and more.