Get the Best-Selling Large Family Freezer Meals Collection here! Use promo code HELLO20 to take 20% off your first order. You can find loads of great recipes like this sheet pan dinner recipe.
Are you looking for a delicious sheet pan dinner recipe for your large family? We are really enjoying this lemon pepper pork & veggies sheet pan dinner these days. Make this recipe large family friendly by using 2 large sheet pans. It makes enough for our family of 10 with some leftovers.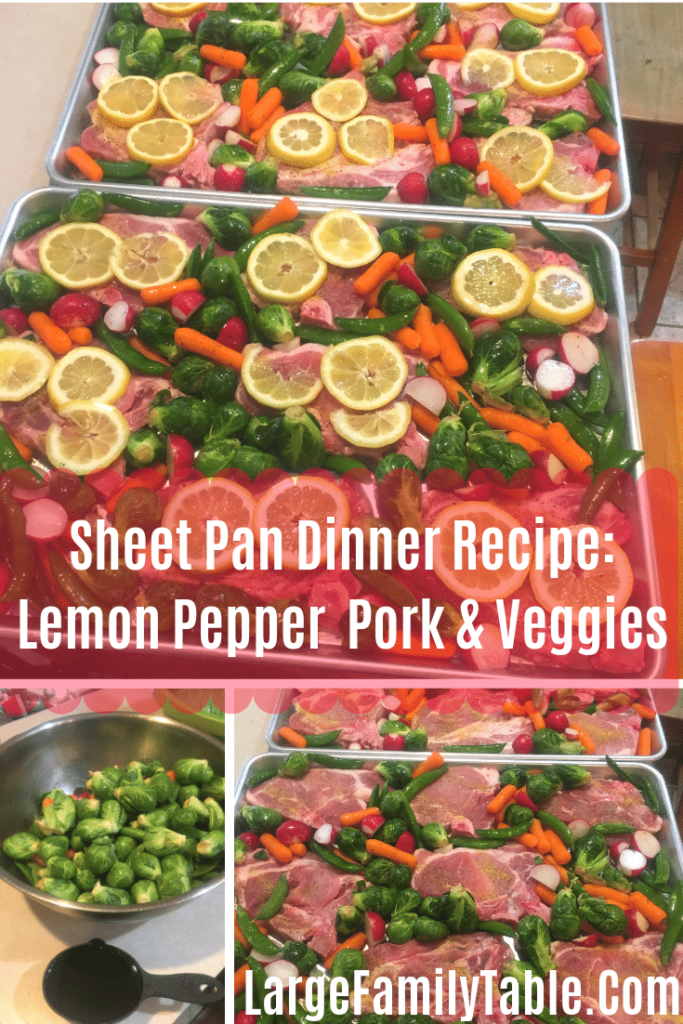 Get your sheet pans out and grease them with some non stick spray or a quick swirl of oil. Divide the bone in pork chops between the pans and sprinkle them with salt/pepper if you desire.
I like to prewash the veggies all at once. This makes it easier for this mama to chop, toss with oil, and add to the pan all at once. A great tidbit is to use radishes in this recipe in place of potatoes for a low carb option. Roasted radishes taste just like baby potatoes. It's a great, frugal alternative that your family won't notice until they've loved them . Toss all the veggies with oil then add to the pan with the pork chops.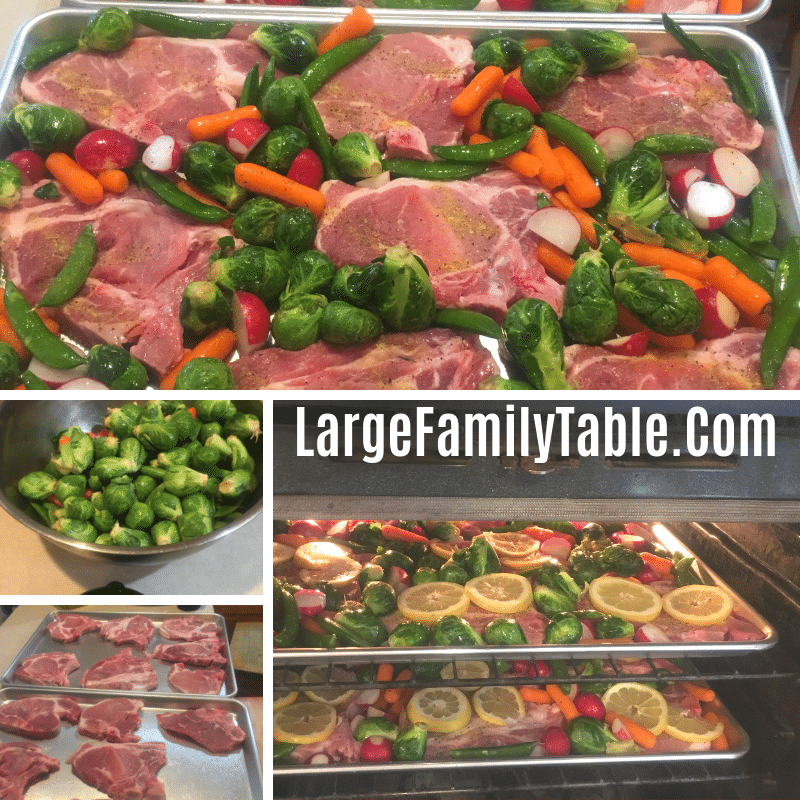 Now that you have everything assembled, grab your lemons and slice them thin. This is my new favorite thing to do with pork. The lemons add amazing pizazz to this dish. It takes 3 whole lemons if you add 2 lemon slices to each pork chop if you're doing the large family version. Don't skip this step or you will have a good instead of delicious sheet pan dinner recipe of lemon pepper pork and veggies.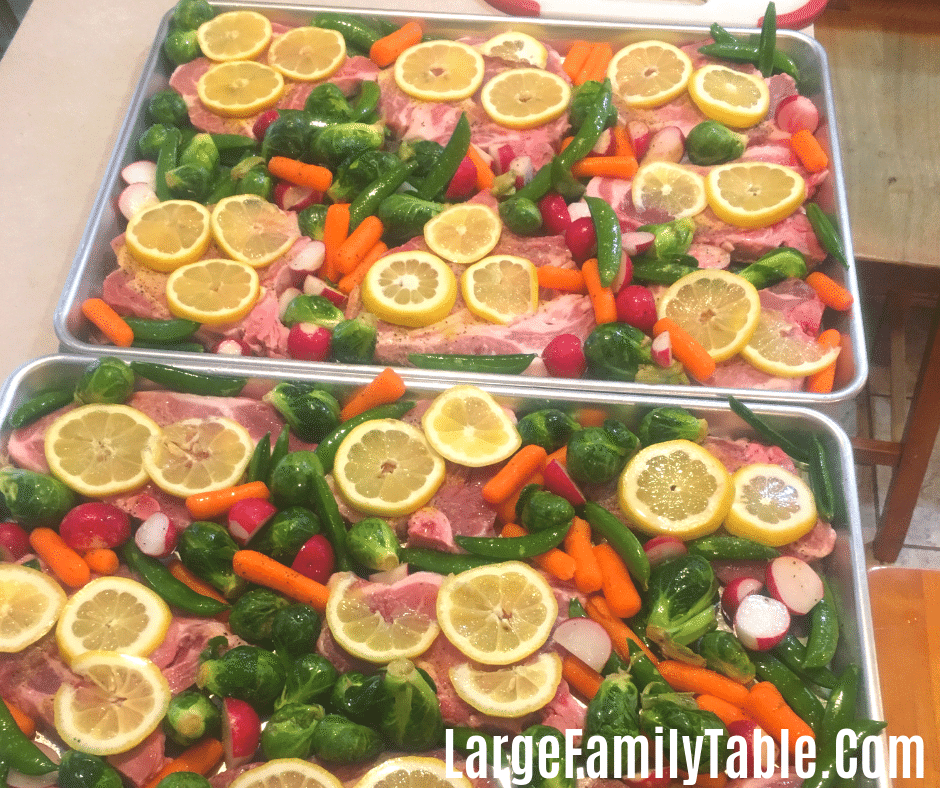 Looking for some more sheet pan dinner recipe ideas?
Print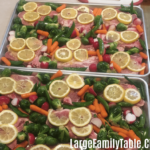 LEMON PEPPER PORK & VEGGIES SHEET PAN DINNER
Author:

Prep Time:

15 mins

Cook Time:

30 mins

Total Time:

45 mins

Category:

Main Dish

Method:

Baking

Cuisine:

American
---
Description
This wonderful recipe makes TWO giant Lemon Pepper Pork and Veggies sheet pan dinners! I use bone-in pork cuts plus broccoli, carrots, Brussel sprouts, radishes, and snow peas. There is enough to feed our large family of 10 plus some leftovers for someone's lunch the next day.
---
Ingredients
7 pounds total of bone-in pork chops (3 1/2 pounds each fit on my new massive sheet pans)

1 pound of baby carrots

1 pound of sugar snap peas

2 pounds of Brussels sprouts

1 pound of radishes sliced in half

1/2 cup of olive oil

3 sliced lemons

Sprinkles of lemon pepper seasoning
---
Instructions
Place approx 3 1/2 lbs of pork on a large sprayed sheet pan

Toss fresh veggies in olive oil and fill in rest of sheet pan with veggies

Sprinkle lemon pepper seasoning lightly on each pork chop

Place 2 to 3 lemon slices on top of each pork chop

Repeat the process on the 2nd sheet pan if desired

Bake at 400° for 30 minutes

Check for an internal temperature of 145 degrees, followed by a 3-minute rest
---
Notes
Any pork product should be cooked to an internal temp of 145 degrees followed by a 3 minute rest per the National Pork Board recommendations.
Keywords: Pork, sheet pan dinners, healthy recipes, large family
There you have it! Want to see how truly easy it is to make this recipe? Check out my video and watch me zoom through the kitchen putting this easy sheet pan dinner recipe together!
To serve, scoop out some pork and veggies to everyone. If you don't have hungry teenagers, you will have leftovers that you can freeze for later lunches in case you need a quick reheat meal. Check out more large family recipes on our Youtube Channel!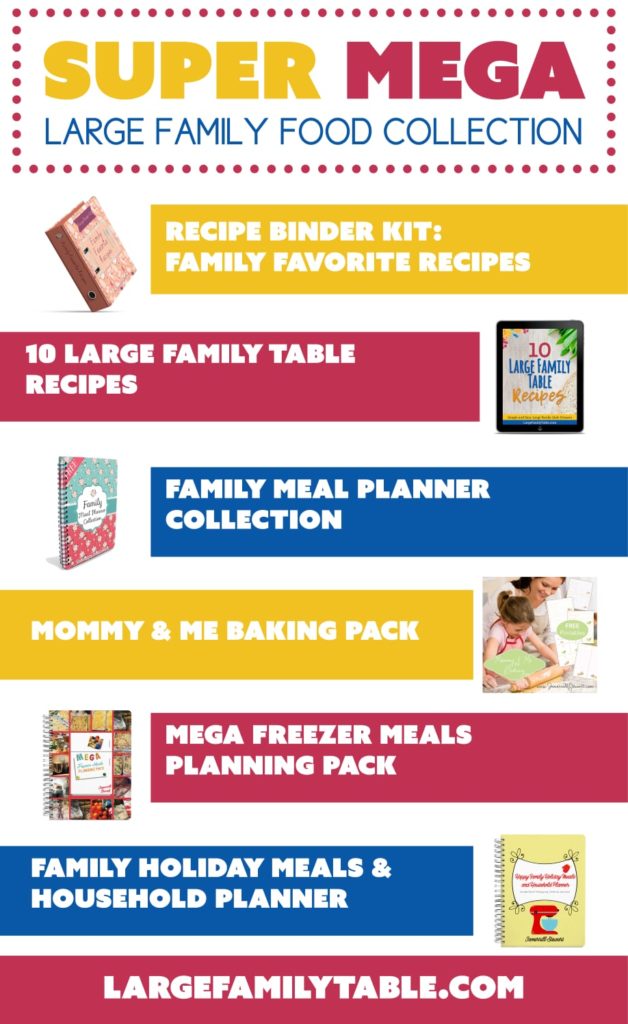 FREE LARGE FAMILY FOOD COLLECTION (including the MEGA Freezer Meals Planning Pack, Meal Planners, and more!) when you sign up here https://largefamilytable.com/collection If you prefer just text the word FREEZER to 44222 and follow the quick directions.