As time allows I love to mix in easy fresh meals to feed my large family. Freezer Meals are my favorite, and Sheet Pan dinners also press the fairly easy button for me. When I'm able, I love to pull together an easy dinner like this large family chicken, sausage, and vegetable sheet pan dinner recipe!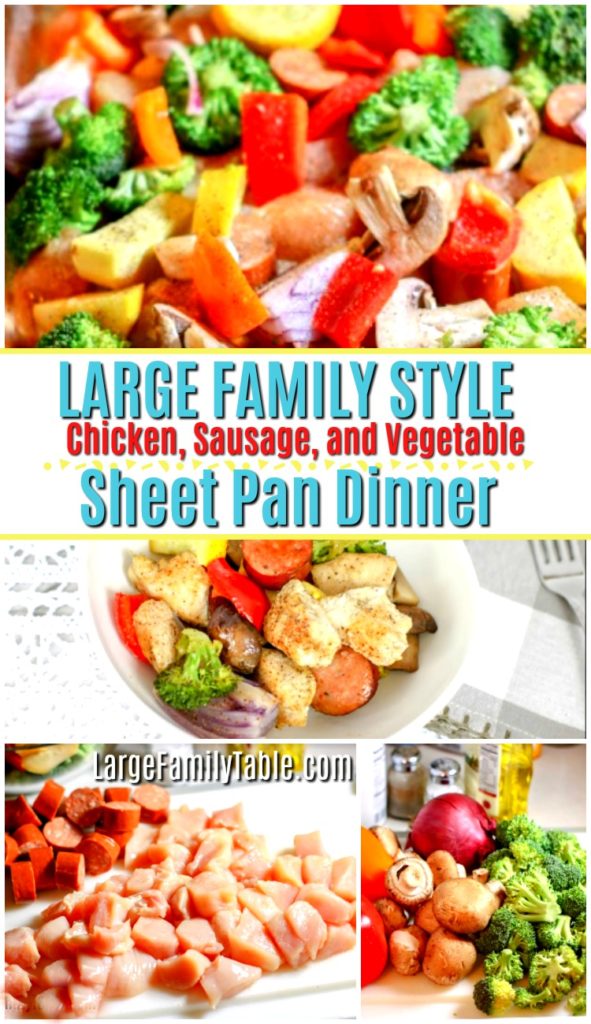 I've mentioned in many of my YouTube Cooking videos that I love chopping vegetables. Chopping is my favorite. Also sitting, sitting is my favorite, too. 😉
For this large family sheet pan dinner recipe you can use frozen broccoli or fresh. Squash is usually available, although priced nice in the summer. You can also change things up a bit by adding zucchini, asparagus, carrots, Brussel sprouts, potatoes, or more or fewer peppers.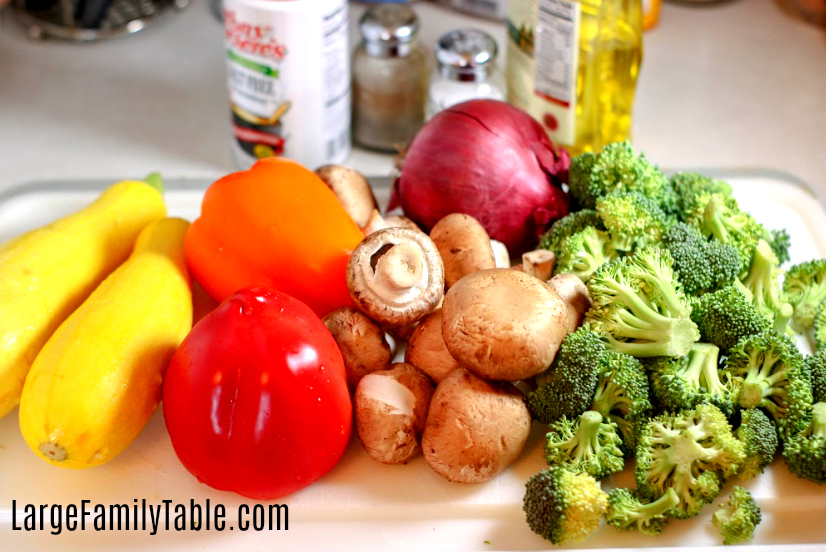 You can also make this an even cheaper large family recipe by adding more vegetables, and decreasing the amount of meat as your budget and pantry allow. When making this large family sheet pan recipe I use up to 4 lbs of chicken and two packs of Cajun sausage. This will allow our family of ten to have a healthy, hearty dinner, with some additional leftovers. You know I love leftovers!
The Cajun sausage adds some heat and kick to the recipe. I love a little spice. However you can use a milder sausage or even Kieblasa as a replacement.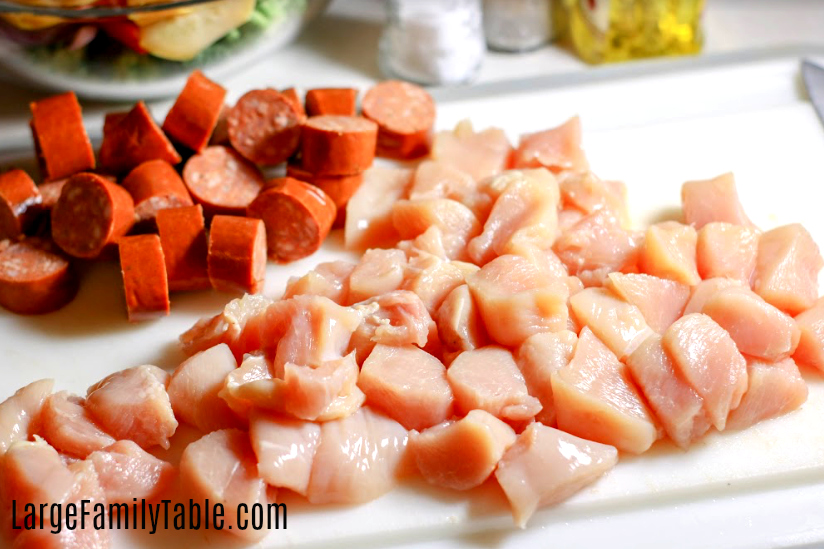 This beautiful large family style sheet pan dinner cooks up lovely. It's even pretty going into the oven! I don't usually serve any additional sides with this large family recipe as this sheet pan supper seems to cover it all. This meal is also Trim Healthy Mama S-Meal friendly, low carb, and Keto (just watch the sausage additivies!)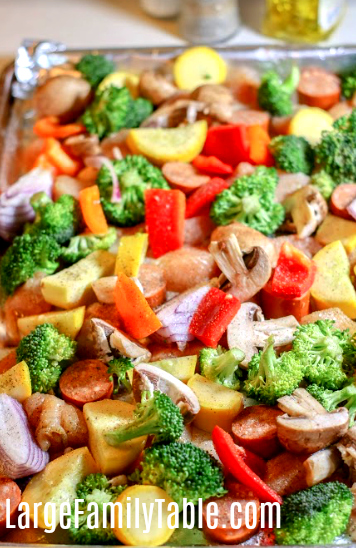 I use two large rimmed baking sheets to cook up this Chicken, Sausage, and Vegetable Sheet Pan Dinner. You can line your pans with foil for quick clean up. To save time, I put both pans in at the same time and I rotate my baking pans in the middle of the cooking cycle.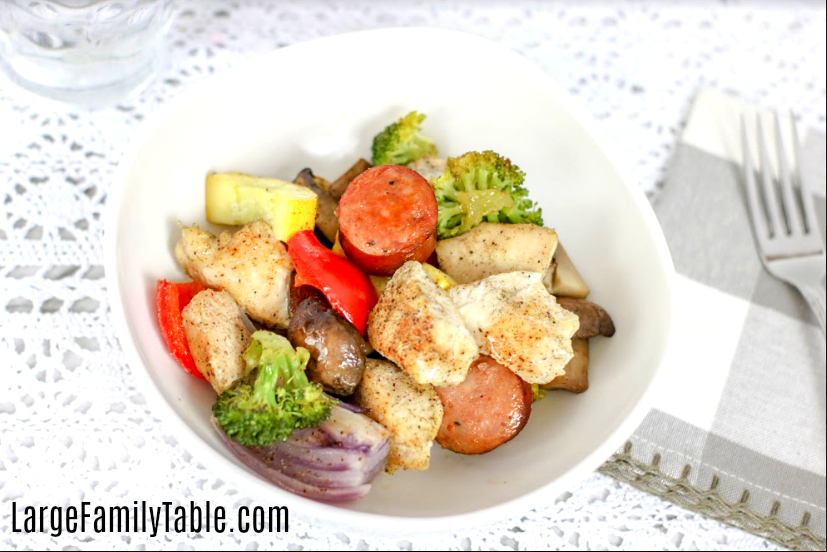 Print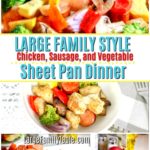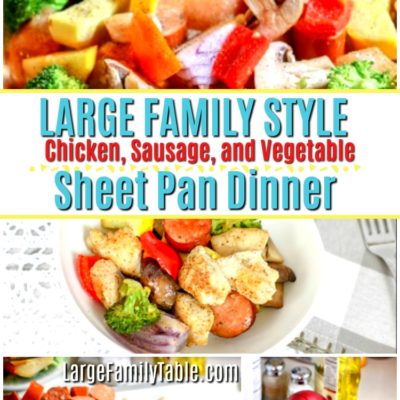 Large Family Chicken, Sausage, and Vegetable Sheet Pan Dinner Recipe
---
Description
Enjoy this large family style sheet pan dinner! Chicken, Sausage, and lots of veggies make this delightfully healthy family dinner and *may* leave you with a few leftovers for the next day as well. I personally used two large sheet pans, rotating the sheet pans in my oven about halfway through the bake time to cook evenly. 
---
Ingredients
3 to 4 pounds boneless skinless chicken breasts, cubed
2 (13 ounce) packages Cajun sausage, cut (the Cajun sausage adds some heat, otherwise use a milder sausage or kielbasa)
4 tablespoons olive oil
1 red onion, cut into 1-inch wedges
3 yellow summer squash, halved lengthwise and cut into 1-inch slices
2 (12 ounce) package broccoli florets, frozen or fresh
1 red bell pepper, cut into 1-inch pieces
1 orange bell pepper, cut into 1-inch pieces
1 (8 ounce) package mushrooms, cleaned and halved
1 tablespoon garlic powder
1 teaspoon paprika
1 teaspoon dried oregano
1/2 teaspoon black pepper
1 teaspoon dried thyme
1 teaspoon salt
---
Instructions
1. Preheat oven to 425 degrees. Prepare two rimmed baking sheets with aluminum foil (for easier cleanup) spritzed with non-stick cooking spray.
2. In a mixing bowl, stir together the dry seasonings. Divide the seasoning and sprinkle the cubed chicken with half of the seasoning. Place on the chicken baking sheet, spacing evenly.
4. Add the vegetables to a large bowl and drizzle with olive oil.
5. Add the sausage and vegetables around the chicken. Sprinkle the remaining seasoning blend over everything on the sheet pan.
5. Bake for 20 to 25 minutes, turning chicken and vegetables halfway, or until chicken is cooked through.
I hope you enjoyed my new large family sheet pan dinner recipe. I have more of these planned to share in the coming months. Here are more large family recipes!
Get this FREE!
Don't forget to get the FREE Large Family Food collection if you haven't already. It includes family meal planners, freezer cooking pages, and more!