Easy Homemade Biscuits for the Freezer | Large Family Freezer Meals
Biscuits are such a staple in our home that I need to just hire a biscuit maker. But since I can't do that, I do the next best thing. I make biscuit dough, cut out the biscuits, and freeze them until we are ready for them.
I am always surprised at the number of people who confess that they never knew you could freeze bread products like biscuits, cookies, pizza dough, and bread. I have talked at length before about making fruit bread in bulk for the freezer so we can have it for quick breakfasts or what have you. Freezing bread is such a great idea because the texture of the bread doesn't change when frozen and thawed.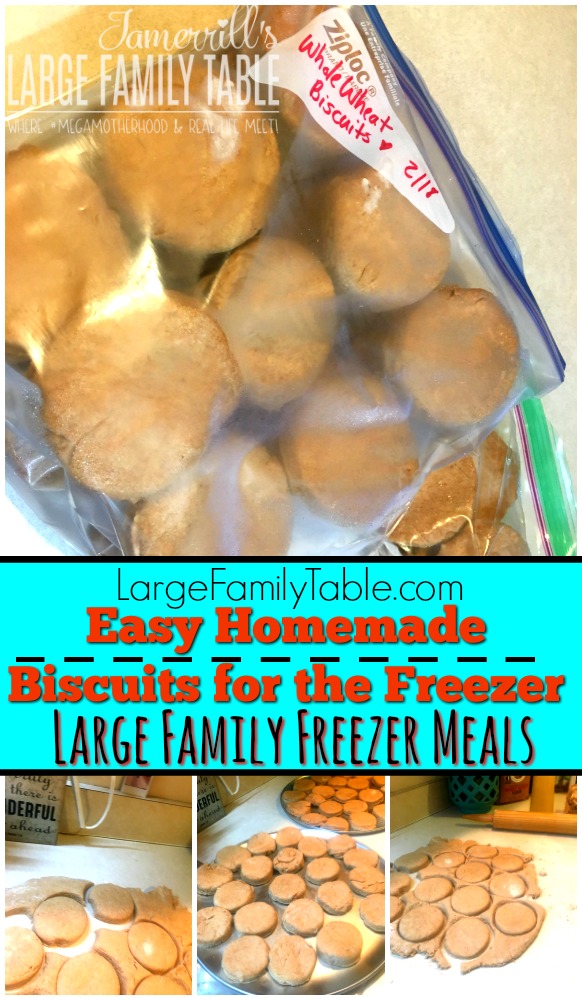 That's one thing I hear quite a lot from my readers and Youtube viewers; their family notices a different texture or slight taste difference between frozen and thawed items. Thankfully, my family is well-accustomed to eating food that's been frozen so we don't have that issue, but if your family is one that balks at anything that was frozen, try some bread products.
Now, let's get down to some homemade biscuits!
Print Easy Homemade Biscuits for the Freezer | Large Family Freezer Meals
---
Description
Flaky and soft homemade biscuits, straight from the freezer.
---
Ingredients
12 cups flour (you can use any flour you like. I use all-purpose, whole wheat, and different combinations of the 2 depending on what I have.)
8 TBSP baking powder
4 tsp salt
2 cups shortening
6 cups milk
---
Instructions
Mix together dry ingredients.
Cut in shortening with pastry cutter, 2 knives, or 2 forks. (I just fork it until it's incorporated.)
Add milk and stir just 'til combined. Don't overmix.
Roll out dough on floured surface and cut out biscuits. (I have a very fancy biscuit cutter. It's called a plastic cup. Use what you have, friends. Use what you have.)
Place biscuits on baking pans and flash freeze. This can take 1-2 hours.
After the biscuits are frozen just place them in a gallon freezer bag and label.
To bake, set biscuits out at least an hour or up to the night before baking.
Bake at 450* for 10 minutes.
---
Notes
When I am doing a freezer cooking day, I use so many pans that I had to flash freeze my biscuits on pizza pans this go round. I figure, as long as it's flat and can go in the freezer for the flash freezing, it doesn't matter what kind of pan it is!
This Easy Homemade Biscuits for the Freezer recipe was in my 27+ Large Family Meals in 10 Hours vlog from my day two large family freezer cooking day. Let me know how you like them!