How to Make Homemade Biscuits || Large Family Recipes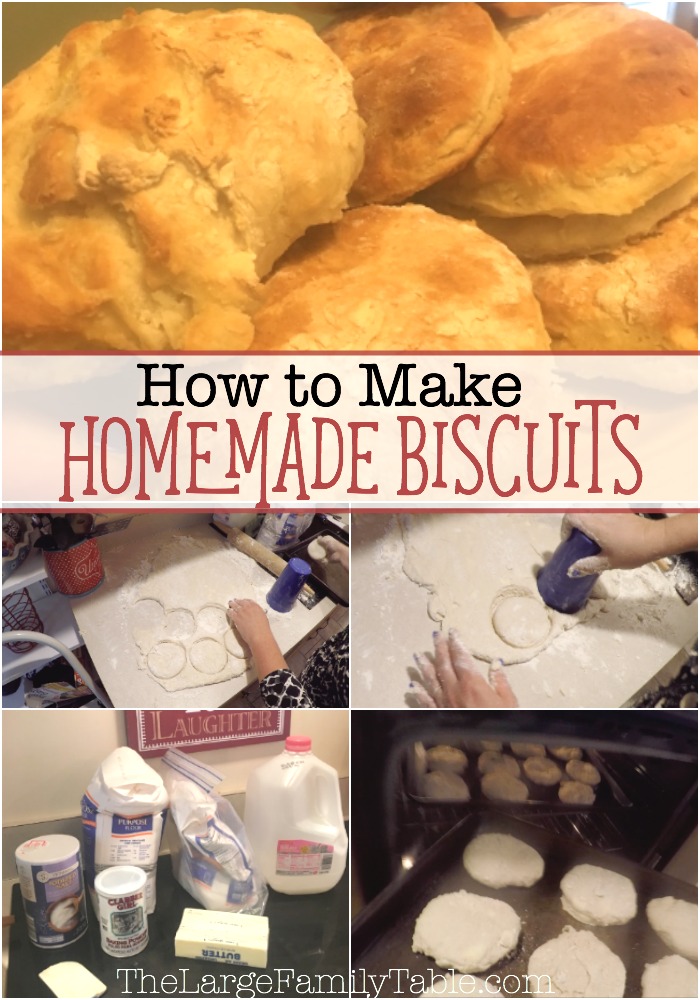 In today's new video I share a quick homemade biscuit making time at our house. We've been in a biscuit making mood lately around here. Naomi wanted Biscuits and Gravy for her birthday breakfast and I was more than happy to oblige.  Liam helped me roll out some biscuits a few weeks ago, and these homemade biscuits sure baked up nice and fluffy!
Homemade Biscuits are food that everybody loves and are so versatile they could go with just about any meal. We use homemade biscuits as a breakfast choice or side item for dinner (or as a star of homemade chicken pot pie!). I usually have the ingredients on hand so I can whip up a batch in a pinch, or make several batches and freeze the extra biscuit dough for later (I'll share more on freezer biscuits soon!).
From Instagram, "Liam is helping momma make #homemadebiscuits today!"
Homemade Biscuit Making Tips
Affiliate links are used in this post. Thank you!
A few quick notes I wanted to include are you can use pretty much any flour you have on hand. I've had extra all-purpose flour in the pantry so I've used that lately. You can also use whole wheat flour, or half all-purpose flour and half whole wheat. Also, if you have trouble with your biscuits rising, it might not be you. I recently had two batches of biscuits that would not rise (they were hard as rocks). I figured out my baking powder had gone bad. Once I picked up fresh baking powder my biscuits were happy again!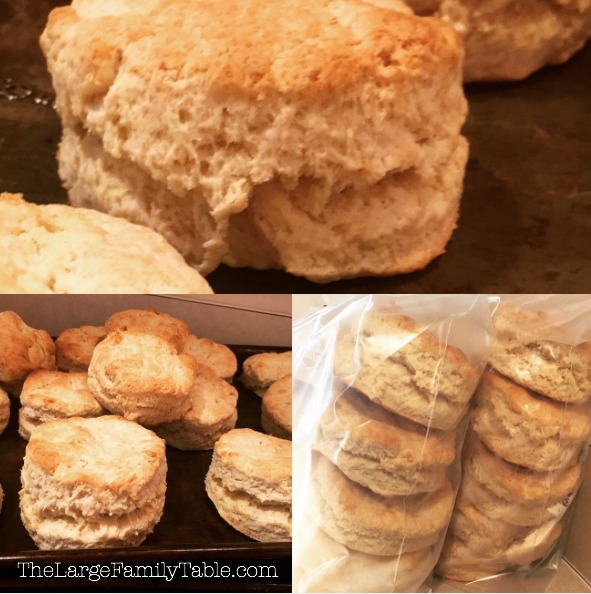 I shared the other day, "Made several dozen homemade biscuits this morning. We'll use these as a dinner side and with some breakfast meals this week."
Homemade Biscuits
Enjoy these easy homemade biscuits with any large family style meal!
6 Cups All Purpose Flour (or whole wheat flour)
4 Tbsp Baking Powder
2 Tsp Salt
3/4 Cup Unsalted butter (or shortening)
3 Cups Milk
Combined 6 cups of flour in large mixing bowl with 4 Tbsp Baking Powder and 2 Tsp Salt.

Mashup using a fork 3/4 of a cup of cold unsalted butter into the same large mixing bowl. Mash the butter into the smallest size piece possible (some recipes read into "pea-size" pieces, although my mashed up butter never looked exactly like that. Just fork it to death 🙂 )

Pour in three cups of milk.

Mix the ingredients by hand or with a fork in the large mixing bowl.

Dump the mixed ingredients onto a gently floured service and begin to knead the dough. Add extra flour as needed if your dough is still sticky (as mine was in the video).

Roll out your dough on the flat service. If your rolling pin sticks rub additional flour on it as well.

Use a proper biscuit cutter or turned over cup to cut your biscuits. I like big biscuits, so I use a wide mouth plastic cup to cut my biscuit circles.

Place your biscuits on baking pan. Place them in the oven at 450 for 12-minutes.

ENJOY YOUR BISCUITS!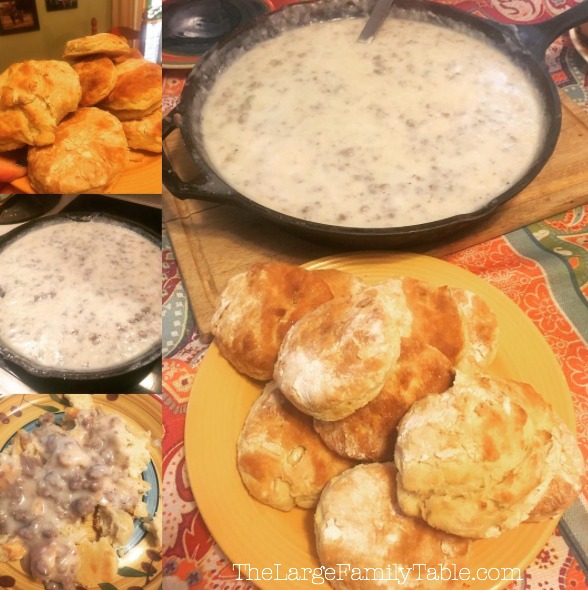 Another Insta-thought, "Today I made homemade biscuits and my mother-in-law showed me her special sausage gravy. We had this as a requested brunch for my daughter's 10th birthday celebration weekend. Sorry to say that most of our children have never had biscuits and gravy. I guess it's a parenting fail ? Everyone enjoyed it, and I hope to make it again soon. Do you guys eat biscuits and gravy at your house?"
How to Make Homemade Biscuits
Click here to watch the full How to Make Homemade Biscuits video!