Skip the freezer section and make your own pot pies at home with this Large Family Healthy & Easy Mini Chicken Pot Pies recipe. You can create custom mini pot pies for each person to enjoy for big family lunch or easy dinner.
If you like pot pies, try this Large Family Healthy & Easy Mini Chicken Pot Pies recipe that is much better for you. These pot pies are flavorful and contain some of the best ingredients, including shredded chicken, peas, carrots, and corn. You can prepare the pot pies and have them immediately for an on the go dinner or wrap them, freeze them, and eat them later. The pot pies are such a great meal to make for your large family when you want to offer something naturally delicious to eat and easy to make.
****Use special promo code HELLO20 to take 20% off the entire MEGA DEAL get-it-all Bundle including the best-selling Large Family Freezer Meal Packs 1-12 + so much more!!****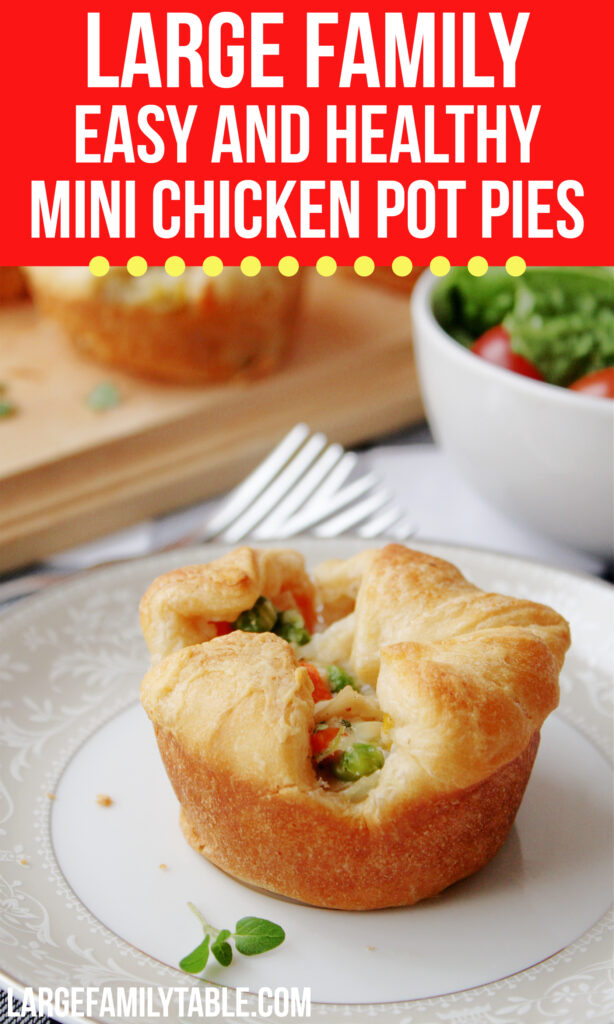 Ingredients You Will Need to Make the Mini Chicken Pot Pies
When you have a craving for a chicken pot pie, be sure to have these ingredients to make some of your own:
Crescent Roll Dough. The crescent roll dough is what you will use to create the pie-like consistency.
Shredded Chicken or Turkey. Cook some chicken or turkey and shred it into pieces before you add it into the mix.
Frozen Peas and Carrot Mixture. The frozen peas and carrots will go great with the chicken, broth, and other ingredients.
Corn. The corn adds a slightly sweet touch to these tasty pot pies.
Chicken Broth. You will use chicken broth to create a creamier consistency for the filling of each pot pie. Try using the broth from making a whole chicken in the instant pot.
Heavy Cream. Adding heavy cream into the mix is the perfect way to thicken up the filling.
All-Purpose Flour. The flour goes with the heavy cream into the broth to make a thicker, gravy-like consistency for your filling.
Other essential ingredients to add to your Mini Chicken Pot Pies include butter, diced onion, diced celery, minced garlic, dried thyme, salt, and pepper.
How Make-ahead and Freeze the Pot Pies
You can prepare the Mini Chicken Pot Pies and bake them to serve right away. Any that are leftover, you can store in your fridge in an airtight container. However, if you do not plan on eating them right away, consider following these steps to freeze them.
To Make this recipe Ahead and Freeze it for later: Before baking pies, but after assembling in muffin pans, wrap muffin pan in foil and freeze it completely (about 2 hours). Once pies are frozen, loosen with a knife and remove from muffin tin. Wrap each individual pot pie in plastic wrap, and place frozen pies in a large resealable freezer plastic bag. To make these, heat oven to 375°F. Remove the desired number of frozen pies from the bag, and place in greased muffin cups. Loosely cover with foil that has been sprayed with cooking spray; bake 20 minutes. Remove foil; bake 15-25 minutes longer or until filling is bubbly and crust is light golden brown.
Instead of purchasing pot pies from the grocery store, you can pre-make these pot pies for your family and have plenty of them available in the freezer for your loved ones to eat.
We have lots of other large family freezer meals, low carb meals, casseroles that freeze well, slow cooker meals, and more! Be sure to look around.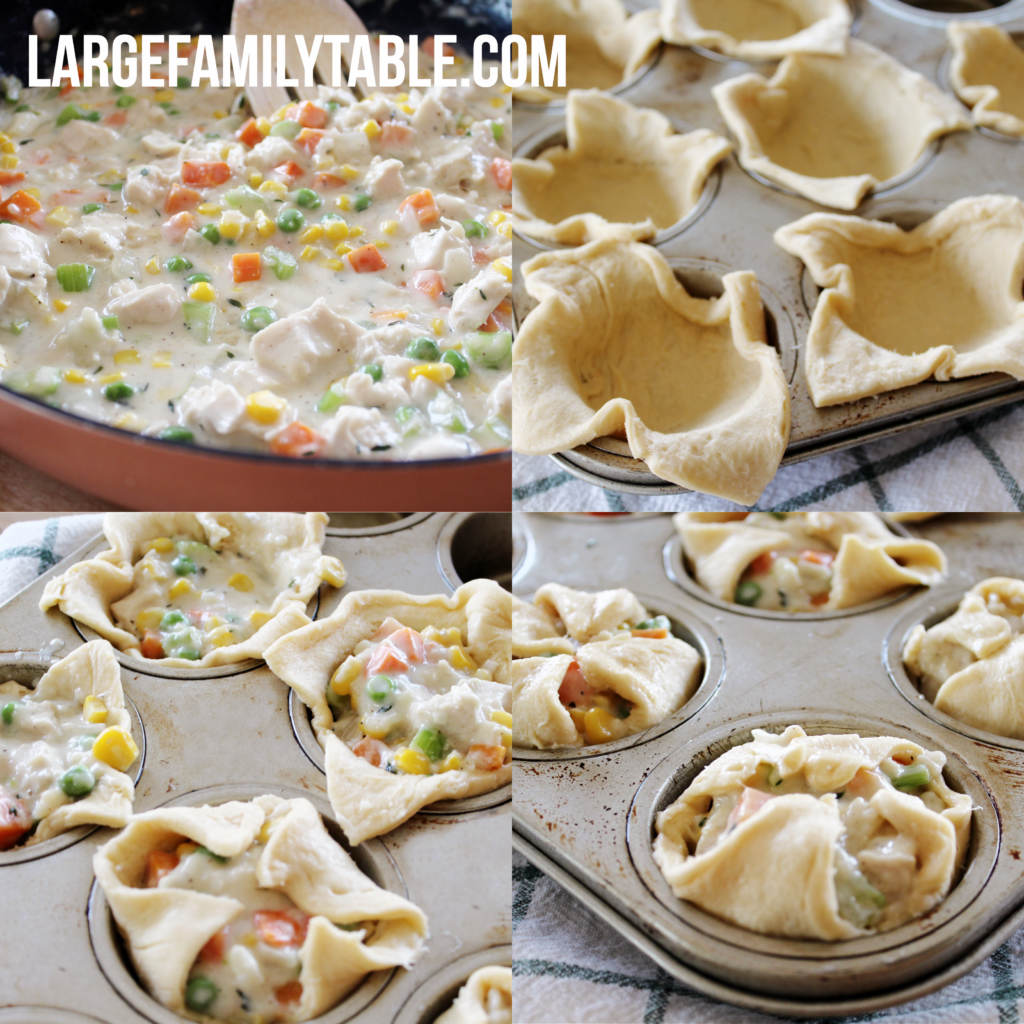 What to Make with Your Chicken Pot Pie
We have lots of ideas for you to add to your meal to make it a filling and rounded out large family meal. You can include a salad, add a side dish or tasty dessert. Try making one of our cheesecake desserts, one of our many cookie recipes, double chocolate zucchini muffins, or our mixed berry muffins.
Here are more large family dinners to try!
Do you have more casserole recipes?
I have so many more casseroles that you will love in my shop. Check out my Classic Casserole Dinners & Freezer Meals Cookbook One for Now, One for Later! It includes 10 delicious, classic casserole recipes that will make two 9×13 casseroles each–one to eat right away, and one to put in your freezer for a later date. It's an easy and quick way to build a freezer stash.
Large Family Healthy & Easy Mini Chicken Pot Pies
Print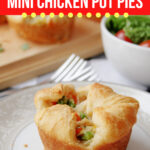 Large Family Healthy & Easy Mini Chicken Pot Pies
Author:

Prep Time:

20 minutes

Cook Time:

15 Minutes

Total Time:

35 minutes

Yield:

24 Muffin Cups

Category:

Dinner/Lunch

Method:

Oven
---
Description
Skip the freezer section and make your pot pies at home with this Large Family Healthy & Easy Mini Chicken Pot Pies recipe. You can create custom mini pot pies for each person to enjoy for lunch or dinner.
---
Ingredients
6 tablespoons butter

3/4 cup diced onion

3/4 cup diced celery

3 clove garlic minced

1 ½ teaspoon dried thyme

1 ½ teaspoon salt

3/4 teaspoon black pepper

6 tablespoons all-purpose flour

3 cups chicken broth

3/4 cup heavy cream

3 cup diced or shredded cooked chicken or turkey 

1 ½ cup frozen peas and carrots mixture

3/4 cup corn

3 cans crescent roll dough sheets or can of crescent rolls *See Note
---
Instructions
Preheat the oven to 375°F. In a large skillet using medium-low heat melt the butter. Add the celery, onion, peas, and carrots mixture. Cook for about 5 minutes until softened, stirring occasionally. Add the thyme, garlic, salt, and pepper.  Stir the mixture for about 30 seconds. 

Add the flour and whisk with the butter in the pan, allow it to cook for 1 minute. Whisk in the chicken broth and the heavy cream.  Simmer until thickened, and continue to whisk for 2 minutes.

Remove from the heat, stir in the chicken and corn.

Grease three muffin tins and spread out the crescent roll dough, cutting it into 24 equal squares. Place one square into a greased section of the muffin tin. Be sure corners are overlapping the sides. Repeat with the remaining dough to fill 24 muffin tin sections.

Fill the cups with the filling. Gently fold the corners of the dough over the potpie filling. 

Bake for 15 minutes or until golden brown. Allow the pot pies to cool slightly in the pan before removing them. I have found a butter knife works great for lifting them out once slightly cooled.
---
Notes
*If you are unable to find crescent roll dough sheets you can use crescent rolls, simply spread the dough out on a hard surface and pinch the perforated portions of the dough together to make one large sheet.  
Keywords: Mini Chicken Pot Pie
FREE Emergency Pantry Planning Pack!
Don't forget to sign up for the emergency pantry planning pack for free to help you plan your pantry meals! The free Emergency Pantry Planning Pack will help you plan your needed pantry items! Printable pages include pantry inventory, grocery lists, meal planners, list of pantry staple items, and more.