In a large family, there's always more work and the holiday season is no exception. We can give ourselves the gift of time with our family by making holiday recipes ahead of time. In this post, I have compiled 100+Large Family Make-Ahead Meals for the Holidays that are recipes you can make ahead for the holidays so you will spend your time enjoying the moments.
We know having family and friends over for the holiday meals means more than just one meal. This is why I have compiled easy recipes to cover every meal for a crowd during the holiday season. Below, you will find recipes for Christmas dinner, holiday morning breakfasts, easy make-ahead freezer-friendly lunches for a crowd, and many more!
****Use special promo code HELLO20 to take 20% off the entire MEGA DEAL get-it-all Bundle including the best-selling Large Family Freezer Meal Packs 1-12 + so much more!!****
Large Family Make Ahead Meals for the Holidays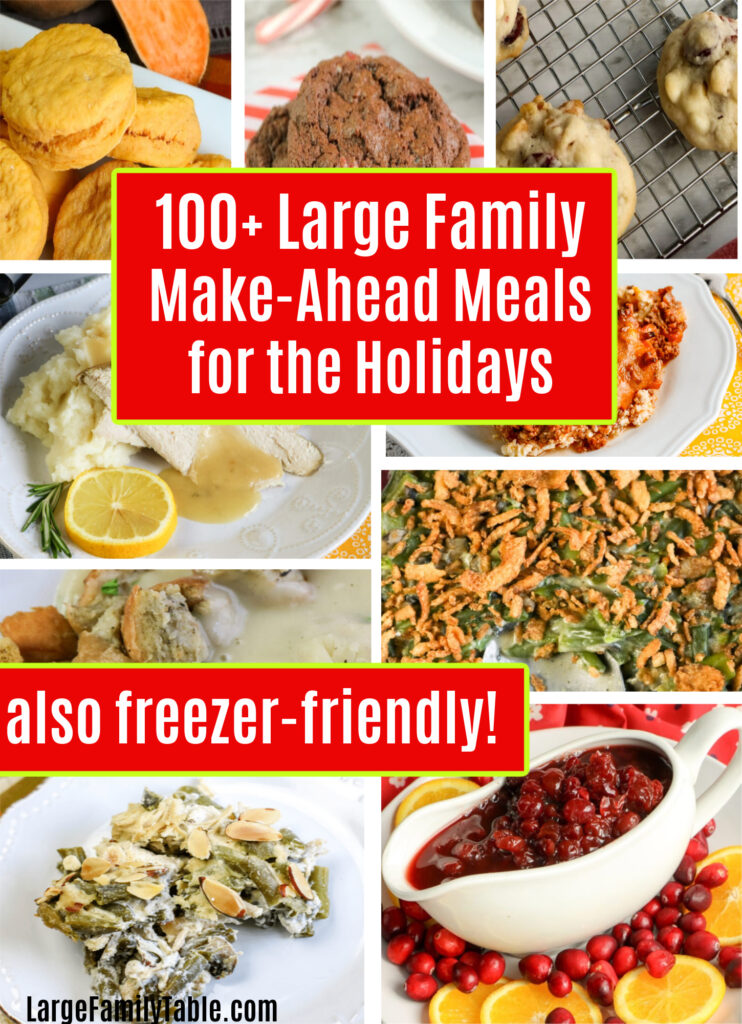 Make your entrees weeks or months ahead and store them in the freezer. If your running short on time, you can also make them days ahead and store them in the fridge. Slow Cookers are great because they allow you to begin your meal hours ahead of time and they do the work for you without taking up room in your oven or on your stovetop.
What can I make ahead of time for Christmas dinner?
There are no rules about what has to be on the menu for Christmas dinner, and since people gather at all different times and different ways, so we've included lots of recipe options! Almost anything can be made ahead from the main dish (ham, turkey, chicken, or seafood) to sides like mashed potatoes, gravy, stuffing, and vegetables. Finally, desserts like cookies, cakes, and pies can also be made ahead. You will find links to 100+ Large Family Make-Ahead Meals below. When cooking a holiday meal to feed a large crowd, make-ahead meals and sides is a huge time-saver.
Large Family Make-Ahead Main Dish Ideas
Making the main dish doesn't have to be stressful. There are so many things you can make from meats to casseroles. Our Large Family Make-Ahead Slow Cooker Lemon Herb Turkey Breast and Large Family Slow Cooker Turkey Breast are two easy slow cooker recipes that are also freezer-friendly. Here is a different version of Make-Ahead Roast Turkey from Culinary Hill.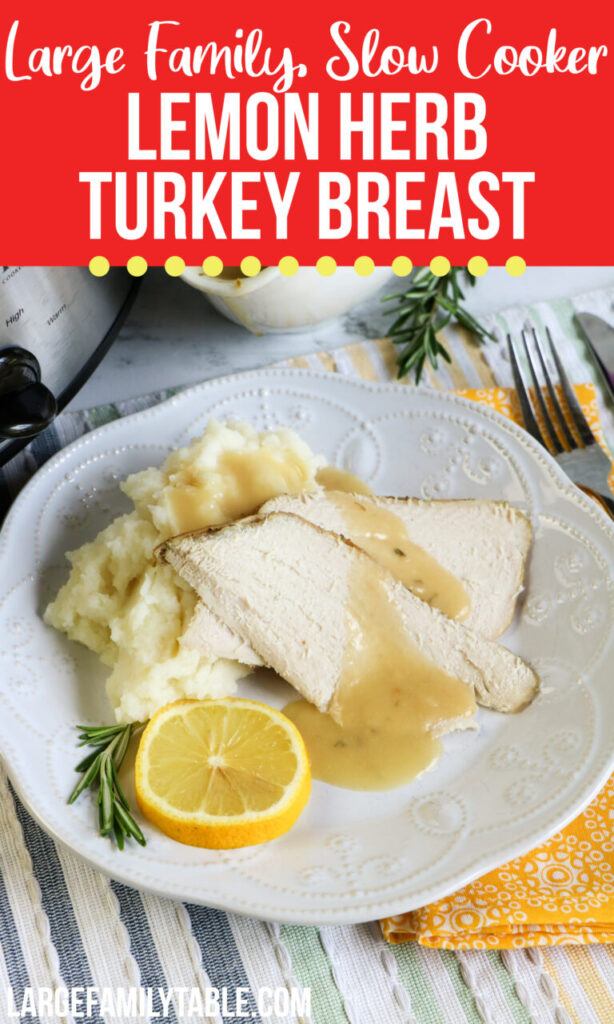 Bacon-Wrapped Turkey is another twist on a classic turkey recipe. I think it's safe to say that adding bacon to anything makes it better!
Of course, if you want ham, then here is how to make a juicy Instant Pot Ham. Here is Five Heart Home with a Slow Cooker Brown Sugar Ham.
You can try something new with our Turkey Meatloaf in the crockpot recipe.
We also have a Make-Ahead Christmas Day Chicken and here's a make-ahead Turkey and Gravy from Taste of Home if you want a classic turkey dish.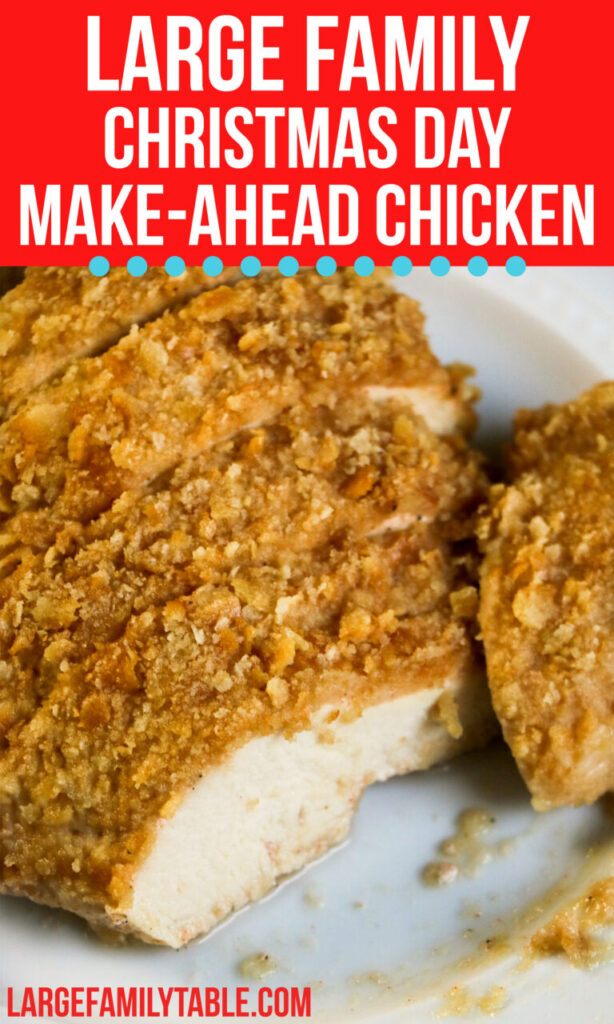 Here are more meat options for Large Family Make-Ahead Meals:
Need more Dinner Ideas for the Holidays?
I am very excited to share this newest big-batch cookbook with you because I truly believe it will be helpful as you plan your family holiday get-together meals (or, really, any large family gathering where you need to feed a crowd)! In my Make-Ahead Holiday Meals to Feed a Crowd, you will find some of those wonderful and traditional holiday favorites like green bean casserole, stuffing, and gravy. But you also will get some "out-of-the-box" recipes that might just possibly become your family's NEW holiday favorites!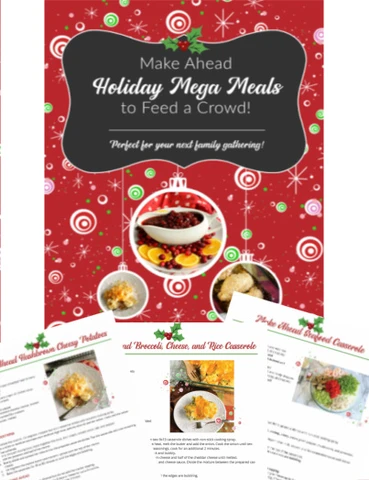 What side dishes can be made ahead and frozen for Large Family Make-Ahead Meals?
There are many holiday side dishes that feed a crowd that can be made ahead of time for Large Family Make-Ahead Meals. This saves you time and can even spread your holiday meal budget out over several months by freezing sides after making them ahead. Stuffing to mashed potatoes, cheesy potatoes, and green bean casserole, there's a great number of delicious holiday side dishes that can be prepared in advance.
Large Family Make-Ahead Stuffing is a freezer-friendly recipe that allows you to prepare this favorite holiday recipe ahead of time and storing it for days or even weeks in the freezer.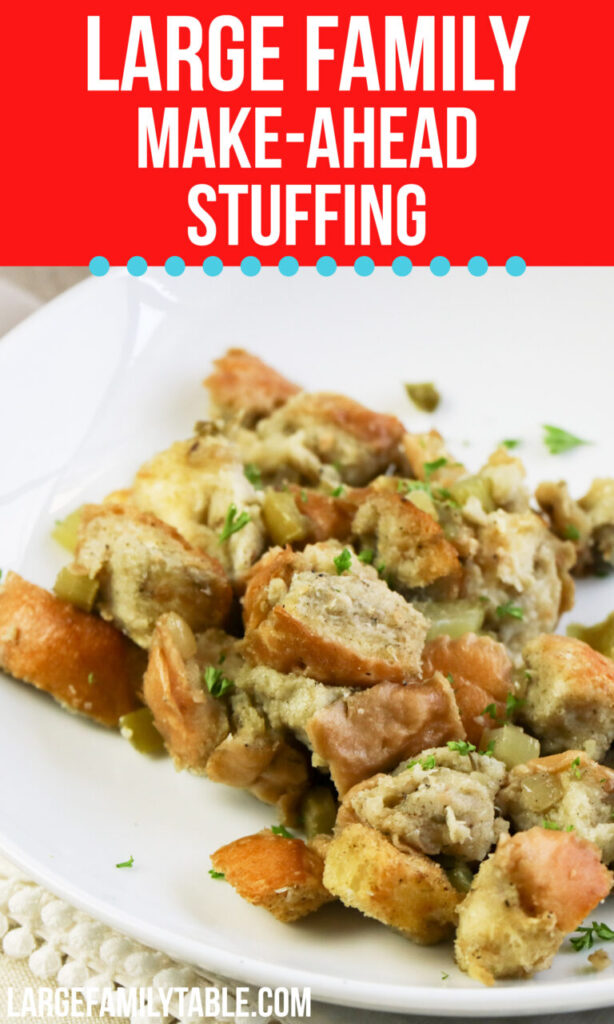 Try Make-Ahead Freezable Gravy Recipe to have your delicious gravy already prepared. You can also prepare your mashed potatoes for your large family holiday meal ahead of time and store them in your freezer.
There are lots of delicious potato options to make-ahead, too!
Broccoli Cheese and Rice Casserole is a casserole that would make a great side dish with your Ham or Turkey.
Twice Baked Sweet Potato Casserole with Bacon – What would make sweet potato casserole better? Bacon.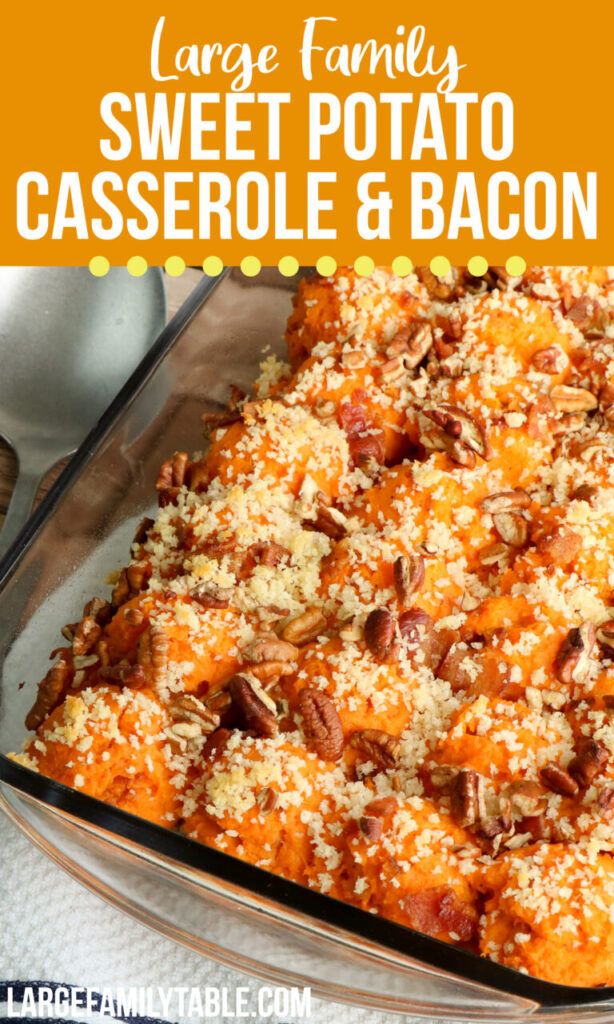 If you're looking for a fun, hands-on recipe to spend some time with your children in the kitchen, try these adorable Mini Turkey Cheese Balls. They come together with simple ingredients that we usually have on hand, and they are tasty and adorable.
Sometimes making bread and slicing it is a better use of time and energy when you're already preparing so many different things. Try making some homemade French bread, our Homemade White Bread, or our White bread without Yeast.
Large Family Sweet Potato Biscuits are a delicious twist on a classic biscuit recipe. They are tender and flavorful. Perfect to go with your holiday meal.
Vegetable Sides can be quickly prepared from frozen using your Pressure Cooker:
What is a good meal to feed a large crowd?
Casseroles are a great Large Family Make-Ahead Meals to feed a large crowd because they consolidate all of the sides and protein into one dish. Casseroles are crowd-pleasers and save you the time and energy both beforehand in prep work but also afterward, with fewer dishes. Soups and stews, pasta dishes, and even pizzas are great meals to feed a large crowd because of the large quantities that can easily be made and served out of the same dish.
Make-Ahead Casseroles for Large Family Make-Ahead Meals
Many people enjoy different traditions for their holiday meals. Whether your holiday family tradition is Surf & Turf, a Mexican Fiesta, classic and traditional, or breakfast for dinner, these delicious freezer-friendly Large Family Make-Ahead Meals casseroles will help you feed a crowd during the holidays. You will also enjoy these 75+ Make Ahead Casseroles that Freeze Well!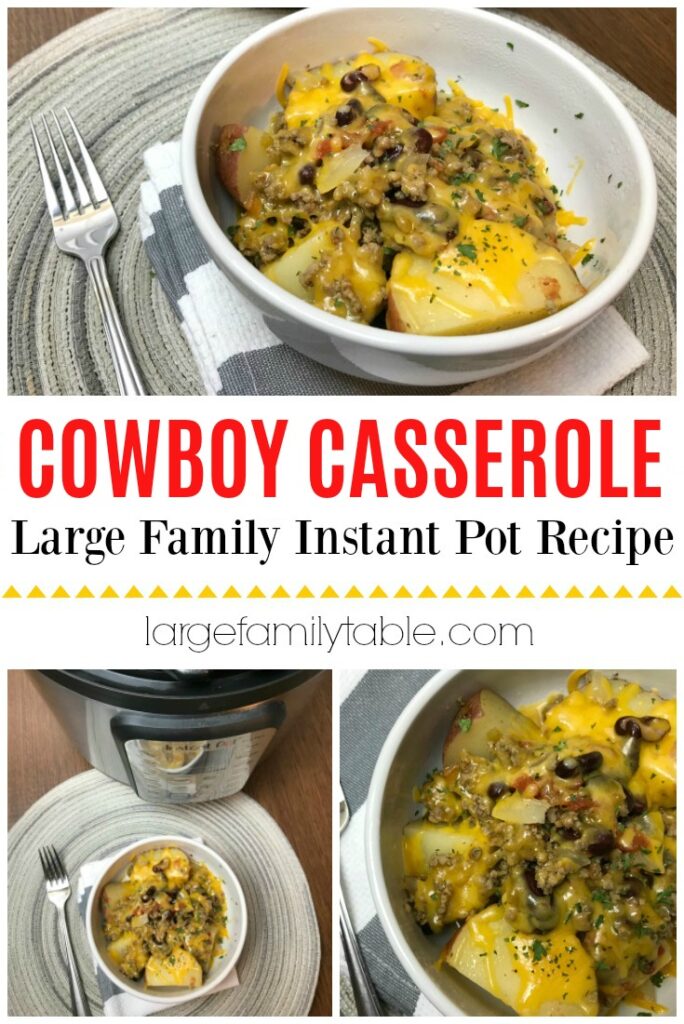 Instant Pot Cowboy Casserole and Low Carb Bacon Cheeseburger Casserole Bake are great recipes to grab pre-prepared and frozen ground beef and quickly prepare a meal for the holiday guests in your home.
Shepherd's Pie Freezer Meal is a great option for a make-ahead holiday freezer meal because it's a one-dish wonder. This hearty dish is easy to prepare, feeds a large crowd, and includes all of the healthy vegetables and meat all in one.
Chicken Pot Pie – This classic recipe freezes perfectly which allows you to make it ahead of time and prepare it for dinner easily with no fuss.
Seafood or Meat Casseroles
Do you have more casserole recipes?
I have so many more casseroles that you will love in my shop. Check out my Classic Casserole Dinners & Freezer Meals Cookbook One for Now, One for Later! It includes 10 delicious, classic casserole recipes that will make two 9×13 casseroles each–one to eat right away, and one to put in your freezer for a later date. It's an easy and quick way to build a freezer stash.
More classic casseroles your family will enjoy during the holidays!
Add some spice some spice to your holiday meals with themed-meals!
Another fun way to entertain and feed your large family over the holidays is to plan a themed-meal such as a pizza or taco night!!
Pizza Options for overnight holiday guests
Have a house full of guests for the holidays? Pizza Night is a budget-friendly large crowd pleaser. Homemade pizzas can be made to suit all different diets and personal tastes. Deep dish pizzas, low carb pizza recipes, casseroles, and homemade freezer pizza dough help you to feed a crowd that is home for the holidays without having to spend the money on carrying out.
Make-ahead pizza can be as easy as making your homemade pizza dough and storing it in the freezer to be ready to make pizza any time!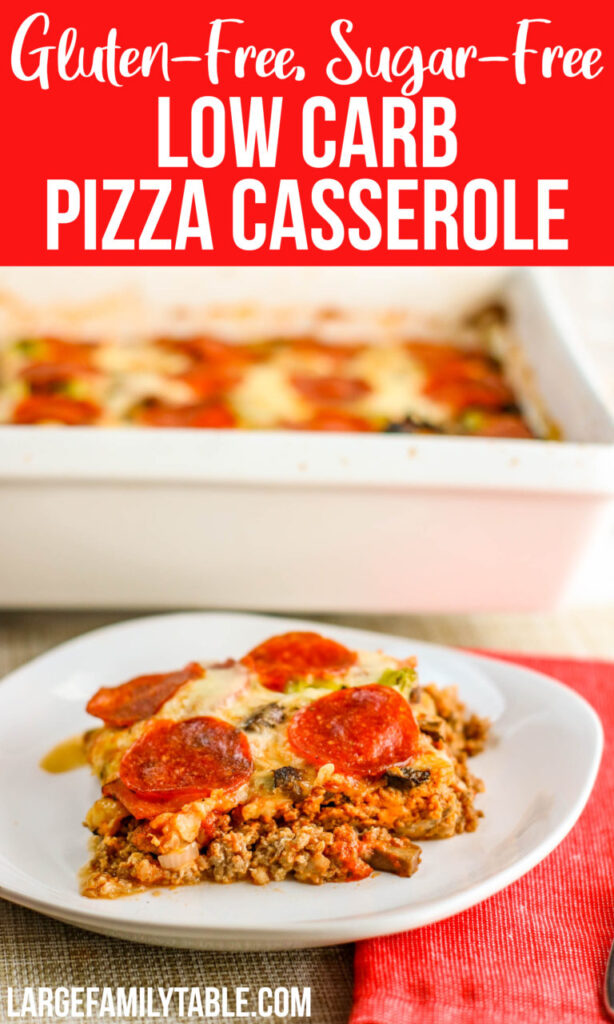 Low Carb Pizza Casserole is gluten-free, sugar-free, and low carb! To freeze this meal, prepare as directed but don't bake it, cover and wrap in your casserole dish and place in the freezer until you're ready to defrost and bake.
Pizza Casserole Oven Bake is a pasta casserole with delicious pizza flavors that can easily be made ahead of time for your holiday gatherings and stored in the freezer until you're ready to prepare. You might also try our Low Carb Deep Dish Pizza Casserole or our Low Carb Pizza Stuffed Chicken.
Pepperoni Pizza Muffins, English Muffin Pepperoni Pizzas, or Pepperoni and Cheese Pinwheels are all perfect to stock your freezer for those days when you need easy to serve pre-made and budget-friendly foods for your large family during the busy holiday season.
Mexican Fiesta Themed Holiday Meals
Taco Bars with Slow Cooker Taco Meat are a great way to feed a large crowd. Set up a buffet line with shells and tortillas, shredded lettuce, guacamole, diced tomatoes, cheese, corn, black beans, and any other tasty taco fixings. This is a great Christmas Eve option!
Try one of these unique recipes:
Large Family Beef Fajitas – This Instant Pot Freezer Meal is a great way to feed a crowd during the holidays.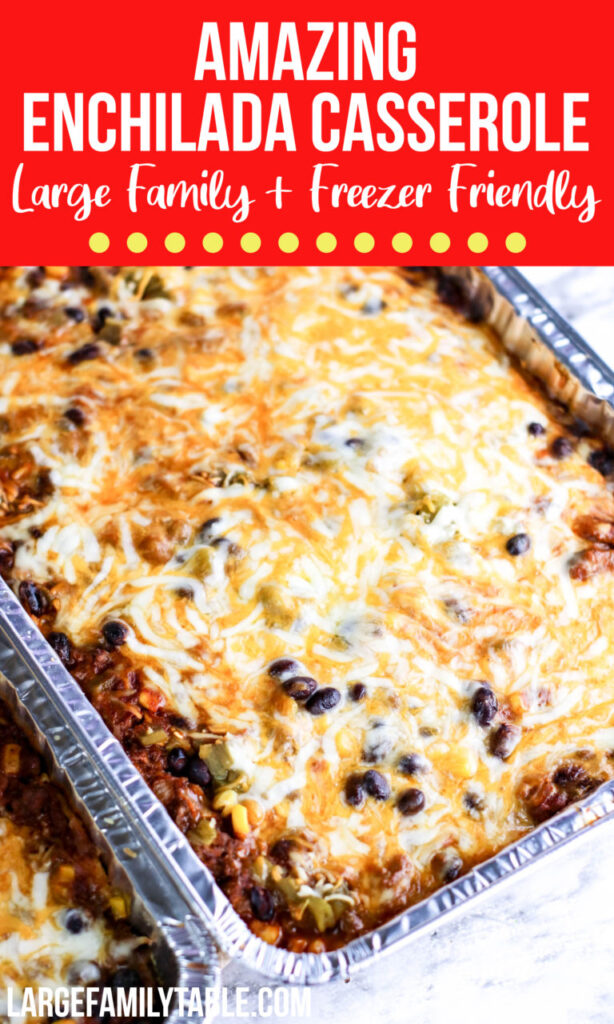 Here's More Ideas to feed your Large Family for the Holidays!
If you'd like to save yourself some time and stress this holiday season, you can prepare your meals even weeks before your company comes!! You can find so many great freezer meal ideas in my Ultimate Super Mega Large Family Freezer Meals 1, 2, 3, 4, 5, 6, 7, 8, 9, 10, 11, 12 Digital Bundle!!! It includes packs 1-12 of my best-selling large family freezer meals. You will have everything you need to make over 250 large family freezer meals (make as little or as much as you want ) including 12 batch cooking meal prep guides, 12 pack specific freezer meal grocery shopping lists, freezer meal tips, freezer meal printables including a freezer meal planner and more.
Can you make Christmas Cookies ahead of time and freeze them?
Christmas cookies are one of those holiday gathering staples when thinking of Large Family Make-Ahead Meals. But who has time to make all of those different types of holiday cookies and prepare all of the meals as well? Try making your cookies ahead of time. Not only do you save time, but your cookies are also more flavorful because they have time to develop flavor in the freezer. Cookie dough can freeze for months, so you can make your holiday cookies months in advance.
For the chocolate cookie lovers, try these delicious cookies:
Two favorite classic holiday cookies are Large Family Snickerdoodles Recipe and Large Family Thumbprint Cookies.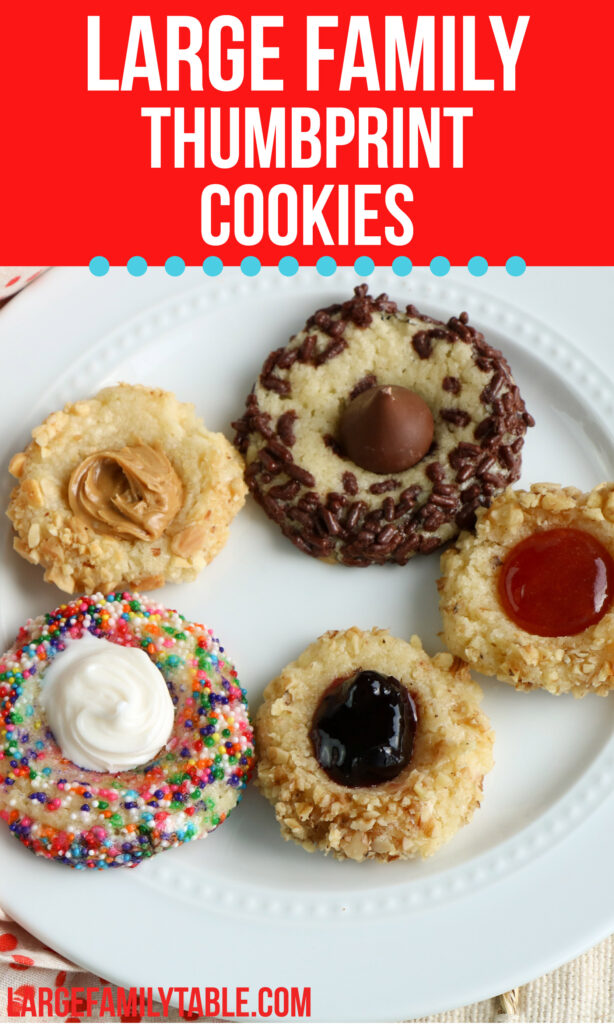 Large Family White Chocolate Cranberry Walnut Cookies are a decadent cookie that looks fancy and tastes delicious and they make a great holiday cookie gift, as well.
Kid-friendly holiday cookies are a must, and Large Family Peanut Butter Cup Blossoms and M&M Cookies do not disappoint. These delicious cookies with candy baked right in are always a hit.
Oatmeal Raisin Cookies are a classic delicious cookie for those looking for something healthier.
MEGA Lots of Large Family Desserts for Large Family Make-Ahead Meals
Aside from cookies, pies and other desserts can be made weeks in advance and stored in the freezer until ready to bake. Other desserts will store for days in the fridge to allow you to stagger all of your cooking over several days and even weeks in order to make sure you can enjoy your holidays.
Bring on that classic pumpkin flavor for the holiday season with these delicious recipes: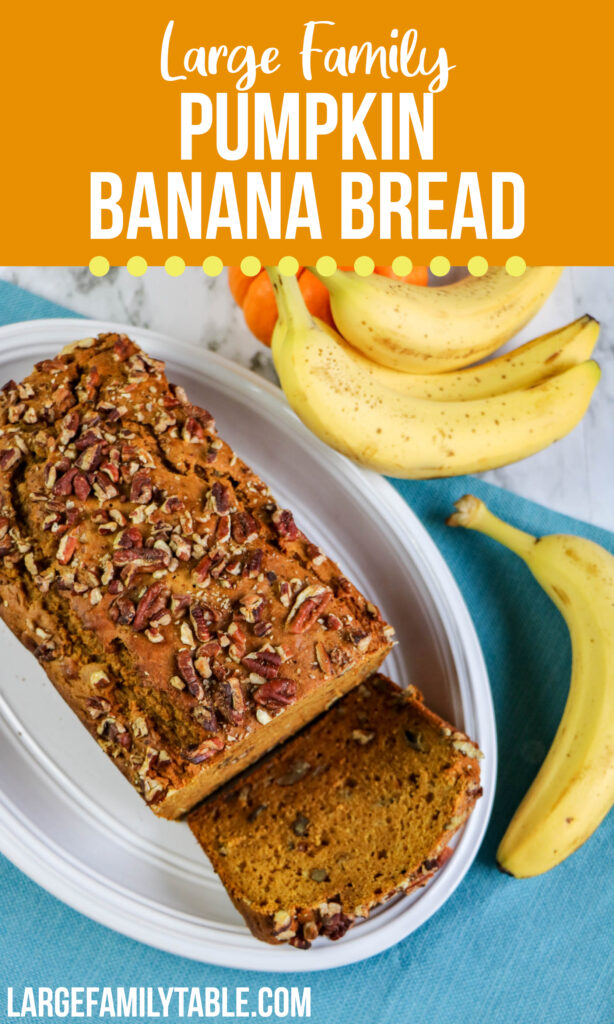 Our low carb family and friends will appreciate having some desserts that are made specifically with them in mind. Try my Low Carb Pumpkin Cheesecake, Keto Pumpkin Pie, and Low Carb Peanut Butter Fudge to show your loved ones that you care for them and their dietary needs.
Large Family Fresh Peach Cobbler is a delicious dessert that you can freeze after you make it at the peak of the peach season to capture that wonderful peach flavor at the end of the summer.
Fruit Pizza Wreath is another great recipe that you can put together with children.
Andes Mint Brownies Lush combines chocolate and mint in a brownie.
Need more cookie recipes??
If you love these holiday cookie recipes, you'll love my Make-Ahead and Freeze Cookie Baking Book you will find 10 easy and yummy recipes for large-batch cooking baking! You can prepare them for holiday get-togethers or gifts or just for fun any of the year!!
Large Family Make-Ahead Meals Holiday Breakfast Ideas
Breakfast Holiday Meals are necessary if you have overnight guests. Make it a matching holiday pajama party and mix up your favorite breakfast casserole dishes to enjoy together. You can also utilize freezer breakfast meals to save time and provide a hot and homemade breakfast ready while you enjoy your hot coffee and guests. These Large Family Make-Ahead Meals freezer-friendly recipes will be perfect for the company.
Steak, Egg, and Cheese Breakfast Casserole and the low Low Carb Spinach Mushroom and Ham Quiche are a great way to use up those leftover items in the freezer. You can make it in advance by storing the ingredients in the freezer and whipping it up on those busy holiday mornings.
Breakfast Hot Pockets – Homemade hot pockets to fill your freezer before your home is filled with hungry guests for the holidays. Easy French Toast Freezer Meal is great for a busy mom trying to pull together holiday meals for her own family. Feed your freezer, and your freezer can feed your people during the holiday rush.
Loaded Breakfast Biscuits delicious and freeze easily.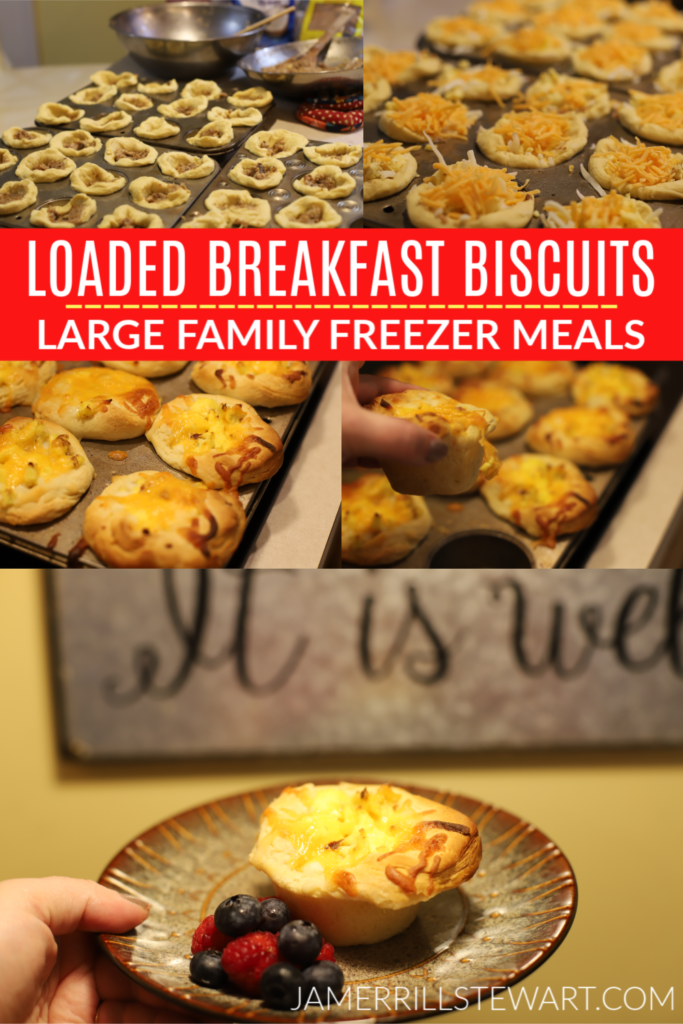 Make-ahead muffins for your freezer will make your holiday breakfast as easy as grab and go. Muffins pair well with coffee and fresh fruit, they are also very easy to serve on a platter to a large crowd. Try these muffin recipes:
Cheesy Ham Soufflé and Sausage and Cheese Quiche are great recipes to use up the leftover ham from a holiday dinner.
Homemade Protein Bites are fun and tasty.
A delicious and hearty breakfast casserole like Egg and Potato Breakfast Bowl Bake is perfect to make ahead for your large family holiday crowd.
Egg and Cheese Breakfast Burritos, Sausage, Egg, & Cheese Breakfast Burritos and Western Breakfast Burritos are easy to make big batches and store in the freezer. They can be heated up in the oven, microwave, or even air fryer.
Make Ahead Breakfast Sandwiches – Easily customizable breakfast sandwiches for all tastes and preferences.
Try a grab and go breakfast like Cinnamon French Toast Sticks for the Freezer.
Breakfast Cookies are a great make ahead breakfast that can be easily stored in the freezer until it's time to serve. Try Cranberry Carrot Breakfast Cookies, Cherry Nut Spice Breakfast Cookies, Peanut Butter Banana Breakfast Cookies, Apple Pie Oatmeal Breakfast Cookies, and Carrot Cake Breakfast Cookies.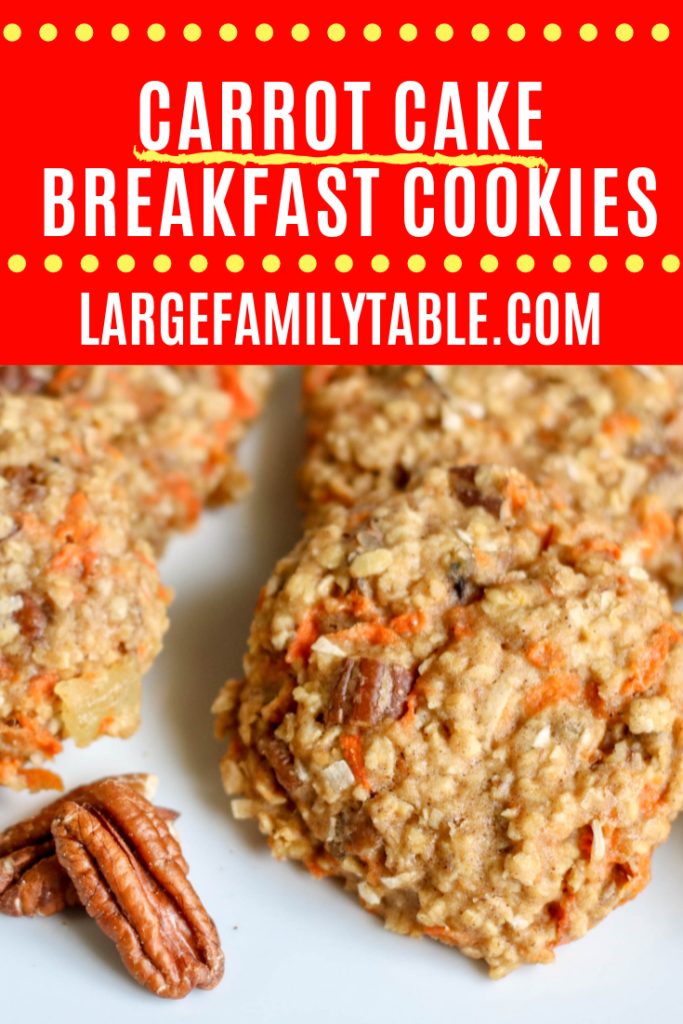 Large Family Make Ahead Pumpkin Pancakes are a festive breakfast that are very freezer friendly.
Oats are a large family's best budget-friendly breakfast. They are customizable in so many ways, healthy and filling. Check out these creative and different oat recipes to make ahead for holidays:
A good hearty breakfast to try is our Tater Tot Breakfast Casserole.
Where can I find more large family breakfast recipes?
Breakfast doesn't have to be complicated to be filling and healthy. I know it may seem easier to buy pre-made breakfast items, but you can save lots of time and money just by making breakfast ahead of time with my Breakfast Freezer Meals Pack, it's number 10 in my Large Family Freezer Meals Series. It includes 10 amazing breakfast recipes with directions to help you make 25 breakfast meals to put in your freezer!If your freezer is already full or you just don't have the freezer space, then try my Easy and Simple Large Family Sheet Pan Breakfasts which includes 10 delicious and easy breakfast meals to make your large family. Save time and money!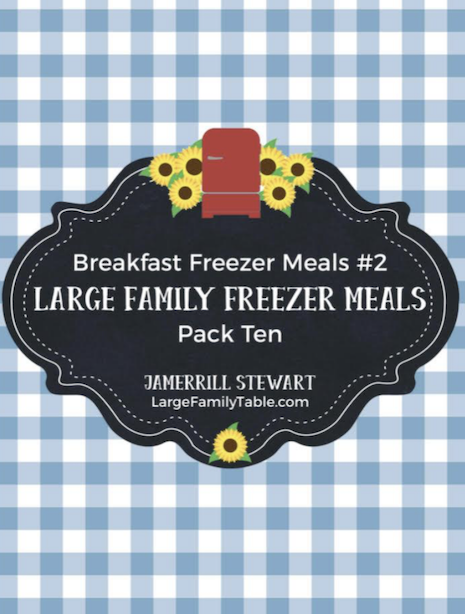 Large Family Make-Ahead Meals Lunch Ideas for the Holidays
Filling your freezer with homemade make-ahead lunches will help lower your stress level and workload during the busy holiday season. Here are a few to get you started:
Chicken Fajita Quesadillas are nice because you can premake all of the ingredients to go inside these tasty fajita quesadillas and it's the same with these Beef and Bean Taquitos.
Here are more lunch ideas for your Large Family Table!!
Make lunch planning easy this holiday by preparing delicious lunches ahead of time!! In the Large Family Lunches Freezer Meal Pack Eleven, you'll be guided through how to make 20-25 delicious lunches for your large family and freeze them! I've also included many more planning pages to help you along the way!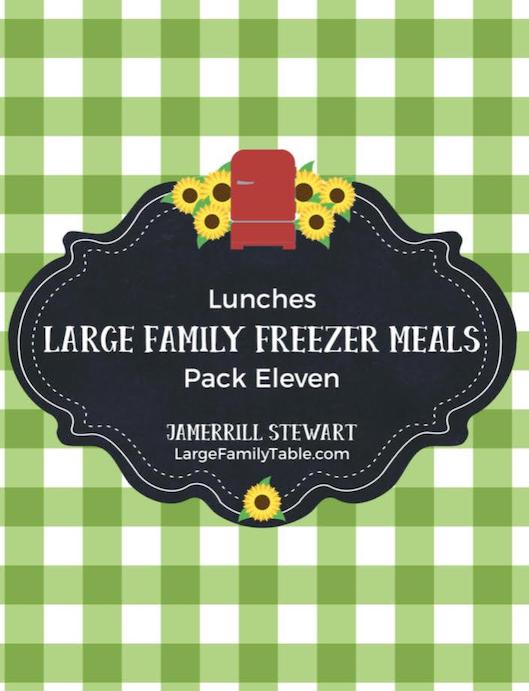 How many days ahead can you meal prep?
There seems to be no end to how far in advance you can make Large Family Make-Ahead Meals for the holidays. Many recipes can be made months, weeks, and days ahead of time. That's the beauty of make-ahead holiday meals and recipes.
I hope you found lots of recipes and encouragement in this long list of holiday recipes to make-ahead. You don't have to feel overwhelmed or like you have to do it all at once. Holiday meal prep can begin in July if that's when you have the time to do it!
2021 SUPER MEGA DEAL!!! 30+ Products!!
You can get all my recipes in my 2021 SUPER MEGA DEAL!!***Get it all 30+ Products Bundle. It includes everything in my shop through 2021!! You will get so many recipes, make-ahead and freezer meals, lots of sheet pan meals, planning packs to help you organize all your meals (breakfast, lunch, and dinner) and so much more. That's why I call it the super-mega deal!