What if you could make something easy for your family that everyone enjoys? I'm going to introduce you to White Bread Without Yeast. This recent pandemic has left everyone without easy access to yeast, so now is the time to learn how to make bread without it.
*Use special promo code HELLO20 to take 20% off your first order in the shop including the SUPER MEGA ULTIMATE Large Family Freezer Meals Bundle here!**
White Bread Without Yeast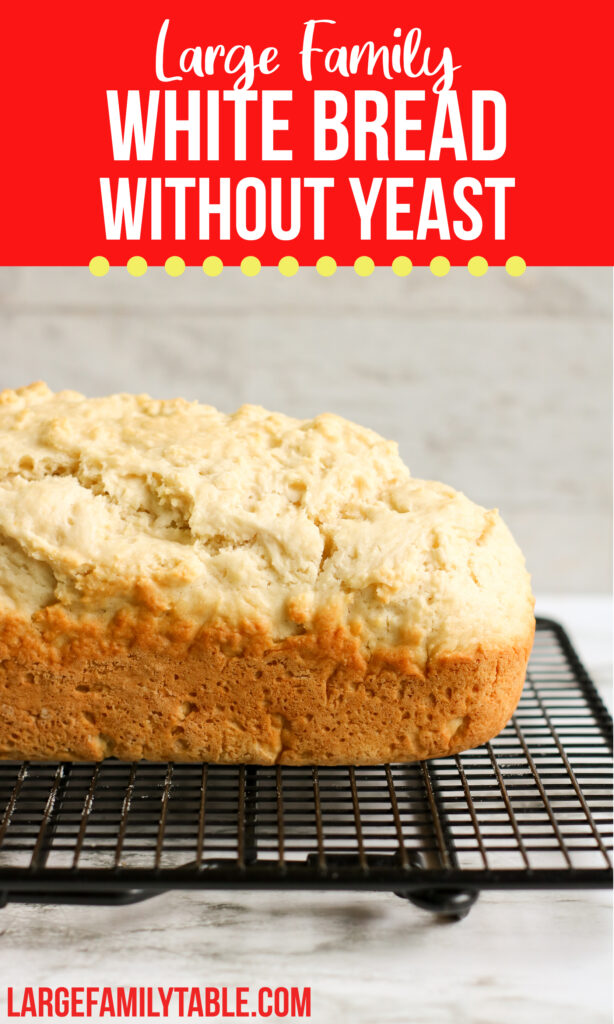 Don't get me wrong, I love good yeasty rolls and bread. However, sometimes you don't have access to yeast or you just don't want to use that ingredient. White bread without yeast is just as delicious and can be used in so many different recipes. You can make a sandwich with this bread or use it as a side with your favorite soup. There is no right or wrong way to enjoy it!
Yeast Bread or Not Yeast Bread
Some of you are wondering if non-yeast bread tastes just as delicious as yeast bread. My answer is YES. Of course, this bread won't be as chewy as yeast bread, but it definitely has it's own good qualities. Some may compare this bread to a soda bread, it's a little more crunchy and a lot more dense.
Ingredients for White Bread Without Yeast
When you're about to make bread, it's important that you have the right ingredients. If you're lucky enough, you may have all the ingredients right in your pantry.
Flour – This bread calls for all purpose flour. You can pick all purpose flour up at any store.
Sugar – Don't worry, you're not going to be using a lot of sugar in this recipe. How many of you already have sugar in your house? If you don't, make sure you add it to the grocery list for this week.
Baking powder – I can promise you that baking powder is a simple ingredient that you may already have sitting on your shelf. Without baking powder, you can't make delicious bread like this.
Oil – You don't have to use vegetable oil, but that is what I've chosen to use in my recipe. You could experiment with different types of oil for this recipe.
Milk – You can use a variety of different types of milk for this recipe. I used just regular standard jug milk, but this could be a good ingredient to experiment with.
Eggs – Don't forget to use the eggs in this recipe. You will enjoy cracking open the egg, it's always satisfying for me. If you have farm fresh eggs, these are even better, but not necessary.
Salt – When it comes to any bread recipe, you're going to need a touch of salt and this recipe isn't any different.
With this list of ingredients, you'll be making this White Bread with no yeast in no time. The next time you run out of yeast or you just want to make a different kind of bread, this is your recipe!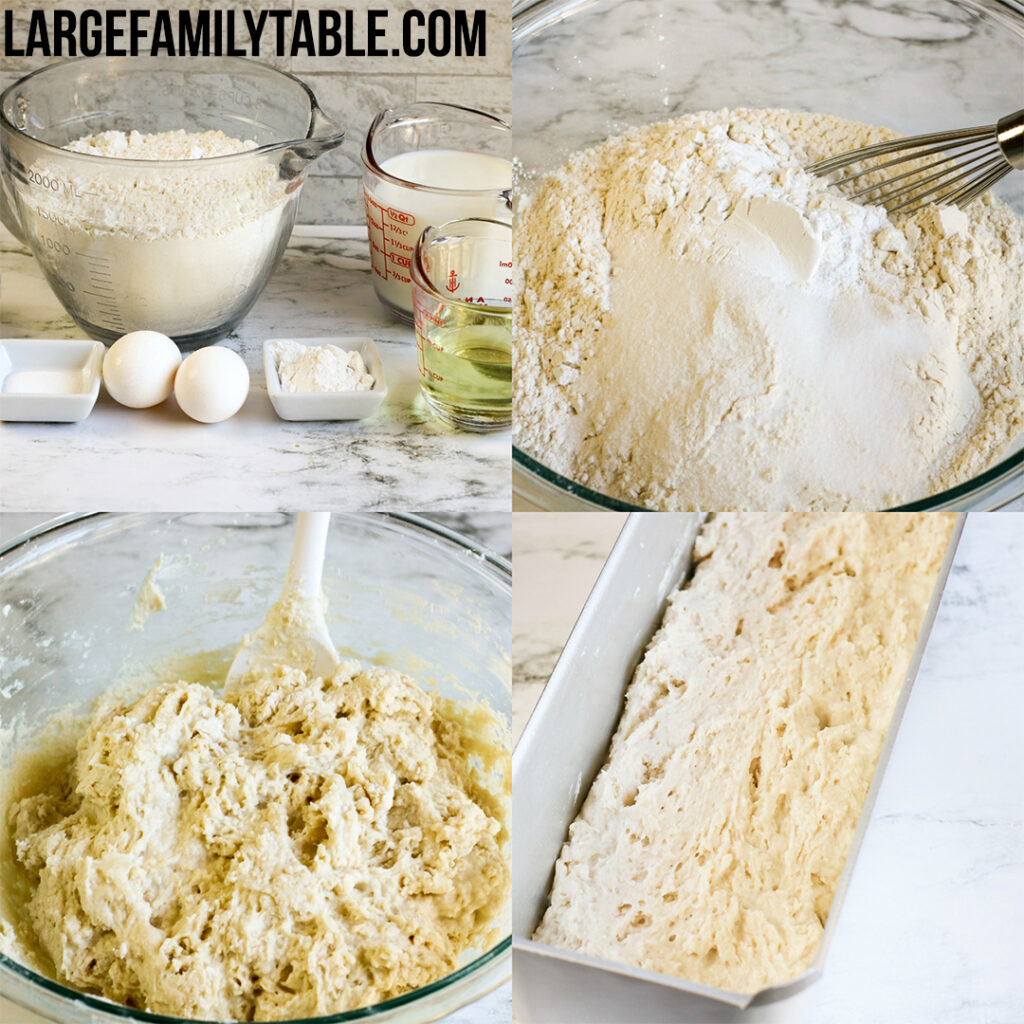 Tips for Making White Bread Without Yeast
One of my favorite tips that I'd like to pass onto you for this recipe is allow the bread to cool down. I'm not saying you shouldn't sneak a crumb here and there, but it is much better when it's cooled down.
After the bread has cooled down, you can easily slice it without it falling apart and that is super important.
What is your favorite way to enjoy White Bread without yeast? I'd love to hear all about it in the comments section. Without a doubt, this is the bread to make for your large family table!
Do you have more baking recipes to save me money?
Baking is a great way to save money on groceries. Buying prepackaged bread, rolls, muffins, baking mixes, and sweet treats can get expensive fast. Baking ahead and freezing it in the freezer means it's ready for you when you need it and you can make it when you have the time. Try my Frugal from Scratch Baking Recipes and Staples Book One for lots of money-saving recipes like Depression Era Chocolate Cake plus three other sweet treats, four delicious versions of bread recipes, plus baking staples like cake mixes, baking mix, baking powder, and more. My Frugal From scratch Baking Book Two expands into ten new recipes. Grab them both in the DOUBLE BUNDLE!! Frugal From Scratch Baking Recipes & Baking Staples to save even more!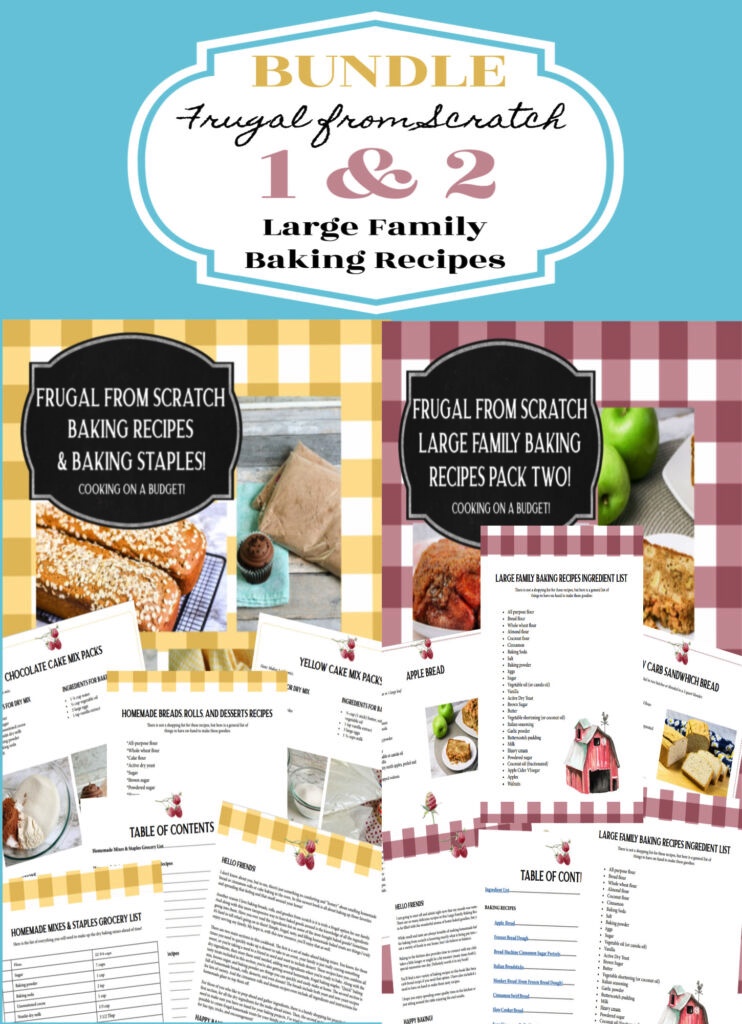 More bread, rolls, and muffins your large family will enjoy!
White Bread without Yeast
Print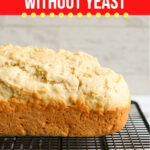 White Bread Without Yeast | Large Family Table Baking
Author:

Prep Time:

20 minutes

Cook Time:

50 Minutes

Total Time:

1 hour 10 minutes

Category:

Dinner

Method:

Oven
---
Description
Who wants to make some yummy White Bread Without Yeast? I've got you covered with this delicious recipe. 
---
Ingredients
6 cups all purpose flour

6 tablespoons sugar

2 tablespoons baking powder

1 teaspoon salt

2 eggs

2 cups milk

⅔ cup oil (I used vegetable oil)
---
Instructions
Preheat the oven to 350 degrees. Prepare bread pan/s with nonstick cooking spray.

In a large bowl, whisk together flour, sugar, baking powder, and salt. Create a well in the center. Set aside.

In a medium bowl, combine the milk, eggs, and oil until blended. Pour into the well of the flour and mix together. (The chemical reaction will begin as soon as the wet ingredients mix with the dry ingredients.)

Immediately transfer the batter to the loaf pan/s. Sprinkle the top with oatmeal, if desired.

For the 9×5 pans, bake for about 40 to 50 minutes. For the jumbo (16×4) pan, bake for 50 to 60 minutes or until done.

Allow the bread to cool in the pan/s for 10 minutes before transferring to a wire rack to cool completely.
Keywords: White Bread without Yeast
I love that this recipe makes tasty homemade bread without having to wait for the dough to rise. It is also made from things that most of us keep on hand so if you're needing to add something to make a meal stretch, then try this bread tonight!
FREE Emergency Pantry Planning Pack!
Don't forget to sign up for the emergency pantry planning pack for free to help you plan your pantry meals! The free Emergency Pantry Planning Pack will help you plan your needed pantry items! Printable pages include pantry inventory, grocery lists, meal planners, list of pantry staple items, and more.