When is the last time you created homemade dinner rolls for your family? It is so convenient being able to pop open a can of rolls and throwing them in the oven, however, today we will make them from scratch! These Homemade Classic Dinner Rolls are delicious along with one of our dinners and are so soft and you can't just have one. You may also want to whip up some of our Homemade mixes to throw into bags at the same time you are making these rolls that way you're filling your freezer, too!
*Use special promo code HELLO20 to take 20% off your first order in the shop including the SUPER MEGA ULTIMATE Large Family Freezer Meals Bundle here!**
Homemade Classic Dinner Rolls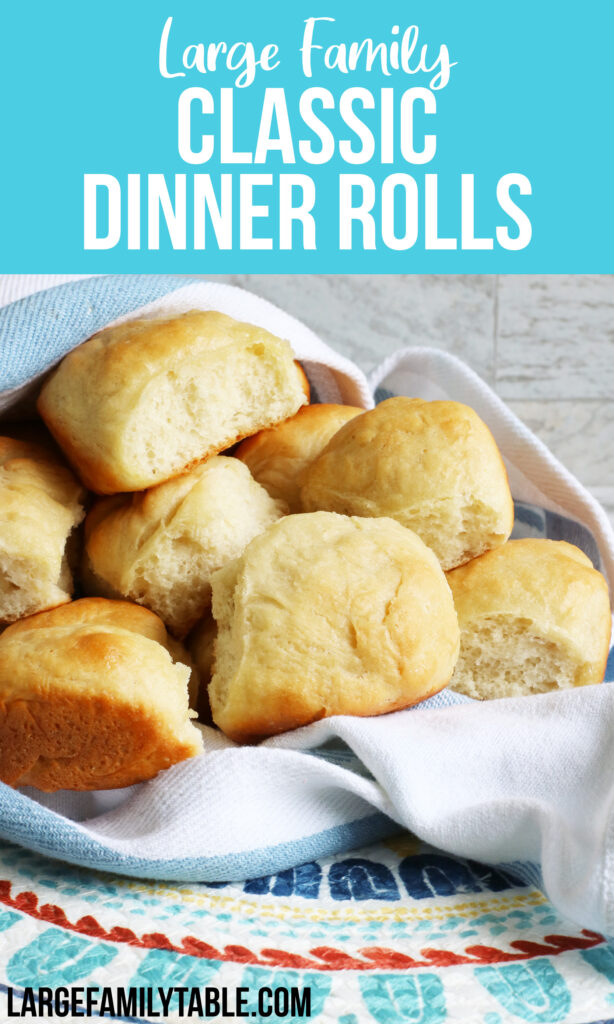 When you are cooking for a big family, it can seem like an exhausting thought to make dinner rolls for everyone. The way I'm going to teach you is going to make making dinner rolls so much easier. If you've never made these before, you might be surprised as to how easy they are. These dinner rolls are a perfect addition to a soup or for entertaining your family over the holidays!
Ingredients for Dinner Rolls
How do you even make dinner rolls? Do you need super fancy ingredients? You do not! I am going to walk you through some of the ingredients needed to make this delicious side that everyone needs at their dinner table.
All-purpose flour – Most of us have all-purpose flour in our pantry. Get that beautiful white powder out, so you can make these rolls! You have never put flour to better use.
Sugar – Don't worry, you don't use a lot of sugar, but you do need a little bit to complete this side.
Salt – Another easy ingredient that you will use in these rolls is salt.
Milk and water – You will need liquid to help you complete these yummy dinner rolls.
Butter – Don't forget about butter because this is going to help make your rolls soft and buttery.
These ingredients for dinner rolls will help you create the most amazing rolls your family has ever had. Biting into soft rolls is so comforting and something everyone should experience in their life at least once.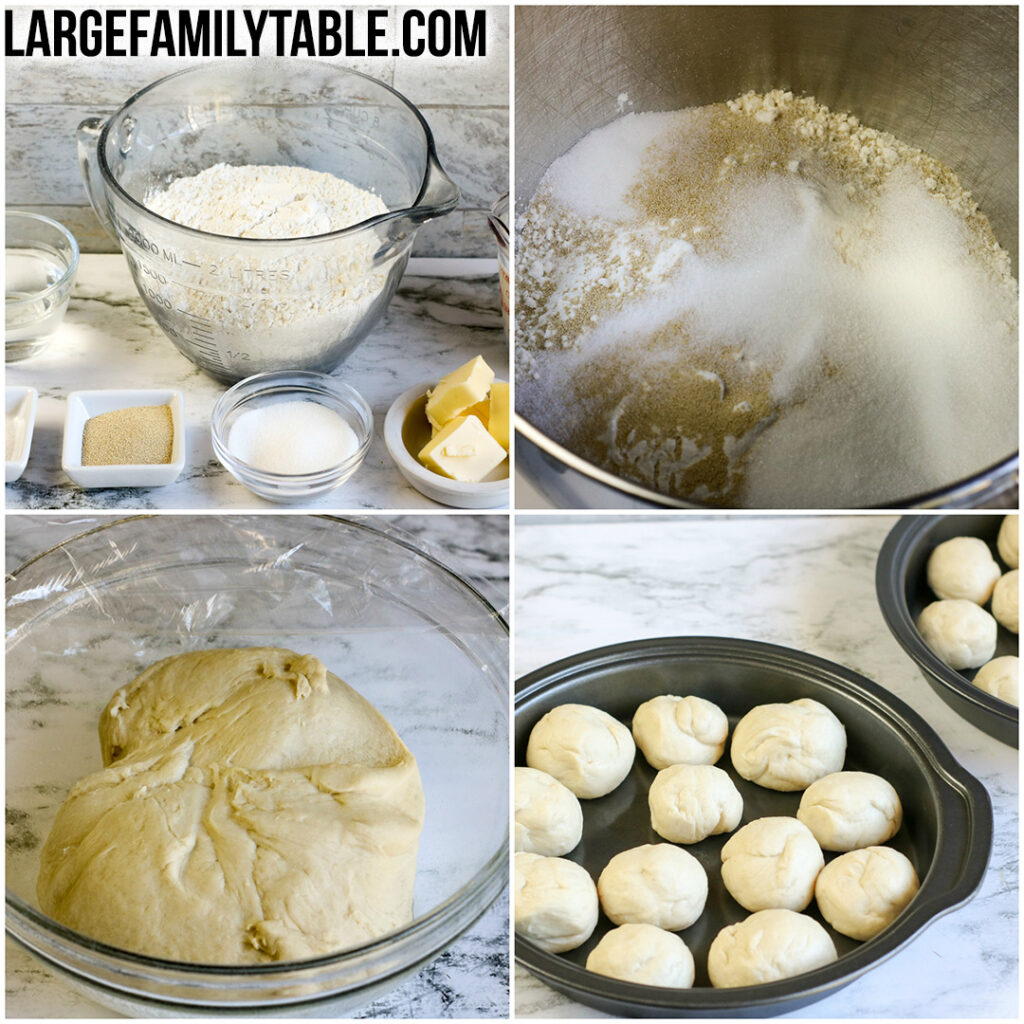 How to Freeze Homemade Rolls
Making these Homemade Classic Dinner Rolls are easy, but that doesn't mean you want to make them all the time. If you'd like to make these rolls and freeze them, but them in a 9 by 13 pan and wrap them with Saran Wrap twice around. These will freeze for up to three months!
If you want to freeze in groups of 3-6 that also works well. If you have a larger family, you may want to do groups of 6 or 12. Make sure they are double wrapped, so you don't feal with freeze burn.
How to Heat Up Dinner Rolls
You can easily pop these dinner rolls in the oven again and reheat them up. I like to brush butter on top of the dinner rolls so that they are nice and buttery when they come out of the oven. You can also place them on a microwave-safe dish and pop them in the microwave in 20-second increments. I also like to place a little butter on top, so it melts on top of the roll.
Homemade Classic Dinner Rolls are fabulous in so many ways. You get to make these from scratch and it won't take you any time at all, I promise. For once, you'll have warm and doughy dinner rolls for your large family table and everyone will love them!
Do you have more baking recipes to save me money?
Baking is a great way to save money on groceries. Buying prepackaged bread, rolls, muffins, baking mixes, and sweet treats can get expensive fast. Baking ahead and freezing it in the freezer means it's ready for you when you need it and you can make it when you have the time. Try my Frugal from Scratch Baking Recipes and Staples Book One for lots of money-saving recipes like Depression Era Chocolate Cake plus three other sweet treats, four delicious versions of bread recipes, plus baking staples like cake mixes, baking mix, baking powder, and more. My Frugal From scratch Baking Book Two expands into ten new recipes. Grab them both in the DOUBLE BUNDLE!! Frugal From Scratch Baking Recipes & Baking Staples to save even more!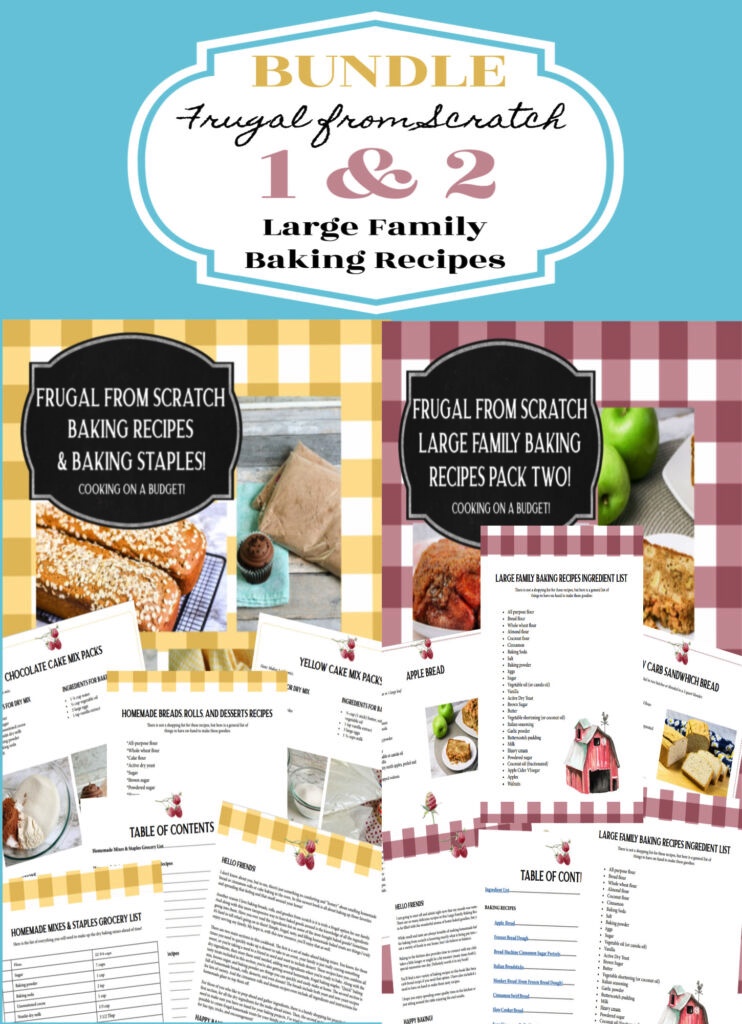 Here are more bread, rolls, and biscuits your family will enjoy!
Classic Dinner Rolls
Print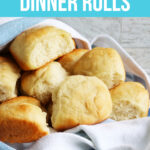 Classic Dinner Rolls | Large Family Baking
Author:

Prep Time:

1 Hour

Cook Time:

20 Minutes

Total Time:

1 hour 20 minutes

Category:

Dinner

Method:

Oven
---
Description
Do you need a side to go with tonight's dinner? Go ahead and check out these Classic Dinner Rolls, you'll love the homemade flavor. 
---
Ingredients
4 to 4 ½ cups all purpose flour

4 tablespoons sugar

4 ½ teaspoons fast action yeast

1 teaspoon salt

½ cups water

1 cup milk

4 tablespoons butter
---
Instructions
In a stand mixer bowl fitted with the paddle attachment, stir together 2 ½ cups of flour, sugar, yeast, and salt. 

Combine water, milk, and butter. Microwave to 120 degrees. Pour into flour mixture and beat just until combined. Change the mixer attachment to the kneading hook.

Add 1 cup of flour and mix on medium until the flour is combined into the dough.

Continue adding flour a spoonful at a time until the dough forms a ball and no longer sticks to the side.

Continue mixing with the kneading hook for 3 minutes. Place on a lightly floured pastry board and allow to rest for 10 minutes.

Divide dough into 24 pieces. Shape into balls and place in two round cake pans. Cover and allow to rise for 30 to 45 minutes or until doubled in size.

Meanwhile, preheat the oven to 375 degrees.

Bake for about 20 minutes or until done.
Keywords: Classic Dinner Rolls
These rolls are delicious fresh or frozen. I love that I can make them one day and put them in the freezer for later.
FREE Emergency Pantry Planning Pack!
Don't forget to sign up for the emergency pantry planning pack for free to help you plan your pantry meals! The free Emergency Pantry Planning Pack will help you plan your needed pantry items! Printable pages include pantry inventory, grocery lists, meal planners, list of pantry staple items, and more.