Put a simple yet savory meal together when you prepare this Large Family Hearty Beef and Corn Noodle Casserole. It consists of the perfect blend of vegetables, beef, and noodles to create the perfect meal to eat.
When you need a simple meal that will satisfy the family, the Large Family Hearty Beef and Corn Noodle Casserole is a great choice. It is the perfect combination of pasta, meat, and vegetables, all of which will go great when combined in one dish. You can easily and quickly prepare the ingredients in the casserole dish before putting it in the oven and baking to perfection. Once you have cooked this casserole, you can slice it into individual pieces and start serving it to your family with a side of homemade bread or Sweet potato biscuits. To make this dish dairy-free just leave out the cheese or replace it with dairy-free cheese.
****Use special promo code HELLO20 to take 20% off the entire MEGA DEAL get-it-all Bundle including the best-selling Large Family Freezer Meal Packs 1-12 + so much more!!****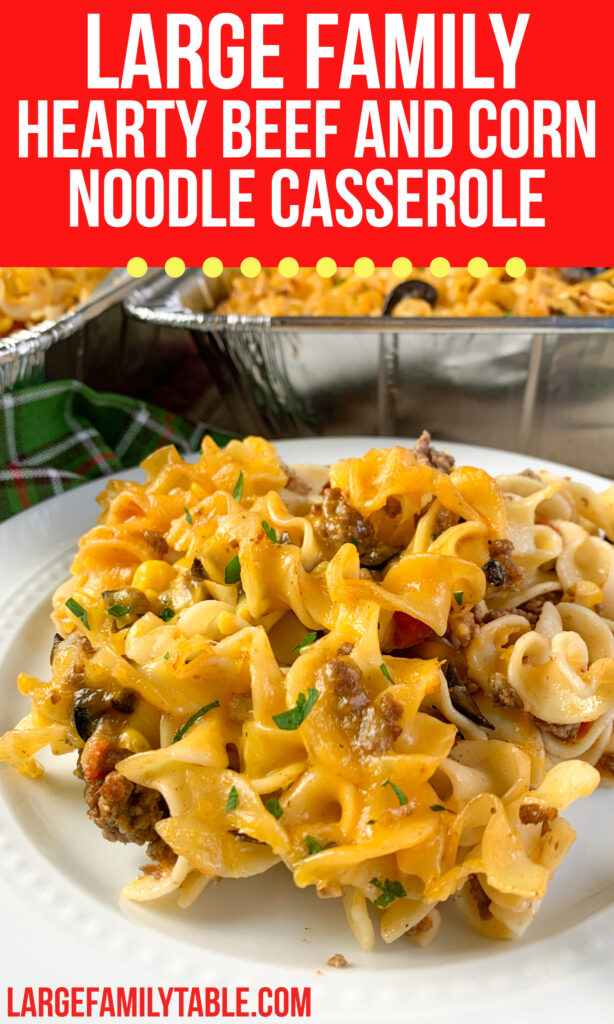 The Ingredients You Will Need to Make the Hearty Beef and Corn Noodle Casserole
If you want to give the Large Family Hearty Beef and Corn Noodle Casserole a try, you should have these important ingredients:
Ground Beef. Use two and a half pounds of lean ground beef to add to this tasty casserole dish.
Onions. Chop your onions into small pieces to add to this dish for a more natural flavor.
Egg Noodles. Cook your egg noodles as directed to do so on the package. Make sure to drain the noodles of any water before combining them in the casserole dish with other ingredients.
Corn. Drain your canned corn and add it to the casserole with the beef and noodles.
Diced Tomatoes. The diced tomatoes bring an acidic taste that goes great with the beef and noodles.
Sharp Cheddar Cheese. Make sure you have plenty of cheddar cheese available to add to this casserole to make it creamier and cheesier. Remember, to make this dish dairy-free, leave out the cheese or change it to a dairy-free cheese alternative.
You can also add chopped black olives to the casserole. If you do not like olives, feel free to leave them out.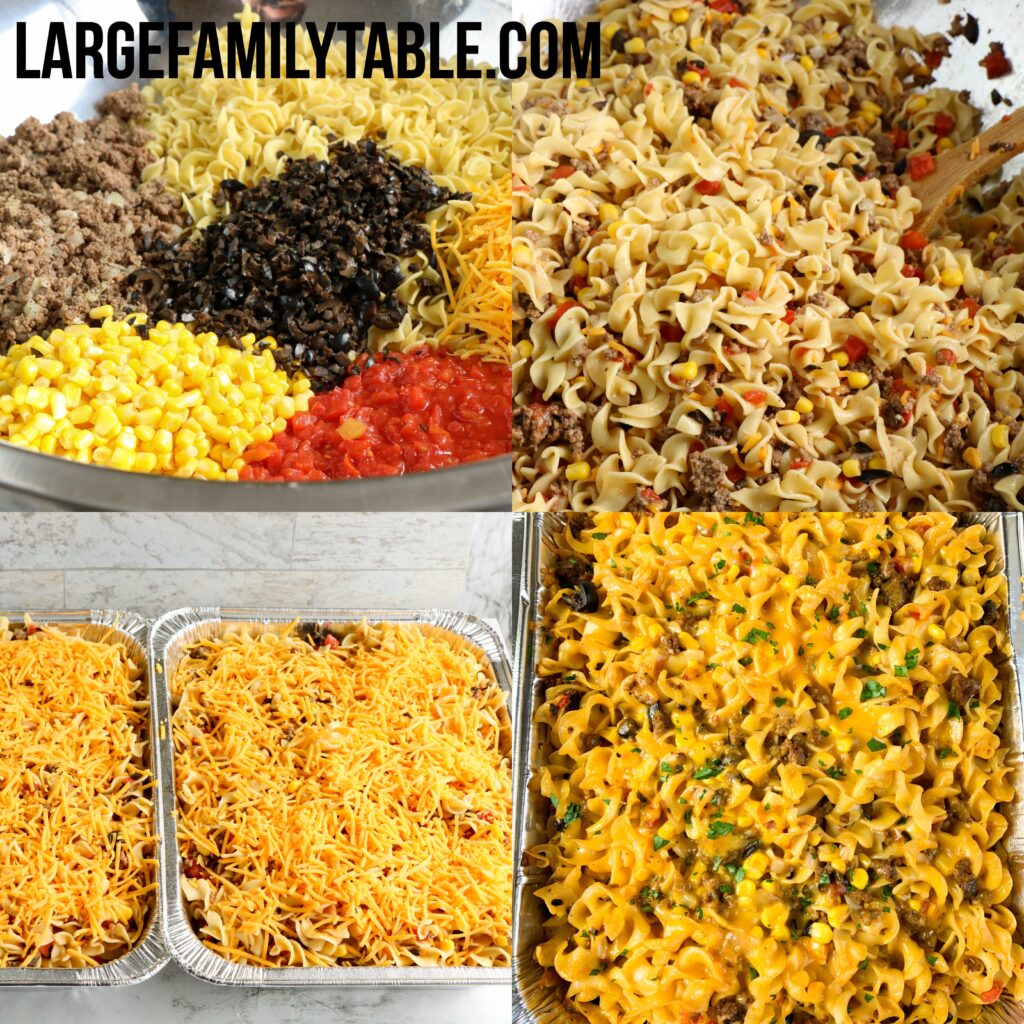 How to Store and Save the Noodle Casserole
Keep the Large Family Hearty Beef and Corn Noodle Casserole in a baking dish, cover it with aluminum foil, and put it in the fridge if you need to store it. Make sure to put the foil on tightly. You might even want to add an extra layer of foil to ensure that you are keeping excess air from getting into the casserole dish.
If you want to freeze it, you can cover it in both plastic wrap and aluminum foil after you cook it or you can transfer the casserole into a food storage container. You can freeze the casserole for six months, making it a great meal to make in advance for your large family.
Ingredients to add to or Recipes to Make with the Hearty Beef and Corn Noodle Casserole
You can add extra ingredients to the Large Family Hearty Beef and Corn Noodle Casserole to customize its taste even more. For example, you may want to add some frozen peas and chopped steamed carrots into the mix.
Chopped broccoli goes great with beef, corn, and cheese as well. Besides adding different vegetables, you can use different cheese blends. If you want to make the easy to make casserole even cheesier, feel free to add some cream cheese into the casserole dish when adding your ingredients together, although, this is not a good option if you want to keep it dairy-free.
You can also make Garlicky Green Bean Tomatoes, Stuffing, rolls, or honey wheat bread to go along with your meal.
Here are more casseroles your large family will enjoy!
Large Family Hearty Beef and Corn Noodle Casserole
Print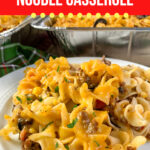 Hearty Beef and Corn Noodle Casserole
Author:

Prep Time:

30 minutes

Cook Time:

30 Minutes

Total Time:

1 hour

Yield:

2 9×13 Casserole Dishes

Category:

Dinner

Method:

Oven
---
Description
Prepare the tastiest nachos at home with this Large Family Black Bean Nachos recipe. These sheet pan nachos are a huge hit at family gatherings and other social events, but they are also great for a simple appetizer or quick dinner!
---
Ingredients
2 ½ pounds lean ground beef

2 large onions, chopped

2 (16 ounce) packages egg noodles, cooked and drained according to package directions

2 (14 ¼ ounce) cans corn, drained

1 cup chopped black olives

1 (28 ounce) can diced tomatoes

4 cups shredded sharp cheddar cheese, divided
---
Instructions
Preheat the oven to 350 degrees. Prep two 9×13 casserole dishes, spraying lightly with nonstick cooking spray.

In a large skillet or dutch oven, brown the ground beef with the onions until the beef is crumbly and no longer pink. Drain well. 

In a large bowl, add the ground beef and onions to the diced tomatoes, egg noodles, black olives, corn, and 2 cups sharp cheddar cheese. Stir until combined.

Divide the pasta equally between the casserole dishes. Top the casseroles evenly with the remaining cheese. 

Bake uncovered for 40 minutes.
Keywords: Hearty Beef and Corn Noodle Casserole
Enjoy this hearty casserole with your large family! This recipe is easy to make and will be kid-friendly. It's a big hit all around!
FREE Emergency Pantry Planning Pack!
Don't forget to sign up for the emergency pantry planning pack for free to help you plan your pantry meals! The free Emergency Pantry Planning Pack will help you plan your needed pantry items! Printable pages include pantry inventory, grocery lists, meal planners, list of pantry staple items, and more.