Feel like you are constantly buying bread? No worries! Make this Big Family Honey Wheat Bread recipe from scratch, and you will always have plenty of delicious, healthy bread for everyone to eat. You don't want to miss these Frugal From Scratch Baking Recipes & Baking Staples!
Do you run through a lot of bread at home? When you have a big family, you might have to purchase several loaves of bread each week to have enough for everyone to eat. If you would rather save your money while enjoying fresh, delicious bread, this Big Family Honey Wheat Bread will leave you and your loved ones feeling impressed.
You probably thought that making bread on your own would be time-consuming, but it is not. You can prepare this honey wheat bread for your large family at home with a few ingredients. The best part is that you can make as much of this bread as you need. If you have extra loaves, store those loaves of bread in the freezer to keep them fresh until you need them!
***Use special promo code HELLO20 to take 20% off your first order in the shop including the SUPER MEGA ULTIMATE Large Family Freezer Meals Bundle here!**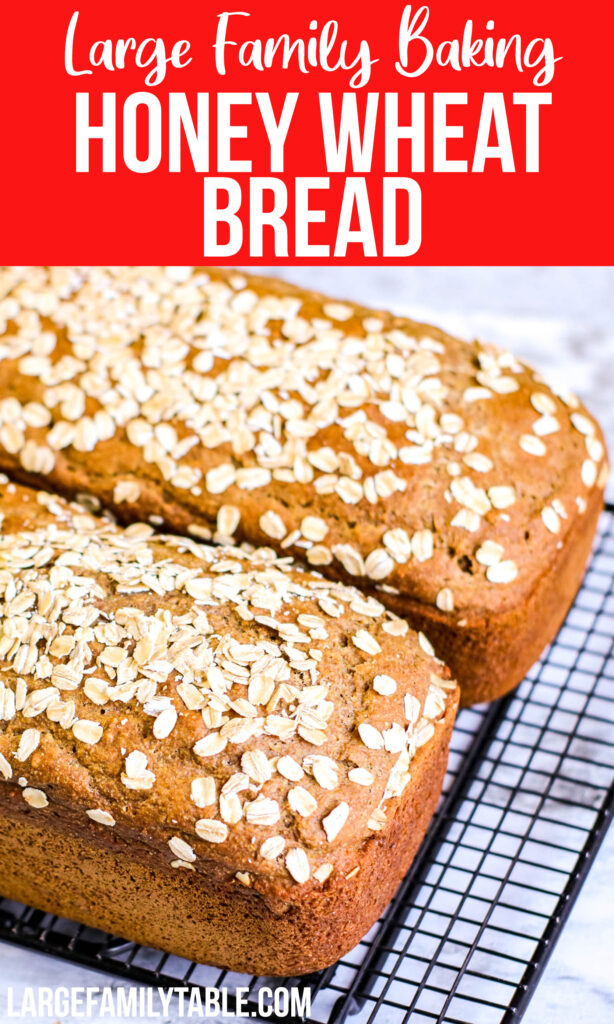 The Ingredients to Make Your Big Family Honey Wheat Bread
Make sure you have these ingredients at home to get started with the process of preparing the Big Family Honey Wheat Bread recipe.
Whole Wheat Flour. When you are making wheat bread, it is important to have whole wheat flour to use!
Baking Soda. A small amount of baking soda will give this bread its fuller, fluffier appearance.
Honey. The touch of honey in this recipe gives the bread a slight hint of natural sweetness.
Buttermilk. Using buttermilk to make your bread will give it the perfect texture.
These are the primary ingredients needed, but you should also have a few others, such as salt, olive oil, and oats to use as a garnish for the bread.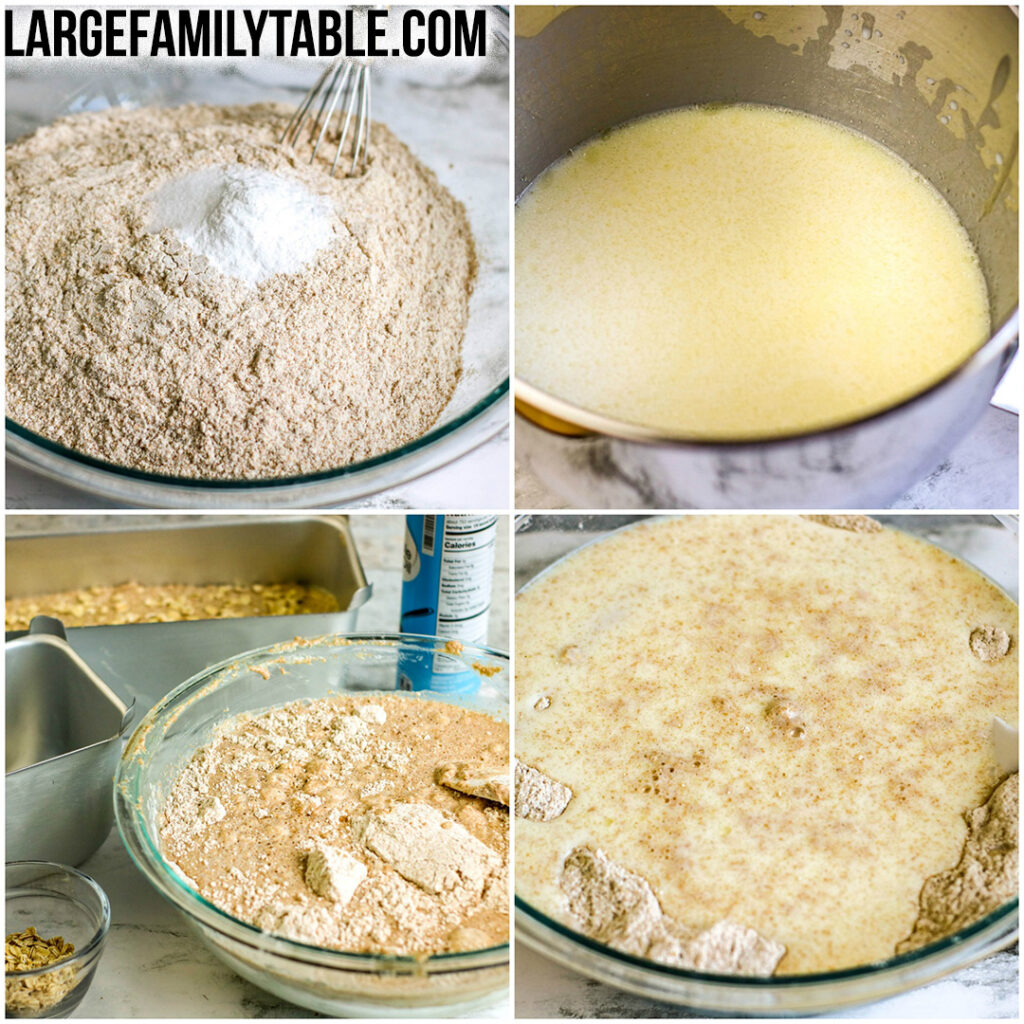 What to Put on the Big Family Honey Wheat Bread
You can put just about anything on the Big Family Honey Wheat Bread. Some of the best things to add to this bread include butter, peanut butter and jelly, and assorted meats with cheese. Whether you like a nutty sandwich or a savory one that consists of lunch meat like ham and turkey, it will all taste good on the honey wheat bread. You can make French toast with it, dip it into your favorite bowl of chili or soup, and even eat it on its own without adding anything to it because it merely tastes that great. After you try this recipe, your children will likely be begging you to make more of this bread!
How to Store the Big Family Honey Wheat Bread
Keep your bread fresh by slicing it into pieces and placing it in a zipper sealed food storage bag. You can leave it in a bread box for a week, keep it in the fridge for two weeks, or freeze it for as long as five months. If you have some extra time to make the bread, you might want to prepare several loaves and then store some of them for later use. You never know when you will need the bread because you might run out of it rather quickly with all those hungry people in the household.
Do you have more baking recipes to save me money?
Baking your "staples" like this Honey Wheat Bread is a great way to save money on groceries. Buying prepackaged bread, rolls, muffins, baking mixes, and sweet treats can get expensive fast. Baking ahead and freezing it in the freezer means it's ready for you when you need it and you can make it when you have the time. Try my Frugal from Scratch Baking Recipes and Staples Book One for lots of money-saving recipes like Depression Era Chocolate Cake plus three other sweet treats, four delicious versions of bread recipes, plus baking staples like cake mixes, baking mix, baking powder, and more. My Frugal From scratch Baking Book Two expands into ten new recipes. Grab them both in the DOUBLE BUNDLE!! Frugal From Scratch Baking Recipes & Baking Staples to save even more!
Here are more bread recipes to try!
Big Family Honey Wheat Bread
Print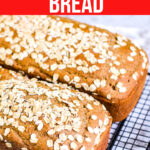 Big Family Honey Wheat Bread | Large Family Baking Recipes | Fill Your Freezer
Author:

Prep Time:

20 minutes

Cook Time:

60 Minutes

Total Time:

1 hour 20 minutes

Yield:

32 slices

Category:

Baked Goods

Method:

Oven
---
Description
Feel like you are constantly buying bread? No worries! Make this Big Family Honey Wheat Bread recipe from scratch, and you will always have plenty of delicious, healthy bread for everyone to eat.
---
Ingredients
3 cups whole wheat flour

2 teaspoon baking soda

½ teaspoon salt

2 cups buttermilk

¼ cup honey

2 tablespoons olive oil

Oats, for garnish
---
Instructions
Preheat the oven to 300 degrees. Prepare bread pan/s with nonstick cooking spray.

In a large bowl, whisk together flour, baking soda, and salt. Create a well in the center. Set aside.

In a medium bowl, combine the buttermilk, honey, and oil until blended. Pour into the well of the flour and mix together. (The chemical reaction will begin as soon as the wet ingredients mix with the dry ingredients.)

Immediately transfer the batter to the loaf pan/s. Sprinkle the top with oatmeal, if desired.

For the 9×5 pans, bake for about 55 to 60 minutes. For the jumbo (16×4) pan, bake for 65 to 70 minutes or until done.

Allow the bread to cool in the pan/s for 10 minutes before transferring to a wire rack to cool completely. 
---
Notes
Recipe fits one jumbo (16×4 inch) loaf pan or two (9×5 inch) loaf pans.
Keywords: Big Family Honey Wheat Bread
This bread is mildly sweet and delicious. It has a delicious flavor. Once you make it you won't want to return to store bought bread!
FREE Emergency Pantry Planning Pack!
Don't forget to sign up for the emergency pantry planning pack for free to help you plan your pantry meals! The free Emergency Pantry Planning Pack will help you plan your needed pantry items! Printable pages include pantry inventory, grocery lists, meal planners, list of pantry staple items, and more.