Prepare a holiday classic with this impressive Large Family Panettone Christmas Bread recipe. Not only will you love it, but so will your children, and that is what makes this bread such a great choice to offer during the holiday season.
Have you enjoyed panettone for as long as you can remember? Your parents might have offered it to you over the years, and it has now become something that you would normally buy and serve to your large family. If this flavorful bread is a family favorite, you need to know how to make it yourself from scratch because you will be so impressed with the way that it tastes. If you are short on time but still want a special Christmas treat try our Christmas Fruit Wreath Pizza, our Red Velvet Donuts, or our Chocolate Peppermint Cookies.
***Use special promo code HELLO20 to take 20% off the entire MEGA DEAL get-it-all Bundle including the best-selling Large Family Freezer Meal Packs 1-12 + so much more!!****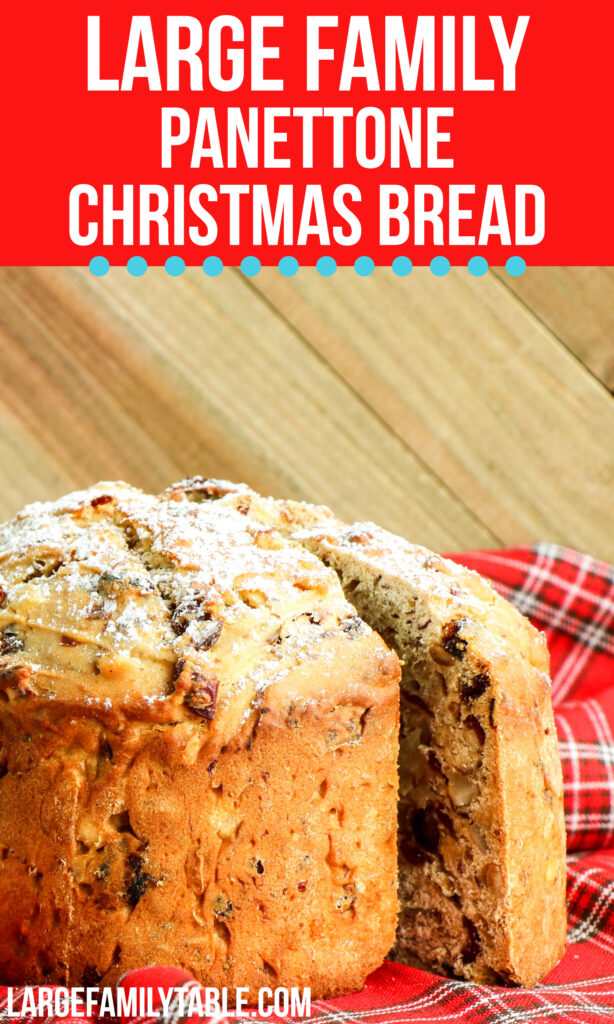 Large Family Panettone Christmas Bread
Follow this simple Large Family Panettone Christmas Bread recipe to find out just what you will need to prepare a sweet and savory bread full of dried fruit for the family to enjoy. Make it a treat to eat after dinner, or bring it with you to the next family gathering to give everyone a chance to indulge!
The Ingredients to Use When Making the Large Family Panettone Christmas Bread
Instead of buying the bread from the market, make Panettone Christmas Bread from scratch with the best ingredients for the freshest, tastiest bread you have ever tasted. You will need the following components:
All-Purpose Flour. Start with divided all-purpose flour to begin making the mixture for your Panettone Christmas Bread.
Instant Yeast. When you need your bread to rise, this ingredient is much-needed, so make sure you do not forget it.
Vanilla. The vanilla gives this bread its sweet touch.
Unsalted Butter. You cannot create bread with the perfect consistency without using some unsalted butter.
Dried Fruit and Nuts. Without the fruit and nuts, you would have just a regular loaf of sweet bread. Be sure to grab your golden raisins, dark raisins, and other dried fruits to add to this bread to make it taste even better.
Of course, you will need a handful of other important baking ingredients, including salt, eggs, and vegetable oil spray. If you have the required ingredients, you can get started on making this classic Panettone Christmas Bread for your loved ones.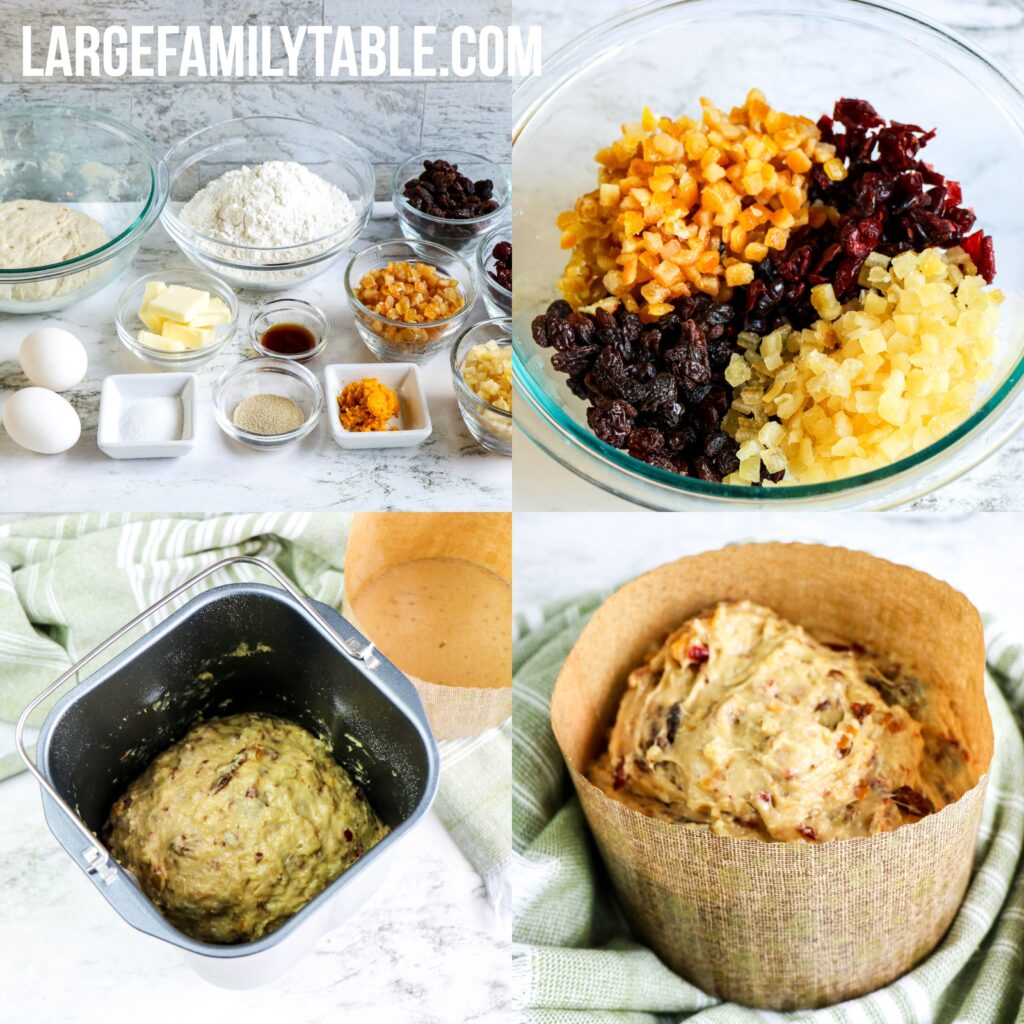 How to Keep Your Large Family Panettone Christmas Bread Fresh When Storing It
Once you bake the Panettone Christmas Bread, keeping it fresh and good is a top priority. You would not want all your baking effort to go to waste. You can keep it whole or cut it into slices. No matter which method you choose, take the extra time to wrap the bread with plastic wrap carefully. Do not leave any of the plastic wrap open, or air could get into the bread, causing it to become dry at a fast pace.
After you wrap it with the plastic wrap and seal it shut, place the Panettone Christmas Bread into a large sealable freezer bag and store it on your kitchen table, in the fridge, or the freezer. When preparing it as a make-ahead treat, place your bread in the freezer for up to six months. If you plan to eat it right away, you can keep it sealed and out on your kitchen table.
Do you have more baking recipes for my large family table?
Baking is a great way to save money on groceries. Buying prepackaged bread, rolls, muffins, baking mixes, and sweet treats can get expensive fast. Baking ahead and freezing it in the freezer means it's ready for you when you need it and you can make it when you have the time. Try my Frugal from Scratch Baking Recipes and Staples Book One for lots of money-saving recipes like Depression Era Chocolate Cake plus three other sweet treats, four delicious versions of bread recipes, plus baking staples like cake mixes, baking mix, baking powder, and more. My Frugal From scratch Baking Book Two expands into ten new recipes. Grab them both in the DOUBLE BUNDLE!! Frugal From Scratch Baking Recipes & Baking Staples to save even more!
Here are more Christmas recipes your family will enjoy!
Large Family Panettone Christmas Bread
Print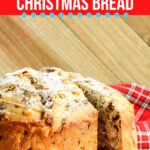 Large Family Panettone Christmas Bread | Large Family Holidays
Author:

Prep Time:

11:30

Cook Time:

1:40

Total Time:

13 hours 10 minutes

Yield:

14 Servings

Category:

Baked Goods

Method:

Oven
---
Description
Prepare a holiday classic with this impressive Large Family Panettone Christmas Bread recipe. Not only will you love it, but so will your children, and that is what makes this bread such a great choice to offer during the holiday season.
---
Ingredients
Starter
¾ cup all purpose flour 

1/16 teaspoon instant yeast

⅓ cup cool water
Dough
All of the starter

2 ¼ cups all purpose flour

¼ cup lukewarm water  (110 degrees)

2 large eggs

4 tablespoons butter, softened

1 teaspoon vanilla extract

1 tablespoon instant yeast

1 ¼ teaspoons salt

⅓ cup sugar

½ cup raisins

½ cup diced candied lemon

½ cup dried cranberries

½ cup diced candied oranges

2 tablespoons grated orange zest
---
Instructions
To make the starter:  
Combine the starter ingredients in a medium-size bowl. 

Cover and allow to rest on the counter overnight (8 to 10 hours.)
To make the dough:  
Dissolve the yeast in the warm water.

Combine all of the ingredients, except the fruits and zest.  Mix together by hand or with a dough hook on a stand mixer until you have a soft, smooth dough. 

Cover the dough and allow to rise until it is puffy, about 1 to 1 ½ hours.

Prepare a panettone bread mold with nonstick cooking spray.

Gently deflate the dough. Then, knead in the fruits and zest by hand or with a dough hook on a stand mixer.

Shape the dough into two balls. Place into the prepared panettone mold. Cover and allow the dough to rise until it has just crested over the rim of the baking mold, about 1 hour.

Preheat the oven to 400 degrees. Bake the bread for 10 minutes. Reduce the temperature to 375 degrees and bake for an additional 10 minutes. Finally, reduce the oven to 350 degrees and finish baking for 25 to 30 minutes.  If you notice the crust beginning to brown, tent tin foil over the loaf.  When done, the internal temperature would be 190 degrees. 

Cool the loaf completely before storing in an airtight container for up to one week or in the freezer for up to 6 months.
Mixing the dough with a bread machine:
Place the water, eggs, vanilla and orange zest into the bread machine.  Next, add the sugar, salt, and flour. Dot the butter around the flour. Make an indentation into the flour and add the yeast. 

Start the bread machine using the "dough" setting.

Before the final kneading cycle, add the remaining ingredients to the dough and allow the kneading cycle to finish.  

Remove the dough and place in a prepared panettone baking mold.

Allow to rise and bake as previously directed.
Keywords: Panettone Christmas Bread
This semi-sweet bread is such a special treat for Christmas. Not only will you enjoy savoring the taste, the memories you make with your children or loved ones while preparing this bread are going to last forever.
FREE Emergency Pantry Planning Pack!
Don't forget to sign up for the emergency pantry planning pack for free to help you plan your pantry meals! The free Emergency Pantry Planning Pack will help you plan your needed pantry items! Printable pages include pantry inventory, grocery lists, meal planners, list of pantry staple items, and more.