?Get the Best-Selling Large Family Freezer Meals Collection here! Use promo code HELLO20 to take 20% off your first order.
You're going to see several Instant Pot Beef Ribs and Beef Rib recipes, in general, coming your way on Large Family Table over these next several weeks. Towards the end of last summer, for the first time, we bought a whole pasture-raised cow for our growing family of ten. We're nearing the end of this cow we purchased, but we still have an entire freezer door full of beef ribs, so I better get "a-cooking!"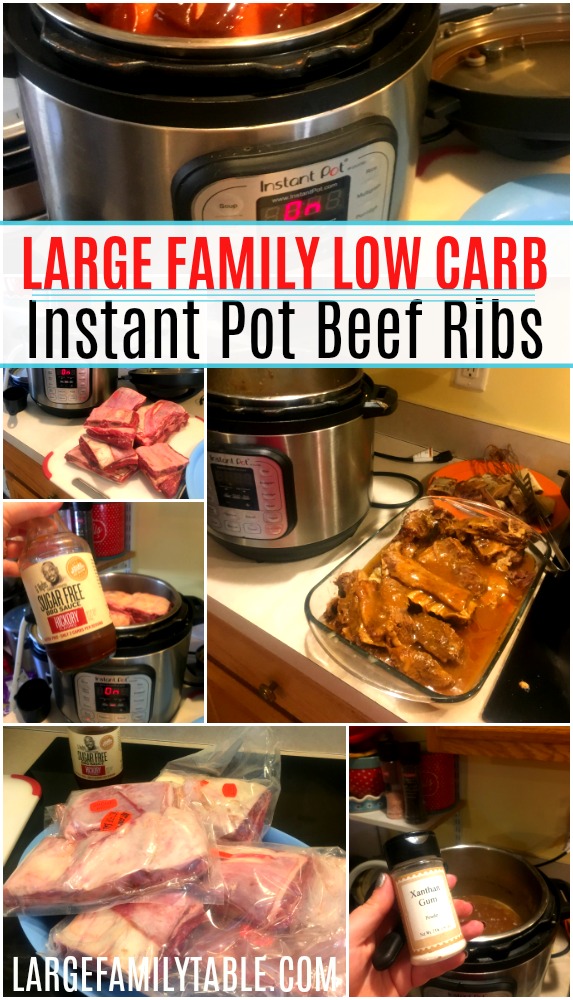 We also have the Ox-Tail left along with quite a bit of beef bones for making bone broth. The wonderful grass-fed beef roasts, ground beef, and steaks of all kinds are gone now ( you can see some of those in use with these 50 Large Family Low Carb/Keto/THM Instant Pot Freezer Meals I did in the Fall or these 20 Healthy Freezer Meals I did recently). However, "there's still meat on them there bones" when it comes to the beef ribs.

I laid out several packs of beef ribs from the freezer into the refrigerator the day before. You can also cook meats from frozen in the Instant Pot, but I thought I'd actually defrost these ribs since I had two moments of forethought, ha!
*I've included my Amazon affiliate links for my favorite products below in this large family Instant Pot beef ribs post!*
I also wanted to use this fantastic G. Hughes Sugar-Free BBQ sauce I'd found at Walmart. If you haven't seen it at your Walmart yet here's my affiliate link where you can see it here on Amazon.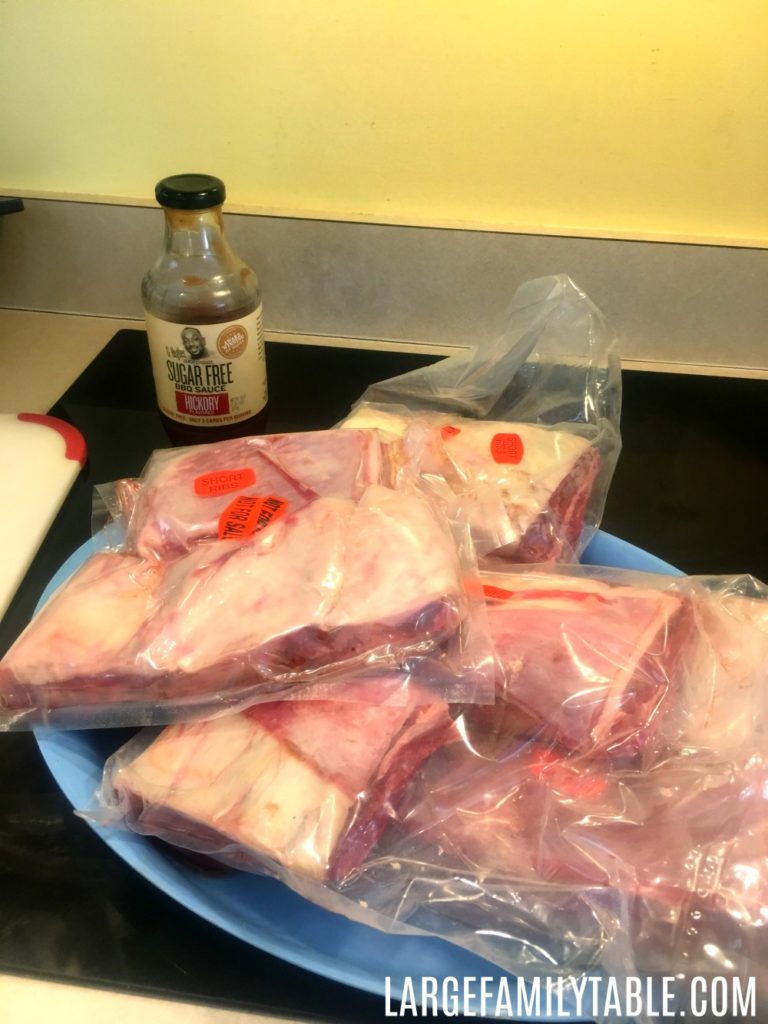 And you know me, I'm either using my 8 Qt Instant Pot or my 14 Qt Go Wise Pressure Cookers for cooking large family meals. With these large family Instant Pot ribs, I used my 8 Qt Instant Pot. If you're a family of 6 or more I highly suggest getting the 8 Qt Instant Pot vs. the 6 Qt Instant Pot. Every extra quart counts when you're feeding a crowd! 🙂
I put on IP on the Saute mode to warm it up while I unpacked the beef ribs. I sprinkled all the ribs with some garlic powder, onion powder, and ground salt and pepper.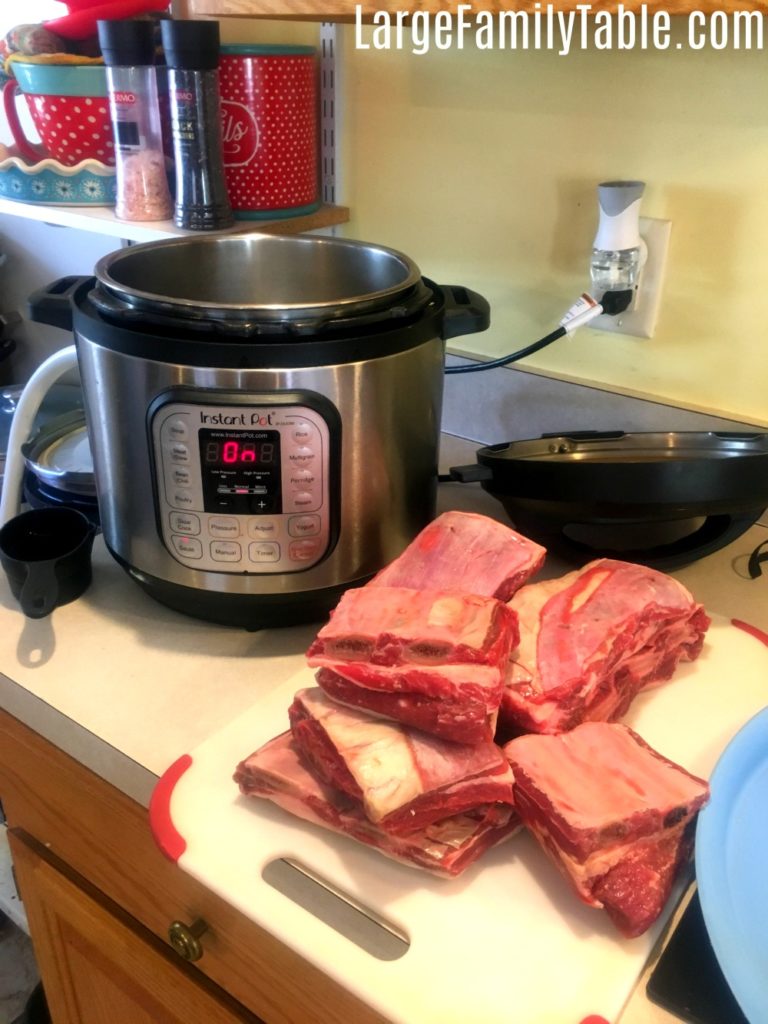 After loading in my ribs I added 1 cup of water and the rest of my bottle of G. Hughes sugar-free BBQ sauce. I had about 10 oz left. I would've just dumped in the whole 16 oz bottle if I had that much. 🙂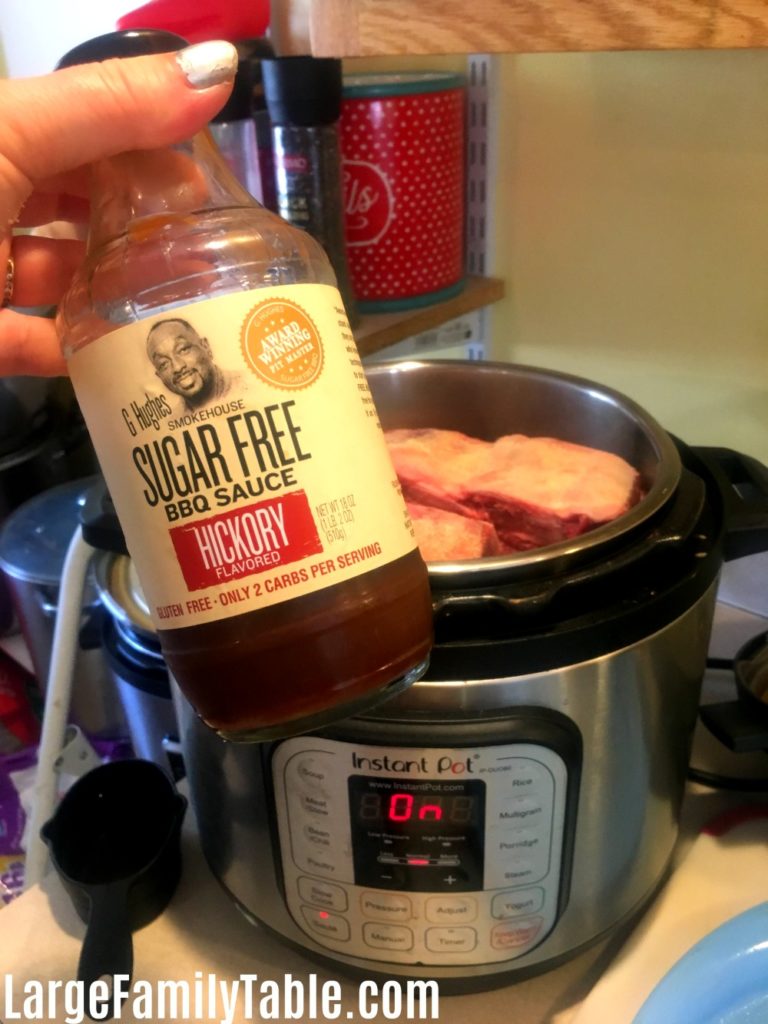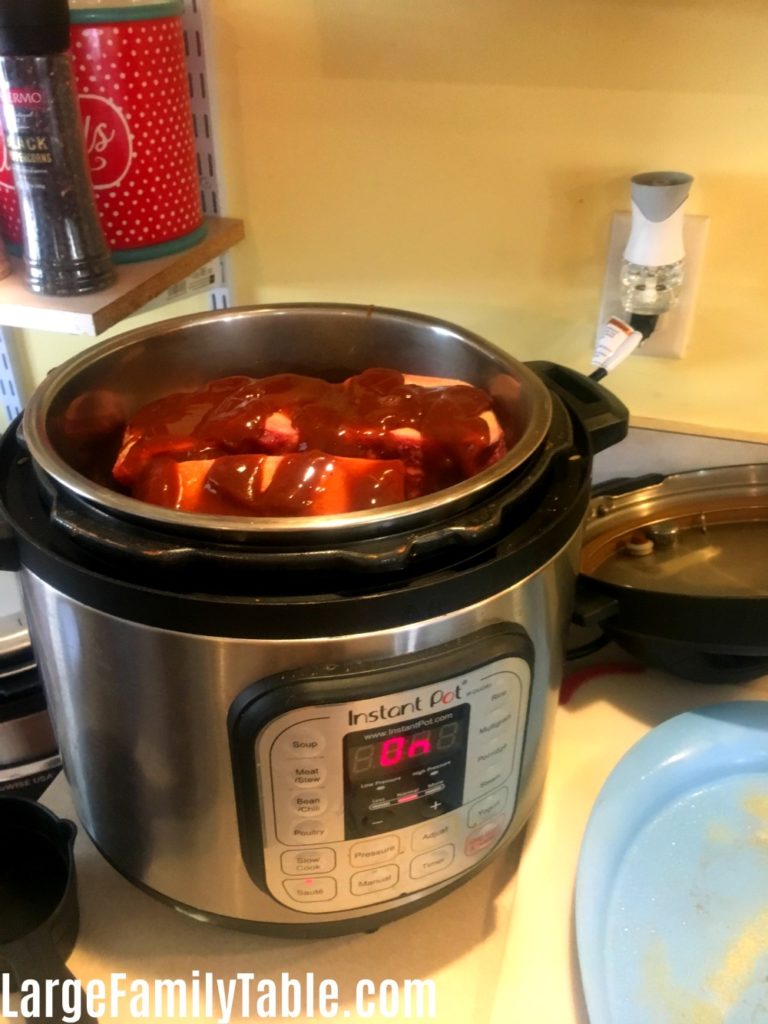 Next, I sealed my Instant Pot lid and set the Instant Pot to manual for 45-minutes. I always get busy doing other things (gee, I wonder why, ha!) and let many of my large family Instant Pot recipes do a natural release. The picture below is what it looked like after I removed the IP lid once the ribs were complete. The bones were already falling out!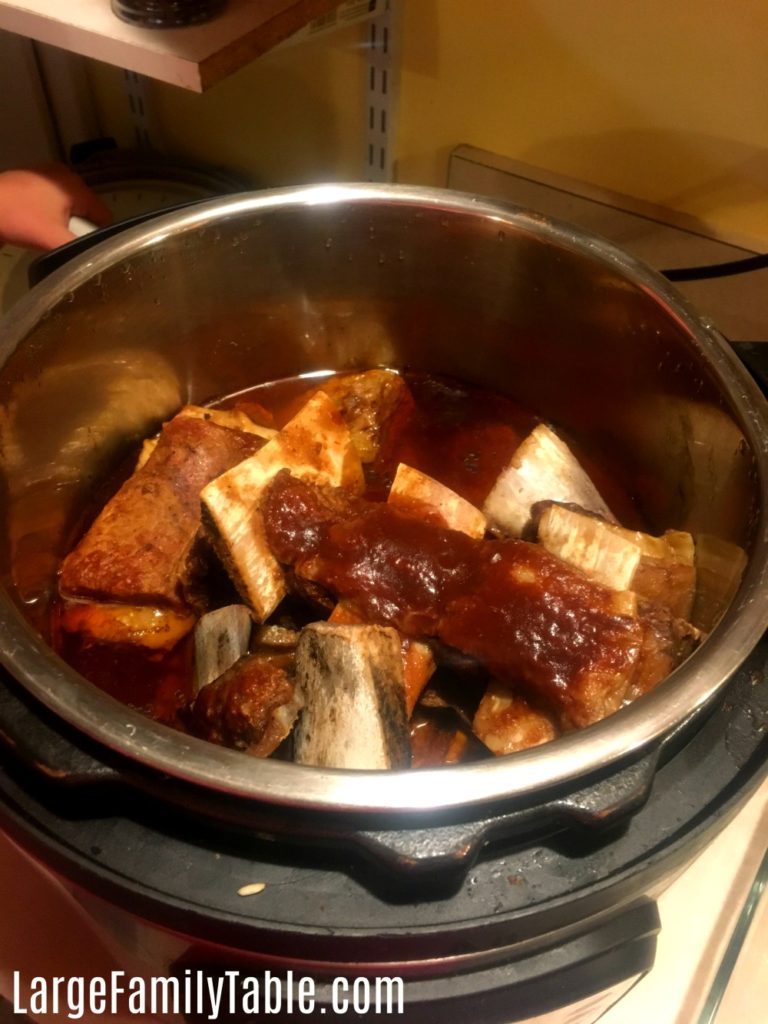 I removed the ribs from the Instant Pot and placed them in a large glass baking dish. I put the sauce left in the Instant Pot on saute. Next, I added 4 tsp total of Xanthan Gum to the sauce and whisked to blend.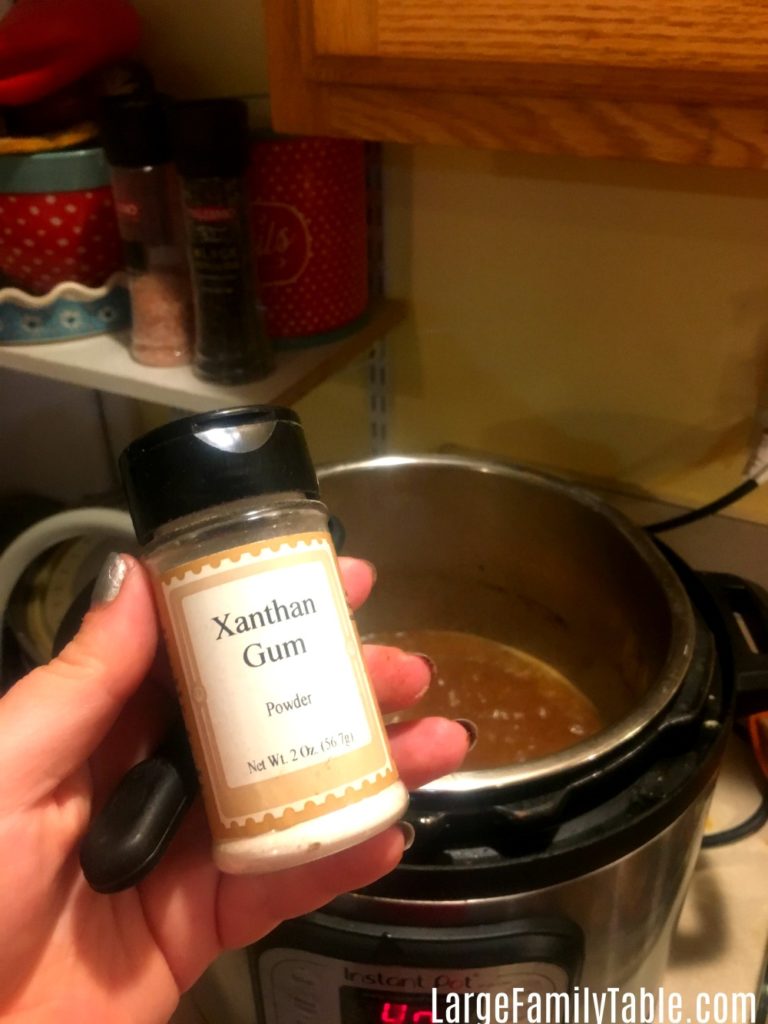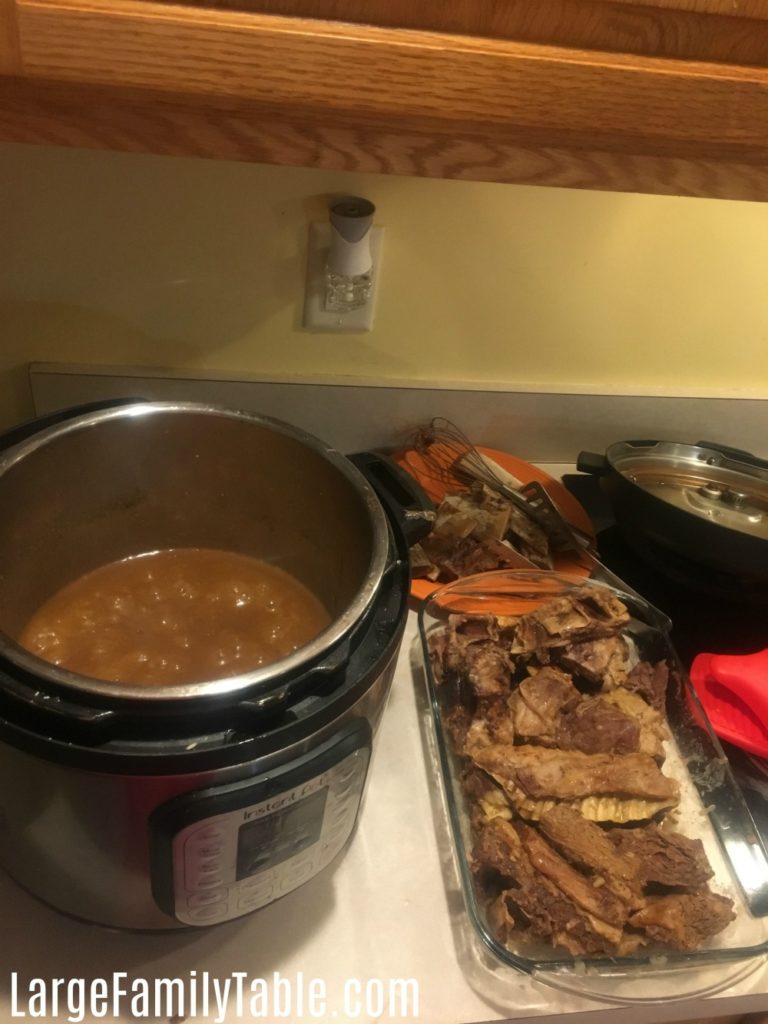 I let the Instant Pot sauce saute for about 5 minutes total. This made a nice thicker sauce that I then poured on the ribs in the baking dish. I've read some great recipes of cooks then placing the Instant Pot beef ribs in the oven broiler for a few minutes to crisp up. I don't have an oven broiler (mom problems, lol!) but that is another trick you can try! These ribs were still lovely even without broiling.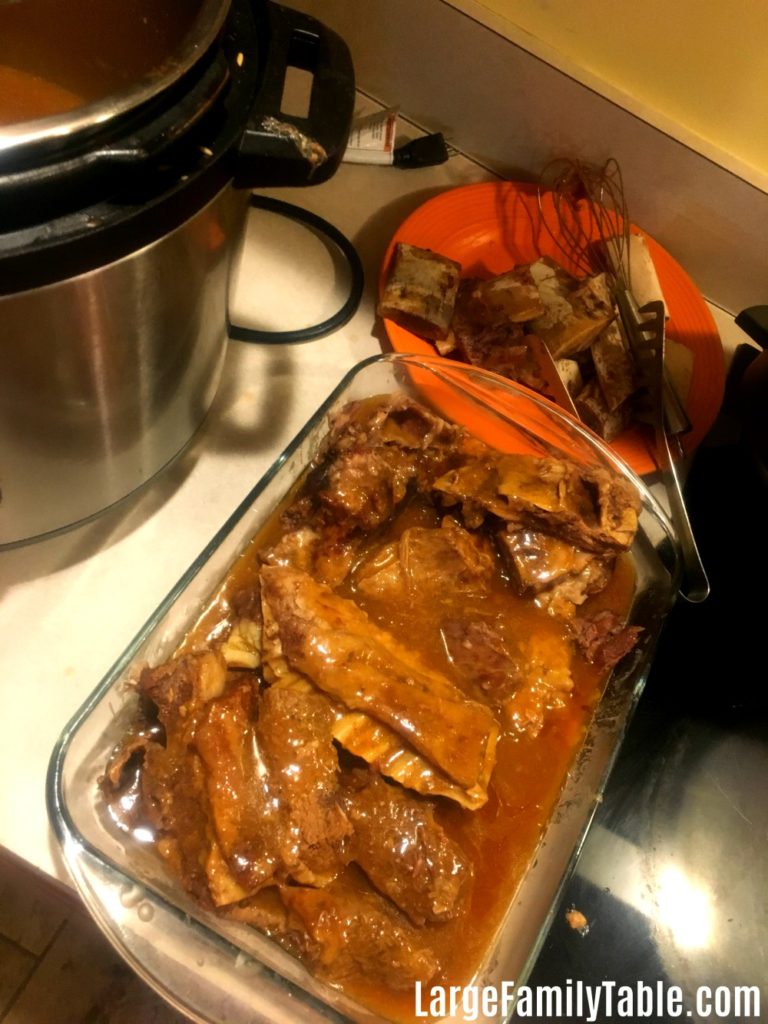 The kids enjoyed the ribs with corn on the cob from the pressure cooker (see, I cook the protein in one pressure cooker and the side dish in the other…that's why moms of many need two!).
Large Family Instant Pot Beef Ribs Recipe
Print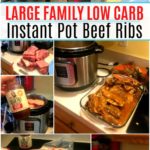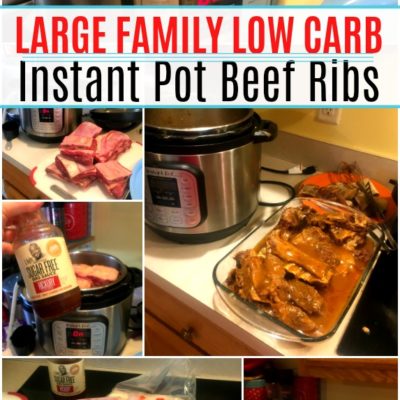 Large Family Instant Pot Beef Ribs |Low Carb, Keto, THM-S
Author:

Prep Time:

7 minutes

Cook Time:

45 minutes

Total Time:

52 minutes

Yield:

24

Category:

Low Carb Dinners

Method:

Instant Pot

Cuisine:

American
---
Description
Large Family Instant Pot Beef Ribs Recipe
Make these hearty large family style Instant Pot beef ribs for your crew! Keep it low carb and sugar-free by using a sugar-free BBQ sauce such as G. Hughes brand. Serve alongside a big salad, steamed pressure cooker corn, coleslaw and more! I use my 8 qt Instant Pot for this recipe. Make even more using the 14 qt GoWise pressure cooker (I'd add another 10 minutes or so for cooking more in the larger pressure cooker if you go that route #JamerrillEyeBallingSchool ).
---
Ingredients
4-5 lbs of your favorite beef ribs (you can of course use pork), cutting ribs if necessary to get them comfortably into the pot.
16 oz bottle of sugar-free BBQ sauce (I used G. Hughes from Walmart)
2 tablespoons of garlic powder
2 tablespoons of onion powder
2 teaspoons of pepper
2 teaspoons of salt
1 cup of water
4 teaspoons of Xanthan Gum (natural thickener)
---
Instructions
In a small bowl combined garlic powder, onion powder, pepper, and salt.
Unpackage the ribs and sprinkle the above seasoning mix onto the ribs.
Place 1 cup of water in your Instant Pot and set on Saute mode to warm up your pot.
Place seasoned ribs on the trivet insert inside your Instant Pot.
Pour in an entire bottle of 16 oz sugar-free BBQ sauce on top of the ribs in the pot.
Secure the pot lid and set the steam valve to sealing.
Cook ribs for 45 minutes on manual high.
Once done quick release if you'd like (carefully) or wait for Instant Pot to naturally release.
Place ribs in a large baking dish, leaving BBQ liquid in Instant Pot.
Turn Instant Pot back on saute mode. Whisk in 4 teaspoons of Xanthan Gum. Allow sauce to cook for up to 5 minutes to thicken.
Unplug the Instant Pot and carefully pour thickened sauce over the ribs
Serve and enjoy!
Keywords: Instant Pot, Low Carb, Keto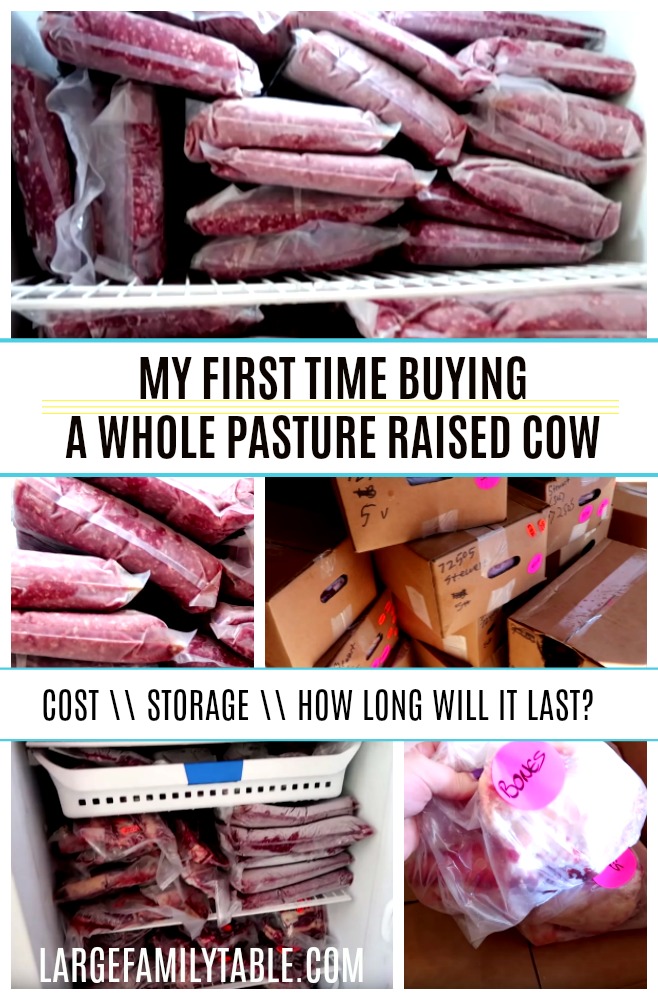 You might enjoy reading about my first experience buying an entire beef cow last summer! The total weight of beef that we had delivered was over 527 lbs. The price per pound was for all beef cuts (ground beef through Ribeyes!) and included the processing plant butchering fees and vacuum sealing as well!
Large Family Food Collection
Don't forget to grab the free "Super Mega" (the only way I know how to do anything, ha!) Large Family Food Collection for free here! I have bundled my most popular family food freebies to give to you in one massive freebie bundle including the following: