If you love the taste of peppermint mocha candy and beverages, you will enjoy the fresh taste of these Large Family Peppermint Mocha Donuts. Make as many of these wholesome, flavorful donuts as you might need for your large family.
When you need a tasty recipe for donuts, the Large Family Peppermint Mocha Donuts recipe is the perfect one to try. You can create dozens of delicious donuts that combine the great taste of mocha with peppermint. These delightful donuts will remind you of your favorite peppermint mocha beverage. If you like how chocolate and mint taste together, follow this simple recipe, and create donuts that everyone in your home will not be able to keep their hands off! These Large Family Peppermint Mocha Donuts are the perfect treat to have during the holiday season. Not only are they great to eat for breakfast, but they are also a fantastic snack to have. Try our Red Velvet Donuts or our Panettone Bread.
****Use special promo code HELLO20 to take 20% off the entire MEGA DEAL get-it-all Bundle including the best-selling Large Family Freezer Meal Packs 1-12 + so much more!!****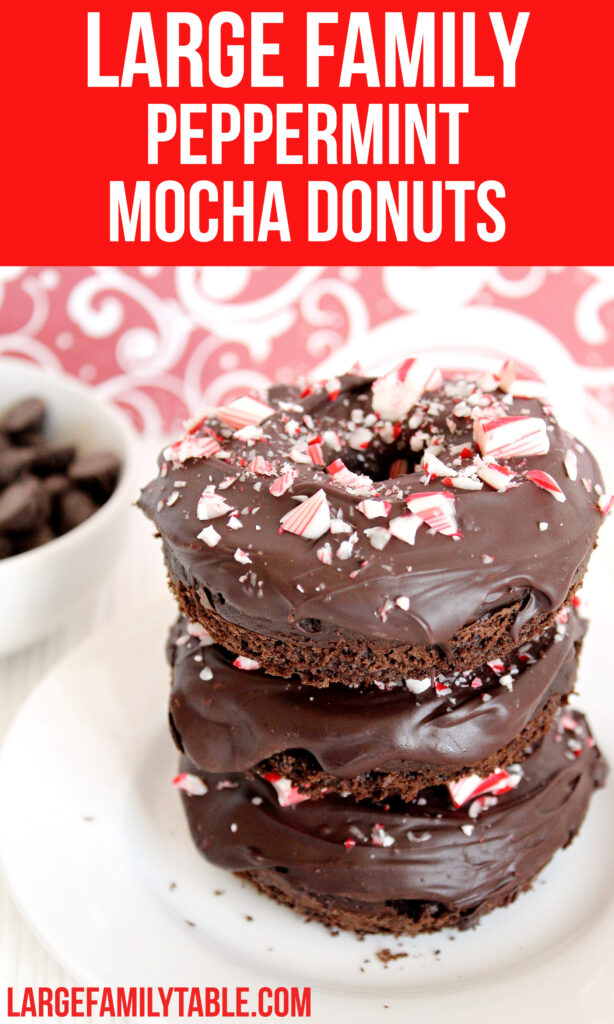 Ingredients Needed for the Large Family Peppermint Mocha Donuts
Making the Large Family Peppermint Mocha Donuts is a lot easier than you might think. It is even easier to make these donuts from scratch when you have these crucial ingredients in your pantry:
All-Purpose Flour. Before you can make your donuts, you need to have the right dough. You will use all-purpose flour to create the perfect dough.
Cocoa Powder. Mixing cocoa powder in a bowl with the all-purpose flour is the perfect way to give these donuts their chocolatey taste.
Instant Espresso Powder. When you want to achieve that traditional mocha taste, be sure to add instant espresso powder into the mix.
Baking Soda. Make sure your donuts rise perfectly by adding baking soda to the mixture.
Greek Yogurt. The Greek yogurt is a great alternative ingredient to add to your mix to make your donuts healthier while keeping them moist.
You should also have a few other ingredients available, such as baking powder, brown sugar, granulated sugar, milk, butter, and vanilla extract. When creating a peppermint glaze for your Large Family Peppermint Mocha Donuts, all you need to do is combine chocolate chips with peppermint candies and peppermint extract.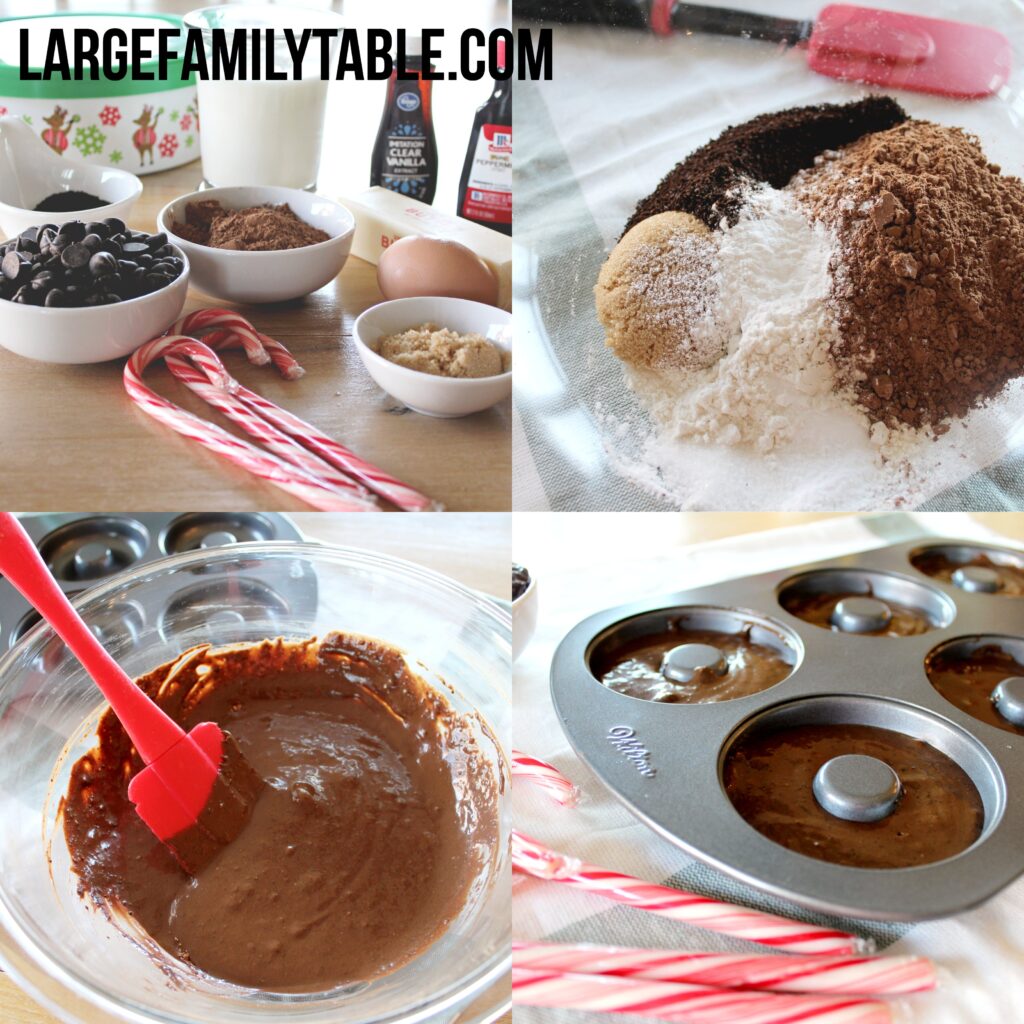 Tips on Storing Your Large Family Peppermint Mocha Donuts
Once you have baked your Large Family Peppermint Mocha Donuts, you might wonder what you will need to do to keep them fresh. It is best to keep your donuts in a sealed container. While you can use any container that you prefer, make sure the container has enough space for you to space out the donuts to keep them from overlapping one another.
While you can leave your donuts in a container on a kitchen table, they will only remain fresh for about three to four days. If you would like to keep them fresher for a lot longer, you can place the donuts in the fridge or even freeze them. When stored in the freezer, these donuts stay fresh for about six months. Of course, you might not need to hold them for that long because your family will enjoy these donuts so much!
Do you have more baking recipes for my large family?
Baking is a fun way to spend time together with your family and baking staples such as breads and cakes can save you money, too!! Try my Frugal from Scratch Baking Recipes and Staples Book One for lots of money-saving recipes like Depression Era Chocolate Cake plus three other sweet treats, four delicious versions of bread recipes, plus baking staples like cake mixes, baking mix, baking powder, and more. My Frugal From scratch Baking Book Two expands into ten new recipes. Grab them both in the DOUBLE BUNDLE!! Frugal From Scratch Baking Recipes & Baking Staples to save even more!
Here are more large family desserts to try:
Large Family Peppermint Mocha Donuts
Print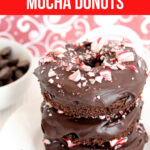 Large Family Peppermint Mocha Donuts | Desserts for a Big Family
Author:

Prep Time:

20 minutes

Cook Time:

10 minutes

Total Time:

30 minutes

Yield:

12 Donuts

Category:

Baked Goods

Method:

Oven
---
Description
Give your loved ones something good to eat this holiday season by preparing the Big Family Chocolate Peppermint Cookies. These chocolate and mint cookies are perfect to serve after a big dinner with everyone.
---
Ingredients
1 1/2 cup all-purpose flour
2/3 cup of cocoa powder
8 teaspoons instant espresso powder
2-teaspoon baking powder
1 teaspoon baking soda
1/2 teaspoon salt
1/2 cup granulated sugar
2 tablespoon brown sugar
1/2 cup Greek yogurt or sour cream
1/2 cup plus 2 tbsp. milk 
2 egg
2 tsp. vanilla extract
2 tablespoon unsalted butter (melted and slightly cooled)
Peppermint Glaze:
1 1/2 cup chocolate chips
1/2 tsp. peppermint extract
4 tbsp. crushed peppermint candies
---
Instructions
Preheat oven to 350 degrees F. Prepare a donut pan with nonstick cooking spray. 
In a large bowl, whisk together flour, espresso powder, cocoa powder, baking powder, baking soda, both sugars and salt.
In a small bowl, whisk together yogurt, egg, milk and vanilla until smooth.
Add in the melted butter once slightly cooled.
Combine the wet ingredients into the dry and stir until fully combined.
Scoop the batter a piping bag or a decorating tool. Pipe the batter into the wells of the prepared donut pan.
Bake for 9-10 minutes, until they are set and bounce back when gently pressed. Allow it to cool in the pan for 5 minutes.
---
Notes
Prepare the Glaze
In a small bowl add in chocolate chips and microwave for 45 seconds. Cover the bowl and allow the chocolate to sit for 3 minutes. Uncover and stir, if not fully melted warm in increments of 20 seconds.
Dip each donut in the glaze and place on the baking sheet. Top with peppermint candies before moving on to the next one.
Keywords: Large Family Peppermint Mocha Donuts
These donuts are so delicious! The peppermint makes it feel like Christmas and who doesn't love chocolate? Make these and enjoy them early in the morning before the kids are up as a special treat or share them with the kids!
FREE Emergency Pantry Planning Pack!
Don't forget to sign up for the emergency pantry planning pack for free to help you plan your pantry meals! The free Emergency Pantry Planning Pack will help you plan your needed pantry items! Printable pages include pantry inventory, grocery lists, meal planners, list of pantry staple items, and more.