Large Family Grocery Shopping

It's no secret that we chat often about large family grocery shopping here on Large Family Table and on the YouTube channel. Over the years I've come to enjoy the planning, shopping, organizing, and cooking that goes into large family food. We large family moms might as well enjoy it since feeding all these people is such a big part of our everyday life.
Here's a compiled a list of well over 50+ ultimate tips and tricks for large family grocery shopping from several moms of many. No matter your budget, family size, and time management needs you are sure to find helps listed below to feed your particular herd of people. You'll also find over 10 popular large family grocery hauls, several large family meals plans, and more!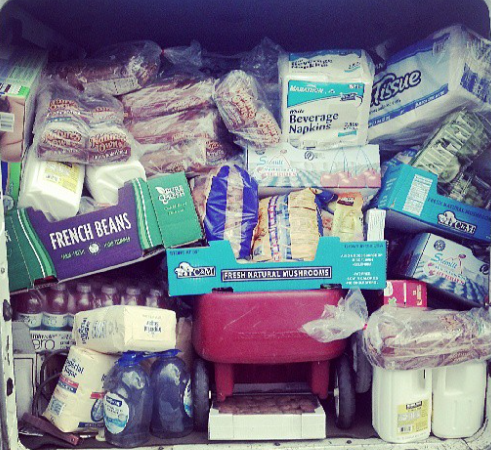 From my Instagram from 2013, "Large family grocery shopping. In our defense, most of this is for an entire month. And forgot to take out the wagon, oops!!"
1. 15 Frugal Tips for Feeding a Large Family
This mom feeds her family of 8 for just $250 a month!
2. Feed a Large Family on $10 a Day with a 14-Day Rotating Meal Plan
This family spends only $3 per person, per meal.
3. 9 Tips for Feeding Your Large Family
Sarah is another Aldi loving mama!
4. How I Feed a Family of Seven for $300 a Month
Another amazing mama with a meal plan.
5. 14 Ways To Nourish A Large Family On A Small Budget
Nutrition doesn't have to suffer on a tight budget!
6. Large Family Logistics: Real Food on a Budget
This mom gives some helpful tips while stressing to not be too hard on yourself.

7. How to Feed a Big Family Without Breaking the Bank
This mother of 7 saves on real food and avoids processed meals.
8. Feeding a Large Family on a Budget
This mom buys produce in season, buys generic brands, and more.
9. How to Feed a Large Family on a Budget
Learn more about salvage stores from this family.
10. How to Feed a Large Family on a Small Budget
10 helpful tips from a large family mother.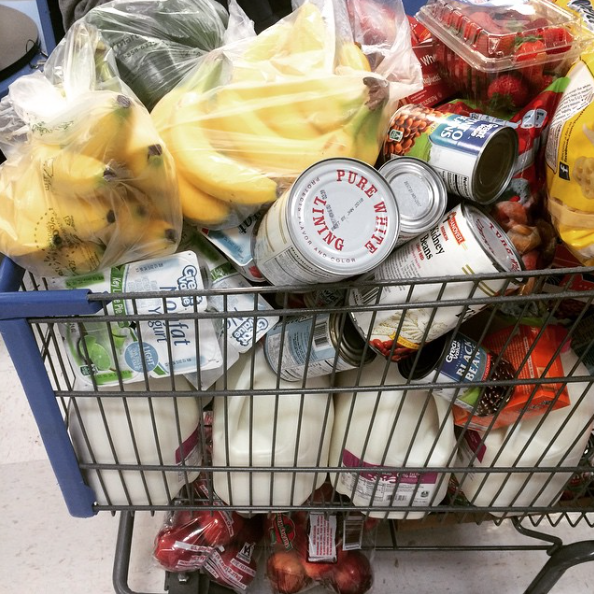 "This is what a "quick" run into the store trip looks like in my world, LOL! You too?" From my Instagram in 2015.
11. How to Feed Your Family on a Tight Budget
7 simple tips for a smaller grocery bill.
12. Secrets of feeding a Large Family
Save by keeping these staples in your pantry.
13. How I Feed My Family of 7 for $400 per Month | Feeding a Big Family for $400 per Month on Money Saving Mom + More FAQ's. Master the art of once a month grocery shopping.
14. Large Family Budget Friendly Meal Plan
This mom's budget got out of control before she learned how to conquer it.
15. Large Family Meal Planning & Grocery Shopping
This mom's level of organization is inspiring.
16. Feeding a Family of 8 on $500 a month
The cash envelope system is one reason for this family's budget success.
17. Feeding a Family on a Budget – How I Feed My Family of 6 on $200 a Month
This mom saves big bucks without coupons.
18. 7 Things We Stopped Buying & Started Making Homemade to Save Money
Save money on staples by making these things at home.
19. How to Use Amazon Prime Pantry to Save Money On Groceries
Learn more about how to save with Amazon Prime Pantry
20. What I Would Feed my Family on a Monthly Budget of $250
A helpful grocery list and meal plan.
21. How to Feed a Large Family on a Skinny Budget
8 Frugal Tips or a Smaller Grocery Budget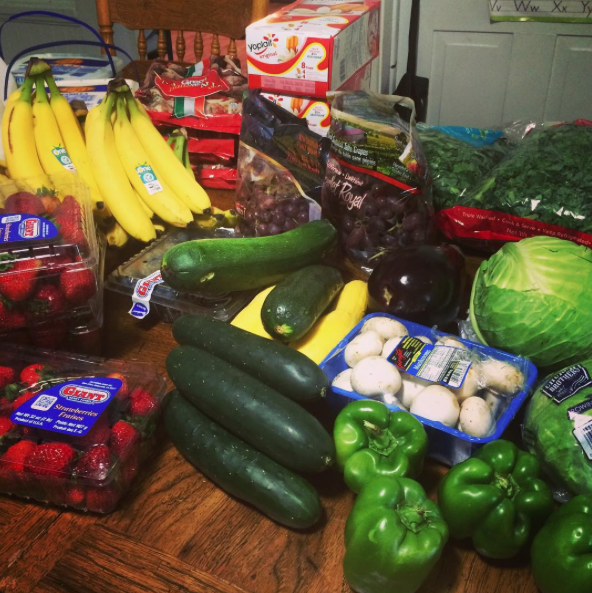 In July 2015 I shared, " I ran into @walmart today after my Dr appt and all these fruits and veggies fell into my cart."
22. How to Cook Nourishing Food for a Large Family
"Stretcher recipes" and more tips for keeping your large family full.
23. Feeding Large Families Without Breaking the Bank
Practical advice plus recipes.
24. How We Eat Out for Less than $30 for a Family of 7
10 Tips for Saving Money at Restaurants.
25. A week of family dinners for $50
These recipes are for a family of four. Double for a weekly budget of $100 for a family of eight.
26. How To Feed A Family Of 4 Off $50 A Week
One tip this mom shares is to use what you already have!
27. Feeding a large family on vacation
You don't have to spend a fortune on food while on vacation.
28. Meal Plans, Grocery Shopping, and a Large Family
This family of 12 knows the ropes when it comes to large family shopping.
29. Feeding a Large Family Healthy Meals on a Budget
This mom has a few tips including "buy the cow".
30. Tips for Feeding a Large Family on a Budget
Several moms share their biggest tips in this post.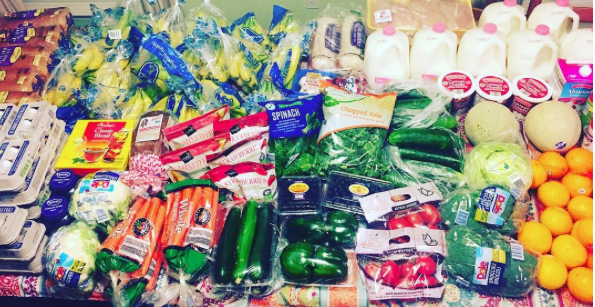 From January 2017, before late pregnancy took over my mind and ability to walk a crossed the kitchen, I shared, "FINALLY filmed a brand new #LargeFamilyGroceryShopping Haul that's a big part #TrimHealthyMama to boot. It'll be out in a few days including our 7-day meal plan! I came in at $200.59 from @aldiusa for our family of nine which includes 21 meals plus healthy snacks for our herd who EAT including teen boys, a hormonal pregnant lady ?, lots of growing kiddos, and a 6 foot 6 husband!" If you're looking for this actual grocery haul I have many of my most popular hauls listed below.
31. How to Feed a Large Family with Real Food
This family makes their own snacks and kitchen staples.
32. Tips on Keeping the Food Budget
This mom has some practical tips and also recommends a program called Grocery University.
33. Dinner organizing advice from 10 large families
Great advice from veteran large family moms.
34. Our Meal Plan for the Week
Take a peek at one mom's meal plan.
35. How to Feed a Large Family Healthy Meals on a Budget
Like many other families, this mom recommends cutting back on meat.
36. How To Feed A Big Family On A Budget
This mom doesn't let anything go to waste.
37. $20 Grocery Budget To Feed Your Family When You are Broke
This post doesn't say how many people $20 will feed but has great advice for cheap meals.
38. Feeding the Multitudes (Large Family Hospitality)
This mom grew up in a large family and has a heart for feeding big crowds.
It's all about good planning!
Can we all agree that this mom is an expert?
If feeding your family organic food is important to you, don't miss this one.
This mom understands the unique challenges of budgeting for a large family.
More practical tips.
Put the kids to work!
This mom has learned to work on a tight budget all over the world.
Whole Foods can be really expensive but this mom has a system for staying on budget.
Really great and detailed tips for how to figure out your food budget for a vacation.
More tried and true tips from a large family veteran.
Ever heard of being a "Flexitarian"? That's one of 20 practical tips in this article.
This mom sticks to a strict budget AND uses a rebate app.
Find out how sticking to taking cash only to the grocery store and save big time!
Are you interested at peeking at another family's large family grocery budget? Check out this breakdown and see if you can pick up a few more tips to make it work for you.
Here are a few rants on how weekly grocery shopping doesn't work too well in my world. Some seasons it happens. I function much better planning and getting it all done at one time if possible.
Looking for ideas on how to store all the large family groceries? The two posts listed above should give you some great ideas!
12 Popular Large Family Grocery Shopping Hauls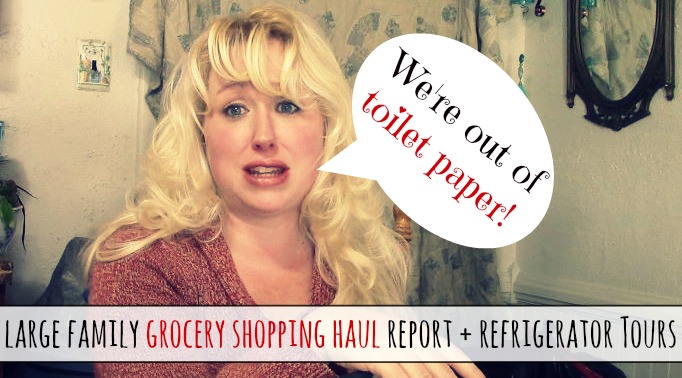 My first ever large family grocery shopping haul report from 2015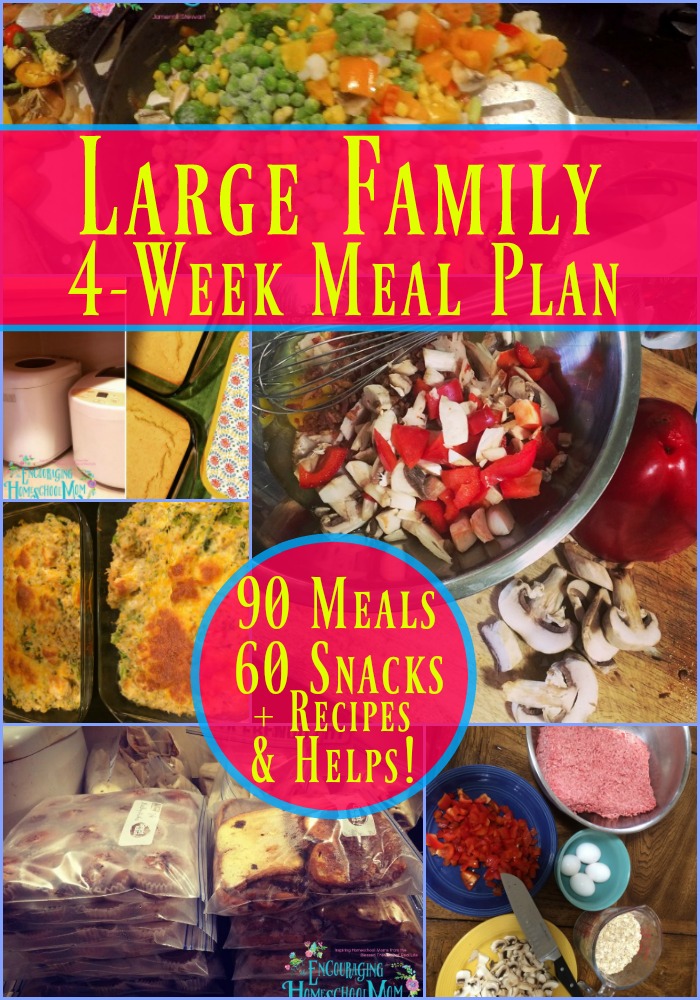 Large Family Meal Plan: 4-Weeks, 90 Family Meals, 60 Snacks, Recipes, and Helps!
Please share your ultimate large family grocery shopping tips and tricks in the comments below! I'd love to read your creative ideas. Let's chat in those comments. If you have a large family grocery shopping blog post you'd like added to the above list please leave that below as well.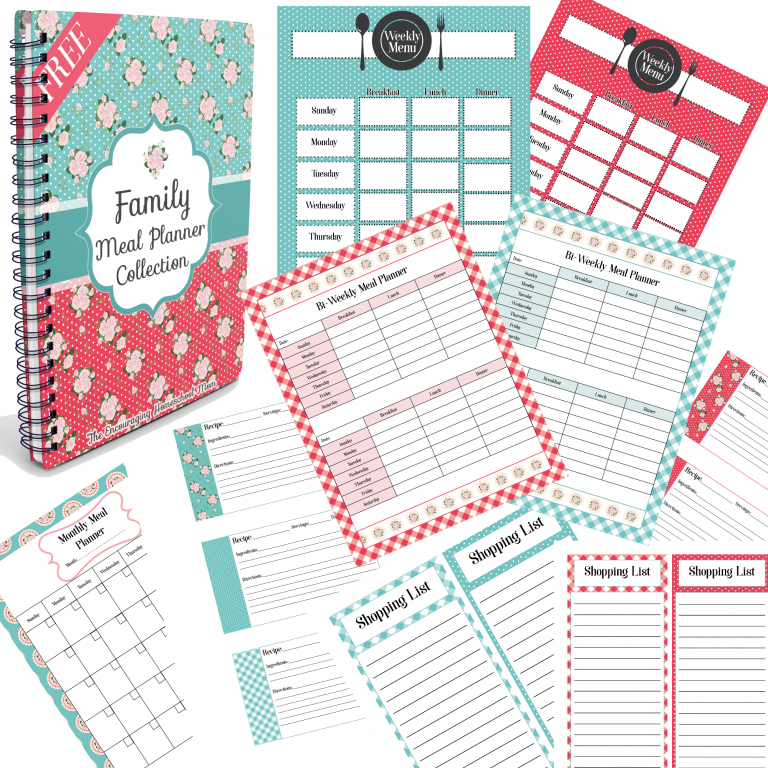 Help meal time go smoothly at your house with the free family meal planner collection!
Enjoy this set of beautiful weekly, bi-weekly, and monthly meal planners. Also included are bonus grocery shopping lists and helpful recipe cards.