$3.51 Daily Per Person ALDI Grocery Shopping Haul | Hormonal, Exhausted, Pregnant Lady Edition!
I filmed this ALDI grocery haul a little differently this go round. I was too tired to shoot at the dining room table like I normally do the night we got home. I filmed the following night in more of a Refrigerator, Freezer, and Pantry Tour style. I explain why in today's new ALDI Grocery Shopping Haul Video, hat tip to the "Hormonal, Exhausted, Pregnant Lady Edition" wording. 😉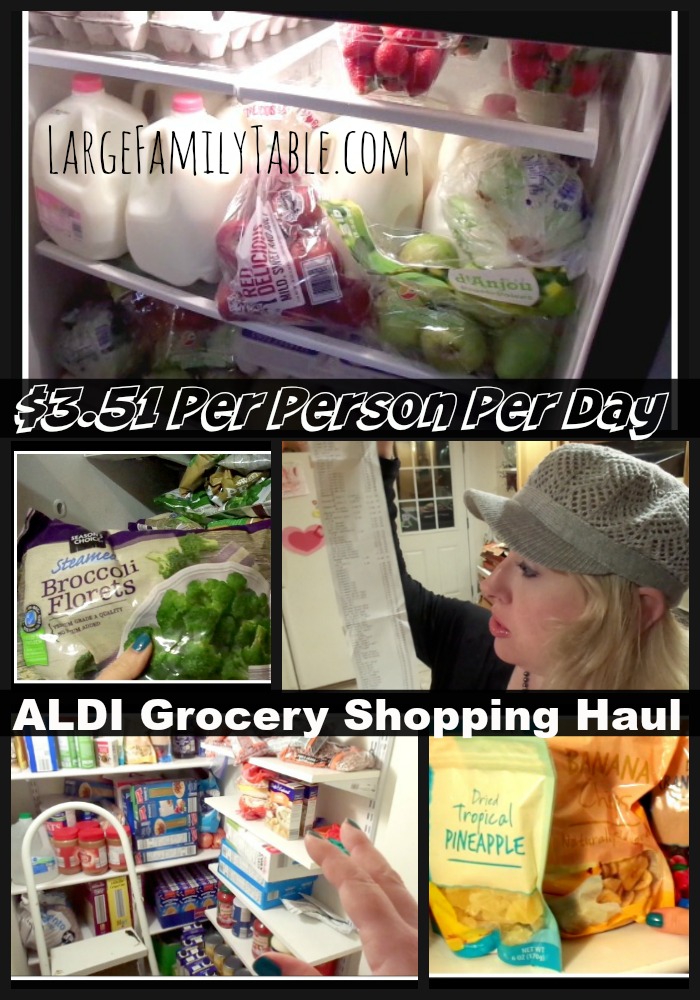 In today's new Aldi grocery shopping haul for our large family, I spent $443 for two weeks. This includes 42+ full meals for our family of nine including teenagers down to toddlers, my husband, and my pregnant self. 🙂 This also includes about 30 snacks for nine over the next two week period.
Additionally, I will push this grocery haul a few extra days past the planned out 14-days and eat down our pantry and freezers before the next shopping trip. The $443 divided by our family of nine who actually eat, breaks down to $24.61 per family member per week, just $3.51 per person per day.
This haul does include some sanity/convenience items such as bagels and cold cereal that I don't always get but need for ease during this exhausted pregnant mom season. I also picked up over 40 lbs of bananas, 20 lbs of carrots, 24 lbs of oranges, 12 lbs of apples, and more.
Below you'll find the full item-by-item cost breakdown and my entire large family meal plan for the next two weeks.
ALDI Grocery Shopping Haul Cost Breakdown
Fruits & Vegetables
Bananas $0.40/lb x 40lbs
Apples $2.99 x 3 3-lb bags
Oranges $3.49 x 6 4-lb bags
Pears $2.99 x 3 3-lb bags
Strawberries $2.49 x 4 1-lb packs
Kiwi $3.49 x 1 pack (with about 8 Kiwis included)
Broccoli $1.49 x 10 packs
Brussel Sprouts $0.99 x 5 bags
Frozen Sweet Peas $0.95 x 6 bags
Carrots $0.59 x 10 2-lb bags
Lettuce $1.29 x 3 heads
Green Peppers $0.89 x 2 2-packs
Red Patatoes $2.49 x 2 5-lb bags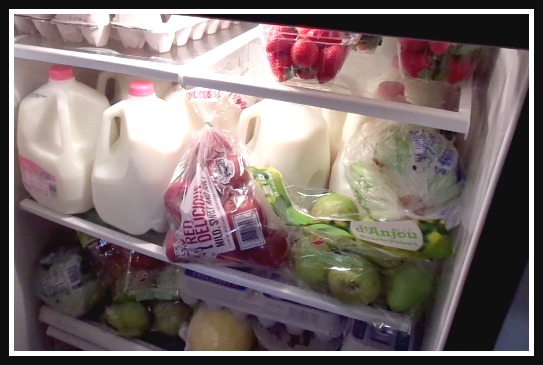 Pantry Items
Whole Kernel Corn $0.49 x 12 cans
Pickles $1.69 x 2 jars
Plain Bagels $1.59 x 7 bags
Cinnamon Bagels $1.59 x 5 bags
Deli Rolls $1.49 x 5 bags
Hamburger Buns $0.85 x 5 packs
Wheat Bread $0.99 x 20
Fajitas $1.69 x 3 packs
Donuts $1.59 x 4 small boxes (the kid's treat for when I got home from shopping 🙂
Crispy Oats Cereal $1.19 x 2 boxes
Frosted Flakes Cereal $1.29 x 2boxes
Corn Flakes Cereal $1.49 x 2 boxes
Raisin Bran Cereal $1.79 x 2 boxes
Crisp Rice $1.39 x 2 boxes
Creamy Peanut Butter $2.99 x 4 jars
Grape Jelly $1.39 x 4 jars
Spice $1.19 x 1 (Not sure which spice this is at the moment, lol!)
Garlic Salt $1.19 x 1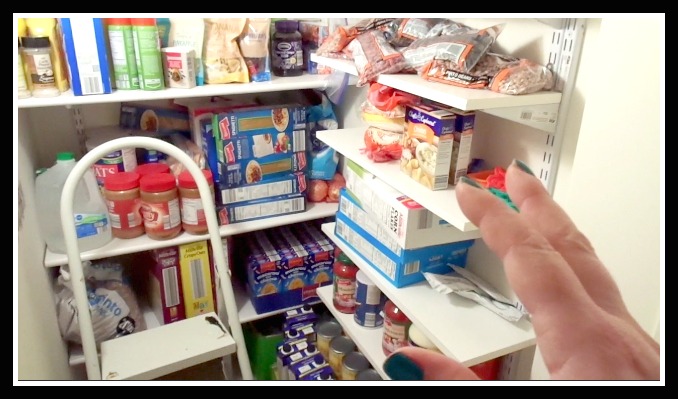 Table Salt $0.49 x 1
Black Pepper $2.99 x 1
Garlic Powder $1.19 x 1
Chili Powder $1.19 x 1
Onion Powder $1.19 x 1
Spaghettie & Mushroom Sauce $1.19 x 15 jars
32oz Beef Broth $1.39 x 4 boxes
32oz Chicken Broth $1.39 x 4 boxes
Soup Mix $0.79 x 2 packs
Taco Shells $10.68 x 12 boxes
Spaghetti $1.45 x 5 2-lb boxes
Macaroni & Cheese $0.33 x 24 boxes
Olive Oil Spray $1.49 x 2 cans
Applesauce $1.89 x 12 jars
Banana Chips $2.19 x 1 bag
Fruit Medley/Pineapple $1.59 x 1 bag
Dried Cranberries $1.59 x 1 bag
Mayonnaise $1.89 x 1 jar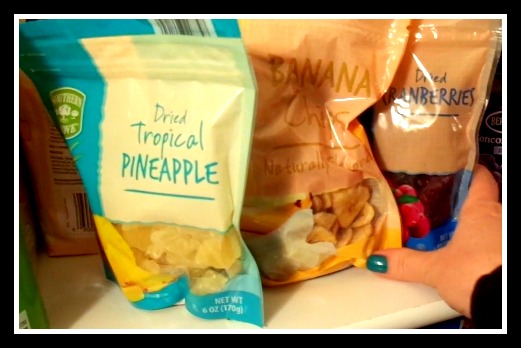 Meat for the Freezer
Half Pork Loin $9.28 x 1 ($1.69/lb)
Chuck Roast $6.37 x 2
Ground Beef $10.21 x 2 5-lb packs
Chicken Breasts $7.15 x 2 ($1.49/lb)
Refrigerator Items/Dairy
Italian Coffee Creamer $2.19 x 1
Coconut Coffee Creamer $2.19 x 1
Skim Milk $2.05 x 10 gallons
Almond Milk $1.99 x 3
Butter $2.29 x 5
Sour Cream $1.19 x 6
Large Eggs $0.46 x 15 dozen
Cottage Cheese $2.29 x 4
Shredded Cheese $5.89 x 2 3-lb bags
Deli Sliced Provolone Cheese $1.99 x 4 packs
Big Family Meal Plan for Two Weeks
Breakfasts
Fruit/Smoothies
Eggs in a variety of ways (Fried/Scrambled/Hard Boiled)
Bagels with cream cheese or peanut butter
Cereal (hat tip to sanity saving)
Lunches
Dinner leftovers as available
Tuna Salad Sandwiches/Fruit (I still have about 12-cans of tuna in the pantry from a previous haul)
Egg Salad Sandwiches/Fruit
Freezer Peanut Butter & Jelly Sandwiches/Fruit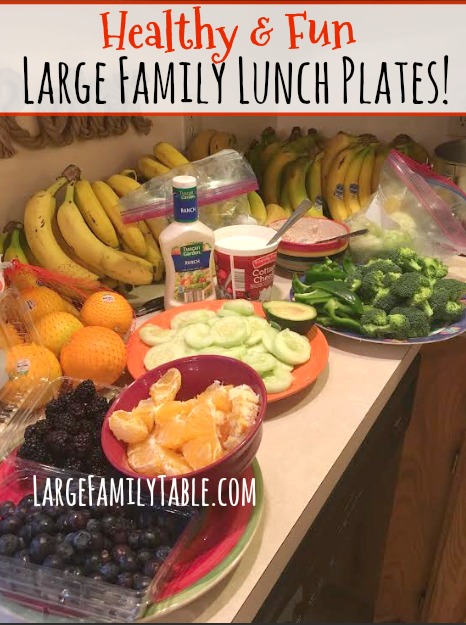 Fruit/Veggie Plates We love to set out all the available fruits, veggies, cottage cheese, etc. and make individual lunch plates full of everyone's favorites. To do this though we need to have a lunch time at home without having to run out for errands.
Dinners
All dinners will be served with lots of fresh veggies. I also plan on doing roasted red potatoes like how I did here. As I mentioned above, I'll do some pantry challenge-type meals before I do our next big grocery haul. Also, several of these dinners below will carry enough leftover for lunch and/or dinner the following day.
Large Stock Pot of Homemade Chicken Noodle Soup (I don't have a video of this yet, but you can see my Homemade Chicken Soup Using Kitchen Leftovers here.)
Tacos x2 I plan to make Tacos on Tuesdays. We'll have enough leftovers to have tacos again on Wednesday. No, we don't get sick of tacos 🙂
Philly Cheese Steaks in the Slow Cooker
Cheeseburger Sliders (similar to Cheeseburger foil packets, I'm going to bake a pan of cheeseburgers – video coming!)
Slow Cooker Chicken Alfredo and Broccoli (my family has continued to request this)
Meatloaf in the Slow Cooker with Peas (I love making one for dinner and throwing a 2nd one in the freezer for another week.)
Slow Cooker Pork Roast with Brussel Sprouts or Peas (I'll most likely do this with a bottle of Italian dressing like I do for Italian Slow Cooker Chicken.)
Weekend Chili and Cornbread
Weekend Spaghetti & Meatballs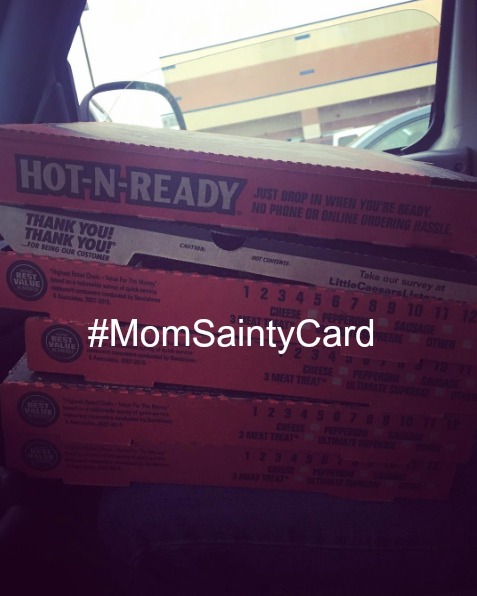 And momma's let be real if this is what dinner looks like one night, more power to you!
As I shared on Instagram a few days ago, "#DinnertimeConfessions ?remember my large @aldiusa grocery haul I shared earlier today? I shopped that in real time last evening. Today we spent a wonderful day with one of our best friend families running through their fields and enjoying therapeutic mom chatter ? (thanks, Jo!). Sure, I could've thrown something in the slow cooker on low before we left. But that's not always real life.? So on our way home this evening about 5 PM or so, I pulled out my #MomSanityCard. It's a thing, you know. And there's no shame in the keeping mom sane game.? Little Caesars $5/large pepperoni pizza deal for the win!"
Snacks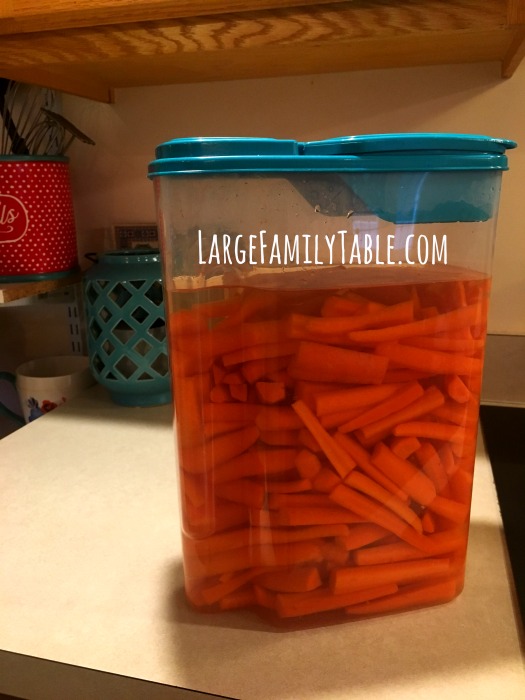 *Carrot Sticks (You can read here how we'll process our 20 lbs of carrot sticks to have quickly available for snacks, plus how I keep everyone's hands out of the water 🙂 )
*Raw Broccoli
*Pepper Slices
*Oranges
*Bananas
*Apples with Peanut Butter
*Pears
*Smoothies
*Cottage Cheese
*Hard Boiled Eggs
*Homemade Yogurt
*Banana and/or Pumpkin Bread
You can read more large family snack ideas here.
$3.51 Daily Per Person Aldi Grocery Shopping Haul | Hormonal, Exhausted, Pregnant Lady Edition!
Click here to watch the full $3.51 Daily Per Person Aldi Grocery Shopping Haul | Hormonal, Exhausted, Pregnant Lady Edition!