?Get the Best-Selling Large Family Freezer Meals Collection here! Use promo code HELLO20 to take 20% off your first order. 🙂
I am absolutely in love with how easy this Bratwurst & Broccoli Sheet Pan Dinner Recipe is! And my family is in love with how delicious it is! #WinWin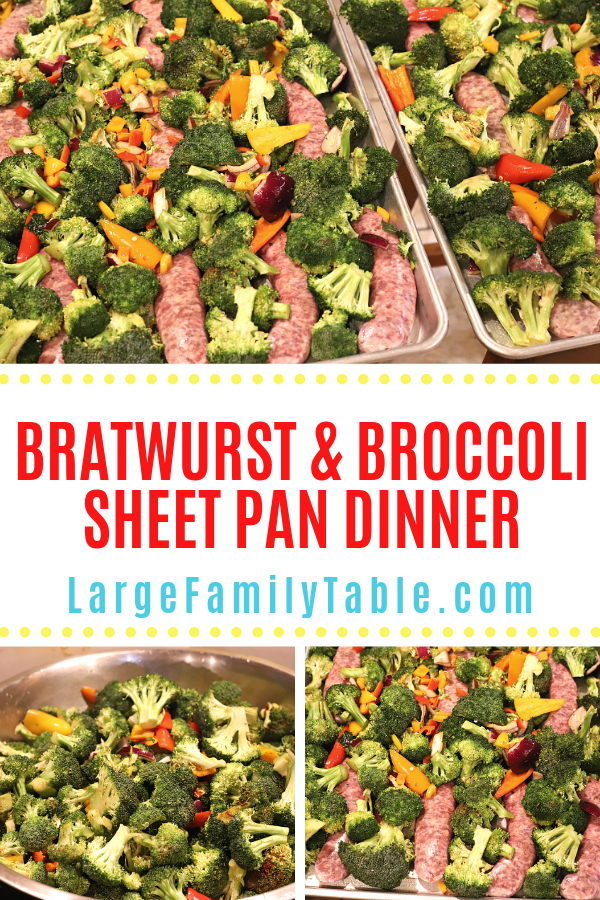 Bratwurst & Veggies Sheet Pan Dinner
While bratwursts will always be a grilling favorite, they also make a great addition to an easy oven-baked sheet pan dinner. No pre-boiling required! Add in some broccoli and a bunch of colorful peppers, and this Bratwurst & Veggies Sheet Pan Dinner is a keeper!
The Meat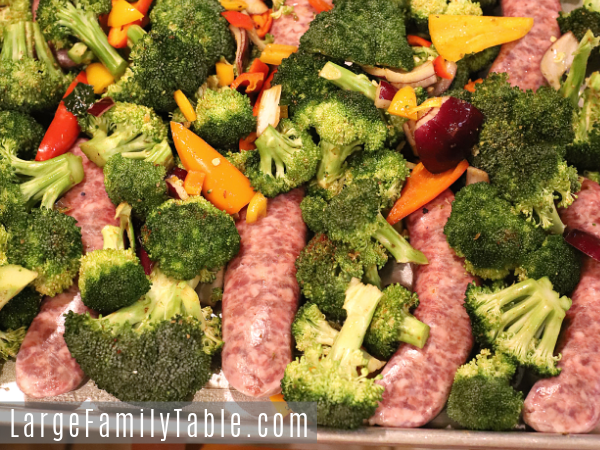 I used 4 lbs of bratwursts that I picked up at Aldi. Brats (rhymes with hats), or brats (rhymes with lots), no matter how you say it (humor me, lol!), they're a tasty meat for the whole family to enjoy!
The Veggies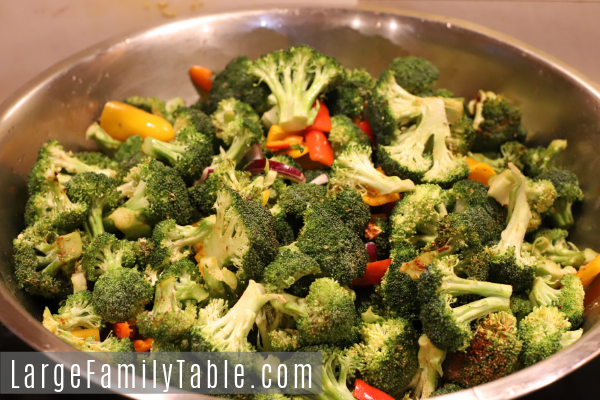 In the veggies department, for this dinner, I used about 4 lbs of fresh broccoli, a 1 lb bag of lovely little sweet peppers, and one large purple onion all tossed and coated with some olive oil, paprika, oregano, and garlic. Yummo!
The Cooking
While the oven was preheating, I spent some time in my kitchen happy place chopping veggies. I don't know what it is about chopping veggies, but whatever it is, it does my heart good!
After the veggies were chopped and seasoned, it was time to arrange everything onto two sheet pans and pop the whole works into the preheated oven. Easy peasy!
Watch me prepare this recipe and 4 more Healthy Sheet Pan Dinners!
More Sheet Pan Dinner Recipes
Print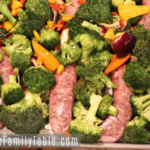 Bratwurst & Broccoli Sheet Pan Dinner Recipe
---
Description
Enjoy this tasty and easy to throw together sheet pan dinner recipe!
---
Ingredients
4lbs bratwursts
4lbs fresh broccoli, chopped
1lb colorful mini peppers, sliced
1 large purple onion, chopped
1/4 cup olive oil
1 TBS garlic powder
1 TBS paprika
1 TBS oregano 
---
Instructions
Preheat oven to 400°.
Spray two sheet pans with non-stick cooking spray.
Spread meat over both sheet pans.
In a large bowl mix olive oil, garlic powder, paprika, and oregano. Add in chopped and sliced veggies, toss gently until coated.
Bake for 40 minutes at 400°, or until internal temperature of brats reaches 160°.
I hope you enjoy this healthy sheet pan dinner recipe! If you're looking for a good large family style sheet pan, here is my Amazon affiliate link to my exact sheet pans – https://amzn.to/2MzjgG7