Every large family table out there loves a sweet bread of some kind. Maybe your go-to sweet bread to feed your large family will be this Instant Pot Peanut Butter Banana Bread with Chocolate Chips. I'm going to show you how to make it, so stay tuned! You'll also enjoy this Instant Pot Cinnamon Swirl Banana Bread and the oh so lovely Instant Pot Double Chocolate Banana Bread, too!
***Use special promo code HELLO20 to take 20% off your first order in the shop including the SUPER MEGA ULTIMATE Large Family Freezer Meals Bundle here!**
Large Family Instant Pot Peanut Butter Banana Bread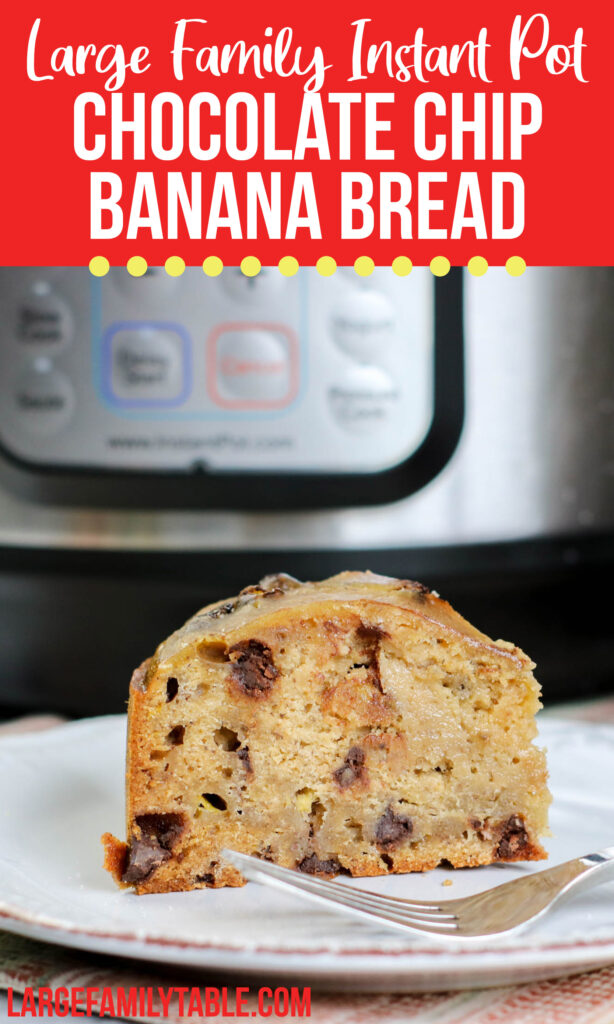 Instant Pot Peanut Butter Banana Bread
Once you make this amazing sweet bread, your kids will ask to eat it every day for the rest of their lives! Of course, we've made regular banana bread in the bread machine, but this is made in the Instant Pot, and the flavors are awesome. When you don't want to heat up your kitchen using the oven, then the Instant Pot is the way to go.
Baking in the Instant Pot
Some of you may be wondering why one would bake in an Instant Pot? Like I mentioned earlier, sometimes it's hard when it's hot outside, you don't want to add to the heat in your house. Otherwise, Instant Pots are so convenient. You can use them anywhere. Sometimes people are traveling and they may bring it with them. What if you're redoing your kitchen? Instant Pot to the rescue. Plus, baked goods do cook faster in an Instant Pot. Be sure to check out my kitchen must-have's list so your kitchen will be stocked.
What Does Instant Pot Banana Bread Taste Like?
If I were to describe this dish, I would say it's dense but so good. I love eating my banana bread with a slather of butter. Yum, so good. With the mixture of peanut butter and chocolate chips, you are going to be in banana bread heaven! You can enjoy this banana bread in the morning with a cup of iced coffee or in the evening with a glass of milk. All of it is so good!
How to Store Instant Pot Banana Bread
After you've made this Banana Bread, you may be wondering how to store it. You can easily store this bread, so you can enjoy it for several days to come!
Make sure that the bread is cooled completely down before you try and store it.
Grab some plastic wrap and completely wrap the bread in the plastic wrap.
Place the banana bread in an airtight container.
The key to storing the bread is to have several layers covering it.
You can freeze it like this or store it on the counter. Most people throw it away after 4 days if it's not eaten. Keep in mind that cutting up the bread and storing it in individual slices is always a good idea!
Just imagine, you're craving a slice of banana bread. Now you can pull one slice out of the freezer and enjoy it. All while not wasting the whole loaf. Genius!
The next time you're craving something delicious, this Instant Pot Peanut Butter Chocolate Chip Banana Bread is where it's at. It's so delicious and a large family table favorite. Leave a comment if you get a chance to try this yumminess in bread form.
Do you have more delicious bread recipes?
Making your own bread is a great way to save money on groceries. Buying prepackaged bread, rolls, muffins, baking mixes, and sweet treats can get expensive fast. Baking ahead and freezing it in the freezer means it's ready for you when you need it and you can make it when you have the time. Try my Frugal from Scratch Baking Recipes and Staples Book One for lots of money-saving recipes like Depression Era Chocolate Cake plus three other sweet treats, four delicious versions of bread recipes, plus baking staples like cake mixes, baking mix, baking powder, and more. My Frugal From scratch Baking Book Two expands into ten new recipes. Grab them both in the DOUBLE BUNDLE!! Frugal From Scratch Baking Recipes & Baking Staples to save even more!
Here are more sweet breads to make!
Instant Pot Peanut Butter Chocolate Chip Banana Bread
Print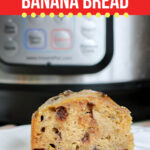 Large Family Instant Pot Peanut Butter Banana Bread with Chocolate Chips | Large Family Table Baking
Author:

Prep Time:

20 minutes

Cook Time:

55 Minutes

Total Time:

1 hour 15 minutes

Yield:

12 Slices

Category:

Baked Goods

Method:

Instant Pot
---
Description
When you are craving something delicious, this Instant Pot Peanut Butter Banana Bread is awesome! Plus, this IP Banana Bread also has Chocolate Chips, so what's not to love. 
---
Ingredients
2 cups flour

1 teaspoon baking soda

½ teaspoon salt

½ cup creamy peanut butter

½ cup sugar

½ cup brown sugar

3 ripe bananas

⅓ cup heavy cream

¼ cup vegetable oil

2 eggs

2 teaspoons vanilla extract

1 cup semi-sweet chocolate chip morsels
---
Instructions
Prepare a 7.5 inch springform pan with nonstick cooking spray. (Any cake pan that will fit into the electric pressure cooker will work but cooking time might vary slightly depending on the thickness of the batter.)

Whisk together the flour, baking soda, and salt. Set aside.

In a mixer, cream the peanut butter and sugars together until fluffy. 

Add the bananas, heavy cream, vegetable oil, eggs, and vanilla extract until well blended. Mix well.

Add the flour mixture to the wet ingredients and beat together just until combined. Do not overmix. Stir in the chocolate chips.

Transfer the batter to the springform pan and smooth evenly.

Cover the springform pan with aluminum foil and place on a trivet with handles (or create a sling using aluminum foil.)

Pour 1 cup water into the liner of the electric pressure cooker. Carefully lower the trivel into the liner.

Program the electric pressure cooker for 55 minutes on manual or "pressure cook." When the cook cycle is complete, perform a quick release of the pressure. Remove the lid and carefully use a towel to remove the liquid from the top of the aluminum foil.

Lift the trivet from the pressure cooker and remove the aluminum foil from the springform pan. Allow the bread to rest until any water that has accumulated on the top of the bread has absorbed or dried.

To serve, release the springform pan sides and cut the bread into wedges.
Keywords: Peanut Butter Chocolate Chip Banana Bread
This delicious sweet bread tastes more like a dessert than a bread! Your kids will enjoy having this healthy treat for a snack or with a meal. Instant Pot Banana Bread is a perfect breakfast with coffee or late-night snack with a big glass of milk.
FREE Emergency Pantry Planning Pack!
Don't forget to sign up for the emergency pantry planning pack for free to help you plan your pantry meals! The free Emergency Pantry Planning Pack will help you plan your needed pantry items! Printable pages include pantry inventory, grocery lists, meal planners, list of pantry staple items, and more.