Running out of breakfast ideas for your big family? Try this delicious, stress-free recipe for Big Family Sheet Pan Chicken and Waffles that everyone in the home can enjoy!
Do you have a large family to prepare meals for each day? You may find yourself struggling to come up with new and tasty breakfast ideas that everyone will love. If this is a problem you have experienced on more than one occasion, you need to try this Big Family Sheet Pan Chicken and Waffles recipe. Your loved ones will enjoy the crisp taste of the chicken with the fluffy texture of the pancakes. Besides providing a meal that tastes great, you can make this meal with ease by preparing it on a sheet pan in your oven.
****Use special promo code HELLO20 to take 20% off the entire MEGA DEAL get-it-all Bundle including the best-selling Large Family Freezer Meal Packs 1-12 + so much more!!****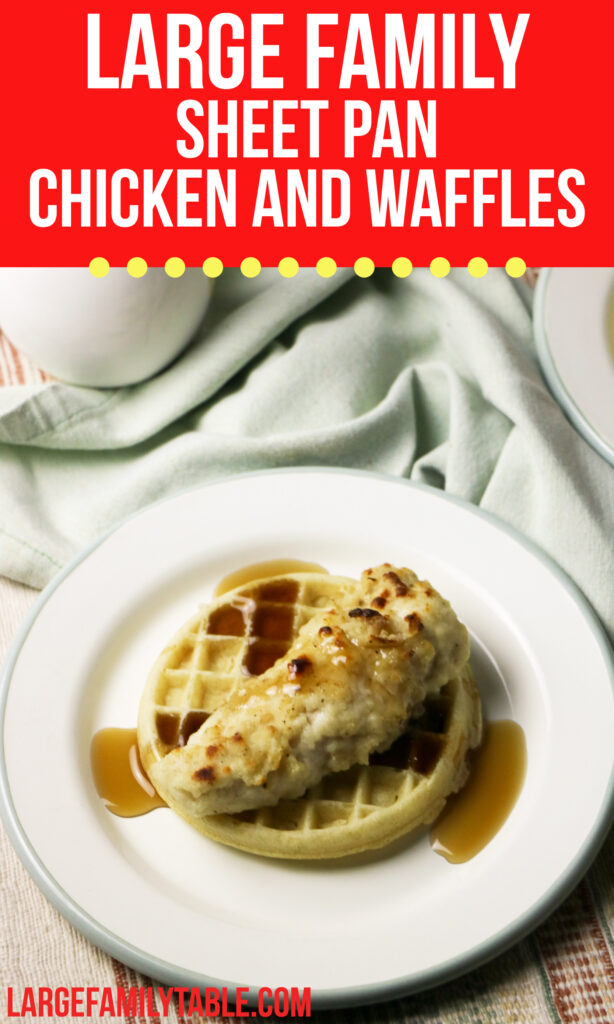 Ingredients Needed to Make Waffles and Chicken
Get started on making the Big Family Sheet Pan Chicken and Waffles with some of the following ingredients:
Chicken. You will need boneless, skinless chicken breasts cut into strips. You can also buy pre-sliced chicken tenders.
Buttermilk. Use the buttermilk as a dip for your chicken to get the crispy coating to stick to it.
Flour. Dip your drenched chicken into the flour to create the perfect coating.
Frozen Waffles. Use any brand of frozen waffles that you personally prefer. You can also make your own waffles. Here are more waffle recipes.
Besides these ingredients, you will simply need some salt and pepper for seasoning.
Can I Use Any Frozen Waffles?
You can use any brand and type of frozen waffles (or make your own!). For example, you can use blueberry, strawberry, or even chocolate chip waffles. The sweet taste of these extras will still taste great with the breaded, crispy chicken. Of course, you can keep it simple and use traditional buttermilk waffles. Check out all my pancake and waffle recipes.
You might even want to try using pancakes instead of waffles. Try sheet pan berry pancakes, Red Velvet Pancakes, Sheet Pan Pancakes, Pumpkin Pancakes, Blueberry pancakes, and Chocolate Chip Pancakes.
What to Add to Your Sheet Pan Chicken and Waffles
Once you have prepared the Sheet Pan Chicken and Waffles and are ready to serve it to your loved ones, you may want to add some toppings to it. The chicken and waffles will taste great with syrup drizzled on top. You can use maple syrup or any other type of syrup that you would normally put on waffles and pancakes. Besides syrup, other toppings for this meal include powdered sugar and raw honey, both of which can add a sweet touch to your breakfast meal.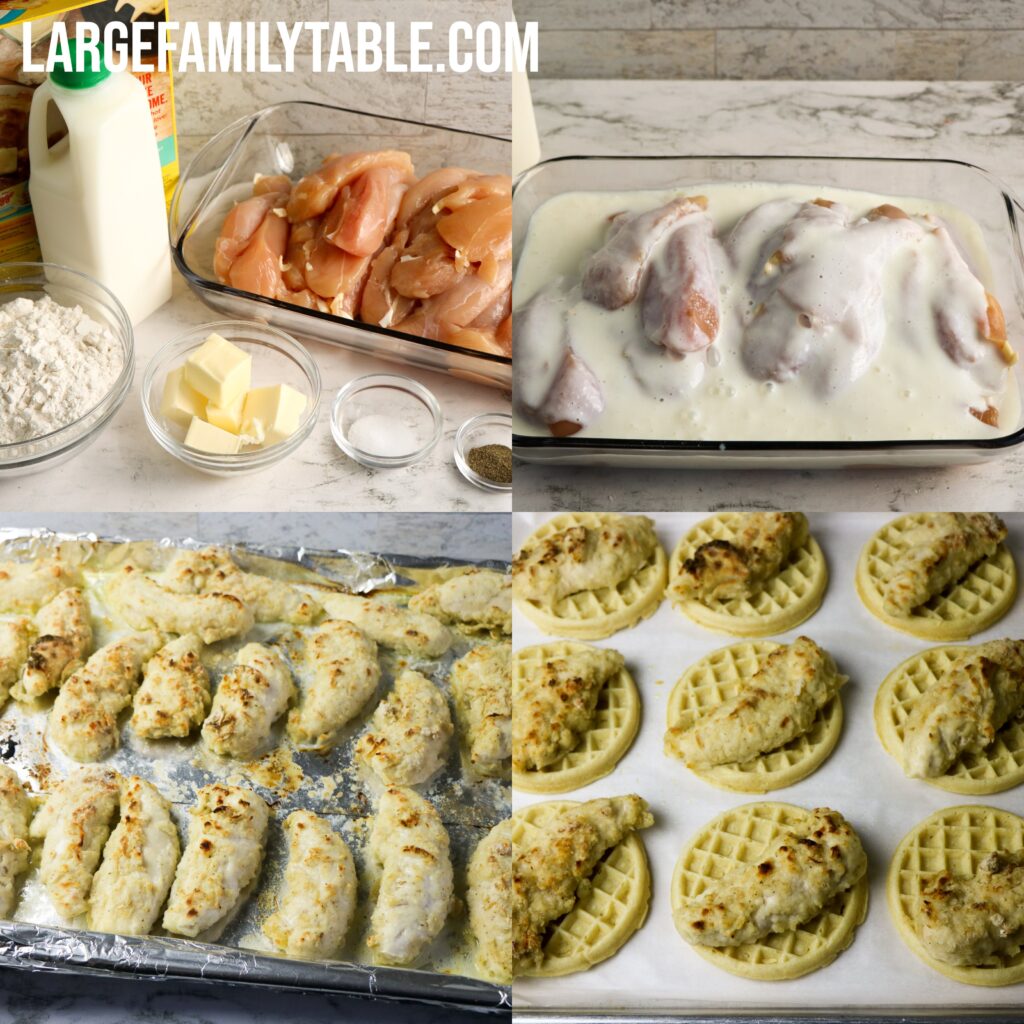 What to Serve with the Chicken and Waffles
The Sheet Pan Chicken and Waffles meal is fulfilling enough without any extras. However, if you would like to go all out, this meal will taste great with a side of baked eggs and cheesy hashbrowns. You may even want to serve it with a side of fresh fruit, such as sliced strawberries, chopped pineapples, and diced mangoes.
How to Store Chicken and Waffles
When storing leftovers, separate the chicken from the waffles. Place the waffles in a plastic food storage bag and seal it shut. Put the chicken in a food storage container with a lid. Put both the waffles and the chicken in the fridge to keep them fresh for three days. When reheating, you can microwave the waffles, but it is best to put the chicken back in the oven for several minutes to bring back the crispy texture.
Here are more dinner recipes for your large family!
Where can I find more large family breakfast recipes?
Sheet Pan Chicken and Waffles is a simple way to feed your family a delicious breakfast! Breakfast doesn't have to be complicated to be filling and healthy. I know it may seem easier to buy pre-made breakfast items, but you can save lots of time and money just by making breakfast ahead of time with my Breakfast Freezer Meals Pack, it's number 10 in my Large Family Freezer Meals Series. It includes 10 amazing breakfast recipes with directions to help you make 25 breakfast meals to put in your freezer!
Large Family Sheet Pan Chicken and Waffles
Print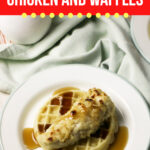 Big Family Sheet Pan Chicken and Waffles | Large Family Breakfast
Author:

Prep Time:

20 minutes

Cook Time:

25 Minutes

Total Time:

45 minutes

Yield:

24 Servings

Category:

Breakfast

Method:

Oven
---
Description
Running out of breakfast ideas for your big family? Try this delicious, stress-free recipe for Big Family Sheet Pan Chicken and Waffles that everyone in the home can enjoy!
---
Ingredients
6 pounds chicken tenders or boneless, skinless chicken breast sliced into strips

1 quart buttermilk

2 cups flour

1 to 2 teaspoons salt, depending on taste

½ to 1 teaspoon black pepper, depending on taste

24 frozen waffles

Syrup, for serving
---
Instructions
Place chicken tenders in a deep casserole dish and cover with buttermilk. Stir the chicken slightly, allowing the buttermilk to coat all of the chicken. Cover and soak in the refrigerator overnight.

When ready to cook, preheat the oven to 425 degrees, Prepare a large (21 x 15 inch) rimmed baking sheet with aluminum foil spritzed heavily with nonstick cooking spray.

Stir together the flour, salt, and black pepper. Dip each chicken tender in the flour mixture and then place in the baking sheet.

Bake the chicken, turning halfway, for 15 to 20 minutes or until cooked through.

As the chicken cooks, prepare another baking sheet with aluminum foil or parchment paper. Spritz with nonstick cooking spray.

Place the frozen waffles on the baking sheet in a single layer. Bake for 5 minutes or until the waffles are lightly toasted.

Serve the waffles topped with chicken tenders, drizzled with syrup.
Keywords: Chicken and Waffles
Chicken and waffles is great for breakfast but even better for a delicious dinner! Give it a try and you'll soon add it to your weekly large family menu.
FREE Emergency Pantry Planning Pack!
Don't forget to sign up for the emergency pantry planning pack for free to help you plan your pantry meals! The free Emergency Pantry Planning Pack will help you plan your needed pantry items! Printable pages include pantry inventory, grocery lists, meal planners, list of pantry staple items, and more.