If you love pancakes but don't think you have time to make them, here's an easy way to enjoy them more often with less mess and almost no time.
If I asked you what your family's favorite breakfast is, I would bet that many of you would say pancakes. Pancakes are hot and filling and they can be topped so many different ways that they never get old. If you're tired of pancakes and syrup, try a few new combinations, like spreading them with peanut butter for even more tummy-filling power. Or jelly instead of syrup. How about fresh or thawed frozen fruit and whipped cream? That's quite a treat to see on a breakfast plate!
****Use special promo code HELLO20 to take 20% off the entire MEGA DEAL get-it-all Bundle including the best-selling Large Family Freezer Meal Packs 1-12 + so much more!!****
Large Family Chocolate Chip Pancakes Recipe | Freezer Friendly Pancakes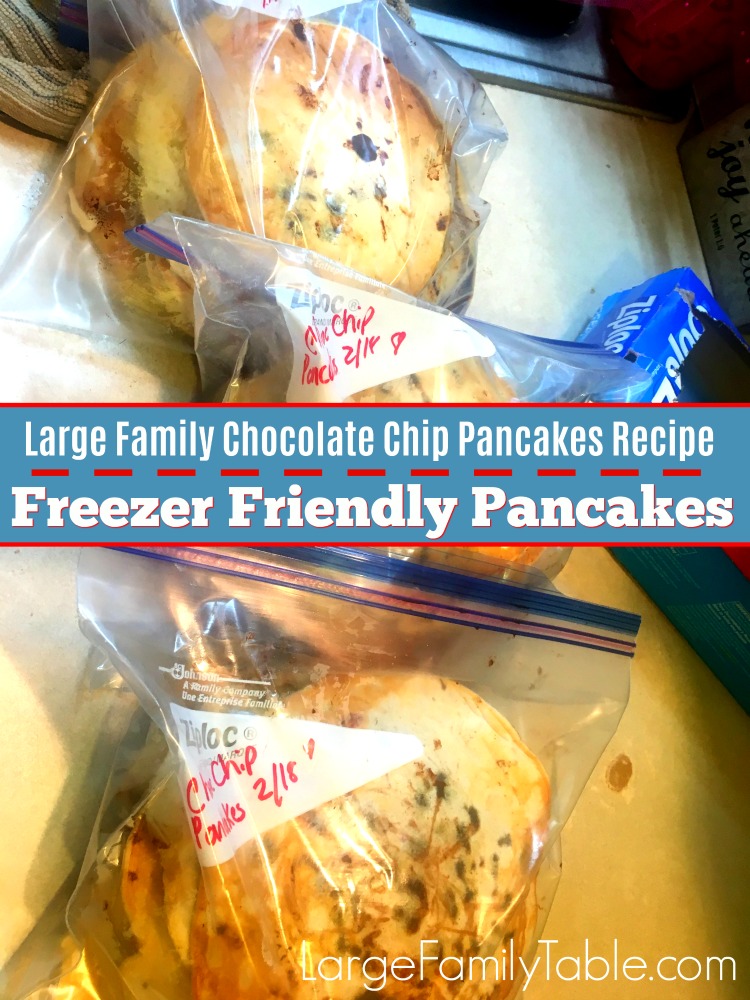 Pancakes are a family favorite and staple for breakfast!! The only thing that makes me not love pancakes is having to cook enough to feed all the mouths in my large family. Pancakes are best when they are steaming hot, so nobody wants to let them sit around while I make enough for us all. I found the solution to that problem, though! I make pancakes up in huge batches and put them in the freezer. That way, we can have them whenever we are ready and each person's pancakes can be nice and hot.
Ingredients Needed to Prepare the Chocolate Chip Pancakes
You should have a few important ingredients ready to use when preparing your Chocolate Chip Pancakes, including:
Flour, Sugar, Baking Powder and Salt
Cinnamon
Chocolate Chips
You'll also need eggs and milk as the wet ingredients for your Chocolate Chip Pancakes. When combining all these ingredients, you'll want to mix well but not overmix.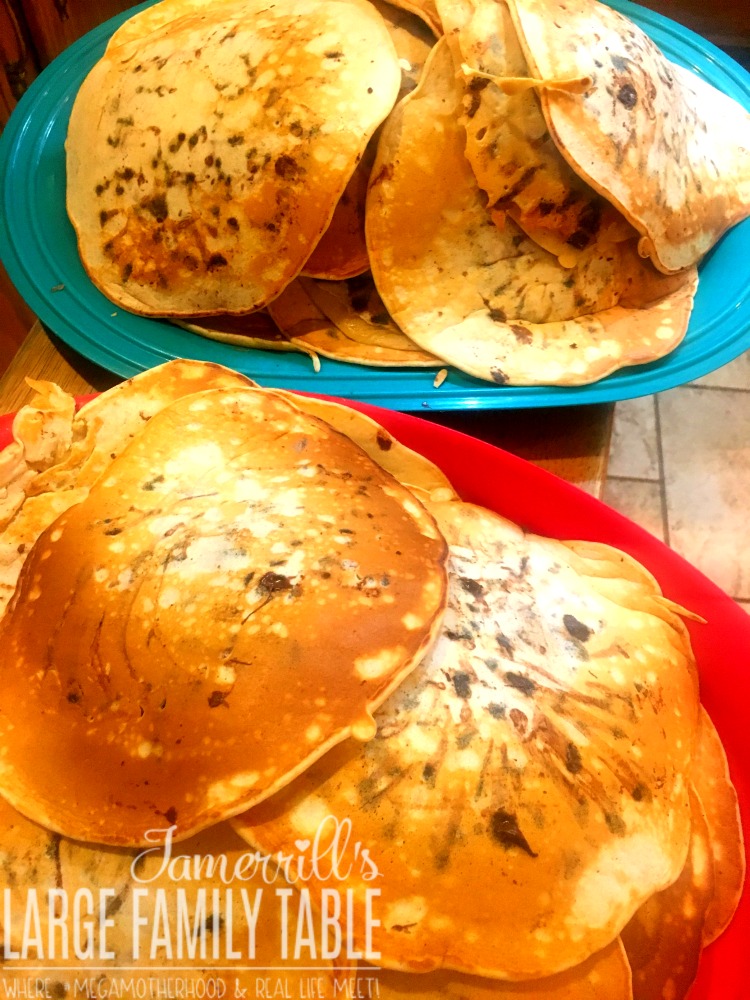 Can I add anything else to my pancakes?
Absolutely! If you would like a healthier option for breakfast, you could add ingredients such as blueberries or use your choice of flour rather than the standard white flour! You can top with strawberries and other fruits, too! If you'd like to make a special sweet treat for your family, you could add whipped cream on top and other sweets such as marshmallows!
How do I freeze the Chocolate Chip Pancakes for later?
Place all pancakes in a freezer bag, using parchment paper between pancakes if desired. You may freeze them for up to two months and just thaw in the refrigerator the night before you want to serve them. You can heat them up in the microwave (one minute for about five pancakes); in the oven (350 degrees for about ten minutes); or in the toaster!
Where can I find more breakfast ideas for my family?
Breakfast doesn't have to be complicated to be filling and healthy. I know it may seem easier to buy pre-made breakfast items, but you can save lots of time and money just by making breakfast ahead of time with my Breakfast Freezer Meals Pack, it's number 10 in my Large Family Freezer Meals Series. It includes 10 amazing breakfast recipes with directions to help you make 25 breakfast meals to put in your freezer!If your freezer is already full or you just don't have the freezer space, then try my Easy and Simple Large Family Sheet Pan Breakfasts which includes 10 delicious and easy breakfast meals to make your large family. Save time and money!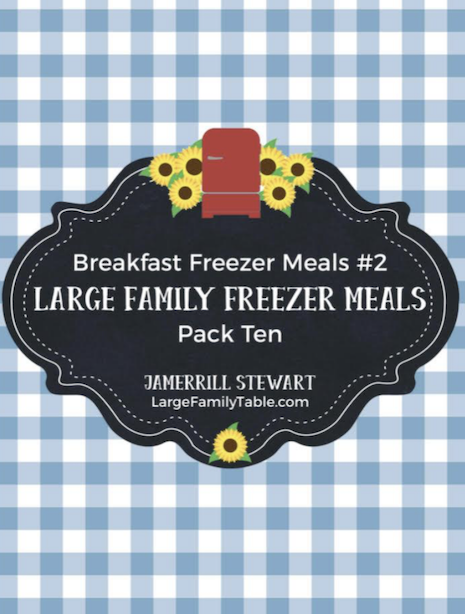 Chocolate Chip Pancakes
Print Large Family Chocolate Chip Pancakes Recipe | Freezer Friendly Pancakes
---
Description
If you love pancakes but don't think you have time to make them, here's an easy way to enjoy them more often with less mess and almost no time.
---
Ingredients
12 cups flour (any kind you have or prefer)
1 cup sugar
1/2 cup baking powder
2 1/2 TBSP salt
2 TBSP cinnamon
12 eggs
12 cups milk
4 cups chocolate chips
---
Instructions
Mix dry ingredients except for chocolate chips.
Make a well in center of dry ingredients.
Stir together wet ingredients and add to dry ingredients.
Stir all together until everything is wet but not overmixed.
Stir in chocolate chips.
Spoon onto hot griddle or skillet and brown on both sides.
Cool on pans before placing in freezer bags.
To eat pancakes, set bag in frig the night before and heat pancakes in microwave or toaster.
---
Notes
Here's a little trick for knowing when to flip your pancakes; when you see bubbles on the top of a pancake and the edges are turning brown, it's time to flip!
Some folks prefer to slip a piece of parchment paper between each pancake in the freezer bags so that they can grab individual pancakes and not have to deal with the whole bag full. If you have a smaller family, that may work well for you. I just do the whole bag every time, which is about 14 pancakes, because we need that many for breakfast. If there are one or two left over, I can easily stick those back in the frig for a snack for later.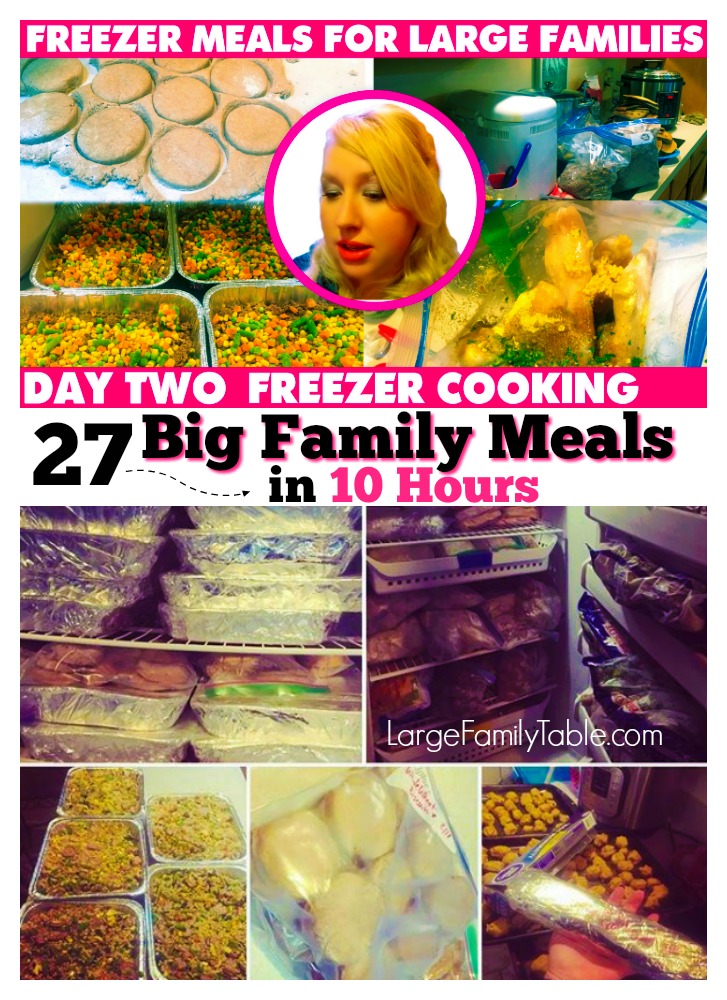 This Large Family Chocolate Chip Pancakes Recipe was in my 27+ Large Family Meals in 10 Hours vlog from my day two large family freezer cooking day. Let me know how your family loves this freezer friendly pancake recipe!
FREE Emergency Pantry Planning Pack!
Don't forget to sign up for the emergency pantry planning pack for free to help you plan your pantry meals! The free Emergency Pantry Planning Pack will help you plan your needed pantry items! Printable pages include pantry inventory, grocery lists, meal planners, list of pantry staple items, and more.