Homemade Freezer Friendly Pizza Dough in the Bread Machine
You know if you have hung around these parts for any length of time at all that we have no problem grabbing some Little Ceasar's pizza when we need a quick dinner or if we've been in town and don't have time to put dinner together when we get home. I call this "grace in the groceries" around here.
I make my homemade freezer friendly pizza dough in bread machines and I want to talk about that a little bit before we get to the recipe. So bear with me. : )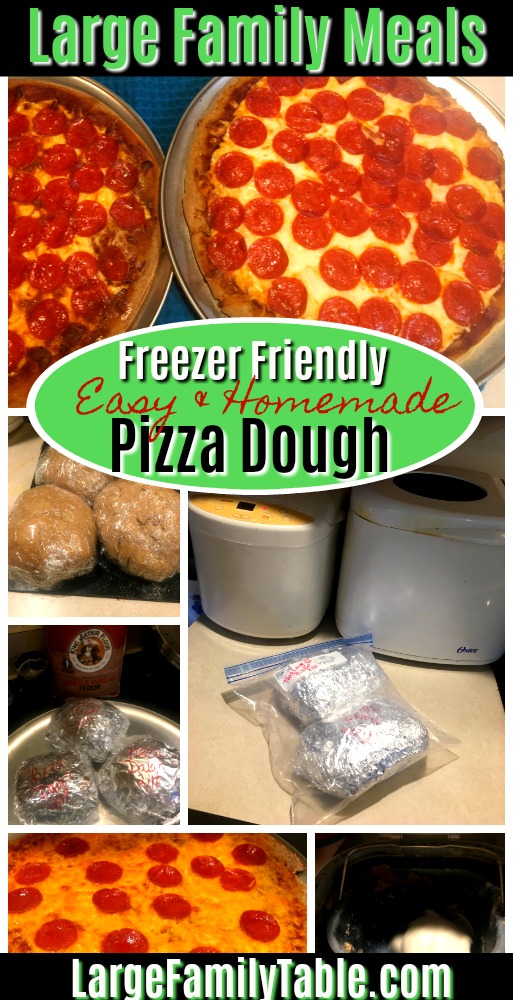 We love having homemade pizza. Lots of times. And for those times, I like to have some pizza dough in the freezer just waiting to serve me.
I have 2 bread machines; one of them I got on Amazon for half-price (here's my Amazon affiliate link for my exact Breadman Bread Machine) and the other I got at a thrift store for a whopping $2.99. Even though I snagged my 2nd bread machine years ago at the thrift store, I still see bread machines at the thrift stores often for under $5 so don't forget to check there, too!
My bread machines are completely different brands and that's okay with me. I use them exactly the same. Now let me say, if you have a bread machine and it came with the little booklet, then, by all means, follow the instructions in there. My thrift store machine didn't have its little booklet anymore so I did what I always do in situations like this. (Tip! You can also check online for whatever your brand bread machine instruction manual!)
Figured it out. I use the thrift store one exactly like I use the brand new one and you know what? It works perfectly. So there you go. Jamerrill style cooking at its finest. : )
Homemade Pizza Recipes
Along with seeing how I make homemade freezer friendly pizza dough in the bread machines, you might also enjoy these additional kid-friendly homemade pizza recipes!
Homemade Angry Birds Pizza
English Muffin Pepperoni Pizzas – freezer friendly, too!
Pizza Casserole – your fav pizza toppings but with noodles!!
EASY Homemade Pizza Boats
And there's always Fruit Pizza, too!
Okay, let's make pizza dough for the freezer.
Print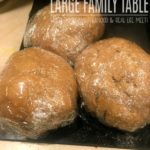 Homemade Freezer Friendly Pizza Dough in the Bread Machine | Large Family Recipes
Author:

Prep Time:

5 min

Cook Time:

60 min

Total Time:

1 hour 5 minutes

Category:

Dinner

Method:

Bread Machine

Cuisine:

Italian
---
Description
Make this pizza dough in the bread machine for your family! I like to keep my bread machines going and make multiple balls of homemade pizza dough to freeze for the coming months. You can also cook pizza straight from the bread machine, too!
---
Ingredients
1 1/2 cups warm water
3 TBSP olive oil (you can use vegetable oil if it's all you have)
2 TBSP sugar
1 tsp salt
3 cups whole wheat flour (You can totally use all-purpose if you'd rather. When I use exclusively all-purpose flour I usually add in an extra cup to bring it to 4 cups total.)
2 1/4 tsp Active Dry Yeast
---
Instructions
Place ingredients in bread machine in order listed.
Set bread machine on "dough" setting.
---
Notes
Once the dough cycle is complete I remove the dough and place it in a large metal mixing bowl. I let it sit covered lightly with a clean kitchen towel for about another hour or so. It will continue to rise during that time.
Afterward, I will either roll out the dough to make homemade pizza that night or I'll package it per my directions below for the freezer.
Keywords: bread machine pizza dough, homemade pizza dough in the bread machine
The entire process takes over an hour in each of my bread machines. I like to run both machines multiple times throughout the day if I'm making pizza dough for the freezer.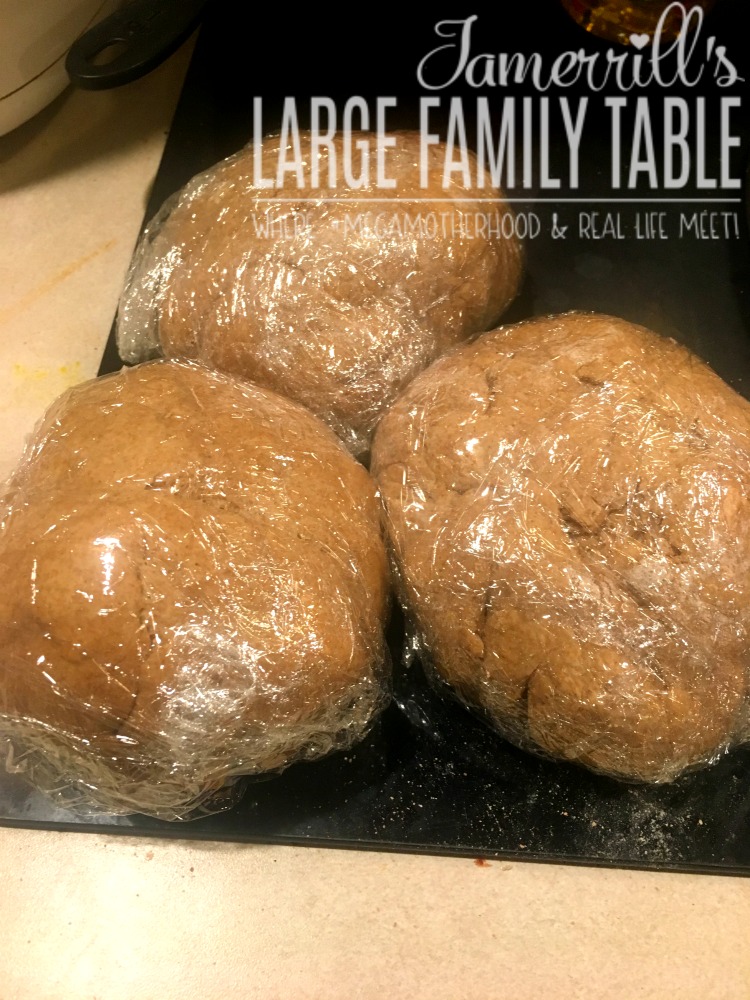 To freeze this pizza dough I wrap each dough ball in plastic wrap, then foil, then plastic wrap again. I can usually fit two large pizza dough balls into a gallon freezer bag.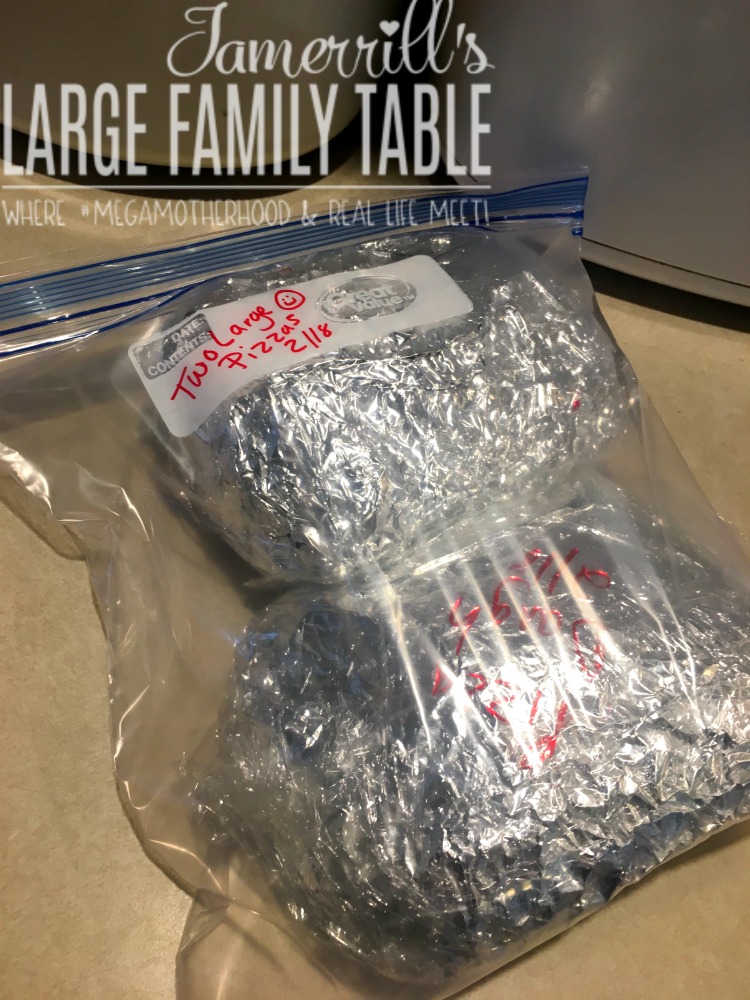 How to Bake Homemade Pizza in the Oven
When we're nearing pizza for dinner at our house I just set a bag of homemade pizza dough balls from my freezer to my refrigerator to defrost overnight. The following evening I preheat my oven to 450 degrees. Then I unwrap the pizza dough balls, roll out the dough as normal, top our pizzas with pizza sauce, cheese, and selected toppings and we're good to go. The pizzas take 12 to 14 minutes to cook at 450.
This Homemade Freezer-Friendly Pizza Dough in the Bread Machine was in my 27+ Large Family Meals in 10 Hours vlog from my day two large family freezer cooking day. Let me know how your family loves this freezer friendly pizza dough recipe!