? Get the Best-Selling Large Family Freezer Meals Collection here! Use promo code HELLO20 to take 20% off your first order.
FRUIT PIZZA is the perfect addition for your summer get-togethers! The only thing better than fresh fruit is fresh fruit perched atop a sugar cookie dough covered with cream cheese icing! Blueberries and strawberries adorn a delicious cream cheese icing on top of sugar cookie pizza to create an adorable, patriotic treat that will quickly become a family favorite!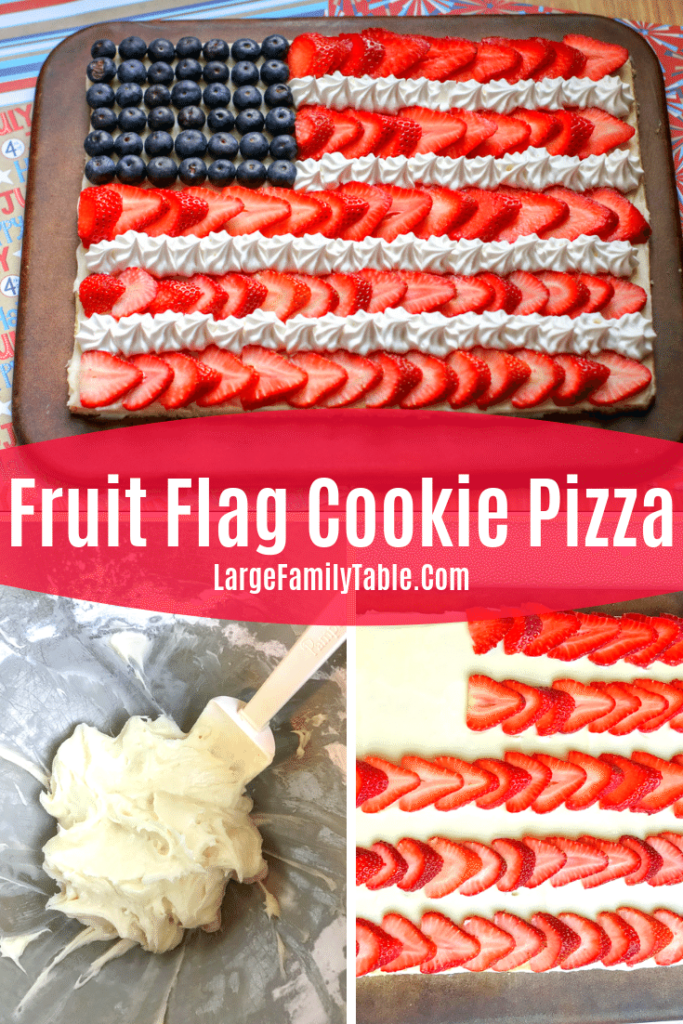 Want an easy way to impress people this 4th of July? My fruit pizza recipe is always a crowd-pleaser and can be fabulous family activity for the holiday. We love to visit a local farm, pick fresh strawberries and blueberries then let my kiddos create the stars and stripes with the freshly picked fruit!!
This delicious fruit pizza flag cookie is super simple to prepare! Get your hands nice and messy with flour (to avoid sticking) then press the sugar cookie dough onto a baking sheet covered in parchment paper. Pop the big cookie in the oven for about 15-20 minutes. It will be ready when the edges are brown and the middle isn't jiggly! Turn on the oven light and let your little people keep an eye on it.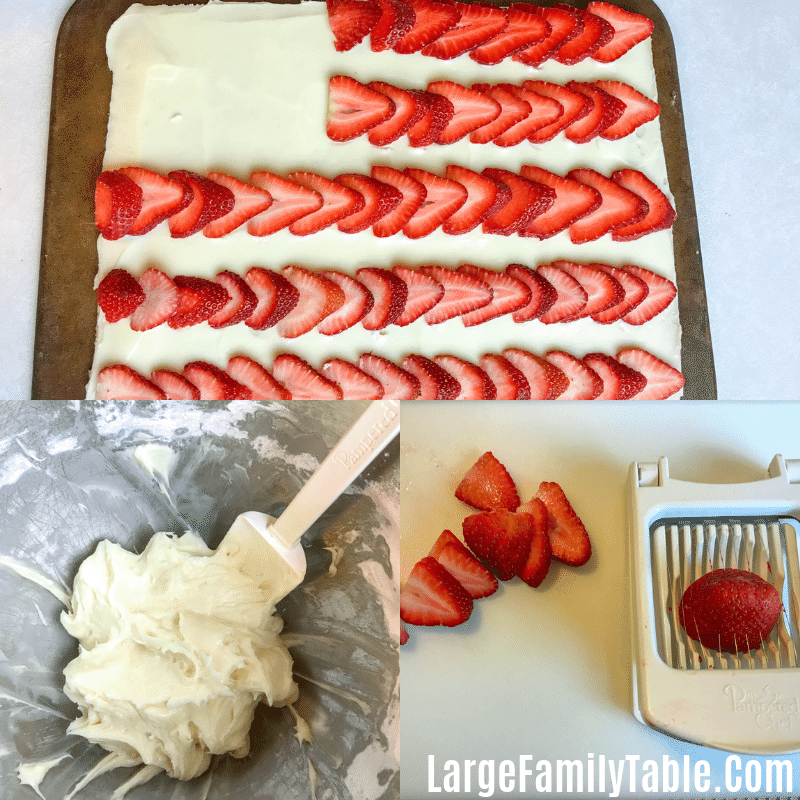 While the giant, delicious cookie is cooling, beat together the cream cheese, powdered sugar, and vanilla to make the icing. Wash, dry, and slice (if needed) the strawberries and blueberries. Spread the icing over the cooled cookie then strategically place the blueberries and strawberries on the cookie to look like the Stars and Stripes! See if you can get 50 blueberries on the cookie!
Finally, let's make the creamy white stripes. Put the whipped cream in a piping bag with an open star tip and apply it to the cookie. Take a moment to stand back and admire your masterpiece then place it in the refrigerator until it is ready to be served. Fruit pizza is best served immediately!
If you love my fruit pizza recipe, explore my other dessert and snack recipes here:
25 Quick and Easy Healthy Snack Recipes
Baked Oatmeal Applesauce Muffins
Homemade Oatmeal Raisin Cookies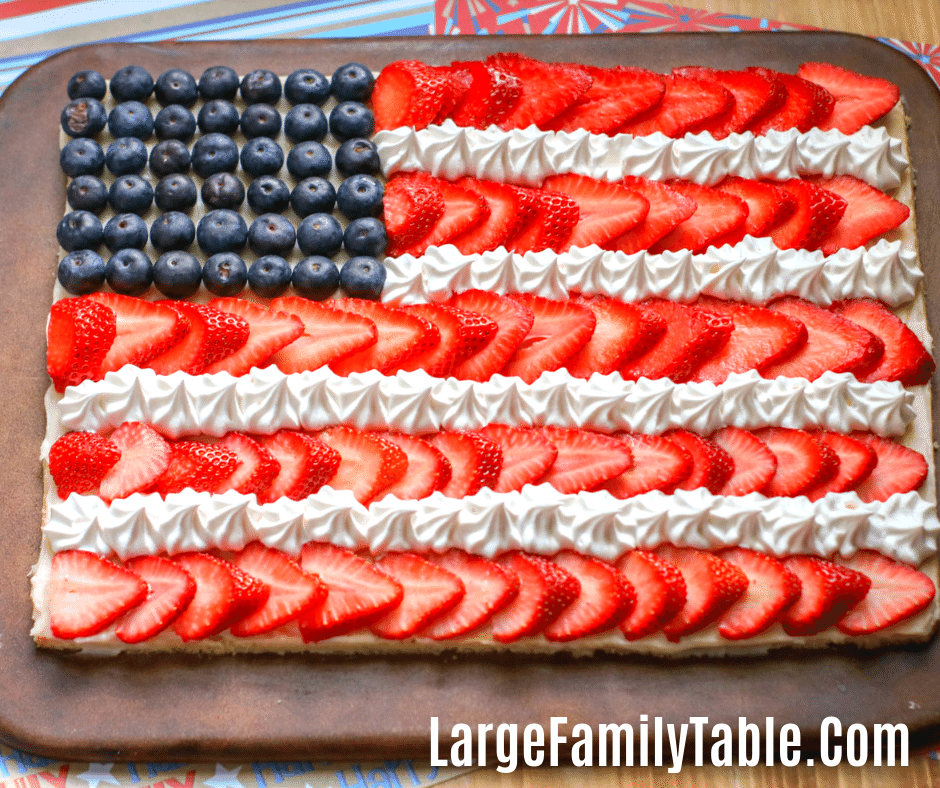 Fruit Pizza Flag Cookie Recipe
Print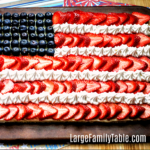 Fruit Pizza Flag Cookie Recipe
Author:

Prep Time:

15 min

Cook Time:

20 min

Total Time:

45 min

Category:

Dessert

Method:

Baking

Cuisine:

American
---
Description
This delicious and refreshing FRUIT PIZZA recipe with strawberries, blueberries, and cream cheese icing is a winner at every summer gathering!!
---
Ingredients
1 (17.5 ounce) package refrigerated sugar cookie dough
1 (8 ounce) package cream cheese, room temperature
1 cup powdered sugar
1 teaspoon vanilla
Fruit for decorating: strawberries and blueberries, whipped topping
---
Instructions
Preheat oven to 350 degrees.
Line a baking sheet with parchment paper. On the parchment, press the cookie dough into a large egg shape. Use flour or powdered sugar to keep your hands from sticking.
Bake the cookie for 15-20 minutes or until edges are golden brown and the middle is not jiggly. Remove from the oven and allow to cool before decorating.
In a medium bowl, beat together the cream cheese, powdered sugar, and vanilla. Mix until smooth.
Prepare the fruit for decorating the cookie. Make sure the fruit is washed, dried, and sliced (if needed).
Evenly spread cream cheese mixture over the cookie. Decorate as desired with fruit.
Place whipped topping in a piping bag fitted with an open star tip. Create white stripes with the whipped topping.
Refrigerate until ready to serve. Best if served immediately.
Keywords: Fruit Pizza, Fruit Cookie, American Flag Fruit Pizza, Patriotic Fruit Pizza, Fruit Pizza Icing, Fourth of July Dessert, Summer Treat
The Flag Fruit Pizza is sure to become a family favorite! You could substitute raspberries for the strawberries and, if you're feeling creative, you can experiment with different fruit toppings for different event themes as well. Whipped topping and a different cookie dough can easily be substituted for low calorie and low sugar options. Let us know what you've tried by snapping a photo and sharing it! We love to see our readers' creations!
Now that you've tried our Fruit Pizza recipe, click here to get the free large family food collection, too!
The entire collection includes: